Online security is something that all of us should take seriously since nowadays, a hacking attack happens every 39 seconds, and no one is immune from those security breaches.
But, what exactly is online security? One part of it is when a person takes a set of actions to protect themselves online. That way, they are shielding their data and privacy from an attack.
Online #security is as important for #website owners as it is for any visitor. So, if you are an owner of a website, you need to take care of the security of your website, your computer, and your website visitors.

Now, from what can you protect yourself? And what are the most common cyber-attacks?
Well, the big three are malware, phishing, and pharming.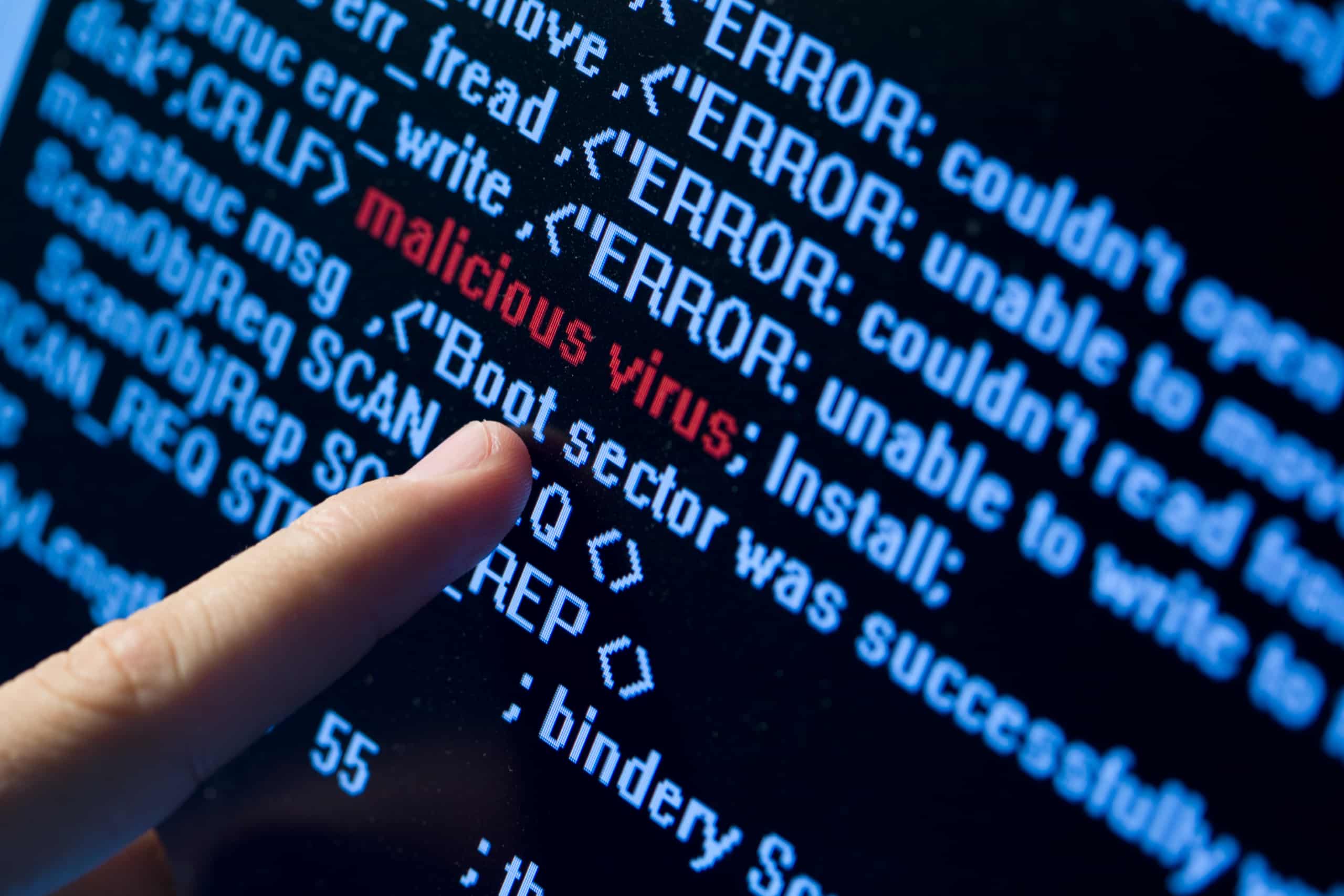 Malware is malicious software that is programmed to infect a device it is in contact with. It is predominately used to steal sensitive information such as login credentials, credit card information, and personal information.
Phishing is an online threat that occurs when a cybercriminal tries to deceive you into giving your personal or financial information by acting like a real business.
Pharming is a method that hackers use to improve their chances of tricking you using phishing websites. It is not based on fake messages – it is an attempt to redirect you to a malicious website.
Thankfully, all, or most, of these dangers can be avoided using something called a VPN!
Why Use a VPN?
VPN (Virtual Private Network) is an online service that will help you hide your real IP address and online communication. It is probably one of the best ways to improve your online security and hide your digital footprint, the software review blog Ergonotes states..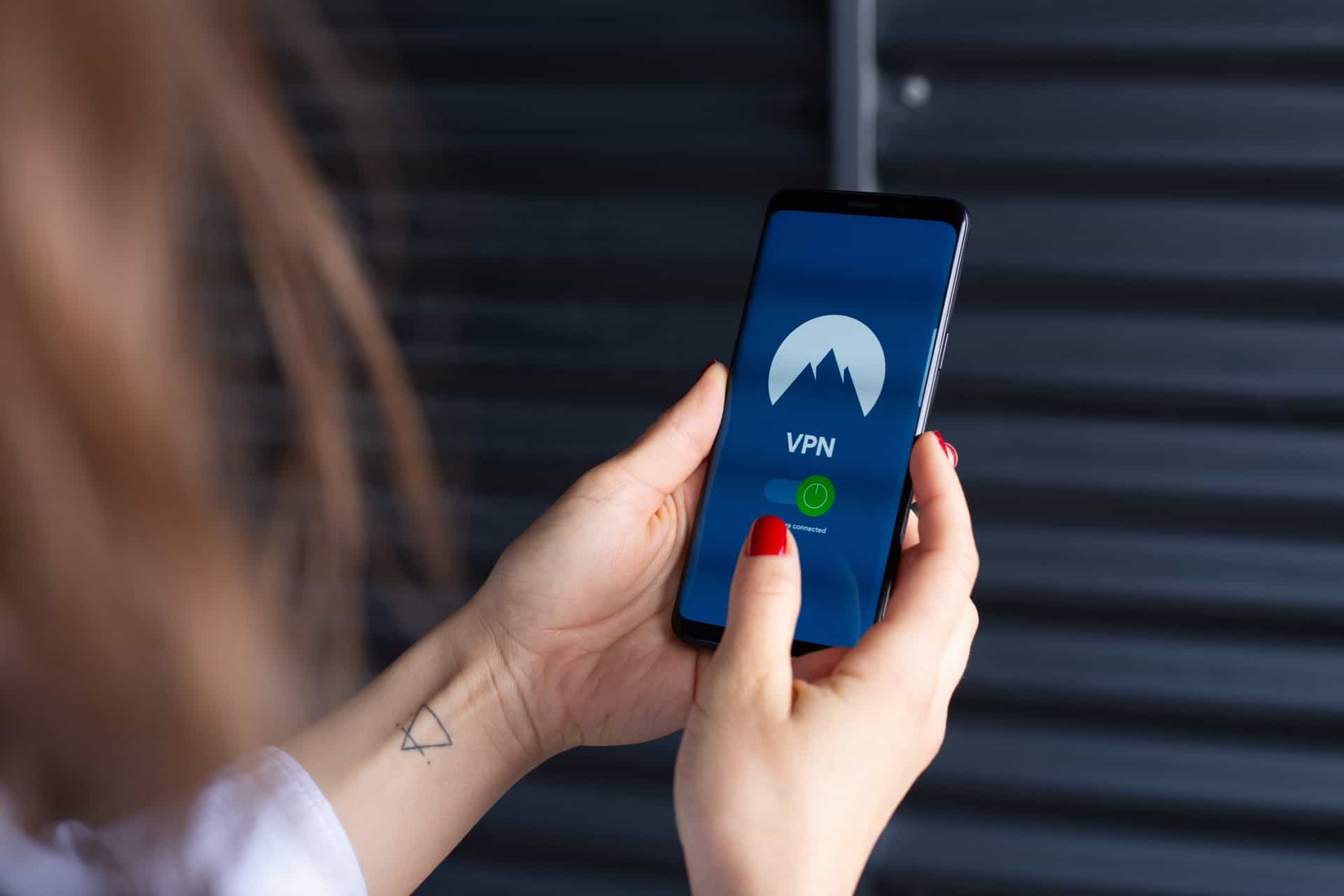 As long as you use a VPN, no one can observe or monitor what you are doing on the web. And, most importantly, you won't need to worry about cybercriminals getting your information.
VPNs can be highly handy in cases when users are unable to access geo-restricted content or products, such as Oculus Quest. Oculus Quest is a popular VR system that allows you to immerse yourself in virtual reality in an entirely different way.
That's why you need VPN to fully experience what this system has to offer you. By avoiding geo-restrictions, installing a VPN on Oculus Quest opens up a world of possibilities. You may access and experience the full spectrum of VR content regardless of your location. Whether you're looking for exclusive games, immersive experiences, or virtual travel excursions, install a VPN on Oculus and make sure you never miss out on Oculus Quest's amazing offerings, no matter where you are in the world.
There are a lot of VPN services out there to choose from. But how does one pick the perfect service, what antivirus should be used with it, and which service is the one for you? These are all great questions, and one resource has all the answers!
VPNSurfers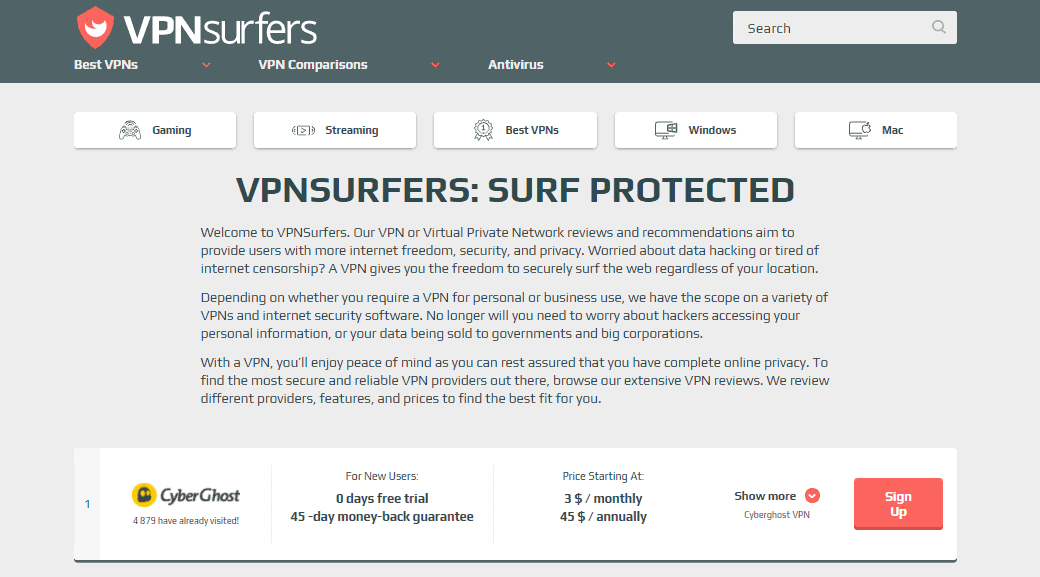 VPNSurfers is a website that will help you choose the right VPN for you and your needs. It aims to provide users with the best VPN for achieving security, more internet freedom, and privacy.
They review all kinds of different VPN providers, their features, and prices to find the right one for you.
Now let's get into their website and how to navigate it so that you can find your VPN buddy for life.
As you open their website, you will see a simple yet perfect design. In the main menu, you have the following options: Best VPNs, VPN Comparisons, and Antivirus. All of them have a drop-down menu where you can see different categories.
As you open one of the categories, you will see a list of VPNs. You get a little sneak peek through info such as what is the starting price, the number of days in the free trial, and the money-back guarantee. If you are interested in more information, you can click on "Show more" button, and that will provide you with extensive, necessary information.
Under that list, you will see some general information and a list of the best VPNs for that category. But, this is not just a boring list. It is a list full of valuable data that you can take into consideration when choosing a VPN.
VPN Comparisons Section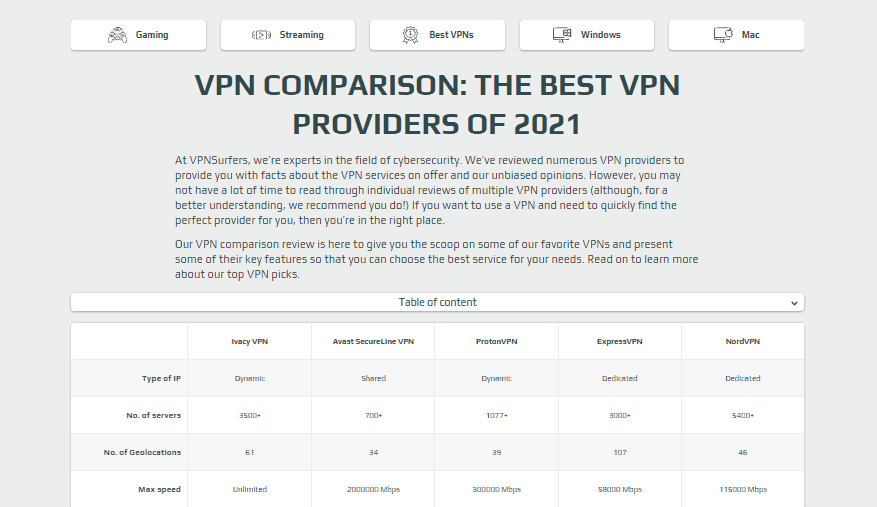 We all know the struggle of having 2 or more great VPN choices. Going back and forth between websites can be time-consuming and dull. Still, the decision-making process is crucial – you are investing in something to provide you with security, after all.
VPNSurfers made the comparison for you, for free!
There are many comparisons available on their site in full detail. They do not miss a single thing when comparing two VPNs. They compare the prices, encryption, privacy policies, security features, additional features, server networks, speed, performance, app usability, customer support, and more. Of course, for both VPNs.
After the long and detailed read, you will see who is the winner of the battle. That way, you will have no doubt about which VPN is right for you.
Antivirus Section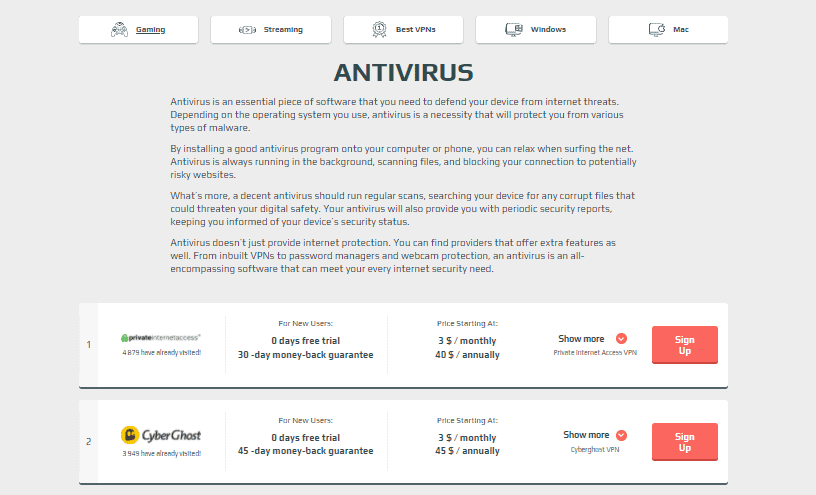 The next option in the main menu is "Antivirus". Here, they cover all the major points related to using a VPN alongside antivirus software. They also list the best 5 antivirus software solutions with VPN.
VPNSurfers did not hold back any information – there is a lot of it here.
VPNs for Different Purposes 
Under the main menu, you will see 5 pretty cool buttons – something like a second menu. Those buttons are labeled Gaming, Streaming, Best VPNs, Windows, and Mac.

These buttons will lead you to the best VPNs for that specific niche.
Under "Gaming", you will find the best VPNs to use if you are a gamer.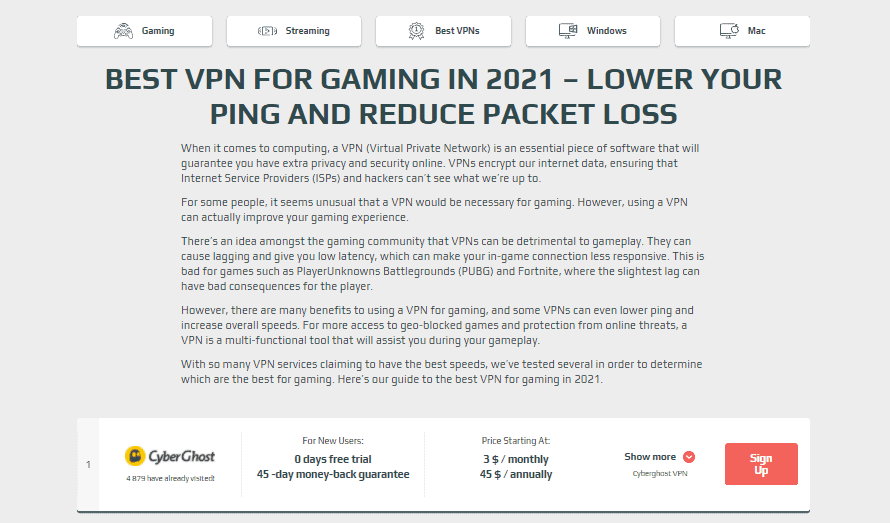 There have been discussions about whether gamers should use VPNs and how do they improve the whole gaming experience.
If you ever had the opportunity to play online, you know that the biggest problem is having some lag. It ruins the whole experience for you, as well as for your teammates. However, using a good VPN can and will improve your gaming in no time.
In this section, you will find useful information about how VPNs and good gaming correlate. You also have a video waiting for you if you are more of a visual learner than a reader. Under that, listed and reviewed are the 5 best VPNs for gamers.
So, if you are a gamer or thinking of becoming one, you will enjoy this section for sure!
The "Streaming" button/section is probably the most interesting for the majority of people.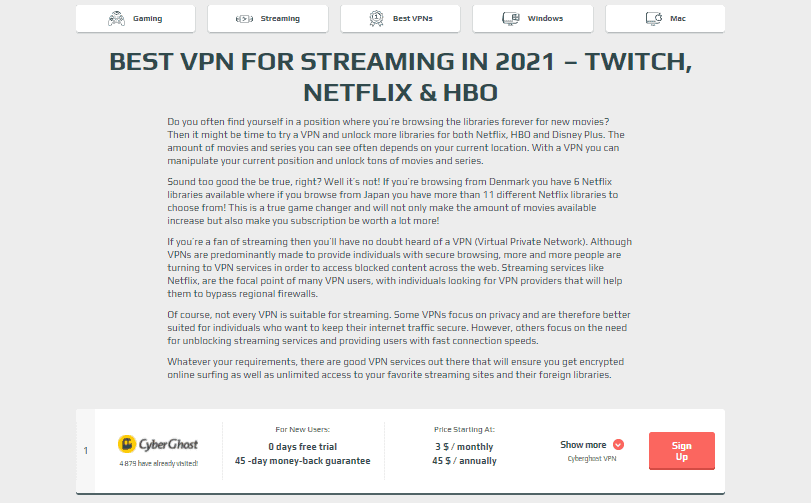 We have all been there, trying to find a movie, but it is blocked in our region, or there aren't any safe links.
Even though the primary use of Virtual Private Networks is to provide you with secure browsing, more and more people are using them to access blocked content. But, the rumors are true – not every VPN is made for streaming.
In the "Streaming" section, you will find answers to some of the most common questions regarding this topic, such as:
Is a VPN good for streaming?
How to choose the best VPN for streaming?
Do VPNs stop buffering?
Best VPNs for streaming?
Of course, you get a rundown of the top 5 Virtual Private Networks for streaming services with all the little details that may interest you.
The "Best VPNs" section is pretty much self-explanatory. In it, you will get answers to questions regarding VPNs, such as "how does a VPN work?", "why is internet security important?", "what are the benefits of VPNs?", "what does a VPN hide?" and "are VPNs illegal?". A quick heads up – they are not illegal!
After all that, you will see a list of the best VPNs. The list contains all the information you need with a quick summary of the VPN.
Windows and macOS are two different operating systems. So, of course, they have different settings. That's why some VPNs that work for Windows won't work for macOS and vice versa.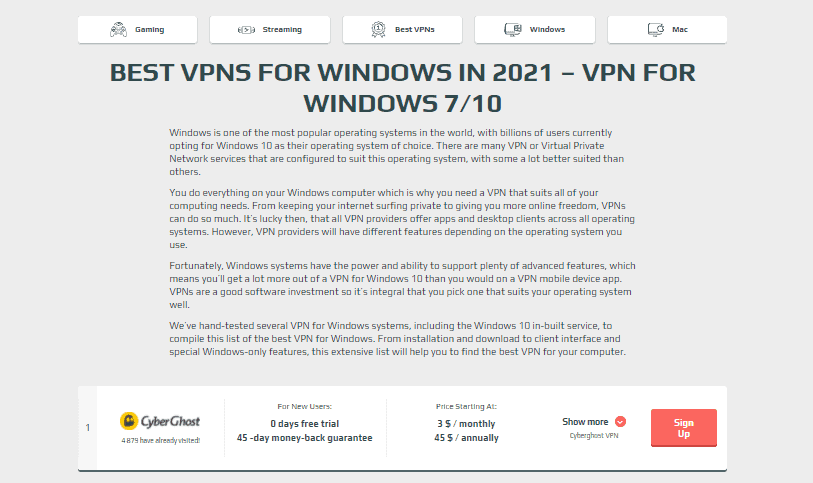 It is a fact that Windows is one of the most popular operating systems out there. So, it has many VPNs that are suitable for it. But, just like with anything else, some VPNs are better than others. For that reason, there is a "Windows" section on VPNSurfers.
On the other hand, Apple is known for its great cybersecurity. macOS comes with in-built software that will protect its users from malware. But, they are not immune to internet threats.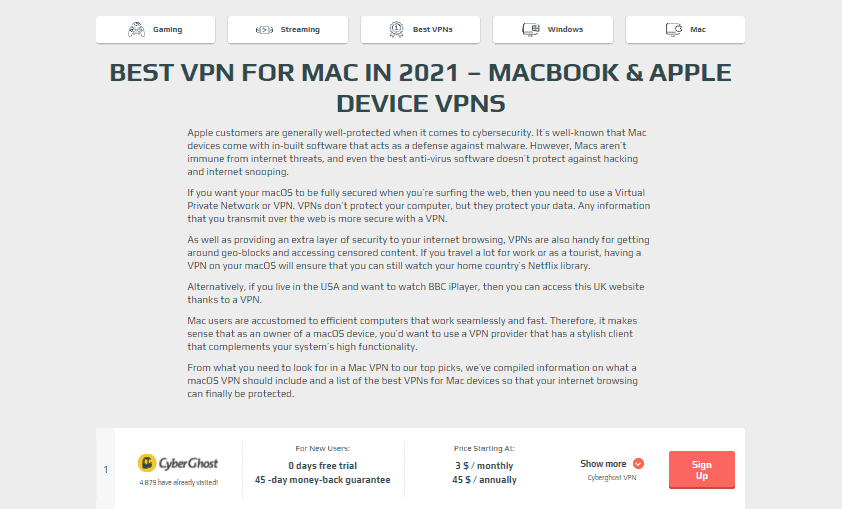 That's why for a secure macOS, it is necessary to have a VPN and why VPNSurfers have a "Mac" section.
Miscellaneous
Let's not forget the bottom of the VPNSurfers site. That's where some hidden gems are.
In that part of the website, you will find links to some interesting stuff.
The first batch of links contains:
best VPNs for Netflix
best VPNs for Disney+
best VPNs for streaming
best VPNs for Popcorn Time
So, if you are a fan of any of these, be sure to scroll down and find this pot of gold.
The next batch contains links to articles about VPNs. Those articles cover the most common stuff people may be interested in regarding VPNs.
One of the articles is about how to set up your VPN, which is very useful for the non-techy crew.
And the last batch of links is for the best VPNs for specific countries. 11 countries are covered. So, be sure to check these links out and see if your country is included.
Conclusion
In the end, a VPN is a must for everybody. Sooner, or later people will realize that. Be the front runner of your group. When your friends decide to join you on the VPN journey, you will seem like an expert in the field.
There are a lot of things that VPNSurfers cover. We tried our best to present them, but you have to see things with your own two eyes. To put it simply, VPNSurfers is a website you didn't know you needed.