Adding video to your website engages your visitors and gives you another opportunity to showcase what you do best as a company. There are many different types of videos, such as a welcome message, product showcase, and even educational videos. However, figuring out the best way to include these videos on your landing page isn't always easy. Should the video play as soon as the user lands on the page, or perhaps they should click a play button?
Statista predicts video usage will increase by the year 2021 to about 83.8% of people watching video content at least once a month. People can process images much faster than text alone, so it's a good way to capture and keep visitor attention.
You can get a lot more information across in a minute or less with a video than the person can read in an article or guide.

If you're thinking about adding videos to your website, here are five integrations your business should invest in and some examples of how other businesses deploy their own videos for maximum effectiveness.
1. Slider
You're likely already familiar with sliders at the top of a page. Traditionally, these featured static images, but more and more sites are turning to video-based panels to add depth to the information offered. Google the term "website slider," and you'll come up with opinions from people who hate sliders, love them, or are on the fence.
One way to make them more effective is to try something different. Integrating one or more videos into your slider offers a unique angle for users.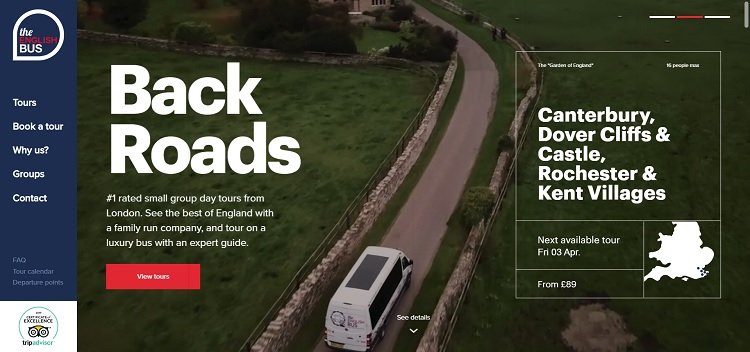 The English Bus website starts with a video of a person on tour. As you click through the three slides, each has a video background with text overlay describing the tour and what's special about each. The video gives site visitors a birds-eye glimpse of what they might see on each tour.
2. Embedded
There are many different ways you can update your website, but adding videos is one of the easiest and most effective. When you have a new product or some exciting news, you can always swap out your videos or add an additional one.
Embedded videos are likely one of the easiest ways to gain followers and get your videos out there. Start a channel on a popular social media video platform such as YouTube, Vimeo, or Facebook. Once you've uploaded the video to the platform of your choice, simply grab the embed code and add the video to your HTML code. Users then click play to get the video to stream directly from your page.
An added bonus of uploading your videos to a social media platform is that you'll gain viewers from that platform —YouTube is the largest.
These people are likely to follow your channel and even visit your website. Make sure you include links in your description fields and use keywords for your videos just as you would for any other type of content.
3. Hover
Another option for video integrations is creating some effects, such as the video starts when the user hovers over a static image. Small changes such as this make your site more interactive and keep users on your page longer, leading to higher conversion rates. Mouse overs can start the video, allow a pop-up message to appear, or reveal a play button. The choice in how you create the animated features is up to you. Just make sure they are noticeable enough to attract interest.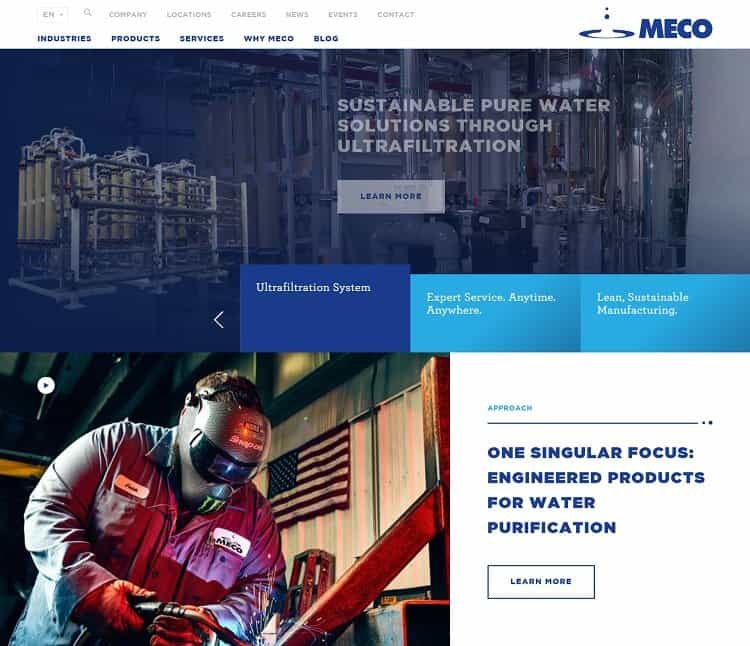 MECO does something pretty unique with their video under the "Approach" section. It appears as a static image, but when the user hovers over it, a video that shows their work in action begins playing. As the person reads the text, the video highlights their approach to work as well. It's a powerful visual representation of what they do as a company.
4. Background
The trend of putting big hero shots at the top of a home page has been around for several years now.
As screen resolutions get higher in definition and internet speeds increase, expect to see more and more sites use the hero background for streaming videos.
Typically, the video will have transparency to it that makes it fade a bit, so any text laid on top pops for the viewer. The user doesn't need to click on anything or take any action. The video starts streaming the minute they land on the page and repeats on an endless loop.
5. Parallax Video
One of the recent trends in web design has been parallax scrolling. Enter parallax videos, where some elements are static, and others move at different speeds or in different directions. The effect is captivating and keeps users interested in your design.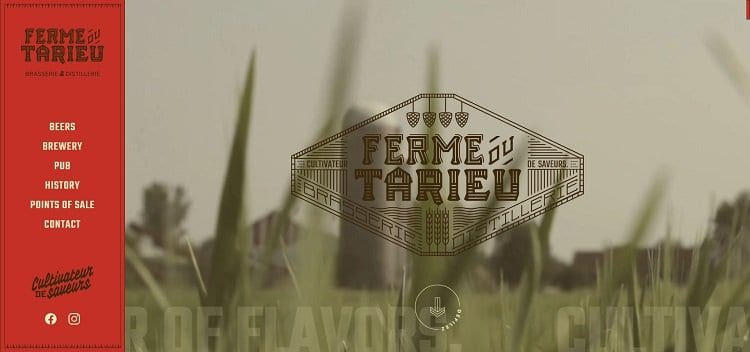 Ferme Du Tarieu uses some advanced design techniques to grab reader interest. When you land on the page, you see a farm in the background with letters scrolling across the bottom of the image from right to left. After a few seconds, the blades of grass in the foreground begin to wave. What would otherwise be a simple photo of a farm becomes animated and interesting.
Add Video Today
No matter how complex or simple your video integration, there are benefits to adding animation to your website. If you need to start at the beginning, embedded videos are likely your best bet. As you become more comfortable implementing video into your designs, try some of the more advanced techniques, such as hover videos or parallax features.