Your mission statement gets to the core of who you are as a brand. What do you stand for, and how do your causes and policies tie into your passions? A purpose drives everything you do and impacts how others see your company.
In the Job Seeker Nation Study, researchers found that about 88% of prospective employees feel company culture is an essential aspect of choosing where they work.
If you want a strong #Company #Culture, create a strong #MissionStatement, and build on it.

You'll attract the brightest and best in your industry, which will help you make your brand into something to be reckoned with.
Some critical components of a strong mission statement include understanding your target audience, the product or service you provide, and why people should choose you over other corporations. Once you've written a statement defining who you are and the value you provide, it's time to figure out how to highlight your business mission statement on your site. Here's how to do it.
1. Create a Mission Statement Page
One of the simplest ways of sharing your vision is by creating a page where you highlight your full mission statement. You can expand on the page, including why you started your company in the first place. If there are charities you're involved in or projects you've taken on to try to fulfill your purpose, this is a great section for highlighting those efforts.
Dollywood provides their mission and vision on at least two pages on the website. They have a mission statement within their jobs section, so people understand more about the company culture, what they expect from their employees, and whether the theme park is the right fit for the potential staff member.
They also list their mission on their About page, highlighting their goals for park guests. There is no rule that you can't use your mission statement as many times as you'd like on your website, within reason.
2. Work Your Mission Into Your About Page
Most sites feature an About page to outline facts and share information about the history of the business. Share your purpose for starting the company by listing your mission statement on your About page. An excellent About page understands the buyer persona and includes both details and social proof that the company stands by their principles.
3. Share Your Mission on the Home Page
Some experts advise not to share your mission on the home page, but this is a fabulous way to introduce new customers to who you are and what you do. Make sure you reword it for consumption, sharing why you started your brand and what unique benefits you offer to consumers. Focus on the value you bring for your audience, and you can't go wrong stating upfront what your principles are.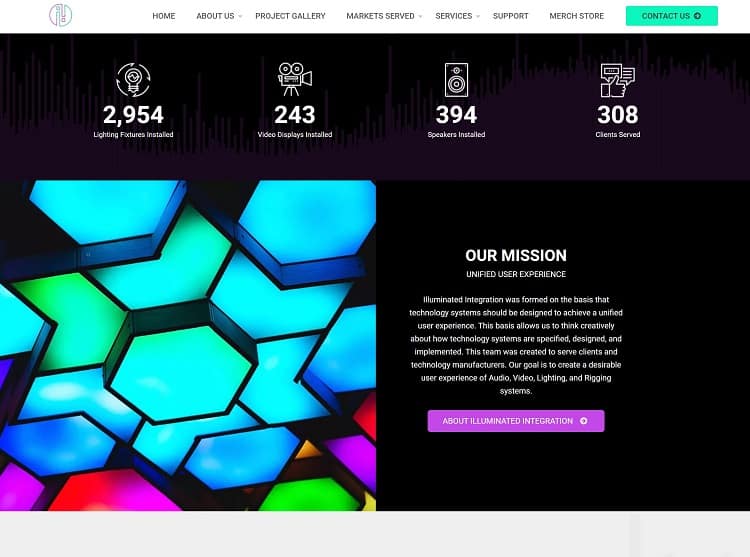 Look at the beautiful mission statement section on Illuminated Integration's landing page. They focus on the reason they started the business and what their team brings to your events and organization. They highlight their expertise with technology and how they can create whatever effect you need through audio, video, lighting, and rigging systems.
Notice too how the bright pop of purple draws focus to the call to action (CTA) buttons and grabs the user's attention.
4. Create a Connection
Your mission statement may be worded one way for internal use and another way for consumer consumption. Make sure you create an emotional connection with your site visitors by explaining how your mission benefits them or the world at large.
For example, if your goal is to help a hungry child every time someone places an order, think about the emotions behind why people care about hungry children. They may feel sympathy or pain that children go hungry.
Pull out the pain points driving people to want to help and highlight the solutions you provide within your statement.
If your mission statement isn't connecting with your audience, look at the words you've utilized. You may simply need to explain your core values a little better. While your mission doesn't have to be life or death or even a deep or concerning problem in the world, it does need to be authentic and true to who you are as a brand and an entrepreneur.
5. Utilize Videos and Photos
There is an old saying that a picture is worth a thousand words. Videos and photographs have a much stronger impact on most people than text alone because they tell a lot in a shorter time span. The human brain processes images 60,000 times faster than text. You can say a lot more in less time with visuals.
Adding videos or photos backing up your mission as a brand is a smart way to pull in your site visitors and show them why your mission matters. You might highlight your employees on a volunteer day working to make the world better. Perhaps you'll feature a client who was saved by your help. Think about how best to highlight your purpose as a brand and how you're fulfilling it.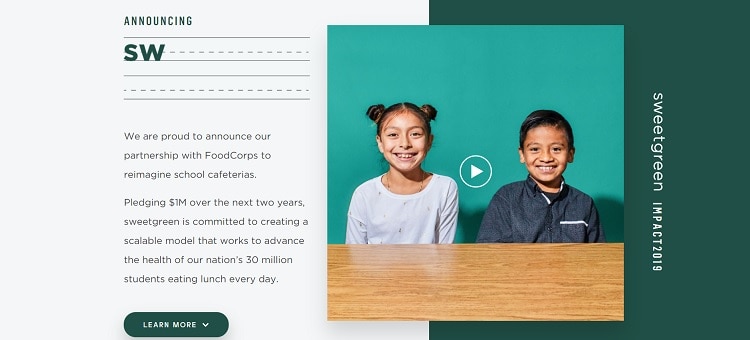 Sweetgreen utilizes images and videos to show how they bring fresh food to people all over the world. Throughout their site, they push their mission of bringing healthy food with transparent sourcing to the masses. It is obvious that they care about communities and their health through these altruistic efforts, which they showcase on their Impact page.
6. Utilize Your Tagline
Your tagline is a summary of what you offer. Think about how you can condense your mission statement into five to seven words. If it ties intricately into who you are as a company, using your mission as your tagline works amazingly well.
For example, TOMS shoes has the tagline, "We're in business to improve lives." These six words summarize their mission.
Every time someone buys a pair of shoes, they donate to people in need around the world. However, they also improve the lives of those buying their footwear. Their tagline/mission statement is the perfect blend of what they offer and what they stand for.
Make an Emotional Impact
Creating a connection with your audience isn't easy. There are millions of other companies vying for consumers' attention. However, if you know why you started your brand and where you're going, it is much easier to tap into the underlying emotions. Be authentic, share your goals, and state your purpose boldly.
If you share your vision, the people who match up to what you believe in will come on board and work alongside you to build your brand and your impact on the world.