If you have a local business and office with a real physical address, showing your location is something you shouldn't skip when adding new pages to your site. Whether you have a complete website, portfolio or a simple landing page that's up there to capture peoples' attention, you just have to embed Google Maps and display your address. Alongside with contact information, this is something your business can't go without.
Want the best tool for your #WordPress blog to show off your Google Maps location? Let us show you why Google Maps Widget is the best option.

People have become used to using Google Maps, and not having one on your site might make you look unprofessional. So, before folks start clicking the little x button on the landing page just because they couldn't find you on the map, let us show you how to embed Google Maps Widget on your blog.
Google Maps Widget plugin for WordPress
One of the easiest and best ways of using Google Maps on WordPress site is getting Google Maps Widget. The basic plugin is completely free to use, and you can create a custom map for your blog in a matter of minutes.
Although completely free, among many other options, Google Maps Widget will let you:
create an unlimited number of maps
change size, type, and zoom level
modify pins – types, colors, labels…
use both thumbnail and interactive maps
change the language
And this still isn't the best part of the plugin.
It's the fastest Google Maps plugin for WordPress
When a plugin features so many options, you'd expect it to be bloated and utterly slow. It's not rare to see a plugin choke your site, which is where WP Reset comes very handy, but that's not the case with GMW. This is definitely the fastest plugin that will display Google Maps on your site. Let us show you why.
While other plugins will immediately show the interactive map that can eat up your network resources by loading up to 70-ish requests, Google Maps Widget has one amazing option. It can create a thumbnail map (image) of your interactive map! What does that mean?
Instead of immediately loading everything that's available on the map, Google Maps Widget loads a single image that's just a few Kilobytes big! Having one image means having just one request. We don't have to talk about the difference between loading 50kb opposed to loading 2mb, right?
After clicking on the thumbnail image, users who are interested in seeing the map will get it in lightbox.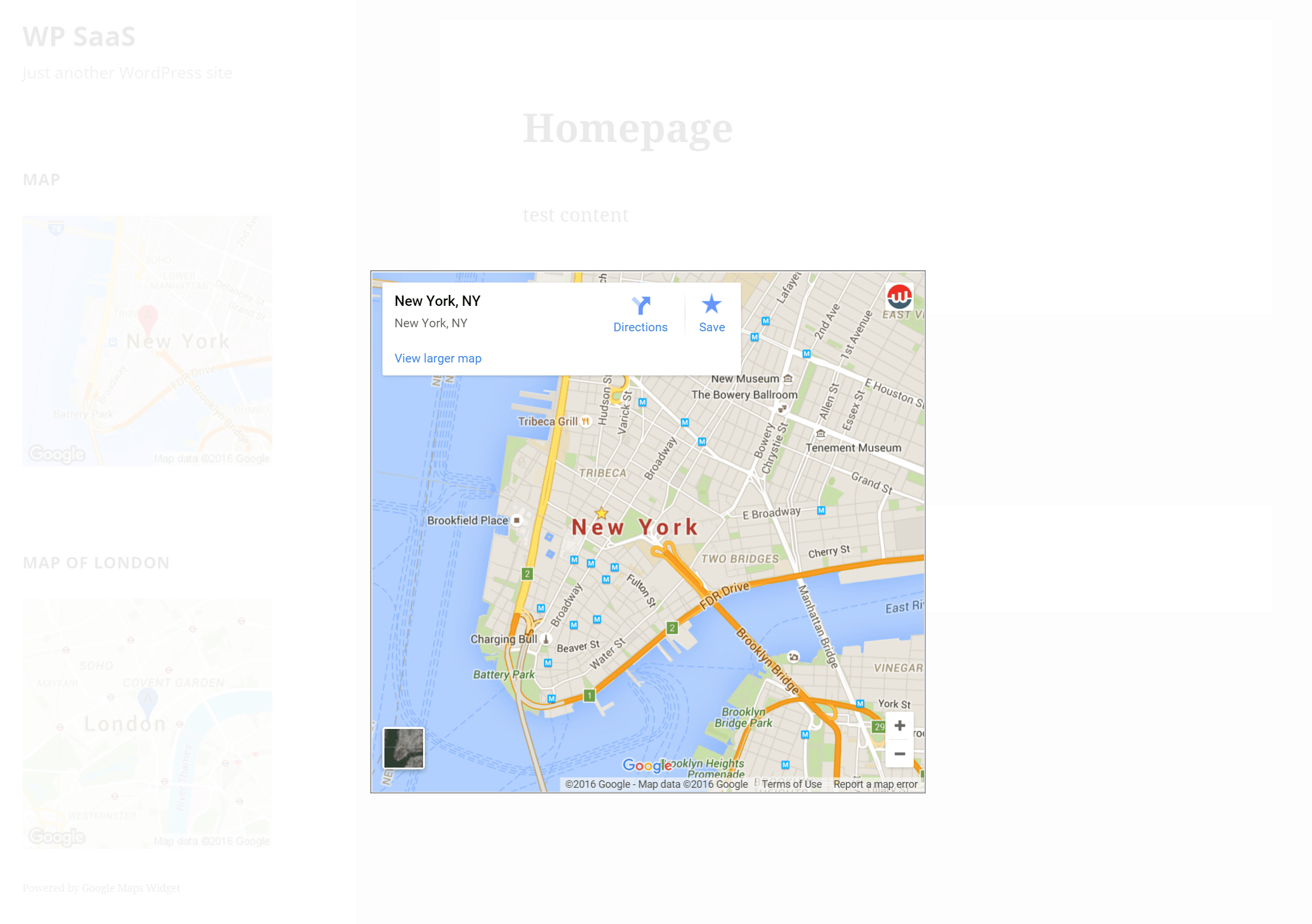 You can even change image formats to make the best out of the compression. Since the speed of a site is an important SEO factor these days, you simply must do the best for your site.
Still, for those who don't find this very important, there are options that allow you to skip thumbnail maps altogether, so don't worry if you want to have just the interactive map on board.
Galore of premium features
Now that we've quickly shown off the basics about Google Maps Widget, let us show you why it's definitely the best plugin for the job. There are some awesome features that you will have to try for yourself.
Importing addresses into the map
Let's start with one of the latest additions to the plugin. Since Google Maps Widget allows you to display the unlimited number of locations on just one map, there have been plenty of users who wanted a three-digit number of pins on the map. But entering one address at the time was a mission impossible for those users.
So, the last plugin update introduced a feature that you will love – importing pins.
If you have a list of addresses (whether that's five or five hundred of them), you can quickly modify your list and upload it to the plugin. Your pins will be automatically created, and that includes a few important options, custom icons, and colors. After a few seconds, your map will be filled with pins, and you will be able to spend time on something more creative.
Pins Filtering
It's now easier than ever to group your pins on the map. If you have several groups of pins that you want to display independent of each other, Pins Filtering will save the day.
Each pin can have a group. So, like the example shown on the official website, you can have a few restaurant groups show on the same map. The example shows ten McDonald's, KFC, and Subway restaurants in the Chicago area. If you open the map, you will see that the groups are displayed in the top-right corner of the map. And simply by checking and unchecking groups, you can choose to show just one or two groups from the map. Amazing, isn't it?
Create a unique-looking map
Just a few months ago, Google Maps Widget PRO was updated with custom styles. Yes, you can choose a style from the list of existing ones, but that's not what we're talking about here.
The new feature lets you change every detail on your map!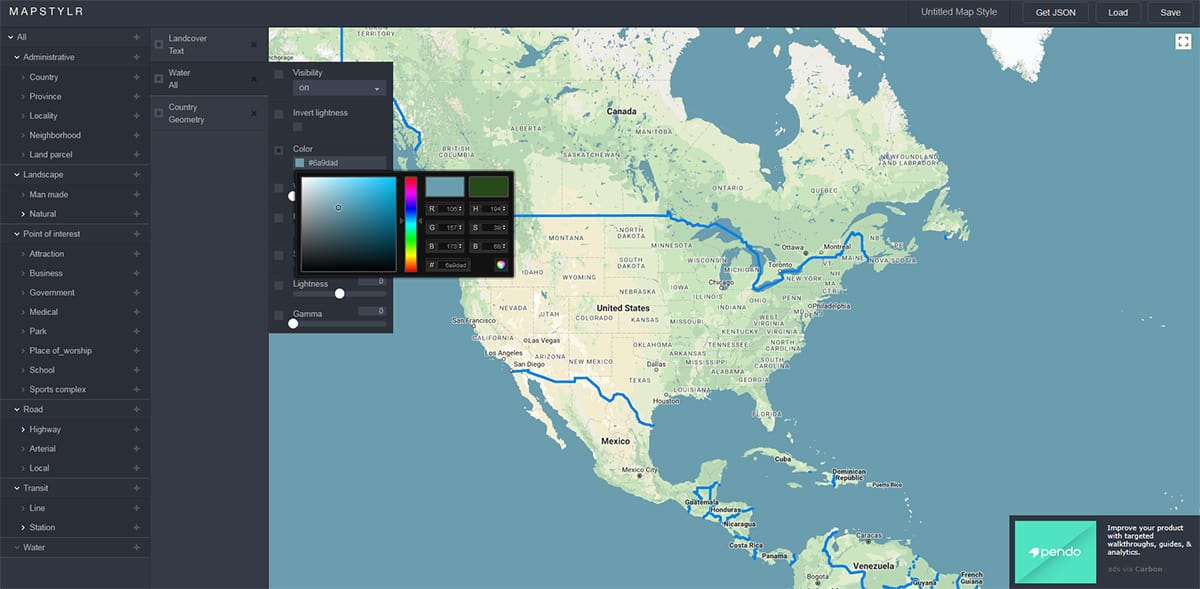 Once you create your Google Map, you can open one of the online editors and start playing around. Let's say that you want the city lines more visible, color the water surface in whatever shade you want, make the labels bigger or completely remove them. You can now paint your map style and trust us – you can spend hours with the online editors!
Once you are happy with the style, you can quickly import it to the plugin and guess what – your custom map will become unique in a matter of seconds!
Pins Clustering
When you have multiple pins displayed on a map, things can get really crowded if those pins are close to each other. Even if you generate custom icons for your pins, it can still look messy if the map is showing one hundred pins in one city, for example.
That's why you should use Pins Clustering. Just by enabling the feature, Google Maps Widget will automatically group your pins. Depending on the settings and the radius of your pins, Google Maps Widget will show just one pin with the number of those hiding below it. Only when users zoom in close enough, they will be able to see the exact pins they were looking for.
Use the shortcode
Although the plugin carries "widget" in its name, it is much more than a simple widget. As soon as you create your map, GMW will generate a shortcode that can be used anywhere on the site.
So, for example, if you're building a coming soon page for your WordPress site, you can show your custom map without problems just placing the shortcode in any place of choice.
Conclusion
There's much more to Google Maps Widget. We strongly suggest that you visit the official site to browse through all features and to see some cool map examples. We'd also like to point out that there's a 7-day trial period where you get to use all the premium features of the plugin for free and see if you like it.
What do you think about Google Maps Widget? Have you tried the plugin on your site?