If you are having your website on WordPress, it is mandatory to keep in touch with the latest developments and, overall, the cool stuff you could use to improve the performance and functionality of your website. We know this is not easy: especially since it requires you to continuously check-in on the number of sites and do the research yourself. Most of the time, you probably didn't even know you need something to look for in the first place.
Did you know you can add shareable quizzes to your site, or even a group chat? You can, with the right WordPress product!

Luckily for you, we decided to turn numerous cups of coffee into this article, intended to present you with one-too-many options that can help you improve the performance of your site. Many hours went into the research of the most useful plugins, themes, and other tools. Keep reading to find out about best form builders, plugins and themes for your website, but also, yet unknown markets where you can go hunting for the latest solutions.
Pour yourself a cup of coffee, and give this article a read, without any stress. We did the work for you so that you can enjoy the summarized output!
1. WPForms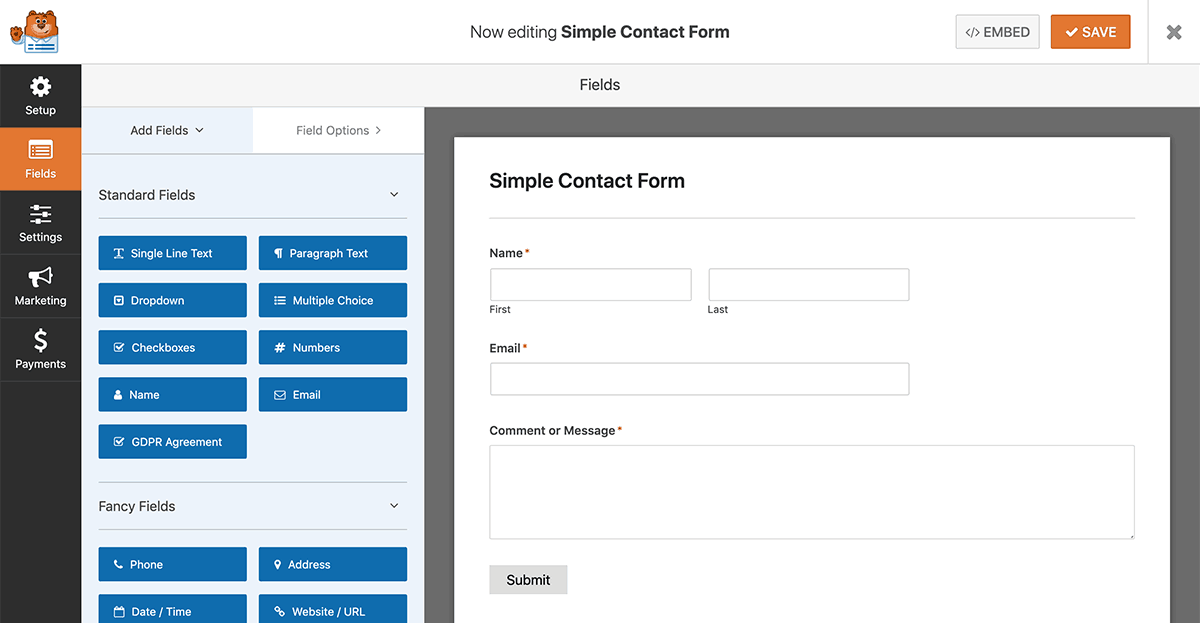 If you are looking for the newest and easiest way to add forms to your WordPress site to increase your conversions, there is no better way to do so than to use the WPForms plugin. Don't believe us? What if we told you that it has a 5-star rating and that its user base currently counts over two million professionals?
With WPForms, you only need 5 minutes, or even less, to create the much-needed form which will help you gather the necessary information from your customers. The best part stems from the fact that you don't have to write a single line of code to do so. Rather, you can take advantage of effortless drag and drop builder to create the form to learn more about your customers.
The drag and drop builder comes with numerous templates, all of them fully customizable. Meaning that, if you don't want to start building from scratch, you don't have to. Just twist and tweak the template to your liking. You don't have to worry about its responsiveness either, as they are all 100% responsive and will look good on any device.
If you need more from your forms, don't worry – this plugin will have you covered. With numerous integrations such as MailChimp, PayPal, and Stripe, you can rest assured that you will have all the features you would need. Add file upload if you are looking for some documents, add the captcha to keep spam off your site, or even use form abandonment. You can use all that within this single plugin.
Overall, for $40, you can get all the needed functionalities to add forms, gather some new emails, and even improve your sales!
2. Total Theme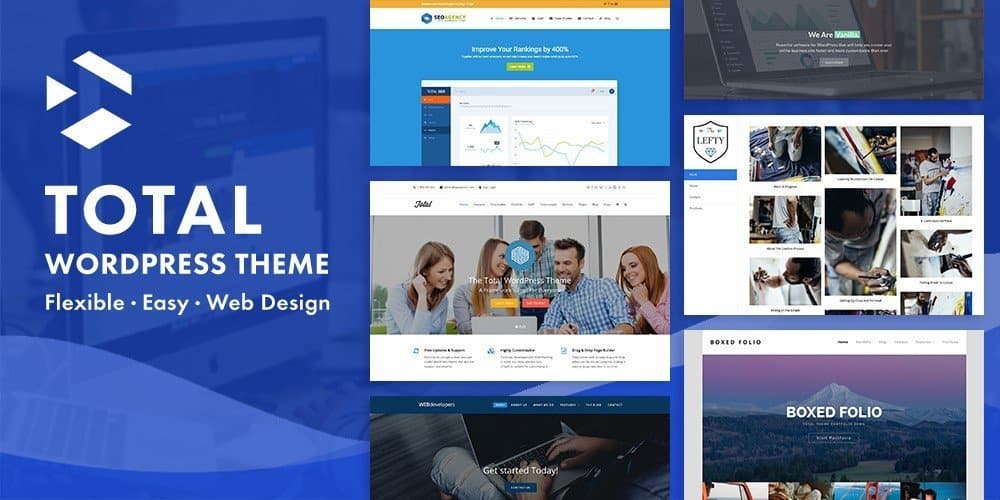 If you are planning on giving your WordPress website a redo, and are on the market for a new theme, don't miss Total Theme. It lives up to its name, as it includes everything you would need for a gorgeous website. With over 38000 users, it is safe to say that this theme is on its way to becoming the most popular WordPress theme available out there.
It comes with a very straightforward and user-friendly drag and drop page builder to help you set it up in a blink of an eye. You can take advantage of 40 gorgeous demos, which could help you set up your site in no time, regardless of your niche. Another integrated benefit is four premium add-ons: WPBakery, Templatera, Slider Revolution, and LayerSlider.
All this mashed together is a recipe for an amazing site. Apart from this, you also get over 500 different styling options, as well as over 80 modules to use for your upcoming project. Even if you are a developer and you are not fond of using one-too-many buttons, keep in mind that the theme is also developer-friendly.
Don't worry, it's a lot, but the theme is surprisingly fast. Your visitors won't have to wait, and there will be no negative impact on your SEO if you are using the Total Theme. It will, however, bring more of them to the table, as it is fully responsive, and you won't be missing any mobile customers.
So, if you are looking for a new theme, splurging $50 on Total Theme is not a waste of money, considering how many possibilities you can get!
3. MonsterInsights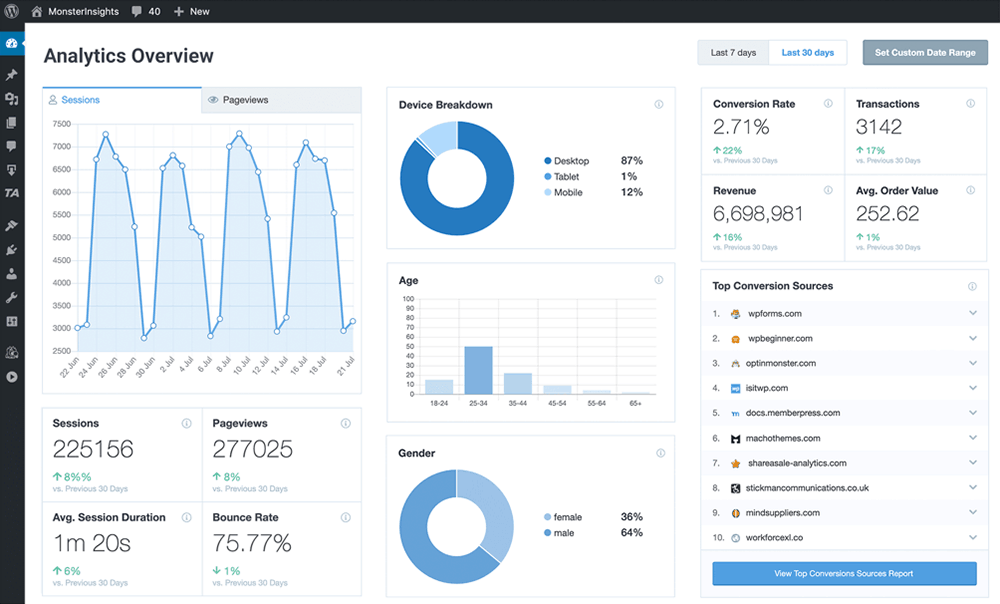 Unfortunately, many people take a "set it up and leave it" approach when it comes to their websites. Still, the truth is, if you want it to perform and bring you sales, you have to keep track of your stats! This is where having Google Analytics nearby could come handy, but since this is not a native WordPress option, many people ignore this opportunity. But, you can make it happen, with MonsterInsights plugin.
MonsterInsights is a perfect solution for anyone looking to improve and monitor their website.
Getting to know your visitors is an important aspect, because, the more you know about them, the better you can optimize your site to show what they were looking for in the first place.
Take advantage of Google Analytics, but feel free to use the MonsterInsight's native features, too. For example, you can use their stats to check the website audience report to see who your target audience is. This report will provide you with necessary information regarding the location, device, and even gender of your visitors, so that you can optimize the performance of your site, too. On another note, it will also eliminate the guesswork from your content strategy, as you can easily see which content pieces gained the most attention from your visitors.
If you are running an e-commerce store, then tracking those metrics is mandatory, and it is another feature of this amazing plugin. You can effortlessly see, within a single dashboard, all the needed information about the performance of your e-commerce store. From revenue to top-selling product and top-performing referral sources, this plugin has you covered.
Over two million people are already using it! Getting to know your metric is fundamental for the success of your site, so you might consider getting this plugin for a hundred bucks.
4. GlowHost
You can optimize your site as much as you want. However, if your hosting provider is poor – you are wasting your time. This is why you should consider switching over to GlowHost. It is a dedicated hosting solution for WordPress that has been on the market for almost 18 years. The fact that they have been around that long speaks a lot.
When diving into what it offers, it is easy to see that they are checking all the points and recommendations you would expect from an excellent web host. Even the cheapest option will take care of blogs, magazines, and small shops when it comes to speed, uptime, security, and so on, for $10 a month. Not to mention that with GlowHost, you also get free domains of your choice.
Apart from hosting your website, GlowHost also offers to maintain your website. If you are looking to create something astonishing, you might consider outsourcing the mundane maintenance tasks to them. Better yet, it will ensure that you won't forget to update your WordPress site, thus leaving it vulnerable to hacks.
This web host is worth looking into, as it provides all the needed points of a good host, and the team behind it has enough experience to help you out with other stuff, too.
5. MobiLoud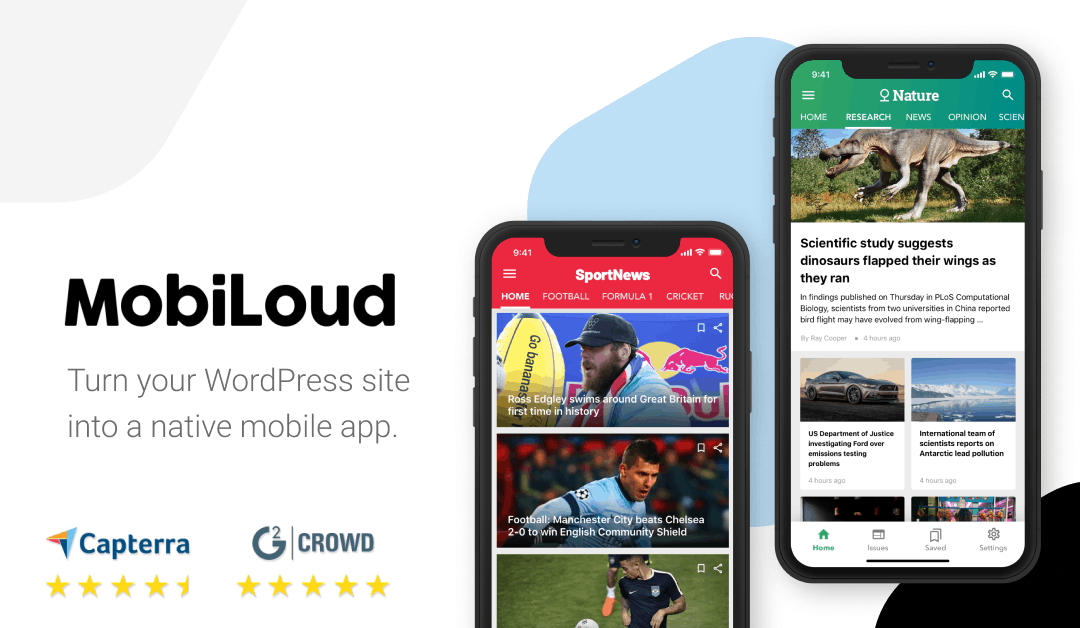 With over 50% of website traffic coming from mobile devices, you might consider jumping on board and creating a mobile app for your content-oriented website, too. Even if you haven't, you know you needed it. If you are wondering what we are talking about, just take a look at your smartphone. See that Facebook icon? You can create your own with MobiLoud.
This done-for-you service will provide you with an impeccable mobile application for your blog, for cheap! If you consider the price of hiring an in-house development team, or even to save bucks by outsourcing, your application could take ages. With MobiLoud, you can get your app ready in weeks. For such a small amount of money, we wonder how they are still in the business.
The experienced team behind MobiLoud will have your application fully customized, developed, published, and then maintained, updated, and supported for you. All you have to do is bask in the attention your application is getting, and figure out new content to keep your audience engaged!
6. Ultimate Addons for Elementor
Everybody who's been considering building their site from scratch has bumped into Elementor page builder at one point or another. The effective page builder comes with many useful features that will have you setting up your website in no time, filled with all the functionalities you might ever need. Currently, it is powering over 3 million WordPress sites and is unlikely to stop any time soon.
So, if you are using Elementor as your page builder of choice, it is good to know that there are many add-ons you can use to take it one step further. One of those is Ultimate Addons for Elementor, which will add some additional features you might need.
This plugin will add over 30 widgets and templates to the Elementor's already vast array of features. Take advantage of add-to-cart, or do more with your headings. You can use one of these addons to add the particle background or add the price list or tags to your WooCommerce products. Overall, for $69, you can get quite many useful add-ons that will have your WordPress website performing as well as those of the big industry names!
7. Codester
If you cannot find what you are looking for in familiar markets, let us suggest another one: Codester. This is the place to head on to when you are wondering, "How come no-one thought of…" They probably did, and you will probably find it here.
Codester is full of useful application templates that you can purchase and use, beautiful and functional themes, practical and ready to use PHP Templates, as well as numerous plugins that will make creating or working on your site a piece of cake. From source code to kids coloring apps, to WooCommerce Online Course system – you will find it here.
8. Schema Pro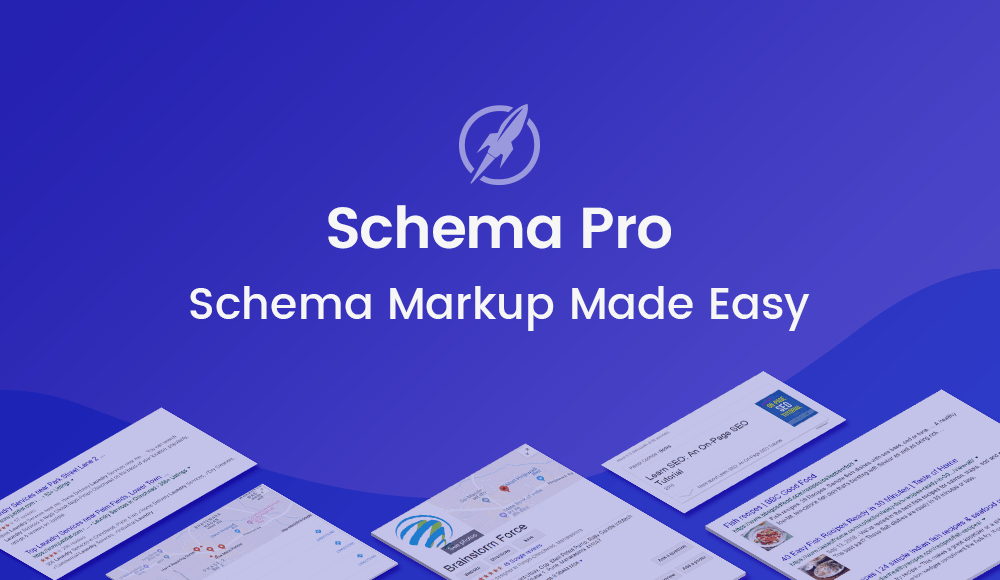 If you are looking to improve your SEO and your overall Search Engine results, then taking care of schema markup is a must. You want search engines to be able to read the content as you wrote it, but you have to keep in mind – they are just algorithms, as smart as they are. However, while beneficial, it is not nearly as easy as it sounds: unless you are using the right plugin. For schema markup, there is no better plugin then Schema Pro.
Why is that? Because instead of handling markups yourself, you can effortlessly add schema markups with a single click. From articles, recipes, videos, online courses, and even books, you can use this handy plugin to let search engines know what exactly is on your site. So, spending those $79 on Schema Pro might turn out to be the best investment you've ever made because you can almost instantly see the results!
9. The Gallery List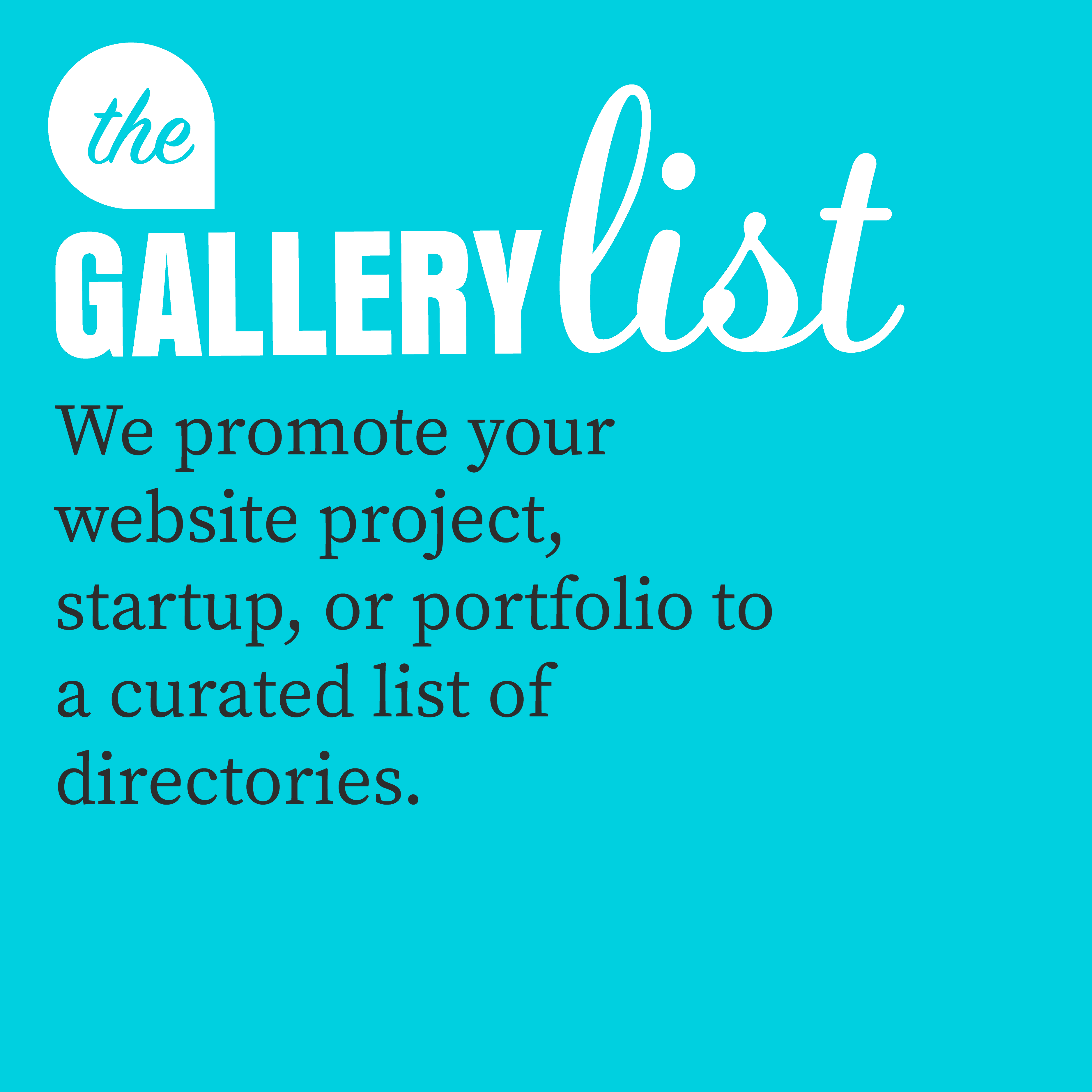 Did you know that you can submit your WordPress website to a websites' beauty pageants? The Gallery List is the place to go to that will help you with applying for these! If you think your design is outstanding and you are fishing for some recognition (Best UX award, maybe?), you should submit your website there.
It will help promote your website on particular platforms handing out these awards. The team behind The Gallery List will hand-submit your project to numerous galleries so that you can create a little trophy room for your site. The important thing to mention is that they have been adding websites to these directories since 2008, so there is a lot of traffic that your site could benefit from, too!
10. MailMunch
Considering that email marketing is still one of the most converting marketing options to go with, you might have decided to give it a try. Getting started with and growing your email list is no easy feat, but there are several plugins out there that could help you with it. MailMunch could be your plugin of choice.
This plugin comes with an intuitive drag and drop builder that will help you establish your opt-in pop-up in no time thanks to the numerous templates you could choose from and optimize. It comes with Entry and Exit technology to help you capture your visitors, has integrated analytics, and A/B testing. Overall, if you are looking to boost your email list – this is the right plugin for you.
11. Rank Math SEO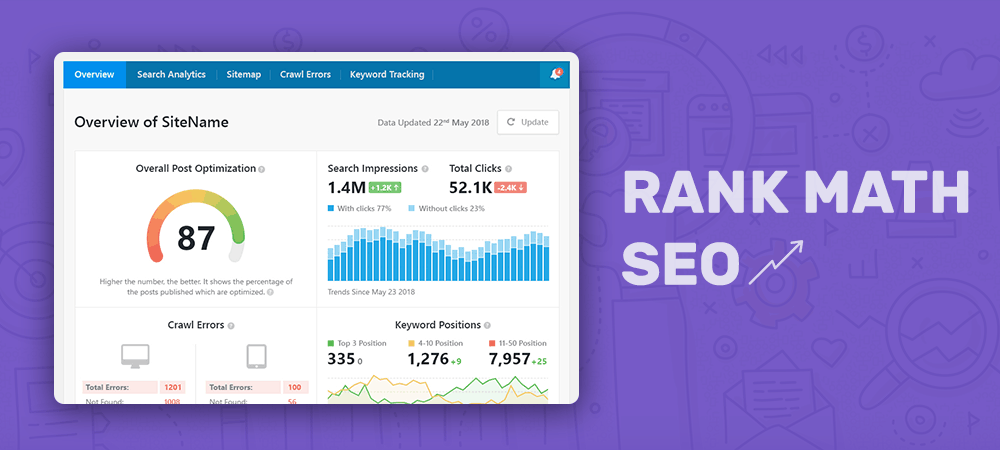 When we're speaking of SEO, this is probably one of the most important aspects of your site that you should pay attention to. What is the point of an awesome site, if no one can find it or visit it? Luckily, you can solve your SEO issues with Rank Math SEO.
Just by installing and setting up this plugin, (which is a piece of cake itself), you can eliminate all the guesswork and get down to making some effective changes. Rank Math SEO will provide you with detailed information about your posts so that you can work on them in instant. You can also take advantage of finding 404 errors in no time, and numerous rich snippets that this plugin provides.
12. WP Review Plugin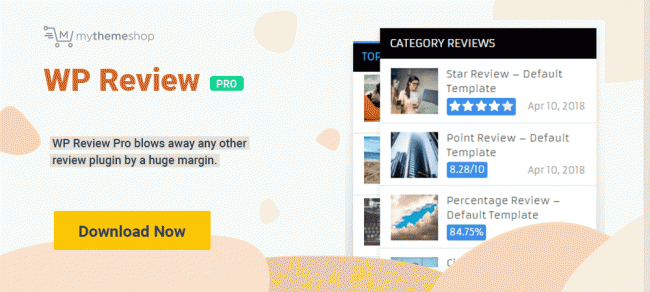 What did you check the last time you decided to buy something online? You checked its reviews. The same thing happens when someone is wondering whether to buy your product or not. They want to see what other people have to say about it, too!
The simplest way to add these reviews to your site is by using the WP Review plugin. How come? Because with it, you can take advantage of 16 premade designs, and get the review section done in a couple of minutes. You can also use over ten rich snippets, five different rating criteria to enrich your website, and even integrate Yelp, Facebook, or Google Places reviews on your website.
For $87, you can remove the doubts your potential customers are having, by allowing them to read other customer's opinion about your product. Worth it!
13. Landingi- Landing Page Builder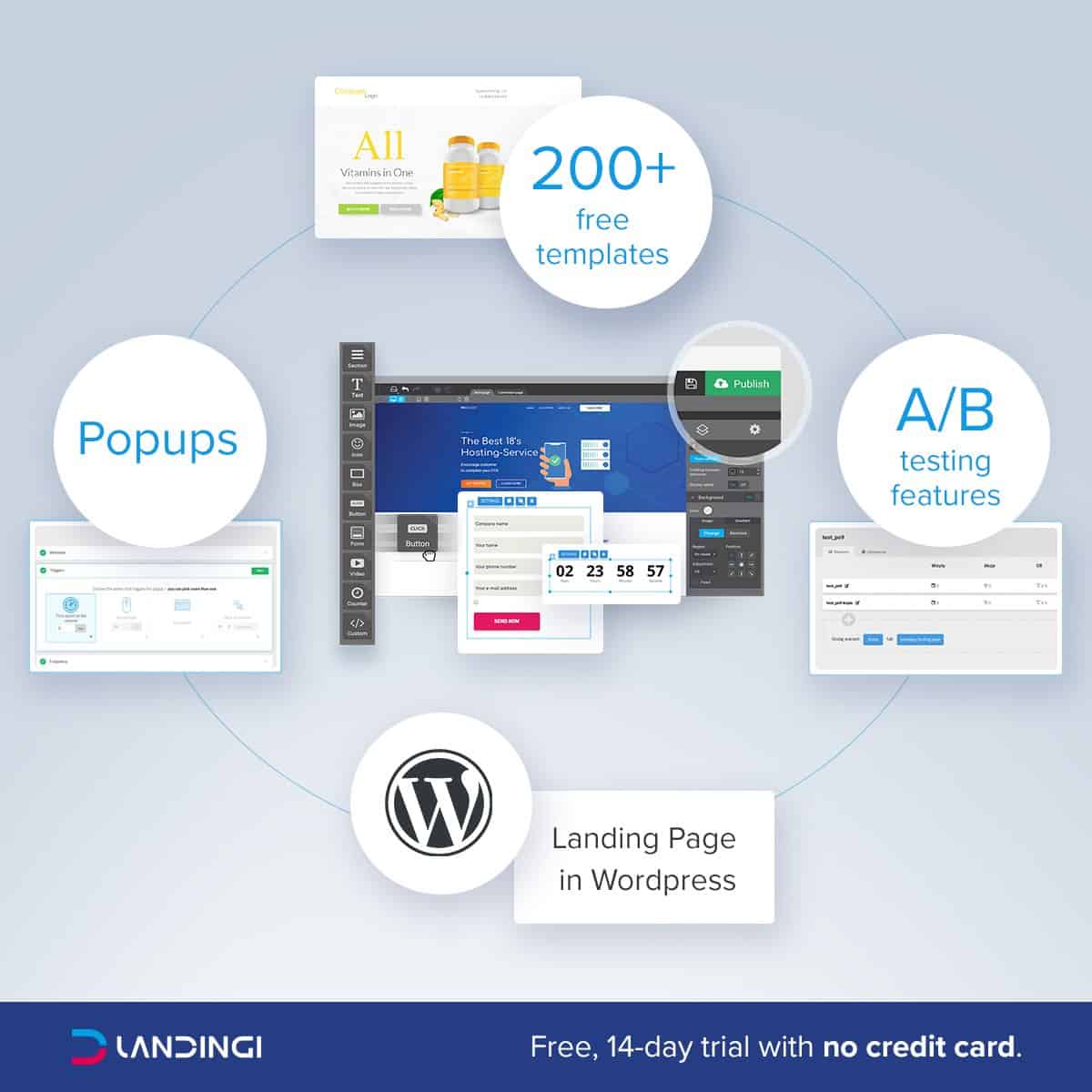 Do you need a landing page? You do. Do you have hours to waste to set it up? You probably don't. This is where Landingi – Landing page builder can help you out. First of all, it is truly super straightforward to use, so even if you haven't done this before, you will be able to create your landing page in no time with this plugin.
Apart from providing you with a one-too-much template to choose from, over 200 of them to be more precise, all of them fully customizable. It also allows A/B testing, and other quite useful integrations your landing page could benefit from. Take advantage of MailChimp or Zoho CRM integration, for example, so that you can take your email collecting efforts to the next level instantly.
The best part? You can test Landingi for free for 14 days! If you are not sure you would like to commit, give it a go: no credit card is required.
14. We Love WP
Looking for inspiration for your new site, or for your website to become one to others? You need to submit it to WeLoveWP. This is the so-called inspiration gallery, but you can consider it to be one of the website beauty pageants we mentioned before. This gallery is doing an excellent job since 2007, it is very popular, and it might bring you some much-needed traffic!
Yes, this is one of the galleries The Gallery List will apply your site to. You could rely on them, or you can choose one of the three types of listing options directly on the site. If you need instant gratification, though, you can rely on their instant submission, which costs $10.
15. Taskade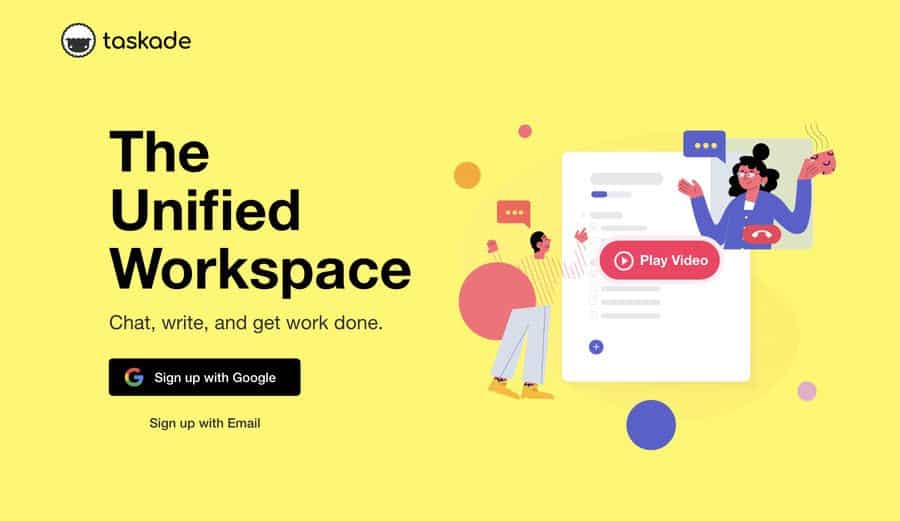 Working remotely with a bunch of people is awesome – if you set up the team behind your WordPress website to work like that, you are bound to have a happy team. Trust us, we know. However, those happy people need to get the job done, and keeping track of all the tasks that everybody needs to do can get tough. There should be a single source of truth, a place to collaborate on and track your progress.
If you are searching for that, give Taskade a look. This Unified Workspace for distributed teams is fully free (if you want to test it, go right ahead), and it works on all operating systems and browsers.
This easy-to-use solution will help you communicate, cooperate, and track your team's progress without any stress. You can use four different views for your workspace, utilize a calendar and a working map, and further customize it so that your remote team can perform to its best.
16. KnowAll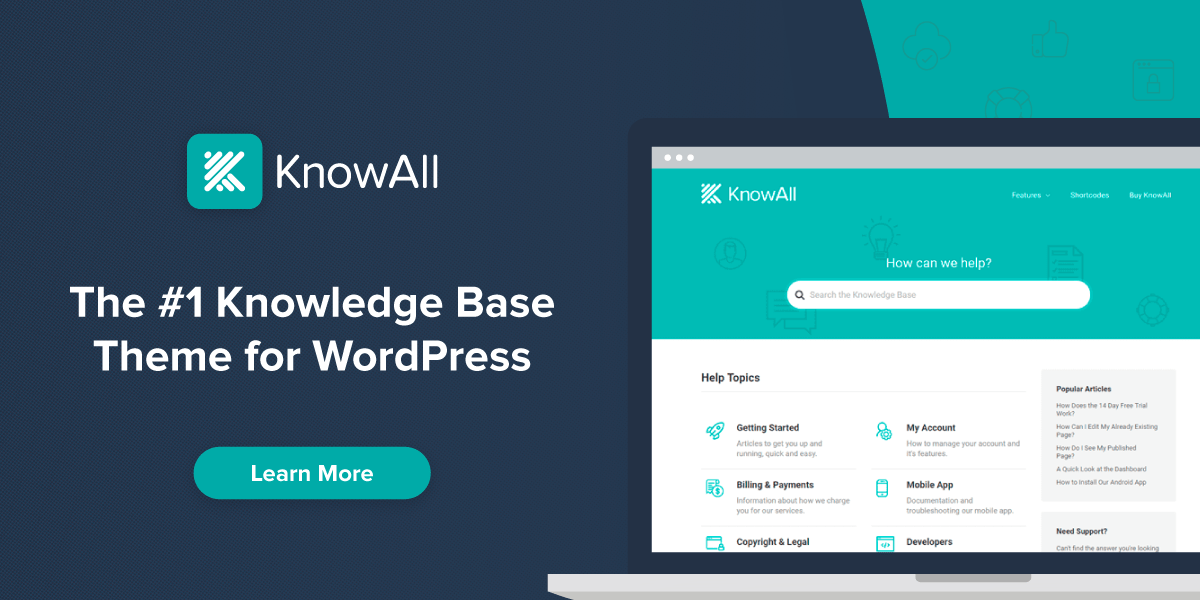 Are you receiving many repetitive questions, but not many sales? Your copy might not be that great. Or, your solution has one too many features, so it's hard for your users to get a grasp on how it works. Nevertheless, if either is the case, you need to provide your visitors with a knowledge base.
Take a look at KnowAll. It is the best WordPress theme for creating a knowledge base. With it, you can set it up in no time, and let your users search for answers to their questions. This theme is very customizable and is fully responsive, so you can rest assured that nothing will look bad on any device. You can provide your visitors with quick answers as they type so that navigating that amount of information is not intimidating.
This theme comes with integrated actionable analytics too! Using these, you can easily see what your visitors are looking up the most, the effectiveness of your answers, and overall feedback so that you can always keep improving your knowledge base. So, instead of hiring numerous support agents, spend $200 for the pro version of this theme!
17. Goodie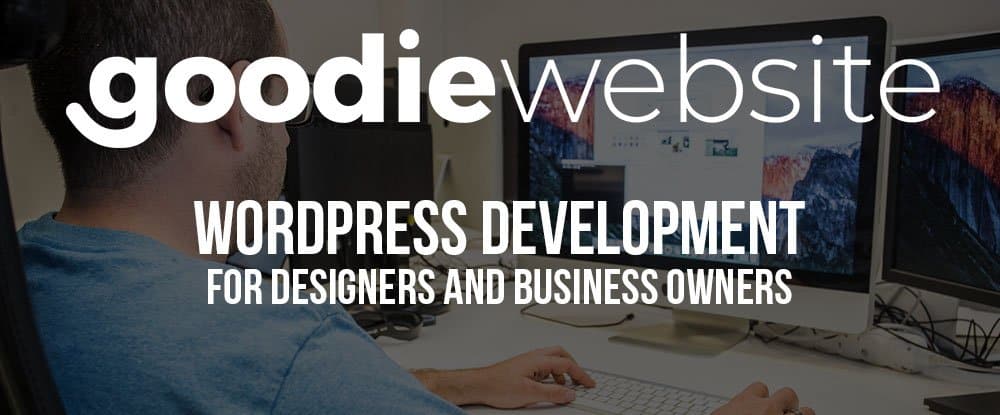 Goodie is a place to go to if you need a WordPress website, and have no wish to do it yourself. That's right, by using Goodie, you will get connected to highly experienced web developers that are happy to create your website for you. If thinking of drag and drop builders, customization, and planning required makes you shiver, this is the website to go to.
To get your idea come to life, you should send them your design, or let them know about your idea and needs for the website. One of their web developers will estimate the time needed to complete your project and the price for accomplishing that. Once you agree on the specifics, you get to lay back and relax. The experienced development team will do the rest for you.
18. Portfolio Contact Page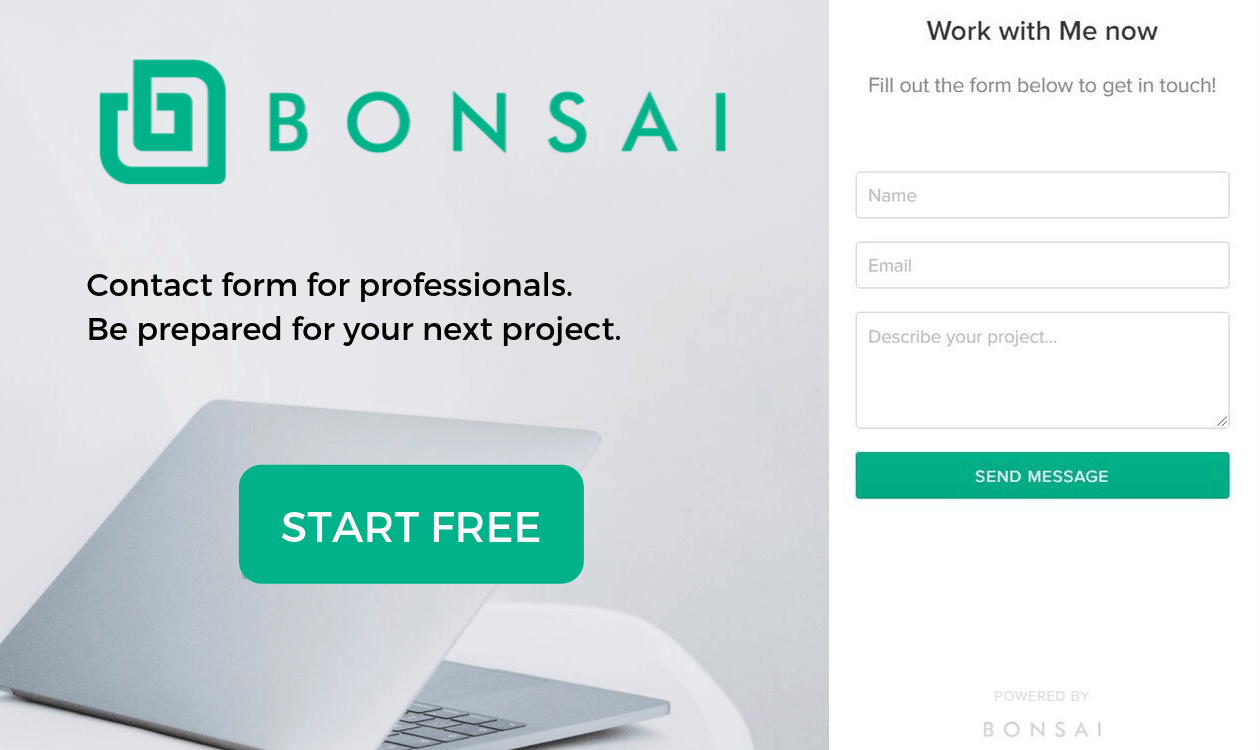 Every Freelancer knows this – you need a contact form on your portfolio WordPress site – otherwise, you don't really need the site in the first place. However, to add it to your website can sometimes be a hassle, so you definitely need a quick and easy solution for setting it up. You can use Bonsai and not get disappointed.
Bonsai will help you set up your contact form in no time. Just sign up for it, and it will create a professional contact form for you. It won't take it longer than a couple of minutes, and you are good to go. If you are unsure that it will match your needs, you can take advantage of the 14-day trial to see how it works.
Apart from creating an astonishing contact form, Bonsai can help you with all the other struggles freelancers are bound to have. It can help you with invoicing, contracts, and much more. Definitely worth giving it a shot.
19. WordPressToWix.PRO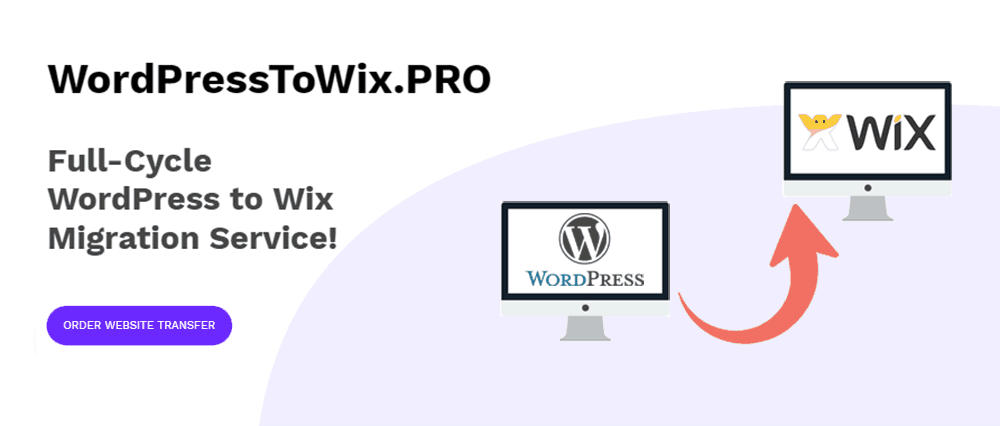 Someone might have told you that WordPress is an outdated platform to have your website on, and they could be right in certain aspects – there are many new platforms that you can build your site on, and one of them is Wix. If you decided to follow up on that, and move your website to Wix because you saw a video on YouTube, you are welcome to go ahead.
While you are at it, you should make sure to use WordPressToWix.PRO. This professional migration service can ensure that your WordPress site is transferred to Wix safely and securely. With many professional developers who have worked with both WordPress and Wix, nothing will be lost in the transition. They also guarantee that their support is available at times and that their pricing policy is as transparent as it could be, so if you are planning on moving – this could be the team you need to help you with it.
20. WixToWordPress.PRO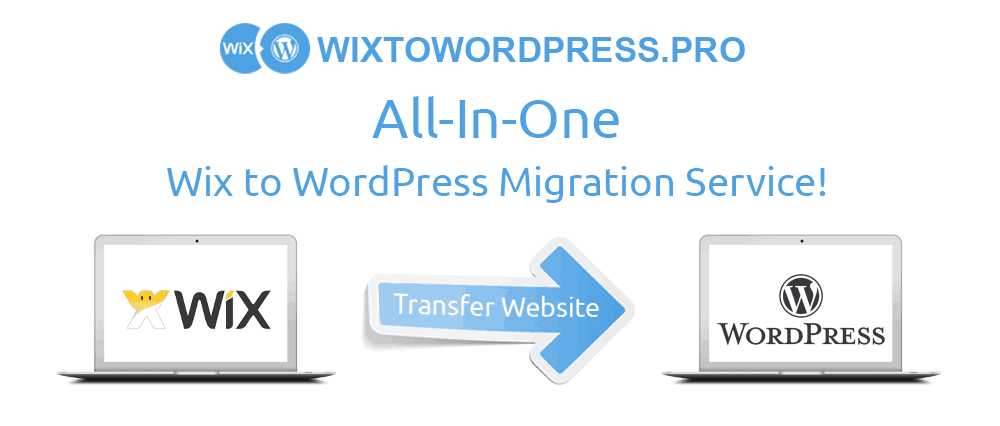 On another note – if you want to reverse the process, because you have discovered that Wix is quite limiting when it comes to, well, everything, you can effortlessly migrate your website back to WordPress with WixToWordPress.PRO.
Just like the previous one, this company employs professional web developers that can handle any issue that may arise, and ensure that your website is safe and sound on WordPress in the end. No need to stay on Wix and get stressed with its lack of customization options, when moving to (or back to) WordPress is as simple as hiring this team.
21. Free Gutenberg Starter WordPress Theme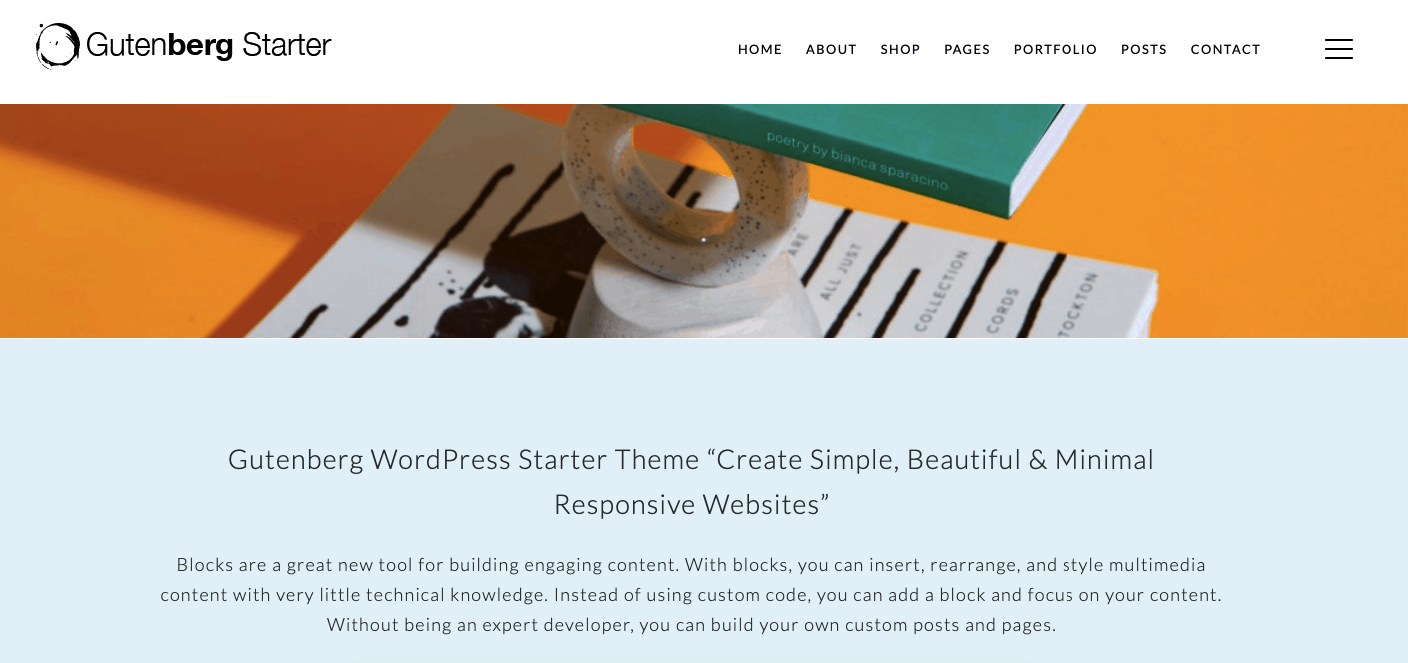 Getting started with your WordPress website is a piece of cake with the Gutenberg up there and running smoothly. By simply rearranging the blocks to your liking, you can create a stunning website in a matter of minutes.
However, you still need a good theme, preferably the one that is Gutenberg-compatible, and not too expensive. After all, you are just starting out, and still, there have been a lot of expenses. This is where Gutenberg Starter WordPress Theme can be a perfect fit. With all the needed blocks and functionalities, yet completely free, this theme will have your online presence up and running in no time. However, if you are looking for a WordPress portfolio template, you can ignore this one.
22. uCalc – Calculators & Forms Builder for WordPress Website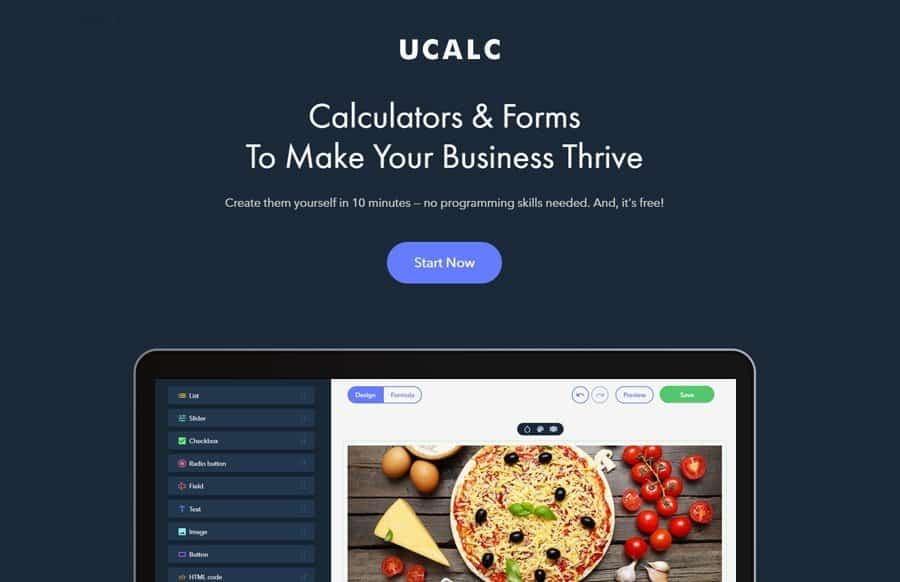 If you have to deal with any kind of estimates on your WordPress website, you need to get yourself the uCalc.pro. While on the surface it might look like just another form builder, it offers so much more than a simple form – it handles all the calculations you need from your visitors so that you can estimate a project without lifting a finger!
This plugin comes with dozens easy to use templates, which are sorted per industry so that you can quickly find and optimize the one that would benefit your website the best. And don't worry, you don't have to know any coding or go full webmaster for that – it is tested by SuperbWebsiteBuilders.
Apart from creating estimates, this plugin can help you with social media sharing, subscription forms, polls, and much more. The best thing about it? It is completely free!
23. uSocial – Service to Create Social Share and Like buttons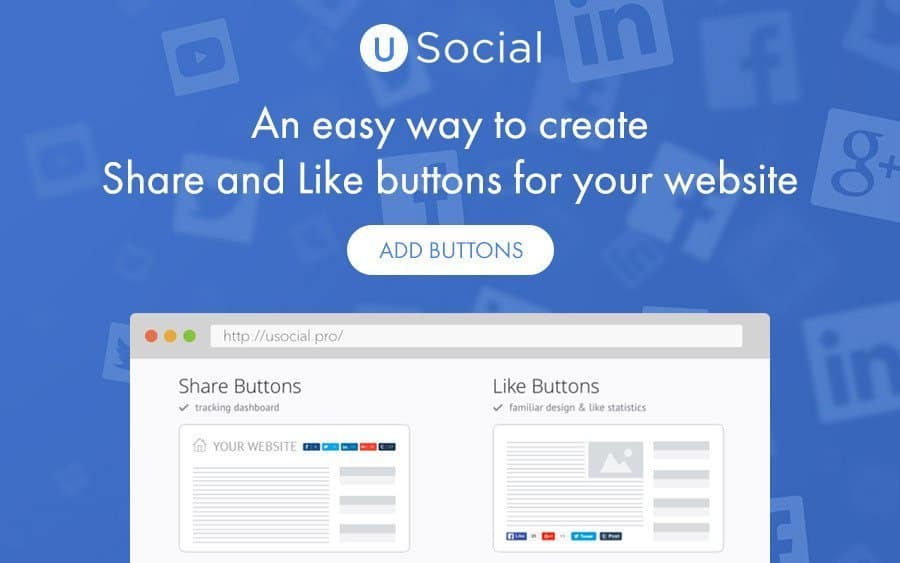 Speaking of social media, we all know how important that is, right? Facebook, Instagram, and Twitter are the way people are communicating nowadays and how news is spread. You want your content to become the breaking news? You have to make it easy for your visitors to share and like it.
To do so, you can use uSocial. This is probably the easiest and most convenient way to include the modern social media buttons on your WordPress site. You don't need any coding skills to get there, as this powerful builder will handle it for you. All of these will be fully optimized for mobile devices, and you get the analytics functionality, and much more.
24. Mobirise Website Builder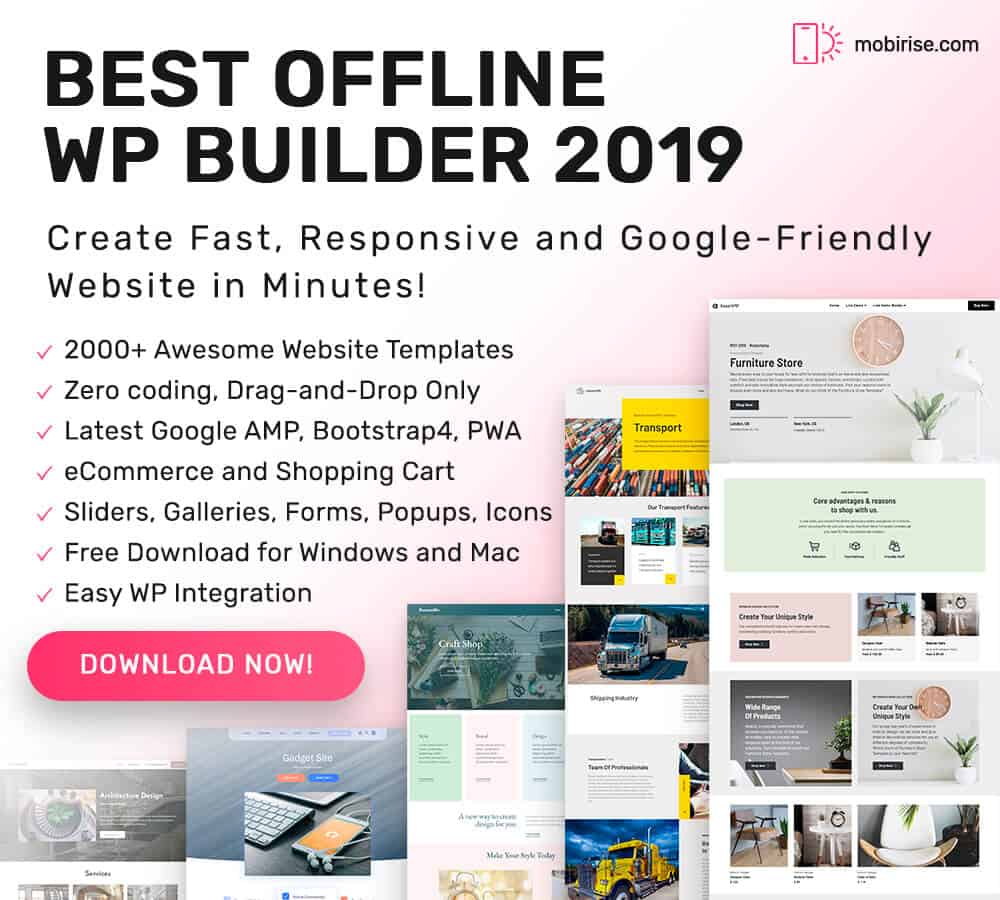 If you are considering creating your new site, then you should definitely give Mobirise a go before you pull out the big guns. Namely, Mobirise is a free website builder that will help you set up your website's template in no time and with no coding skills needed.
This builder is perfect for beginners with no or limited web design skills. Everybody can use it to get a grip on how website builders work, and even create something beautiful in the process. The best part about it is that you edit within a visual editor, so you can see all the changes as you make them. Try it out, or even use it as a practicing tool – and when you come up with something beautiful that you are proud of, use it as a template for your gorgeous new website!
25. WordPress Maintenance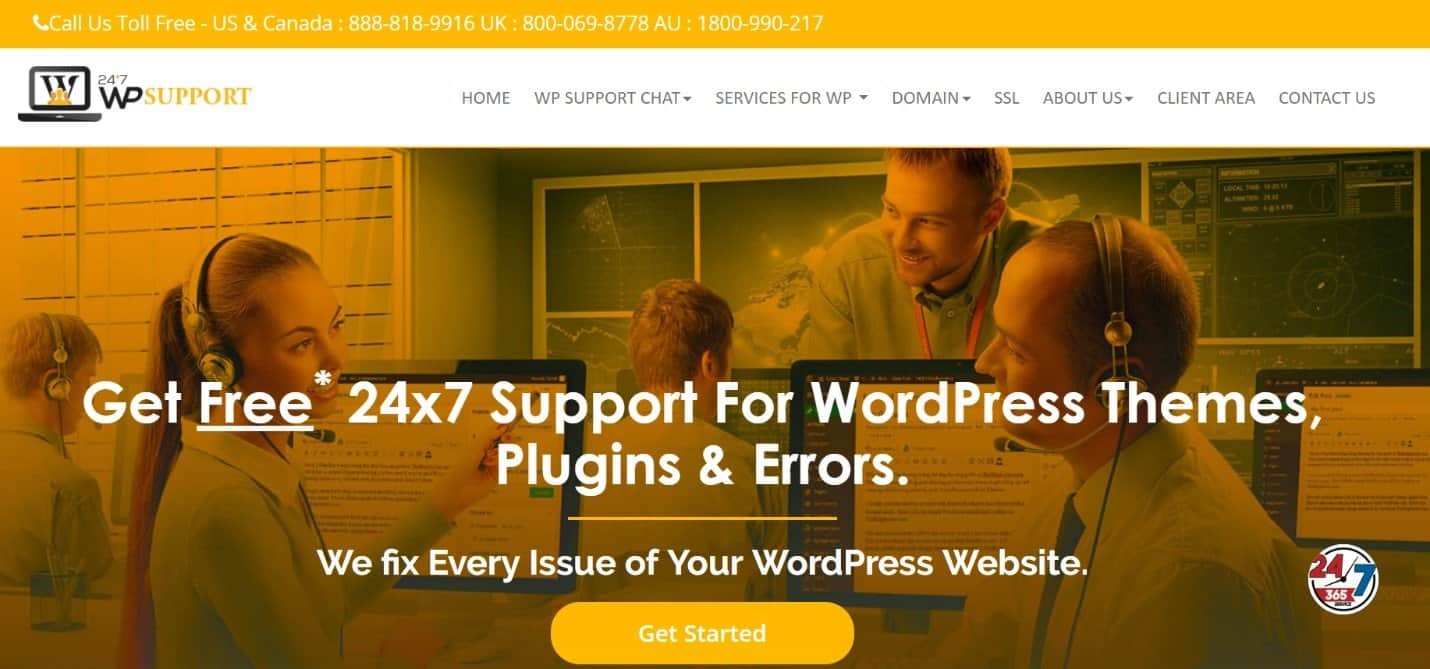 24x7WPSupport is the team to have on your side if you are working with WordPress. As with everything computer related, accidents can happen, and you need a team of professionals standing by to help you out solve them.
Apart from WordPress Maintenance, errors, and quick fixes, you can rely on this team to help you out with domain names, your hosting issues, security issues, WooCommerce, and even web development. You can hire them for one-time solutions, or for long term cooperation. Either way, these guys (and maybe girls too) will have your back when it comes to WordPress.
26. RumbleTalk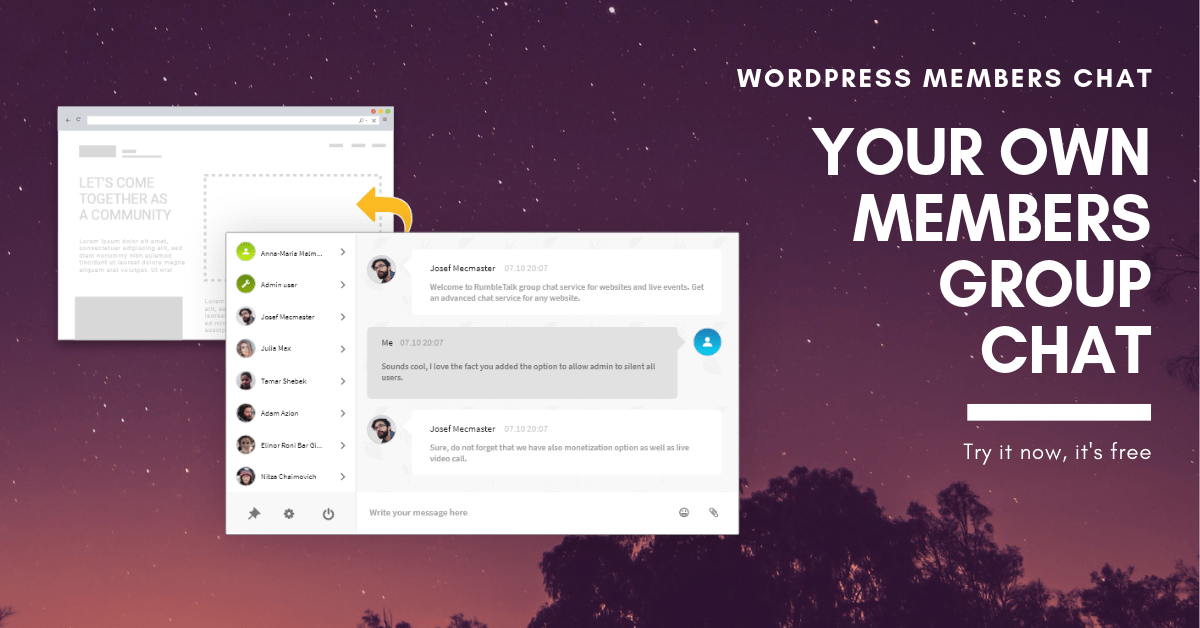 Keeping your audience engaged is tough work, but it is an unavoidable trial and tribulation of running a website. However, there is an easy trick you can employ – make them feel like they are a part of a community. How can you do that? You can add a group chat to your website.
Now, before you repeat the "How to" question, let us introduce RumbleTalk. It is a leading WordPress group chat plugin, that will allow you to set up a group chat on your website in no time, without any coding experience needed. The group chats are fully customizable to match the overall vibe of your site, and rich in all the features you would need. If you are struggling with engaging your audience, give this plugin two minutes of your time to set up the chat, and see what happens!
27. WordPress page builder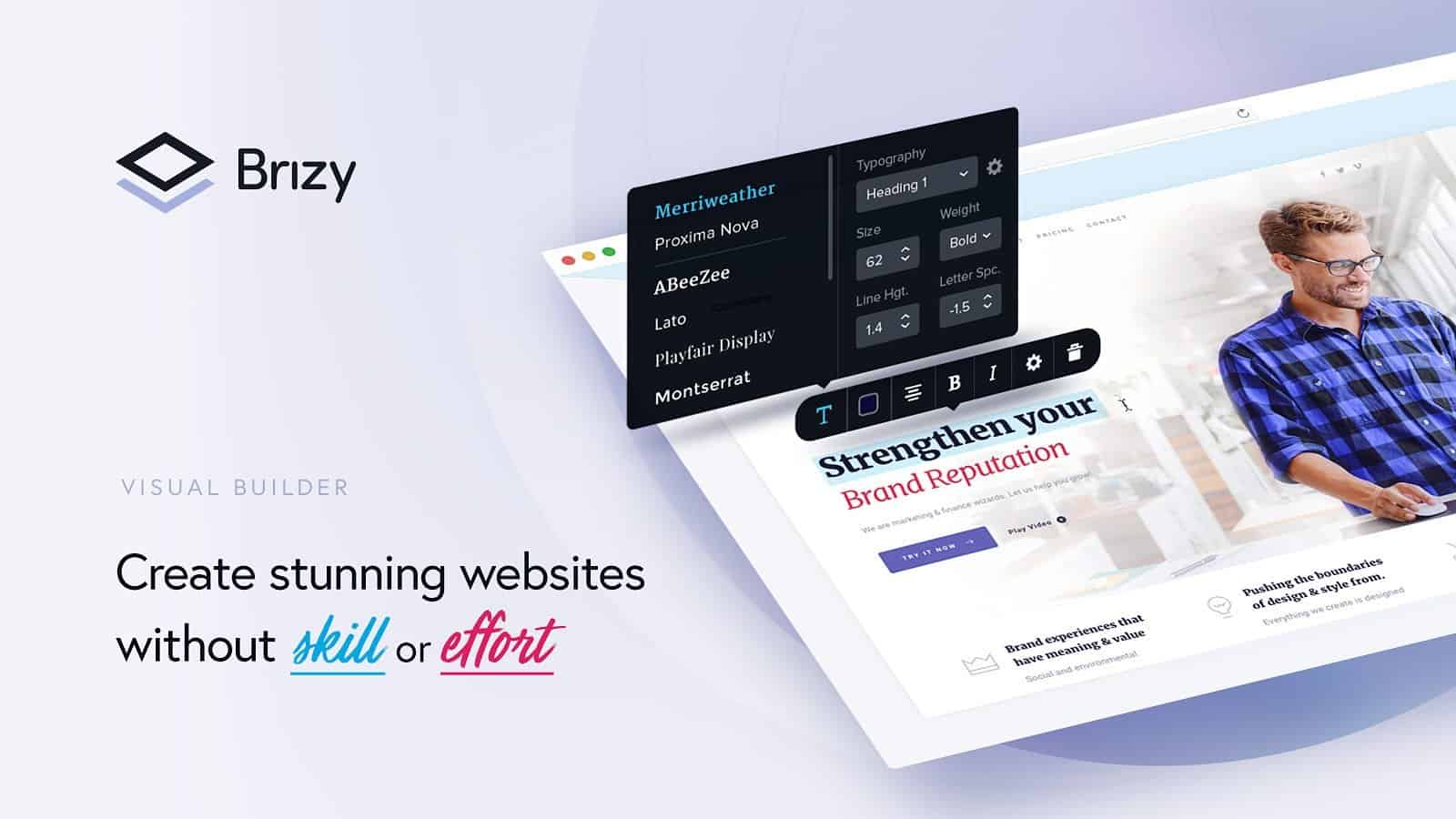 Another gorgeous WordPress page builder that you can use to set up your WordPress site is Brizy. Promoted as the most intuitive drag and drop builder you could find online, it is not far from the truth. By being able to edit as you see fit, and see the changes happening before your eyes, you can effortlessly get a grip on this WordPress page builder and create something beautiful in no time. The best part? You get an undo and redo button!
Brizy comes with over 400 blocks included, which you can use to create your site by simply dragging them into a layout that you are comfortable and happy with. Each of these blocks is fully customizable, and you can take advantage of animations, video backgrounds, and many other options to make your website visually stunning!
28. Opinion Stage Quiz Maker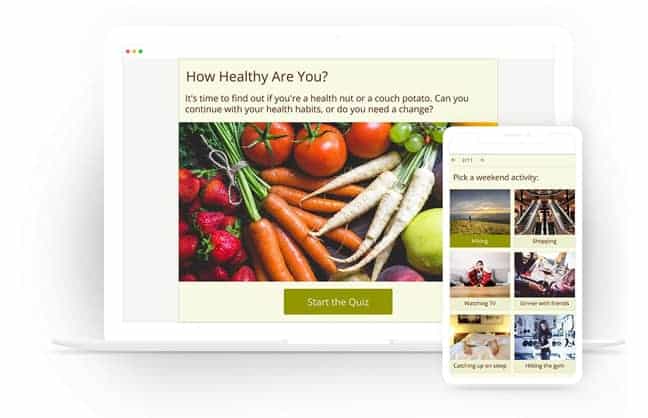 Do you want to find out which Marvel character you would be? We all do! Where can we take that quiz? On your site? Awesome!
This guilty pleasure of many could be your solution to keep your visitors engaged, and you can create them in no time with Opinion Stage Quiz Maker. With this plugin, you can start from scratch or use one of the hundreds provided templates to chose from and get started. Apart from highly converting (and very shareable!) quizzes, you can use this plugin to create lists, popups, polls, and surveys, as simply as possible. Integrate MailChimp, Zapier, or any of the other available integrations to get the most out of these attention-grabbing guilty pleasures!
29. Fortune Creations – WordPress Themes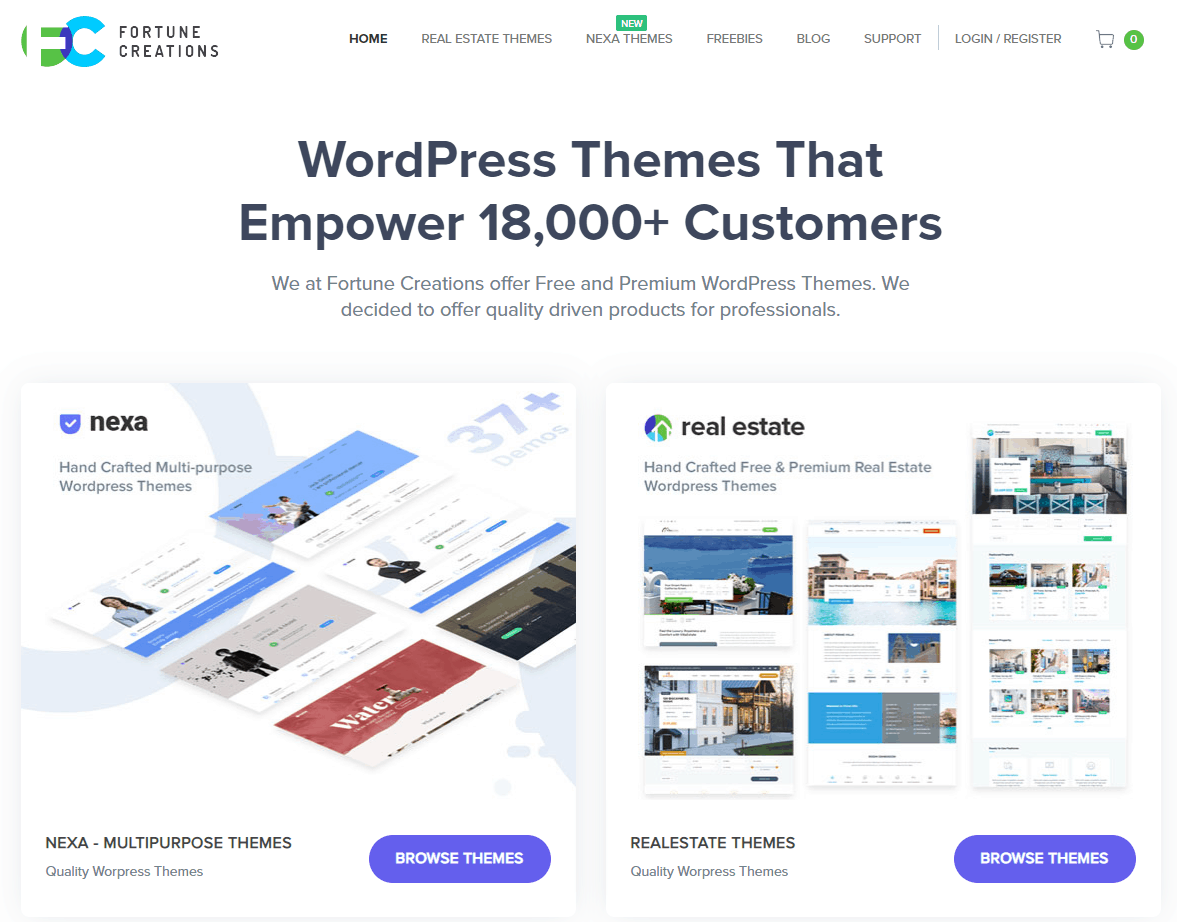 Picking the right theme to create the perfect WordPress website can be a hassle. Don't you wish you knew a reliable developer of WordPress themes that you can trust?
Take a look at Fortune Creations. The themes from this developer are the ones that you can trust to be a perfect choice. From free ones to premium ones, you will very likely find the theme that suits your needs. Apart from all of them being fully responsive, which is mandatory in the era of mobile-first indexing, they all come with a clean and modern design that you can customize without breaking a sweat. The free lifetime updates and quick support are the cherries on top!
30. Blabber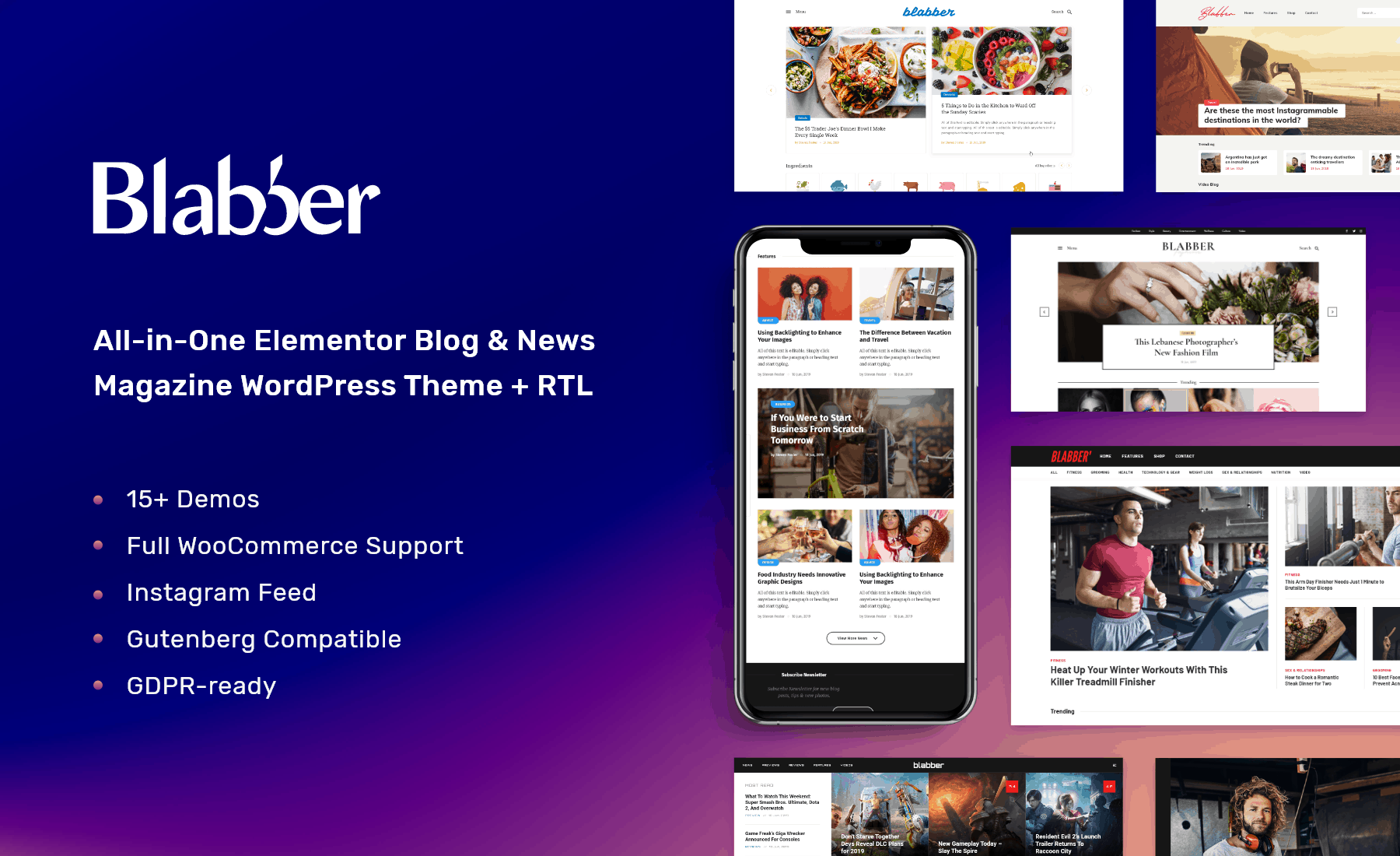 If the above themes are not for you, and you are looking for a blogging/newspaper theme, then you can go ahead and check Blabber. It might be just the thing you are looking for. 100% Gutenberg and WooCommerce ready theme, it will have you set up in no time.
The theme is fully content-oriented, easy to set up, and fully customizable. It is promoted as one size fits all solution, and it is not far from the truth. Whatever you are writing about in your blog, this theme can follow it up. Most importantly, in the era of millennials, it can integrate with social media and is fully responsive when it comes to looking good on mobile devices.
31. Under Construction Page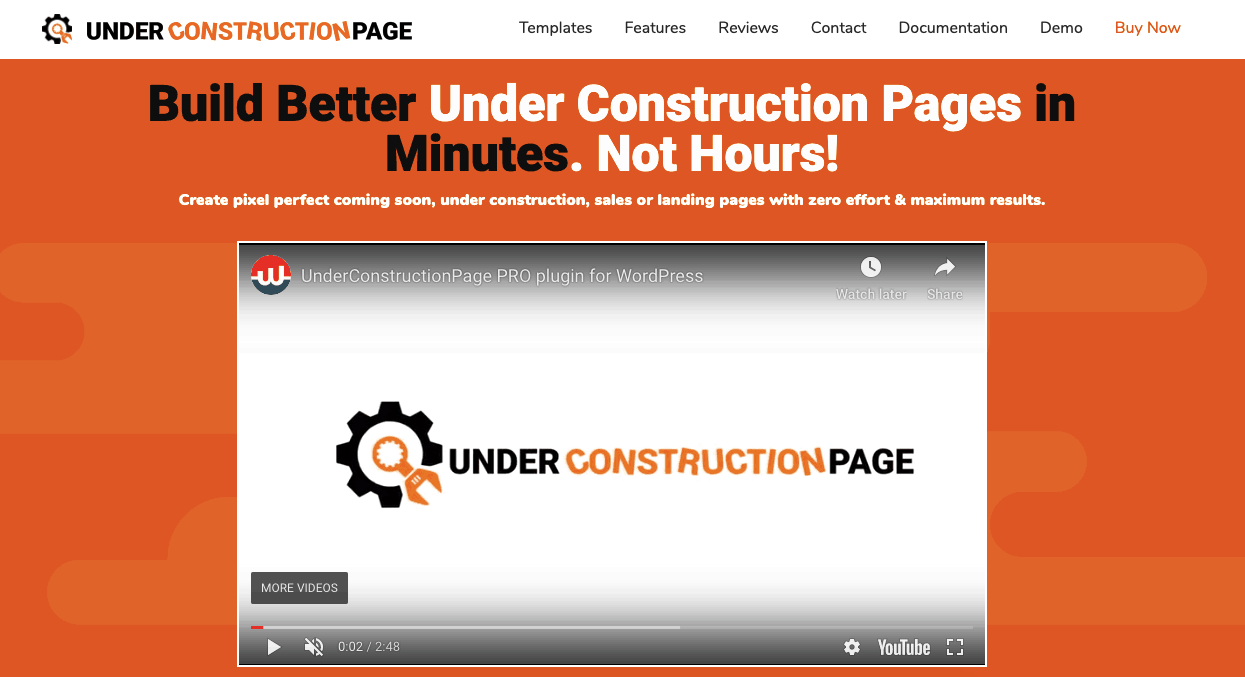 We all agree that updating, maintaining, and reviewing your website every now and then is mandatory. What is also mandatory is not allowing your customers to see the work in progress. If they see a messy site, your reputation is going to go down the drain.
This where Under Construction Pages come in handy, and there is no easier way to set up such a page then using Under Construction Page plugin. With this plugin, it will take you minutes to set up your perfect under construction page, thanks to 190 theme templates that come with this plugin. Effortlessly pick one that you like the best, customize them using a simple drag and drop builder, and make sure that your visitors know what is going on and that you will be back soon.
Easy to set up and straightforward to use, this plugin will be your best friend through those tough maintenance days every website has to go through every now and then.
32. 301 Redirects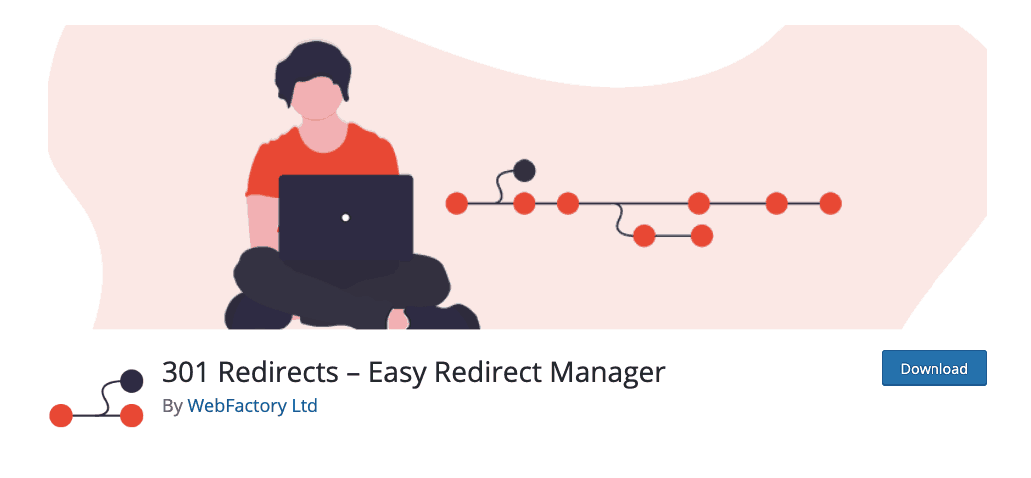 When your site gets too messy, and you don't want to put it under maintenance, you can always resort to redirects. With 301 redirects plugin, you can gently nudge your visitors toward more fresh, clean, and overall neat content while hiding the messy one in plain sight.
301 redirects are simple to set up through this straightforward plugin. All you should do is type (or paste) the Requested URL and select from a dropdown menu (or paste again) the different Destination URL. This will redirect your users to where you want them to be – it could be a post or a page on your site, or to a whole another site. Take advantage of the "hits" counter to see how many times a redirect is used, and much more, with this fully free plugin!
Overall
WordPress comes with a lot of plugins, themes, and other tools to use for creating, optimizing, and overall, perfecting your site. Some of them we know we need, some of them we miss in the vast sea of WordPress products.
Each of the 31 products you can find on this list is very straightforward, requires no coding experience, and can help you figure out a particular aspect of your site in no time. Whenever you consider making some changes on your WordPress website, give this list another go – you will certainly find something that can help you turn your idea into functionality on your site!
Are there any that we missed? Let us know in the comments below!