YouTube is one of the most popular platforms worldwide. There are millions of YouTube videos in the app. It isn't easy to attract the attention of individuals through YouTube videos. It's why content producers use various methods to get subscribers, likes, and views for their YouTube videos. So, one of them used perfect thumbnails for the videos.
Creating a good #YouTube thumbnail can be considered the first step in increasing your #content and video #popularity, increasing your #subscribers, and getting a good view

For YouTubers to produce a variety of content and make videos eye-catching, they need to use that very thumbnail. Thanks to these small video images, it is straightforward to attract the subscribers' attention to get the most effective results.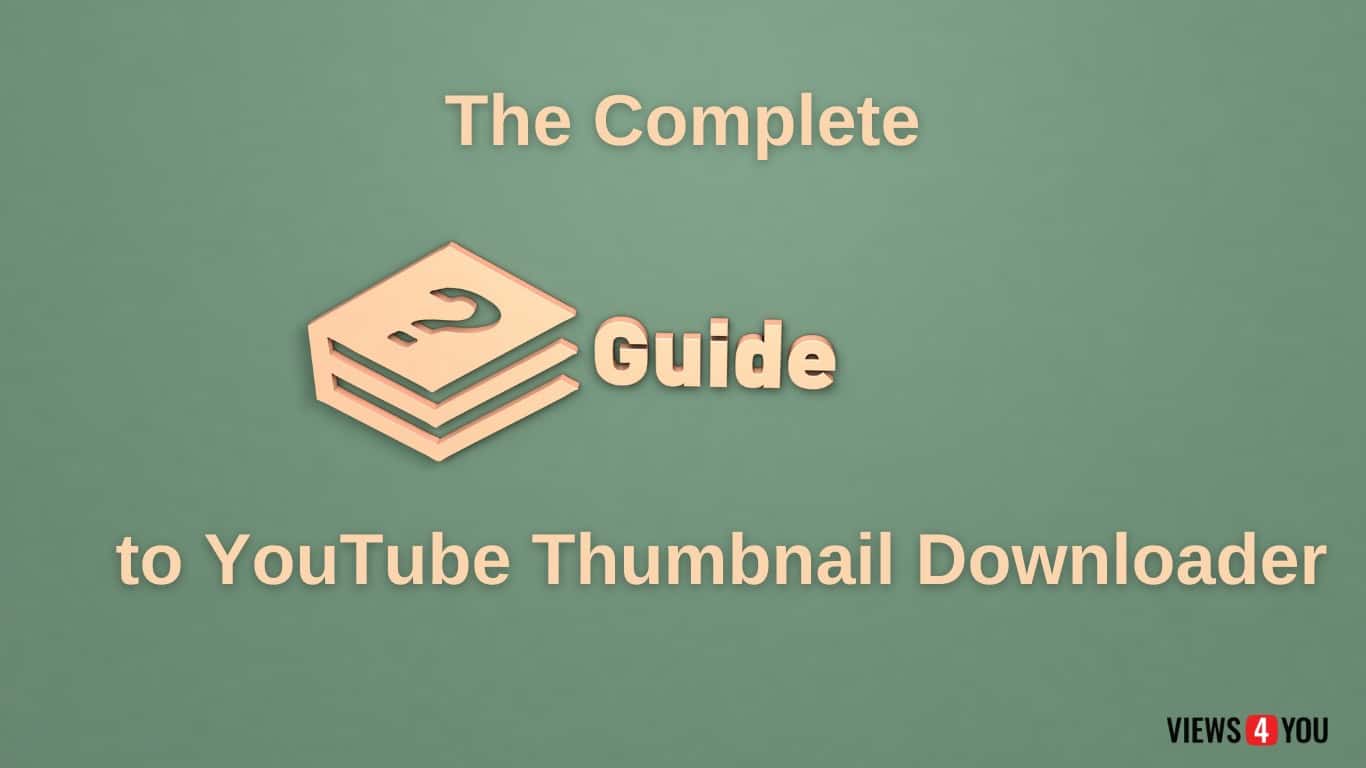 Everyone can shape YouTube thumbnails according to their video content. They can use various tools to create and download these small images to make another one or to use them somewhere as a reference. But how could they download a YouTube thumbnail? The answer is Views4You and the service's YouTube Thumbnail Downloader that everyone can use freely.

What is a YouTube Video Thumbnail?
So, what exactly is a YouTube video thumbnail? Firstly, let's talk about these little images.
When you make any video on Youtube, you need to attract people's attention. Your first look at the appearance of a product you buy without knowing its benefits. For videos, that means thumbnails. It allows watching videos by clicking on the small images you like. People make very flashy video covers and thus get clicks on their content. At this stage, creating a good Youtube thumbnail can be considered the first step in increasing your content and video popularity, increasing your subscribers, and getting a good view.
A picture that has been shrunk down serves as a thumbnail on YouTube. This thumbnail is the first thing a person sees while they are browsing and attempting to decide which content will offer them the best response or fix to whatever problem they are trying to solve. Viewers can tap on the little, clickable images that make up YouTube thumbnails to watch any particular video of their choice.
The main objectives of YouTube thumbnails are to draw attention and pique viewers' interest. Video small images are made, nonetheless, with the following objectives in mind:
fully convey the message of the video.
make yourself compelling enough for the viewer to click and continue watching.
by setting your brand apart from the competitors, you can make it stand out from the crowd.
be straightforward to view across all platforms, including desktop and mobile versions.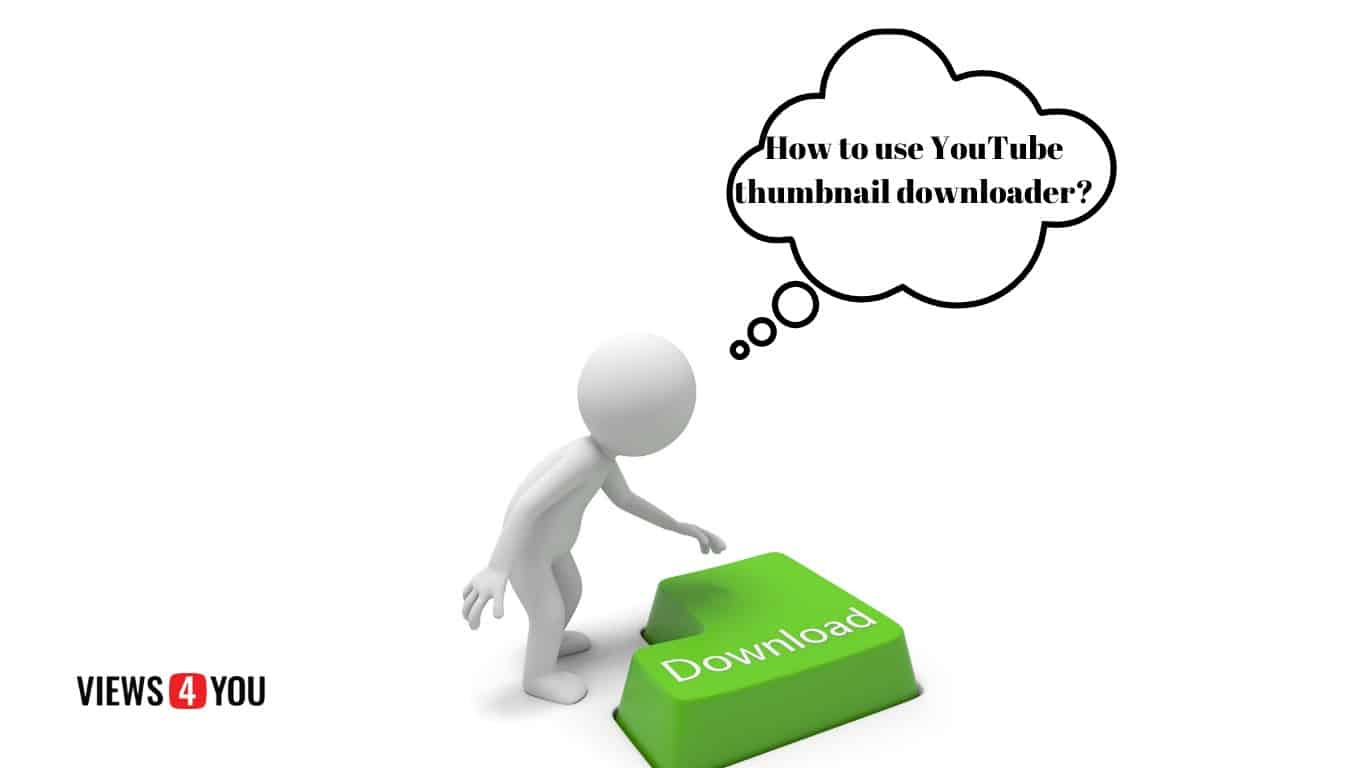 How to Download YouTube Thumbnails on Views4You
Having a tool that allows you to instantly grab and download the thumbnail to your devices is fantastic. That is what the YouTube thumbnail downloader accomplishes. It enables you to quickly grab any YouTube video and create a small image for it. Let's quickly go over the procedures of Views4You's tool you must follow to grab the little pictures.
Copy the YouTube video URL: First, open the video and then, copy the URL from the browser address bar to get the YouTube thumbnail.
Paste the YouTube Video Link: You may see the little image that was generated as soon as you paste the URL into the input box of the YouTube thumbnail downloader.
Let the Feast Begin: Simply click the download button at this point and save the image to your device. It is easy peasy to download thumbnails from Views4You!
There you go. The little picture for the video is yours to use wherever you like. Before utilizing an image in public, nevertheless, be aware that it might be covered by copyright laws in some cases. It's possible that you'll need to get the author's consent, give credit, and other requirements.
Why Views4You YouTube Thumbnail Downloader is the Best of All
There are many free YouTube thumbnail downloaders available in the market, but not a lot like Views4You's YouTube Thumbnail Downloader tool. I always use their service and there is nothing that I can complain about.
I strongly recommend you use one of them to promote your YouTube channel. However, you may question the reliability of these tools. Not every downloader is useful for growing a YouTube channel.
I would like to talk about an extremely useful and amazing tool that I saw recently. Youtube Thumbnail Downloader of Views4You, which I discovered to be an excellent YouTube growth service platform.
Creating video content is a challenging process in itself. You went through this process and finally shot your video. Next, you need to choose a good YouTube thumbnail, right? This is where you might want to take a look at how other great influencers are using thumbnails. Extracting ideas from these thumbnails will help you choose a better thumbnail.
To be honest I was one of them and needed thumbnail downloader tools for the video. Luckily, that's when I met Views4You that day. There are a lot of Youtube thumbnail tools on the market, but Views4You is a completely different platform. Let's check its features.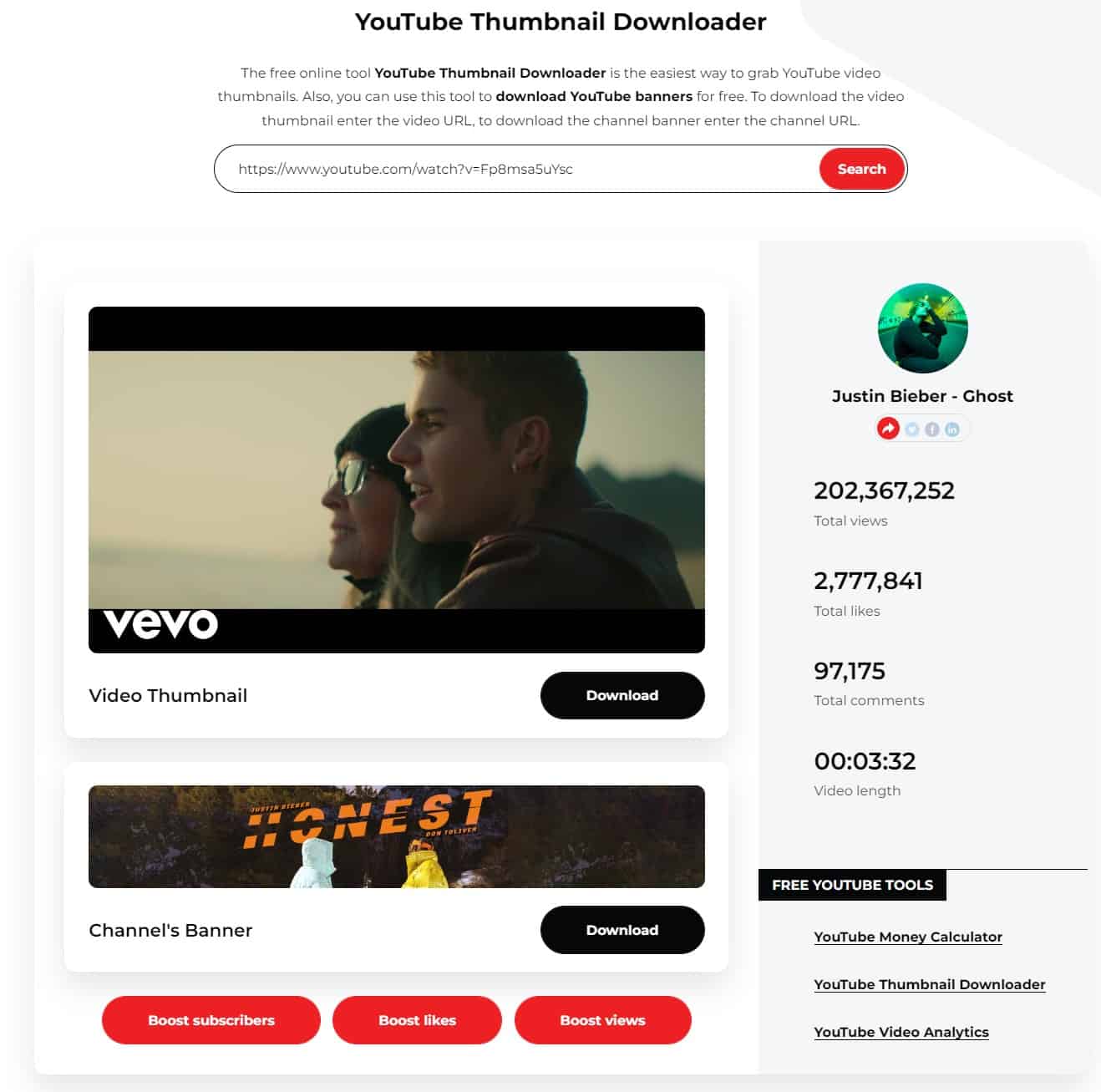 For YouTube creators, Views4You's thumbnail downloader provides a very useful feature. It offers a simple user interface and several built-in functionalities, as seen below.
Easily view the YouTube video thumbnail
YouTube thumbnail downloaders automatically take images and offer them in various sizes in a new box right away, allowing you to rapidly see the small image by pasting the video link.
Downloading a thumbnail only requires one click
The built-in download thumbnail button on the Views4You grabber allows you to instantly save video images to your devices. There is no need to right-click and save as a process by hand. It omits these laborious processes and enables little image download with a single click.
Download a banner for your YouTube channel
The simplest method for obtaining YouTube video thumbnails is to use Views4You's web tool. Additionally, you can utilize this program to get free YouTube banner downloads. Write the clip URL to download the little image, and the channel URL to download the banner.
You can safely grab quality little images with Views4You's YouTube Thumbnail Downloader. tried many tools, but almost all of them turned out to be fake. You can choose this tool to protect the content of your video.
After discovering Views4You, producing content became much easier. Views4You got me to download thumbnails very quickly. There are lots of other tools as well. You can get free views, likes and subscribers. This way, you can start to earn money. As well as you grow your YouTube channel.
Put it in a Nutshell…
Views4You's YouTube thumbnail downloader helps you get your little images of various videos in a short time. You can easily get the pictures you want by using this tool for free. You can consult YouTube video makers to do this legally. You can make the image unique and SEO-friendly by making minor changes while adding it to your videos. Start to grab little images to earn money, and get more subscribers, likes and views!