We know that SSL is a must-have on almost every website nowadays, especially those requiring personal information entries. If you, for some reason, still have not a clue what SSL is, we will briefly explain it.
#SSL is an acronym for Secure Sockets Layer #developed 25 years ago.

Since its creation, it has experienced dozens of upgrades and versions. We are currently using TLS protocol which is the highest security protocol.
The SSL function keeps your connection with the final location on the specific server where the website you have entered is being stored – secured. Simple as that. It behaves like a unique set of keys assigned to you and the website. This is the highest possible defense from unwanted visitors, harmful software, and information hijackers.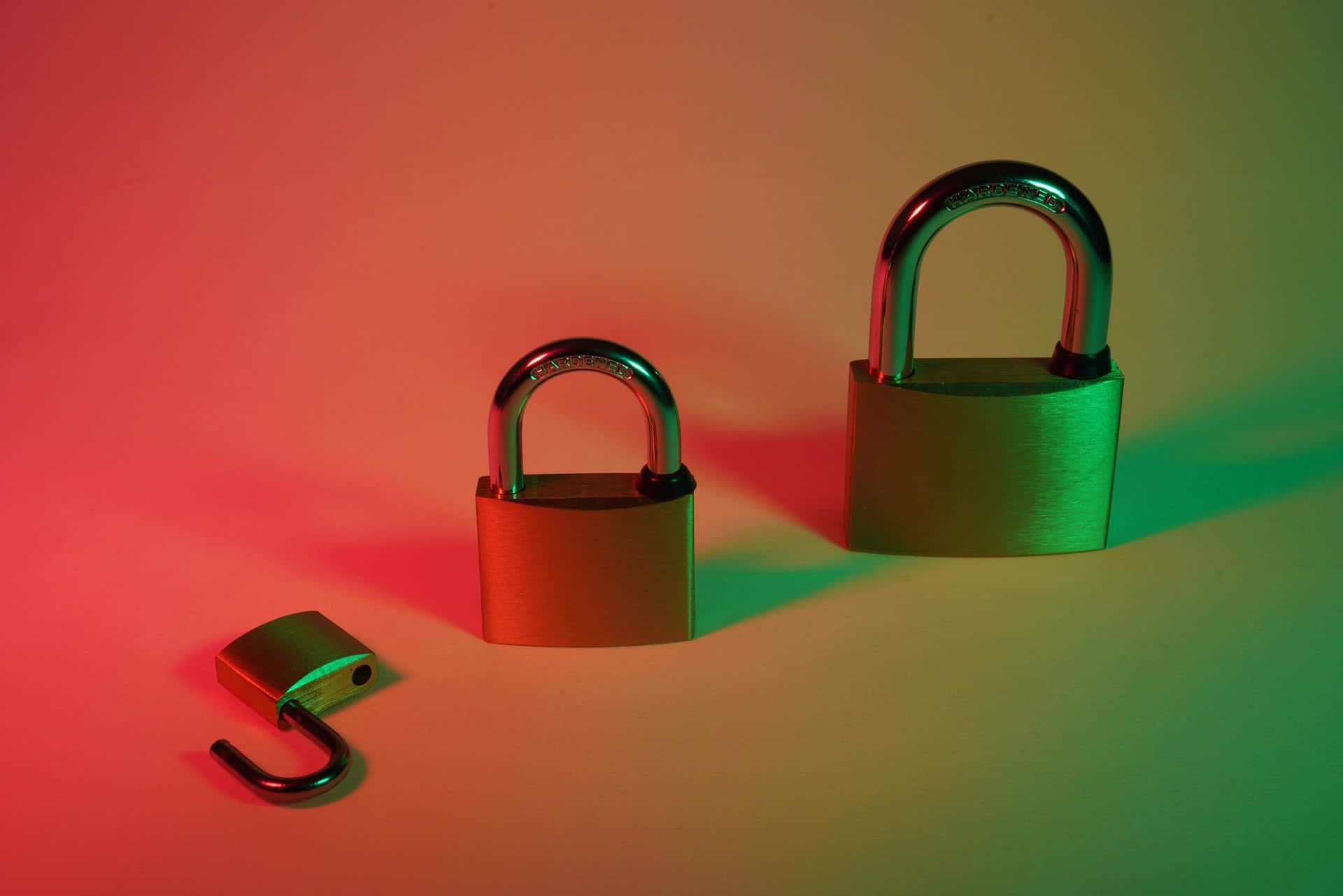 The websites with a green padlock in the address bar and the word HTTPS next to it are equipped with the SSL certificate that provides a completely secured connection. You have no worries visiting these and giving them your sensitive pieces of information.
The website owners have to gain a digital SSL certificate that can be gained from third parties. It has its expiration date, and once you gain it, you will need to keep an eye on that date, so your website stays in perfect security condition.
The SSL monitoring plugins jump right here!
The text below will recommend the ideal solution for an SSL certificate, managing and tracking its expiration date, usage, and renewal. These plugins are perfect because system administrators have insights if anything unfamiliar occurs.
It is of utmost importance to give high priority to safeguarding your WordPress login site, in addition to protecting sensitive customer data. To strengthen the security of your login process and deter unauthorized access, I strongly advise incorporating the WP Login LockDown plugin alongside acquiring an SSL certificate for your website.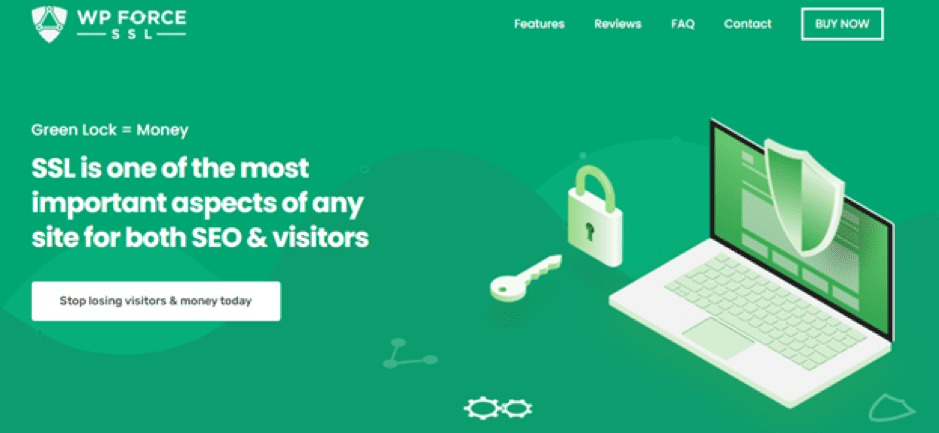 WP Force SSL plugin is a powerful plugin with everything you need to keep track of your website's security! It is a modified and optimized plugin that won't slow down your page as everything happens in the admin dashboard. The front end of your page will be untouched, so you don't have to worry about fluidity.
The plugin comes in a free and paid version that is usually more sophisticated and equipped with excellent services and tools.
I Bought the Plugin. How Do I Set It Up?
After you purchase the plugin, you will automatically receive two emails – the first one with the purchase information and the receipt. The second one will have the details on accessing the dashboard, creating your license key, plugin link download, and more.
If we assume that your page does not own an SSL certificate, the WP Force SSL plugin offers you the installation via the Let's Encrypt page, which is free. That is how users can quickly gain and install needed SSL, and with our plugin, you can have all the necessary information about the installation.
How to Create a Dashboard Account?
Once you get the emails, you should open the one that says, "Welcome aboard! Your WP Force SSL PRO account is ready," where you will set everything up.
Firstly, you will have to click the "Password: set one up" button after the dashboard tab appears. Here, you will click on the "Get new password" button, which will send the link to your email to finish setting the password.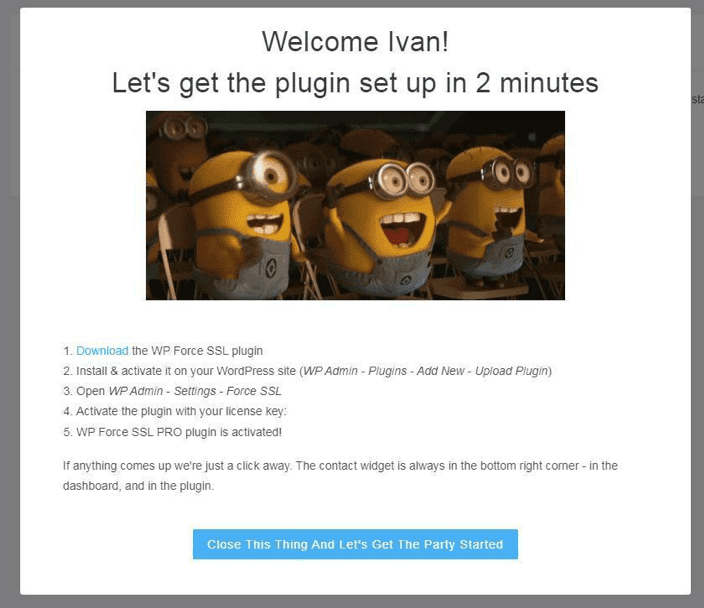 You can log in to your brand new dashboard when everything is set up. There you will be welcomed by the popup (photo above), which contains the steps to download and install the plugin. By following those steps, the plugin will be finally activated.
The dashboard appears classy, a minimalistic style where everything is within your hand's reach. Here you can easily approach all your SSL purchases, your connected sites (yes – paid version allows you to connect more than one page), your licenses, and SSL monitors.
The dashboard is fully centralized, meaning you can have access to every page of yours so you can track their licenses and SSL monitors without having to log in on each page separately. That is one of the reasons our WP Force SSL plugin is sophisticated and easy to navigate and use.
'SSL monitors' are one cool thing this plugin has to offer.

The tool constantly watches your certificates in real-time and informs you via email if something bad or unfamiliar occurs. It also alerts you with your certificate expiration date and reminds you to renew it.
The screen has a different kind of vital information such as information about your issued certificates such as their status (is it active and secure), when the last check happened and on which domain, the certificate's expiry date, who issued the certificate, and to whom was it issued, certificate ID, and lastly, action buttons.
'SSL Certificate' tab shows you the information about the certificate itself – shows you its validity, dates when it is activated and when you should renew, and on the bottom of the screen, you can turn the toggle off/on for the 'Real-time SSL monitoring'.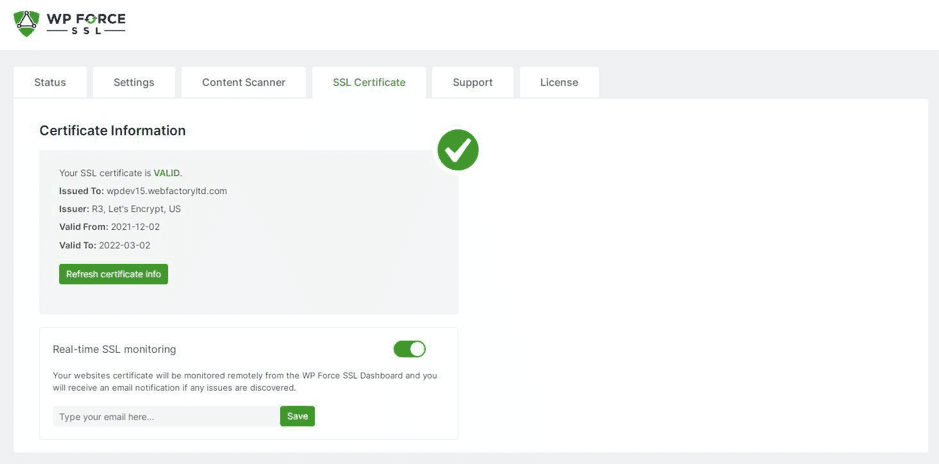 We spoke about this part above – you enter the email you want to be notified about eventual things that may happen and, when turned on, the plugin will contact you immediately.
You can also manually generate an SSL certificate via the plugin settings by adding the email you want the certificate to be associated with.
'Content scanner' is a specific option that allows you to scan the whole website to search for any errors through every page.

The scanner can automatically fix any errors you may find, or you can do it manually by yourself. The tool will begin resolving the issues by default if you don't turn this option off in Settings. However, if you choose to turn it off, the scanner will still supply you with the most important data, such as:
Status: reads what kind of error has been found.
Description: shows the brief error description.
Location: shows the page or the post where an error has come out.
Details: a longer error report.
This option can search for mixed content errors. In particular, it means content prefixes mixing.
Further explained, when the web page is completely safe and secured, it has an HTTPS prefix; on the other hand, it comes with an HTTP prefix when it's not or is partially secured.
Only HTTPS pages are fully secured, while those with HTTP prefixes can still be accessed by an unwanted person who can gain various information from it.
Final Words 
WP Force SSL is just one of the significant parts of our products list we especially develop to make your life on the web easier and safer. We strongly recommend this plugin as it will be the strong shield of your appreciated website on the battlefield of internet hackers and criminals.
Check out what fits you the best. You have the opportunity to choose between free and paid versions, respectively. Both offer a bunch of great features. It just depends on how well you want your website to be protected and how many features you need.