Nowadays, because of the oversaturation with content, it's crucial more than ever to make an impactful first impression. The visual component of your site is essential in achieving this and therefore garners special attention.
Putting up a nice photo just won't do anymore. Instead, a combination of high-quality #Images, slick #Design, and an eye-catching #ColorScheme will be required.

Fortunately, making these yourself is easier than ever. A couple of years ago you would have to really dig in and still get only mediocre results (if you're not outsourcing). Now, there are various services and platforms that make designing much easier.
Naturally, someone who's done it for years will still be able to create virtual works of art, but there are enough templates and simple customization features that anybody can make their site look professionally done.
We've scoured the web and found some platforms that will help you do all the things mentioned above. As these are platforms/services concentrated around improving your site's image we encourage you to explore each of the options more on their official sites after reading through our snippets.
Crello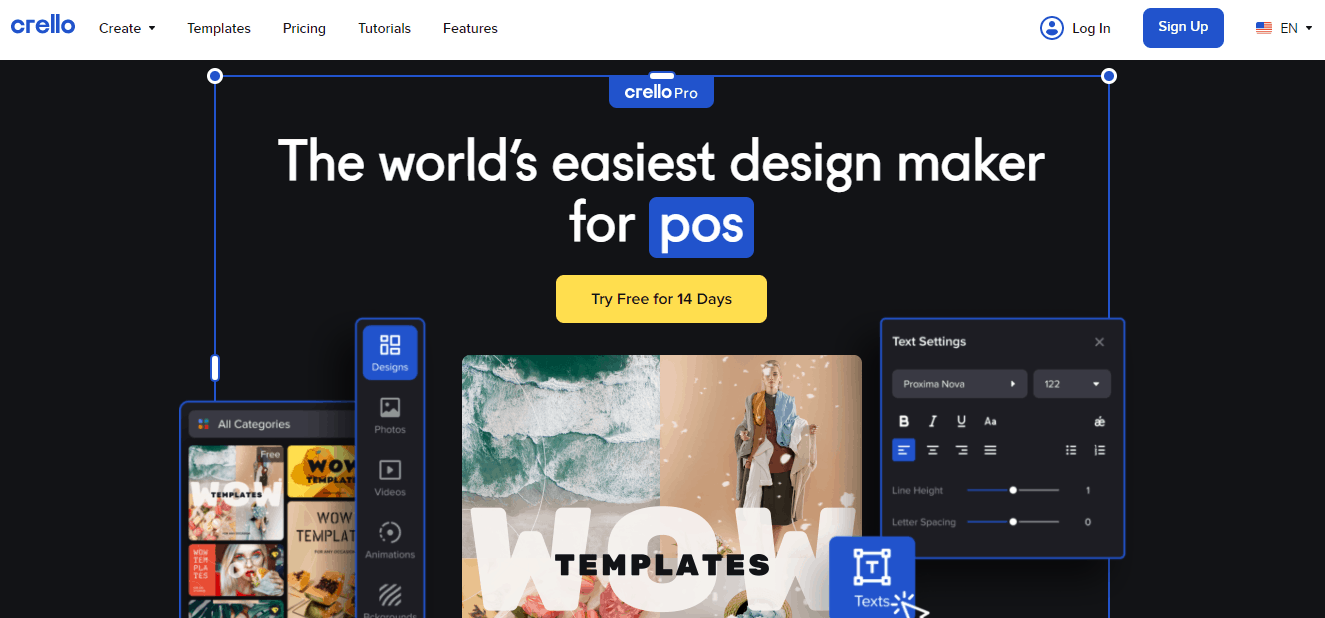 Leading the pack is Crello. It has everything you would ever need in a design editor and then some. To start things off, there are the standard features brought to a new level – an easy to use editor, a vast database of templates, elements and images (over 50 template formats, over 30,000 premade templates, over 250 fonts, millions of high-quality images, etc.), all there for you to bring together into the perfect design combination. Everything you would expect from a high-end product really.
What really sets Crello apart are the animation and video features. Having a database of images is one thing, but having a database of video clips and an animation maker is something different altogether.
With the animation editor, you can breathe in new life to your static images and can use it to create anything from ads to social media content and with how easy it is to use, anyone can look like a pro. A video editing feature is rarely seen in these types of platforms, but Crello offers you a database of over 50,000 free clips (and the option to upload your own) you can put through the toolkit and implement it into your designs.
Just imagine, having both high-quality images, animations, and videos in your work and everything's done through the same platform within the same easy to use user interface. You'll be putting out professional-grade content in no time.
Canva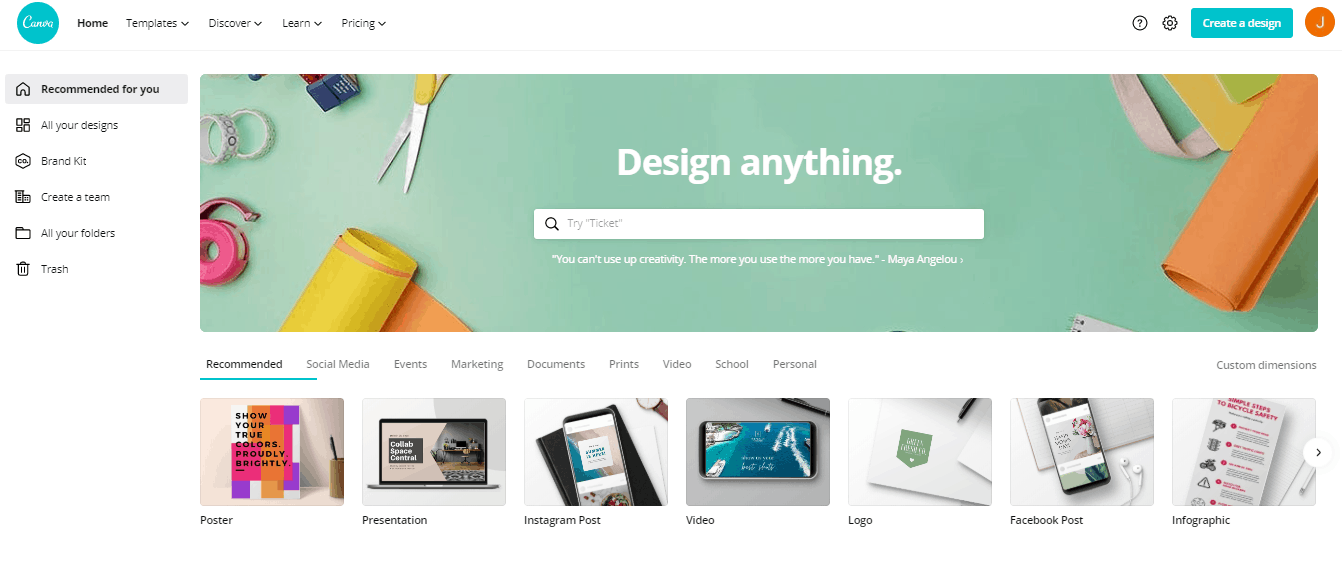 Canva offers you a drag and drop editor helped by over a million graphics, images, and fonts to choose from. These, however, are just elements you'll get to use in order to customize the real star of the show – the templates. With a vast database that's still growing daily, there is no chance you won't find what you're looking for.
The reason there is such an emphasis on templates is because of the dedicated community that contributes to the pool. Basically, the whole idea behind the platform is about exchange and sharing. The great thing about such a community is the potential for fast growth, where more experienced users can both provide you with finished designs and guide you to improve your own.
Because of the extremely user-friendly interface, this could prove to be the perfect starting point of your design career. The plans lean this way too, seen by the free plan that provides you with more than enough to start (1GB of storage) and then enables you to change as you grow and need to use more features and storage.
Fotor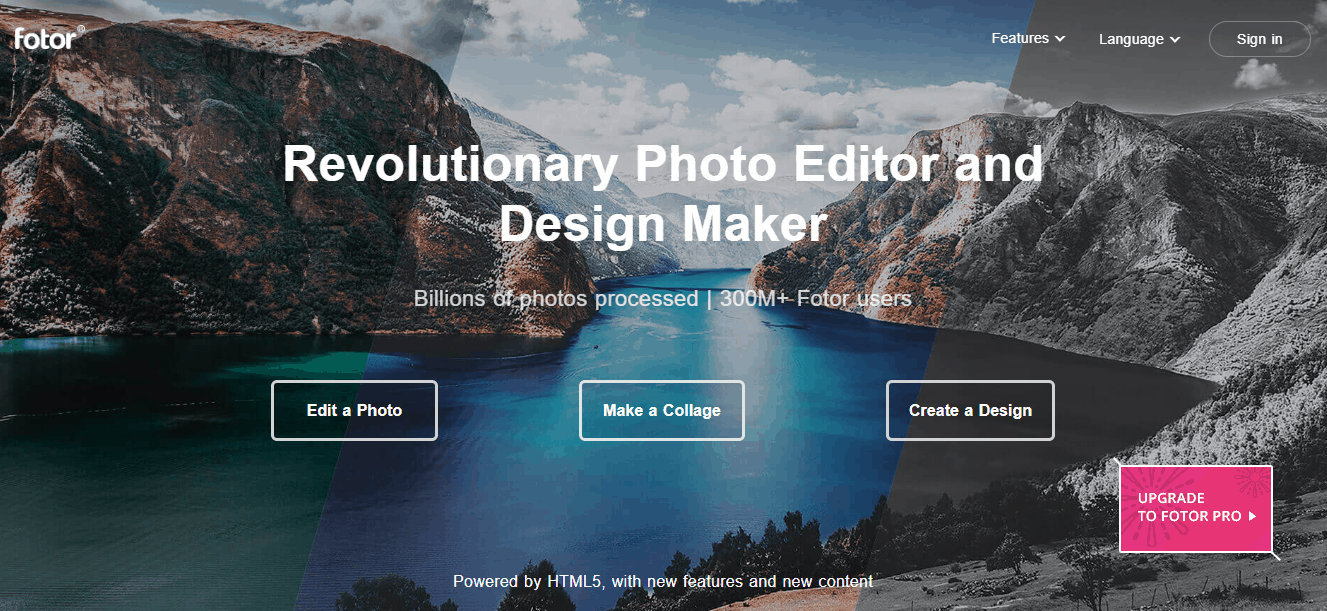 With Fotor you'll see that their focus is somewhat different compared to the other suggestions on the list. While you'll certainly have access to an editor using which you'll create great designs with various elements, the real thing to do here is editing the images themselves.
If you don't have access to, or don't want to pay for a premium tool like Photoshop you can use something like this – we were quite surprised with the number of features that were available.
If you think all this image editing can quickly go over your head because you lack experience, don't worry. Within the platform, you'll find numerous video tutorials that cover everything from the most basic actions to the more advanced features. You'll find, just as we have that image editing is not something to shy away from just because you're otherwise not artistically gifted.
Your progress from a beginner to an advanced user is mirrored in the subscription plans where more features are unlocked the higher you go. For starters, however, the basic plan is more than enough.
Stencil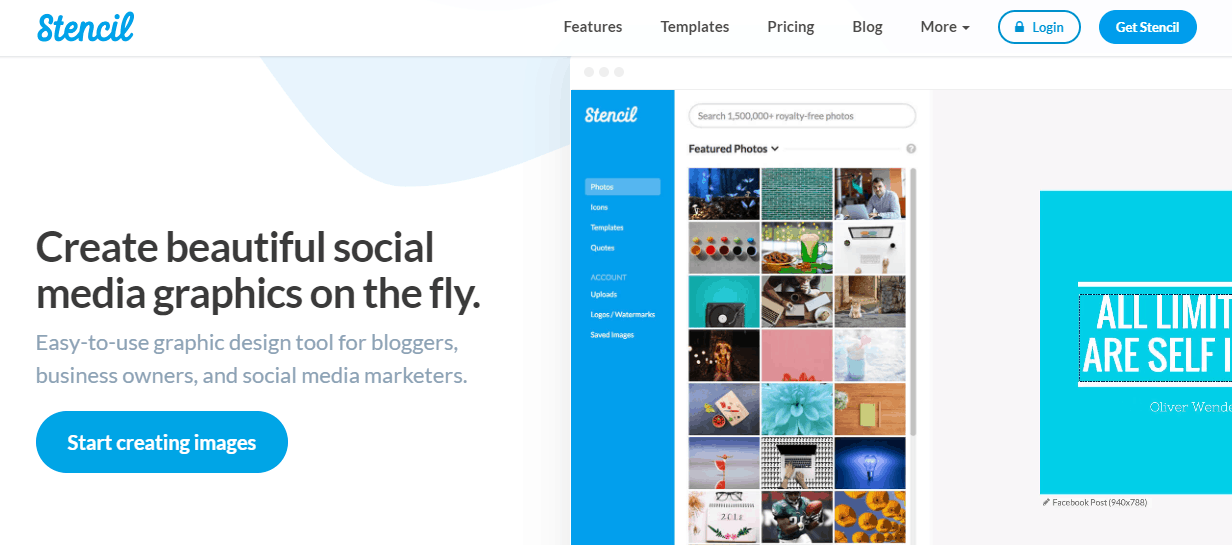 If most of what you'll be using a design editor for is to enhance your social media presence, you should really look into Stencil. All the usual editing tools are here but are somewhat diminished – there aren't as many templates or elements to choose from. The reason it's on this list, however, is the aforementioned social media specialization. You don't need to overthink and create elaborate images if you're just going to post these things on Twitter, or Facebook.
Where Stencil does stand out from the crowd are the quick-to-learn and easy-to-use features like browser extensions that let you capture and cut out text or images directly from the page and implement them in your design. Interestingly, it also comes with a database of over a hundred thousand quotes you can add to your design (again, closely connected to the usual inspirational post for example).
If you're looking to try it out the great news is that there is a free plan that offers much of the features available in the paid plans, that are quite reasonably priced.
Conclusion
Each of the four solutions we've mentioned has a specific niche that sets it apart from the rest and that's precisely the reason we've found them so compelling to make the list. However, we simply have to once again highlight Crello as the best of the bunch. The animation maker and video editor are just not features you see every day and really make the platform a complete package.
Since there are so many options on the market today, don't be afraid to go through several of them (especially if they have a free option) until you find the one that works for you. Keeping that in mind, our research has shown that you should start with the ones mentioned above, before branching out further.