They say knowledge is power, and this has never been more true than right now – in the information age. There is no type of business you can run that doesn't rely, in one way or another, on gathering and analyzing data which is subsequently followed by using that data in your marketing strategies.
Successful #webshops thrive on things like finding the optimal times to conduct #sales or learning which audiences to target for maximum #revenue.

Earlier, you had to be a mathematician, statistician, and marketing guru all in one to run your business the right way. Nowadays, there are so many tools at your disposal that will monitor your webshop's ins and outs and provide you with a plethora of various statistical data you can then base your decision on.
Enhancing WooCommerce
WordPress is by far the most commonly used content management system, and WooCommerce is one of the most commonly used plugins that transform your site from a simple blog into a full-blown webshop.
There's a virtually endless supply of plugins available for use with the platform; there are also many add-ons and extensions that can be used to elevate WooCommerce to another level. One of these plugins is Enhanced Ecommerce Google Analytics Plugin for WooCommerce, which focuses on data collection and analysis.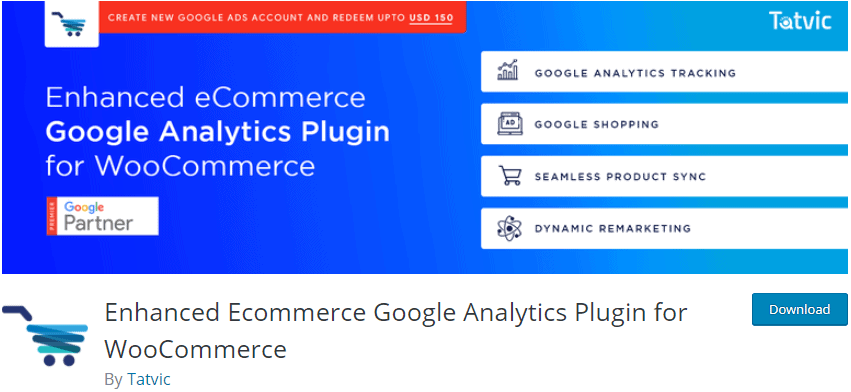 Not only will it record actions made on your site, but you'll also get to integrate it with prominent Google services like Google Analytics, Google Ads, and Google Merchant Center for the full package. Considering Google is such an important player in every aspect of web-based business, having a plugin that encompasses so much data directly from the source will prove to be invaluable for your plans.
Sign in With Google
Naturally, to integrate all the Google tools, you'll need to have a Google account. Alternatively, you can create accounts while setting up the plugin. The process of then connecting the tools to the plugin (and your webshop) is as simple as clicking the "Connect" button and following the instructions of the wizard.
All the sections are set up separately within the overall installation, so you can customize all aspects individually.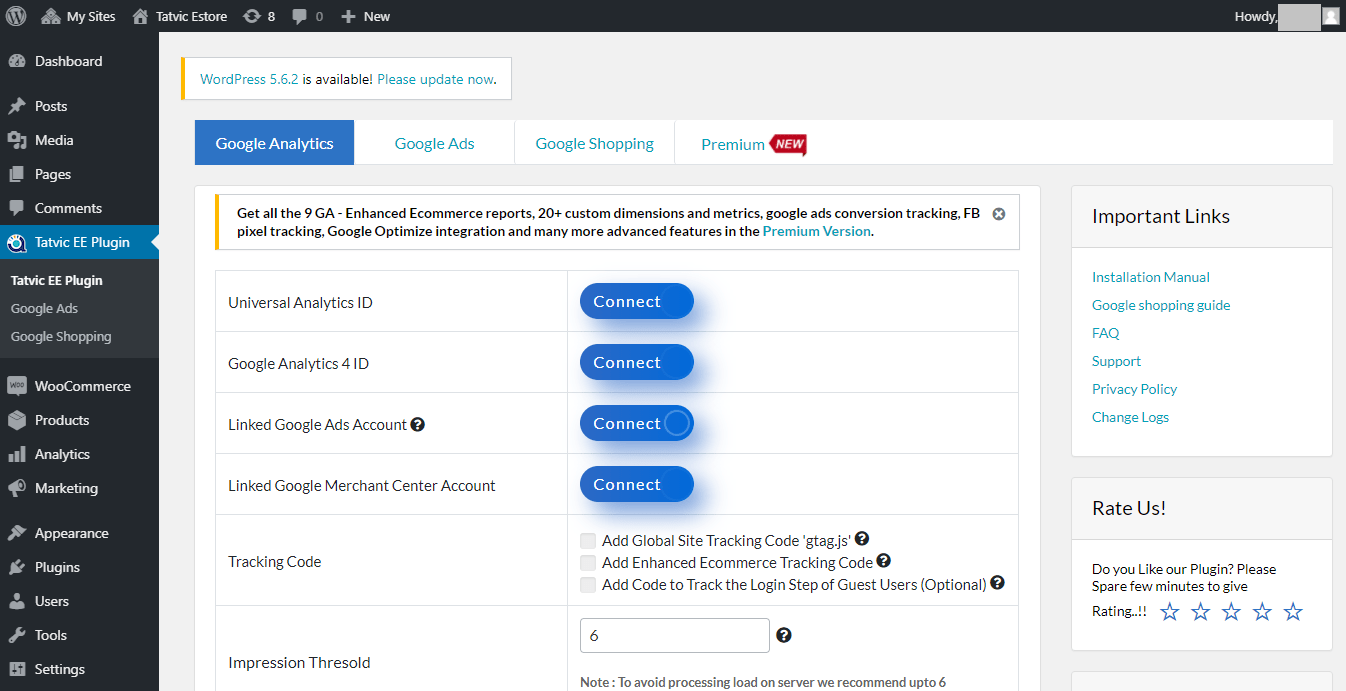 Google Analytics will let you decide how you'll be tagging your site – Universal Analytics, Google Analytics 4, or both. Once that is done, you'll get all the advanced data regarding actions made on your site.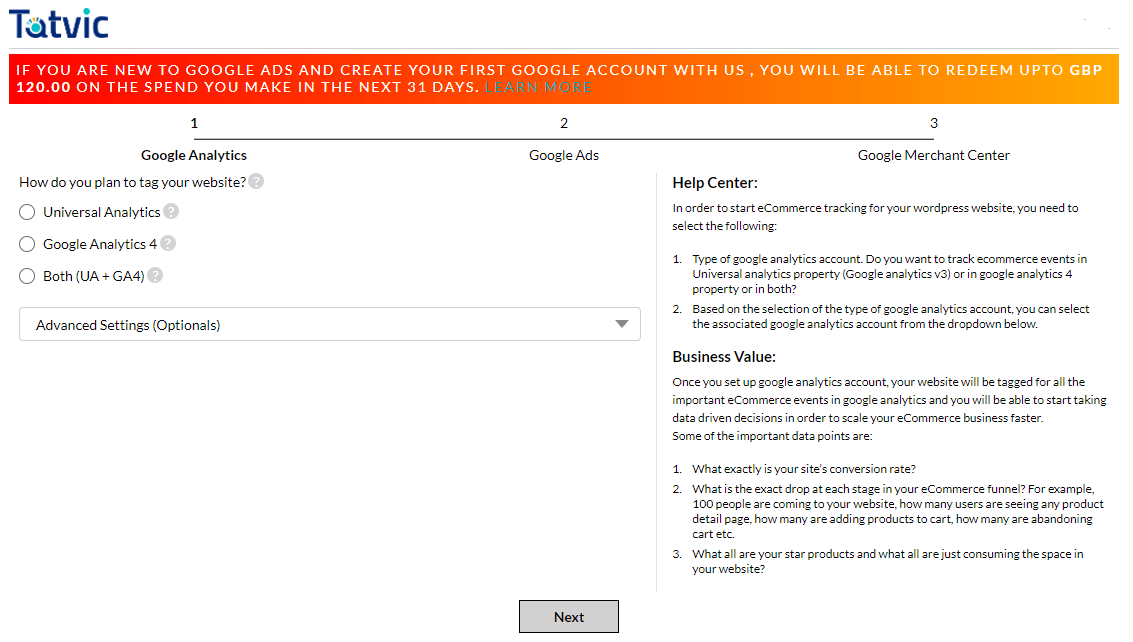 Next comes Google Ads, where you connect your existing account or create a new one (for bonuses).
The great thing about connecting Google Ads within the plugin is that it links up with both Google Analytics and Google Merchant Center, providing you with everything you'll need to start running smart campaigns.
Finally, connect your webshop to an already active Google Merchant Center account, or create a new one and get your domain approved for various programs that highlight your webshop across Google and all its services.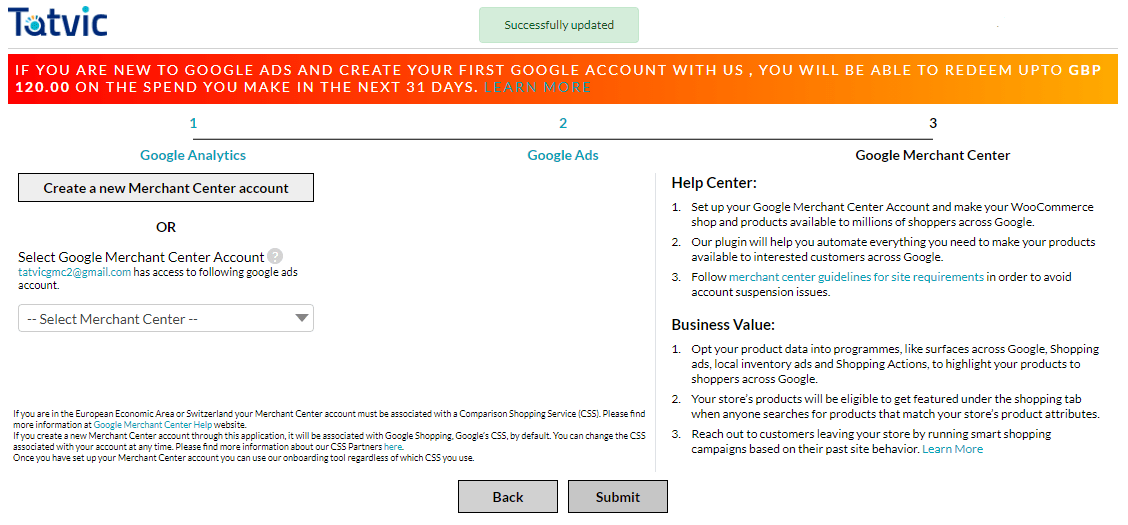 Product Management
Now that everything is connected, it's time for some micromanagement – you'll need to sync up your products with Google Merchant Center. It really helps if you've categorized your products in a compatible way, but even if you haven't, you can map them all to fit the scheme.
An added benefit is that the standard categorization will remain even if you someday opt to quit using the plugin and the Google Merchant Center.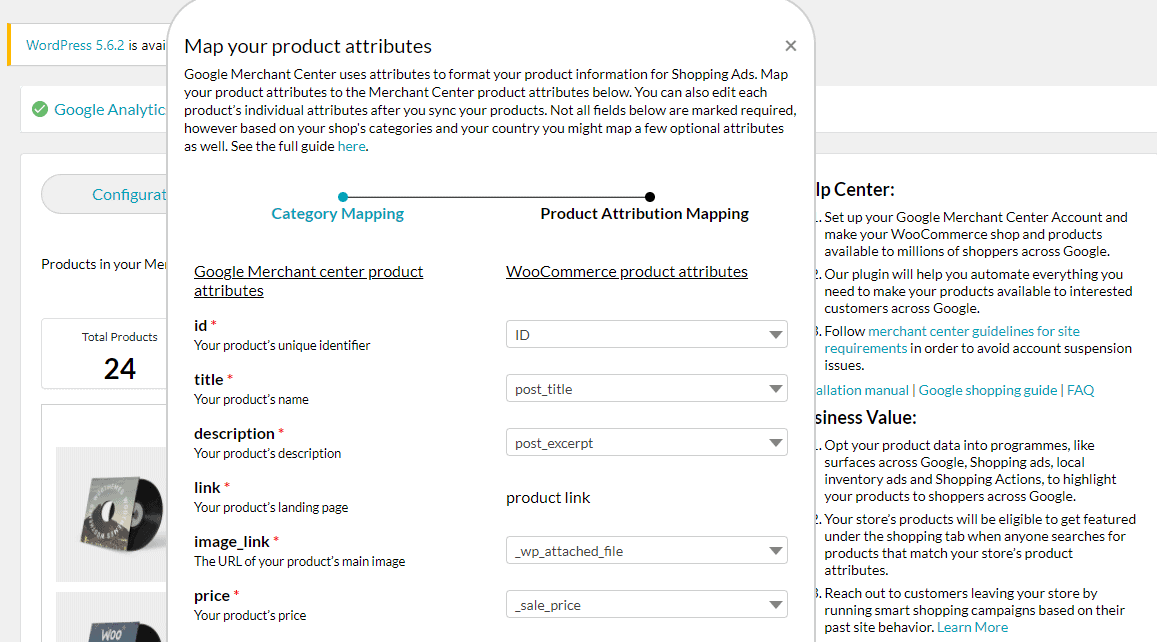 Having your entire product base standardized goes a long way in organizing your webshop, even if you don't do anything else.
When you have the products all set up, nothing is stopping you from creating Smart Shopping campaigns. This is where the connection to Google really shines because your products will be shown across Google, including Google Search Partners, Google Display Network, YouTube, and Gmail. All you need to do is choose a campaign name, a daily budget, and a target country.
Google Analytics 4
Operating with sufficient data that helps you make business decisions is crucial for any business. Still, few have such easy access to it as you would have with Google Analytics. The way it works is, once activated, your site's data related to eCommerce events gets tracked, after which all the data is then transferred to the Google Analytics 4 dashboard.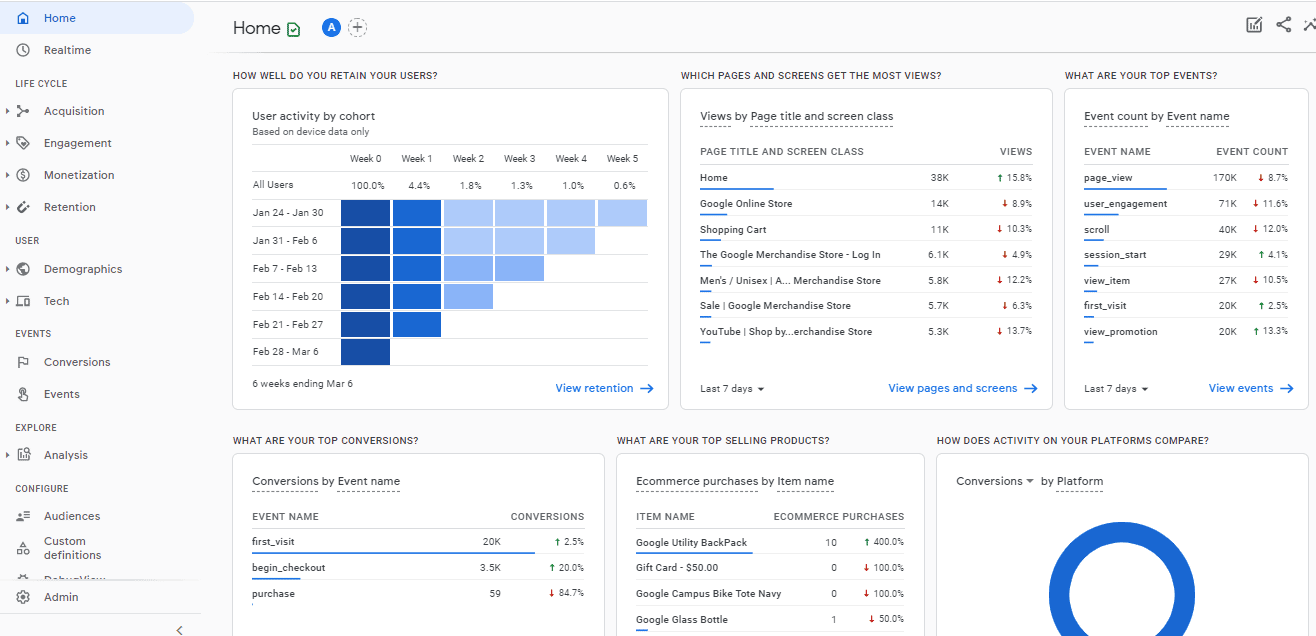 Some of the data included is the number of total and/or new users that accessed your site, engagement time duration, most visited pages, countries users originate from, etc. So much raw data could prove to be too much to handle if there weren't so many sections present that let you filter out all the data you don't need – graphs, pie charts, diagrams, anything you can think of in terms of data analysis will be at your fingertips, all you'll need to do is interpret them, and course-correct your business strategies accordingly.
Monetization
A special section is assigned to monetization. It's only natural because, in the end, you really can't escape the bottom line. Through the monetization tab, you'll be able to get an insight into purchases both in terms of quantity and revenue.
It's crucial to know which products are selling at a higher rate than others, so you know how to plan any targeted promotions and always be on top of your stock.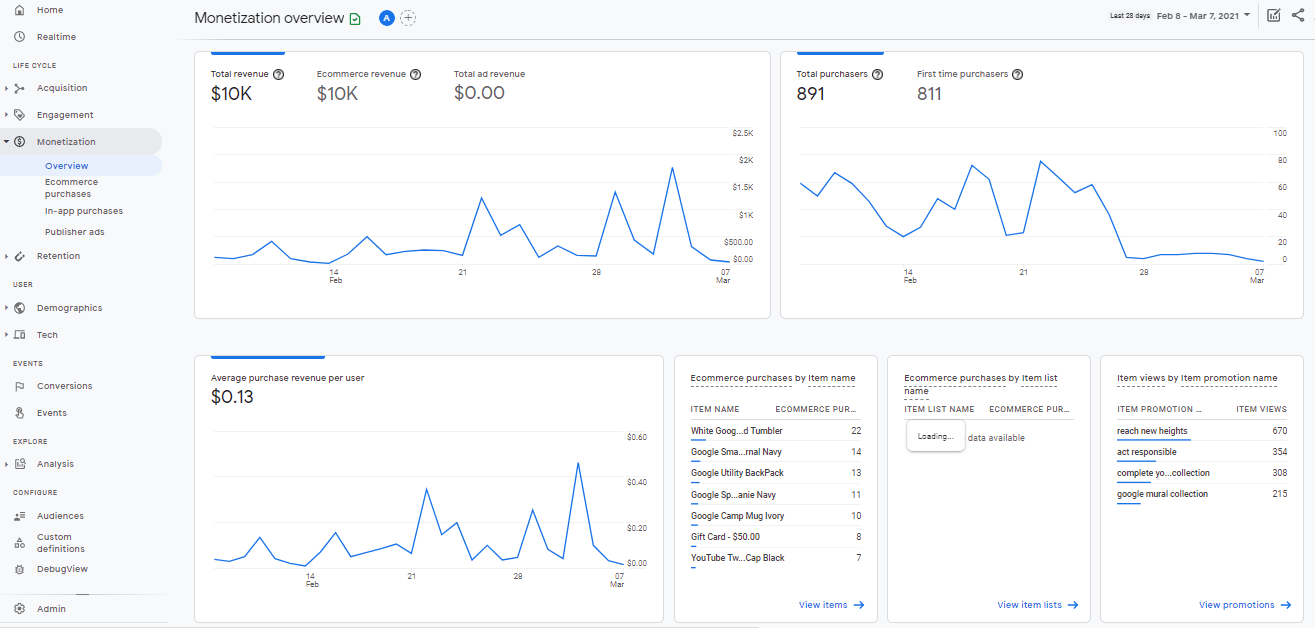 Also, it's useful to find a correlation between the number of sold items and the marketing space invested in the products. Some products tend to sell themselves and, as such, require fewer investments than others. It's then up to you to decide which products you'll focus on – emphasize lower selling products, so they catch up with the bestsellers or go all-in on those that have the best results, capitalizing on their popularity, while others drop down to making up only fractions of your total revenue.
Universal Analytics
Data regarding conversions, among other things, can be found within the Universal Analytics section. Just like on the Google Analytics 4 dashboard, here, all relevant data is gathered, crunched, and displayed in one spot that functions as an overview of sorts, helping you see the whole picture.
While the net is thrown to cover as wide a data pool as possible, emphasis is put on user behavior.
User Behavior
Everything you do with your business is either governed by user behavior, aimed to influence user behavior, or both. That is why you'll need to know how your users behave in the first place in order to implement certain actions.
The "Ecommerce" tab will give you ample data regarding shopping habits, product performance, checkouts, etc. We've already mentioned that every action is tracked, so there are separate metrics that can lead to informed decisions.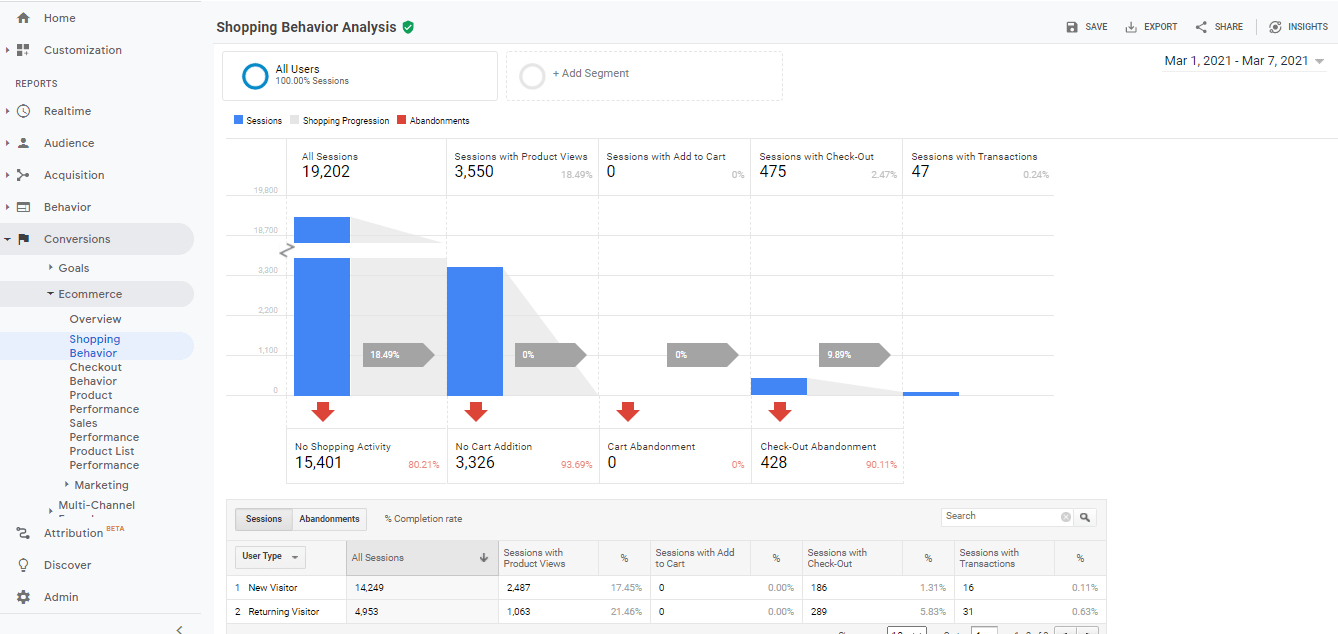 First, you'll have the total number of visits on a given day or any other time period. You then see how many people viewed products, followed by how many products were added to the cart, got to the checkout page, and ultimately were purchased. The final piece of data in the sequence shows the number of sessions with transactions, and this is the number most relevant to you – get it as high as you can.
Conversions
Conversion rate is also something to keep a close eye on and is essentially what we've just highlighted. This is the true measure of a product's popularity.
Let's say you're selling running shoes, but only every 10th product view results in a purchase; however, many users search for running shoes, so you have 100 views a day, resulting in a conversion rate of 10%. On the other hand, you are selling sunglasses at the same time. Here, you've sold fewer products (9 items), but only 50 users viewed them, making the conversion rate 18%.
This tells you that people who are looking to buy running shoes come, browse, and then go elsewhere to buy (it might be because of the brand, price, delivery time, etc.), but many that come looking for sunglasses actually end up buying them.
As we've said – at this point, it's your choice whether to investigate the reasons why shoes aren't selling, even though they're being viewed, or to double down, promote the sunglasses and bring in more people to see them, counting on the conversion rate to stay the same.
Of course, a big factor to consider is the prices of the compared products – this will, most of the time, prove to be the deciding factor in decision making.
Post-Sale Data
The information doesn't stop once the transaction is completed. As you may know, a high rating is the lifeblood of a good product, be it stars, tomatoes, or a percentage. Additionally, people like to see first-hand reviews from other users that have purchased the product before them. These reviews always elevate both the products and the perception of your webshop.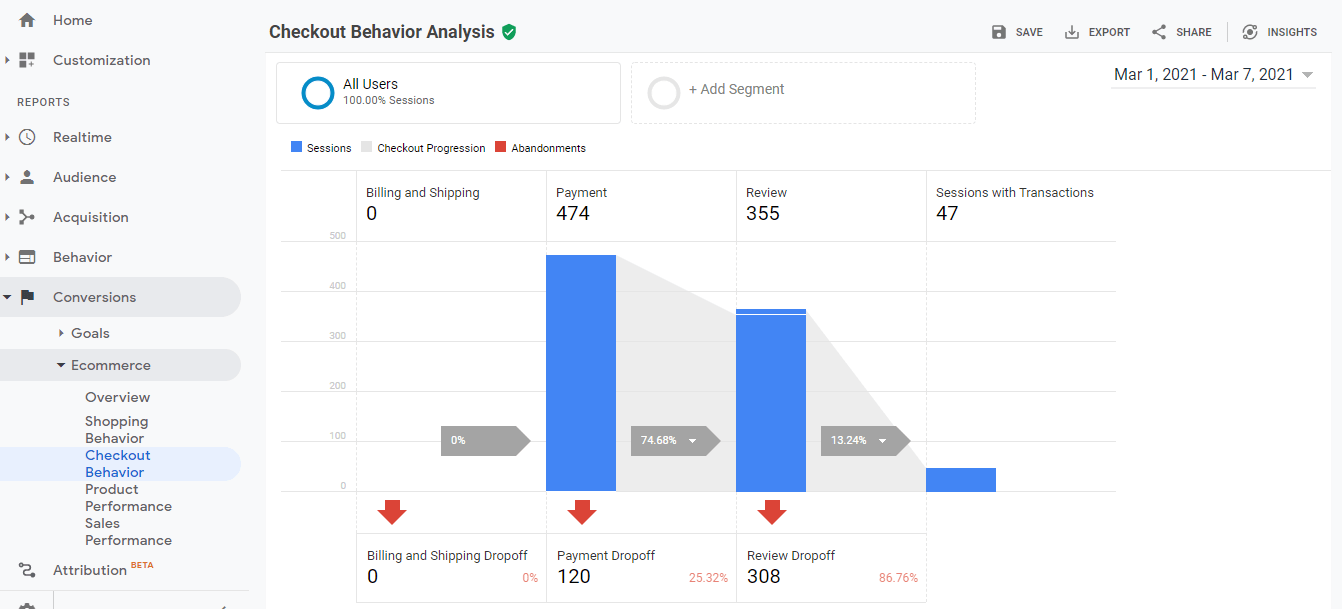 Judging by how many users, on average, look at user reviews, it's surprising how many opt not to leave them. Being a progressive webshop that values user input and feedback, you should look at how many ratings/reviews are left through the collected data. If the number is low, encourage users to leave them more often. This is easily done through actions like handing out coupons, free shipping, discounts, etc. – all given after users have left their feedback.
Summary
The running theme of managing a webshop is data. There are many ways to collect this data, but none are more relevant than the one you get from Google. The web, in general, is so intertwined with the Google search engine that it's simply foolish to ignore all the benefits you gain by linking your backend to Google services.
Don't be put off by the sheer volume of it all; the user interface is very intuitive, breaking everything up into smaller, easier-to-comprehend chunks that won't leave you baffled, but informed. So if you're using WooCommerce and haven't linked your site to the Google Analytics package, you no longer have any excuses. Connect the dots and watch your revenue soar.