Visual page builders for WordPress are making life easier for the webmasters. Now you do not need to know how to code, use HTML or JavaScript to create beautiful looking pages. Webmasters can use visual page builders instead and create entire sites with the help of drag and drop modules that everybody started to like. One of the new players who definitely deserves your attention is Brizy.
#Brizy by @themefuse is a free visual #page #builder for #WordPress which you can install from WordPress repository.

It comes with over 150 pre-made templates and all the basic elements to design your pages as you want.
Brizy Visual Builder
Once you install the plugin, you will get a new button in your post edit screen that will let you edit the page or post with Brizy. This will convert your edit screen to the visual builder editor that lets you control practically everything that you will need for the site.
Brizy Settings
The setting page is very simple as the only thing you can do is select which type of post should be editable. You can also define the access to WordPress roles. If you want only certain roles to have access to the visual builder, you can set the access accordingly.
Visual Editor
Now, once you decide to use the visual builder, you can click on the "edit with Brizy" button to open it. Then enter the post title and category on the edit post screen before clicking on the Edit with Brizy. After that, you will be taken to your front end with the Brizy editor fully loaded.
Here you can start adding modules and components that will form your page design. There are premade templates and basic elements which can be used to define the page layout, so you don't have to work from scratch. The plugin comes with 150 pre-made blocks which you can use to design your page.
Still, if you want to get everything done by yourself, it is easy to start with a blank block to add elements according to your layout.
All the blocks are divided into several categories so you expect things like Header, Footer, Gallery, etc. That means you can easily browse them and find the one you need & like. They are also divided into light and dark themes so that you can follow a similar theme for each post or page (even non-designers understand you can't throw elements around without some sense).
Visual Elements
Brizy also gets you access to a lot of basic elements which can help in creating your design. You can divide each block into Rows and Columns. When you organize them, you can add other elements in each portion to define the final layout.
You have access to Image, Video, Button, Icon, Map and all other kinds of elements. You can use one element in one slot, so divide your block accordingly into rows and columns when necessary.
You also have access to Sidebar, Shortcode or Menu, which can be added to your page, too. So, if you want to have access to third-party functionality (for example, if you want some other plugin active on the page), you can get it done with the help of Shortcode element.
The benefit of using the block structure is that you can easily reorder blocks to change the look and layout of your pages.
Each section and element have a set of settings which helps in design that element. For example, if you use the Shortcode element you would probably like to define the shortcode you want to use there. You can specify the parameters in the settings of that particular element. Then, while displaying the page, the shortcode will be executed. Easy as that!
Image Settings
One of the key aspects of web pages are images which can make your pages look more professional and beautiful. The plugin comes with a good set of features to make those stand out.
You can enable or disable shadows, change the design and shape of borders, hyperlinks and image sizes easily from the visual builder. The zoom slider allows you to easily set the size of the image which you want to display on the page. Shadow settings allow you to add an effect on the image along with thick borders.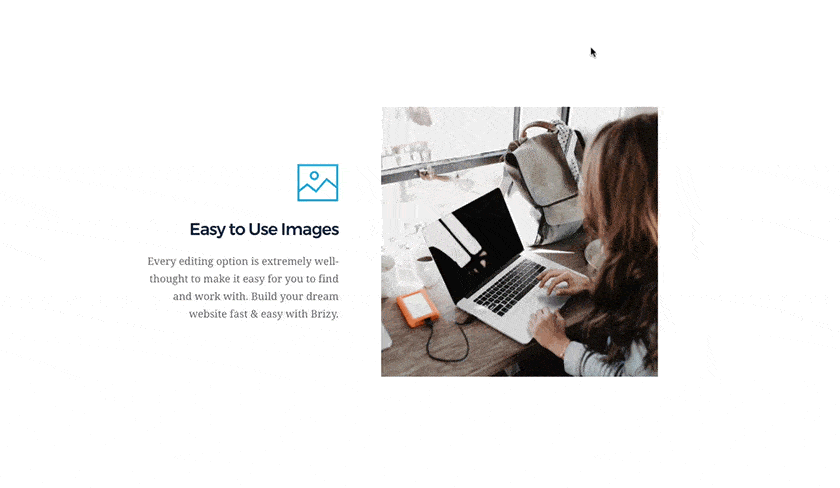 Extra Services
Brizy comes with some other useful services (like Icons, Fonts, etc.) which make it easier to build good-looking pages.
Icons are also an integral part which helps you in creating a more personalized element. Brizy supports over 4000 icons for their visual builder which you can add from the icon tab. Icons are also sorted based on categories to make it easy to find those from this huge library.
You also get support for Google Fonts to include any type of fonts into your pages. You can change the color and font for any HTML tag with a single click. So if you want to change the H1 Heading to Roboto in Red color, for example, just click on Heading and make the change. It will be in effect for all the H1 headings on the page.
Mobile View
All the elements are mobile friendly so they will look great on the desktop as well as on mobile. Still, some combinations might look awkward on mobile screens and that's where you get to use the Mobile View.
Just change the view and check your new page in different situations. In case you find some issues, you can alter the block or element settings to make it look good on all screens.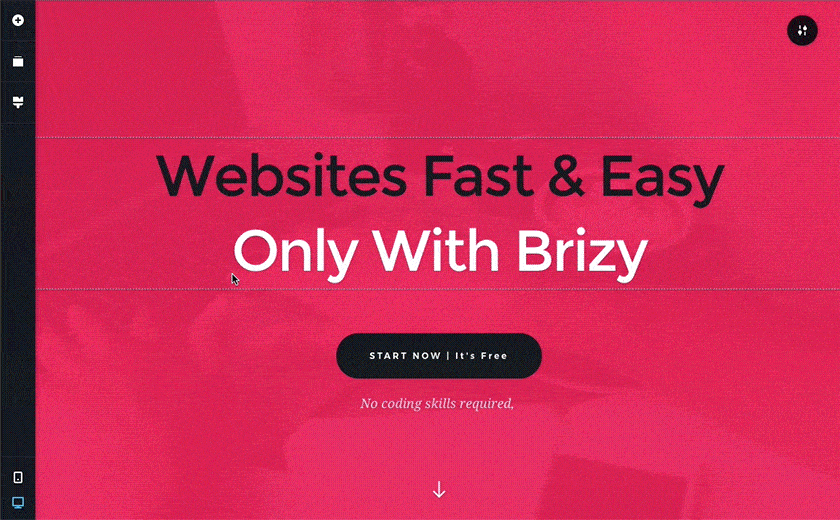 Wrapping Up
If you are looking for a visual page builder to create landing pages, go ahead and give Brizy Visual Website Builder Plugin For WordPress a try. It looks great, provides some amazing features, and it's easy to use. We are sure you will love the editor and end up using it for your current and future projects as well.