If you're running any site or business that relies on the internet presence, you'll have to take into account how you're viewed from the prism of Google. There is no real need to get into the numbers.
Everybody, without a doubt, knows what Google represents, and a high ranking can be a significant cog in your success.

One of the easier ways to get a better ranking is to use Google My Business. Not only will you fare better in searches, but you'll also have some say in how it's displayed.
Now, usually, you'd have to post content on both your site and Google My Business separately, which can be a hassle. However, there is a workaround now that will streamline the process, saving you a lot of time. In case you're in the majority and are using WordPress as your platform, you'll be glad to hear there is a plugin that integrates your WordPress site and your Google My Business site. This integration is making your posts connected to the point where they're simultaneously published on both platforms – Post to Google My Business, from tyCoon Media.
Integrated into WordPress
As we've mentioned, the plugin is designed for WordPress. It essentially means that if you're using it, you won't have to log in to My Business at all, if you so choose. Everything you can, you'll be able to do directly from your WordPress dashboard. The posting options themselves, which we'll get into, offer pretty much all that you're used to, like various posts types and scheduling. The key feature is how it all fits together and how that content delivers to a connecting platform. Of course, we'll cover all of the features and how you'll be using them. This is to give you an idea of what you'll be getting and how you'll be going about it.
Once you've activated the plugin, you'll need to connect it with your site on Google My Business.
The great thing is that you can link multiple sites and manage them from one place. You'll have to choose a default one, that you'll be using the most. In case you're running a large number of sites, there is a nifty sort/filter option to help you organize. Not only that, but you'll have the opportunity to post on multiple places at once. This emphasizes the streamlined process, eliminating any redundant actions.
Once everything is set up, you'll notice there is a new action available below the pages and posts you're publishing. It is giving you the option to immediately publish on your Google site just like you would on your WordPress site.

This kind of publishing is the most rudimentary of all the functions you'll have at your fingertips, essentially allowing you to transfer content while you're writing. You'll need to set up how the automatic-post process will function through the settings. The most important of which is the auto-post template because this is how your visitors see it from the frontend.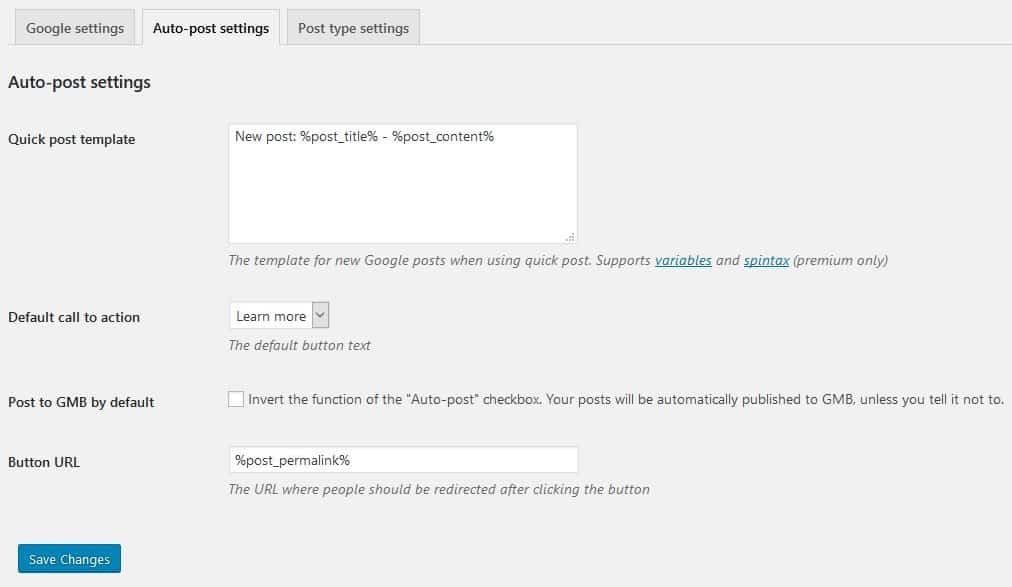 Set up your template and other auto-post options
Support for Spintax
More advanced users will be glad to know the templates support both variables and spintax. With these, you'll be able to customize your templates even further. Anybody who is looking for more in-depth instructions on how and when to use both the former and the latter – the devs over at tyCoon Media have published great articles that cover all you'll need to get started. If you're looking to expand your skills, we urge you to check it out.
Along with how your content is displayed, you'll get to choose which content is given the Google My Business connection. With just a glance, you can see it encompasses the things your publishing anyway on WordPress. Outside the core types that are included in WordPress by default, you can expand the types with other plugins (in this case, it's the product, added through WooCommerce).
Much more is available to you when you get into the nuances of the plugin, aside from the "regular" content we've mentioned. Working our way from the top down, the main feature that sets this plugin apart and the one you'll want to be using the most is the ability to create campaigns.
Campaigns for everything
The first thing you'll notice once you try to start a new campaign is the type of post that's available to you. Campaigns are separate from your regular posts, and you can use regardless of any other content you're publishing. This is great if you want to differentiate the content you publish on your main page and the material that you publish on Google My Business through these campaigns. These specialized campaigns include:
What's new
Event
Offer
Product
As you can see, these cover pretty much everything you'd want to emphasize to a wider audience. Both in terms of keeping your current visitors/customers engaged and attracting new ones, too. Let's break them down.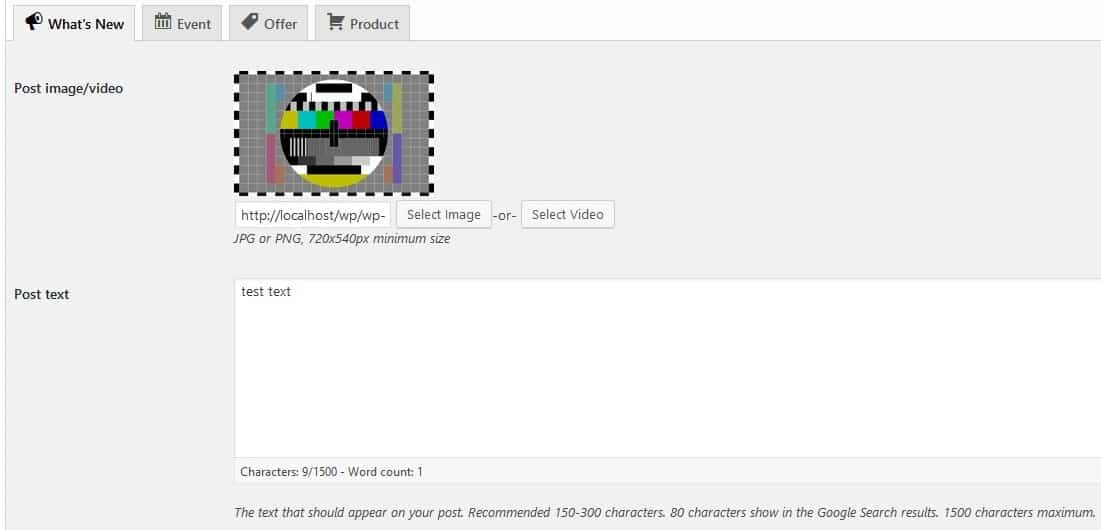 Your primary type of campaign post
What's new is your go-to post, your headline. This is the one you'll look to use whenever you want to share some news with your potential visitors. This can range from just a new post you seek to promote, to an update of something you published previously. When you think of this specific kind of post, think "Breaking news", something big you want to share with everyone.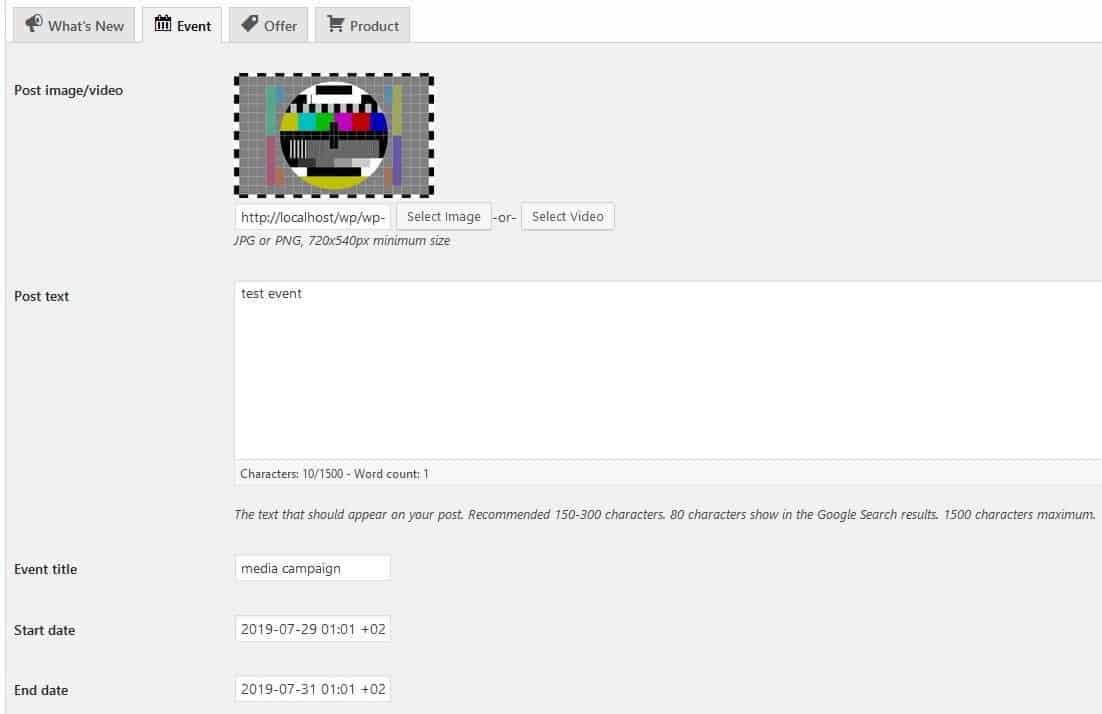 Publicize your events
Pretty self-explanatory, this post type centers around events. These events can be one-offs spanning just a few hours, or they can be full campaigns that last days or even longer. Again, just like with the "general" What's new type, your best bet is to post something that grabs the attention on first glance. Thus, ensuring your events will be successful.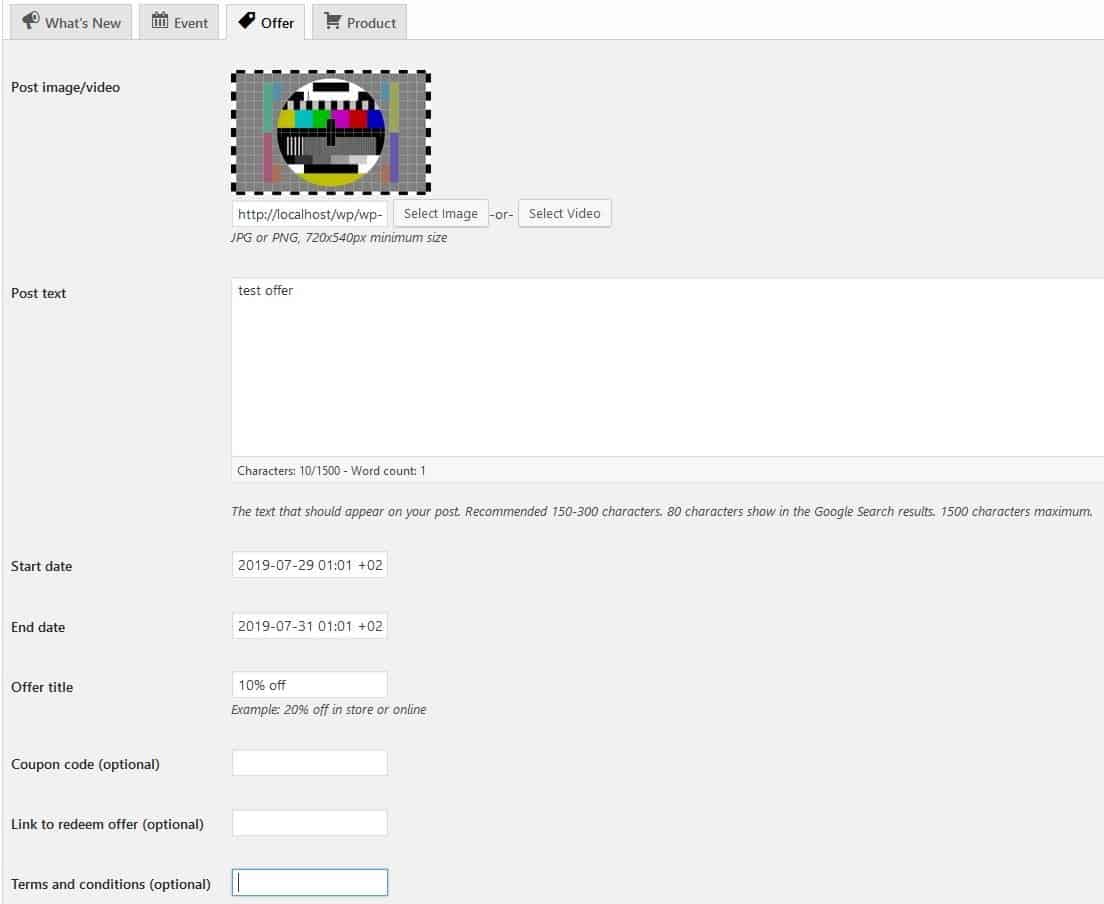 The perfect way to promote special offers
Going one step further than events, you can also post offers designed to promote discounts for your products and/or services. You can add the mandatory start and end dates, in which the offer is valid, and the name of the offer itself. You'll be presented with several optional setting you can add to customize the offer further. These additions include a coupon code and links to redeem the offer, making it even easier for potential buyers to participate. Another addition is terms and conditions you can add if you're obligated to do so. Customizing your offers in this way can and will make them even more enticing for anybody looking to seize the opportunity.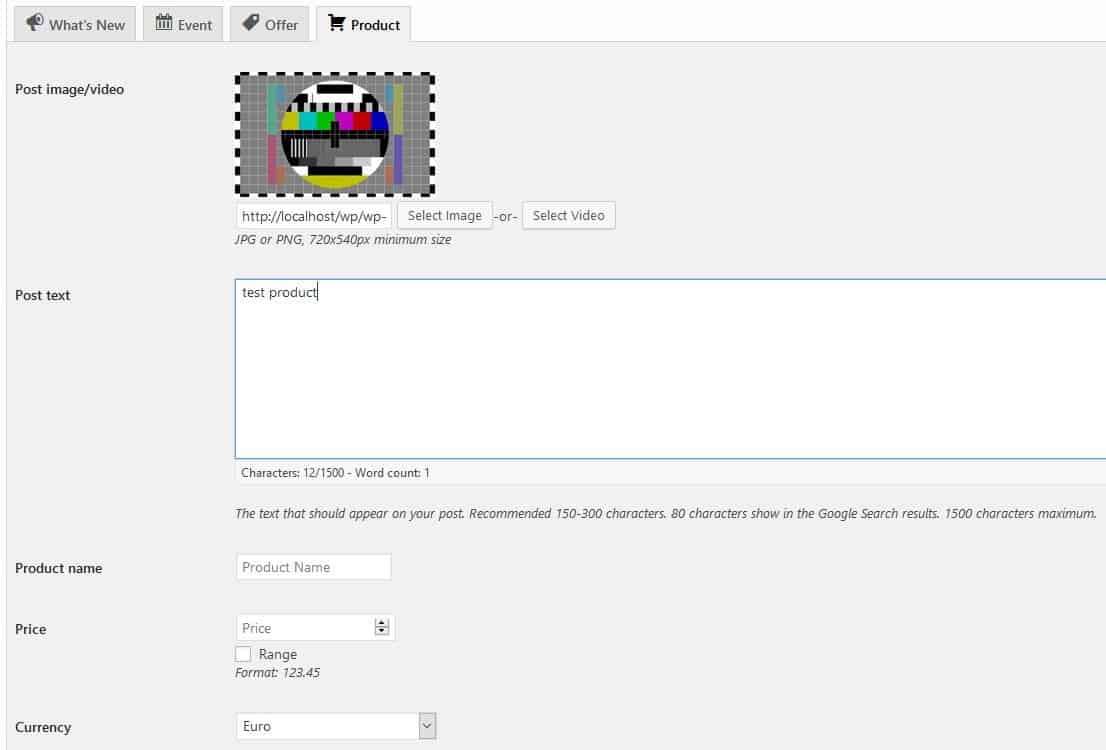 No matter if it's a new product or an old one keep them in your customers' view
We've already mentioned that you'll get to use this plugin with additional format types. You're able to publish these when you integrate your WordPress with additional plugins (for example WooCommerce and products). You will, however, be able to create campaigns specifically for products irrelevant of the fact if you have a plugin that adds this format. Just like the previous three types we've touched upon, you'll be looking to make something that catches the eye. It doesn't matter if you're promoting a new product, or just reminding people of an old one. Make the post as prominent as you can for maximum effect.
Combined functions
The four types of posts mentioned all have their specifics, but all of them also have shared features that you can implement. It's crucial also to point out that both of the features we'll mention can apply to content you publish conventionally. It is not just the four specialized campaign types.
The first of these shared functions is the button you can add to your posts.

Use the button to link the post to your original site
There are more than enough default button options represented, and you can link the button to a link of your choosing. The reason you should be using this all the time is to give your visitors and/or customers an immediate option to act. It could be to register for your site to gain access to the additional locked content. Or, to buy the product you're promoting right away. Regardless, you'll be looking to try and make them make a decision as soon as possible upon seeing the post. Chances are the more they wait, the less likely they will be to go through with it. Think about every post as a call to action to be on the right track on how to proceed.
Schedule your posts
Equally important as a button that redirects users where you want them to go is the Google My Business post scheduler. Much like the button, this function applies to all four post types, as well as regular posts. It is invaluable in rounding up the creation of an automated system that connects your main site with the Google My Business platform.
As you would expect, this function allows you to schedule Google My Business posts to maximize your presence on the platform. Not only will you be able to schedule a specific date and time of the posting, but you'll get to set an automatic repost system. It lets you define the number of reposts and the interval in which the plugin will publish them. This is perfect for targeted campaigns where you want to be present as much as possible wherever you can be. Also, if you're starting, going the quantity route can be an excellent way to push through and establish a name for yourself.
Keep in mind that there isn't a downside to oversaturating the web with your posts. If there are more of them out there, with all of them advertising the same thing, your Google My Business posts SEO rating will be better. It will make your content that much more prominent for the average visitor.
There isn't a better place than the first page of a Google results page after all, and a high SEO score will help you get there.
For an overview on how to schedule posts, be sure to check out this article.
Pricing
The plugin comes in three different premium tiers that have something for everybody. Also, each tier has a 7-day free trial through which you can check out for yourself everything it has to offer. All tiers are paid annually, and each of them has licenses for one, five, or 25 sites. Since every tier does differ in provided features be sure to check out the image below and the official site for more details on what they offer in what tier.
Summary
If you're using Google My Business, regardless if it's for your site, or client's one, you know it can be frustrating. Having to use two platforms continually is inconvenient. Not only do you have to use separate interfaces with their databases, but even the simple act of constantly switching between them can become a hassle after a while. This is precisely why Post to Google My Business is such a fascinating plugin. It does its primary goal. It is saving you time to post content, flawlessly. On top of that, however, it enhances the experience of using either platform to a new level with dedicated post types through campaigns, scheduling and the ability to post on multiple Google My Business sites from one place.
The great thing about Google My Business is that it elevates your internet presence and therefore, your business no matter what that business is.
If you're selling a service or a product, you'd want it to reach as many people possible. If you're running a site or blog, you'll want to get many visitors to help with your add revenues. Since this is a numbers game: more is always better, and anything that can make that happen is something you should consider.
Everything that eases that process, such as the Post to Google My Business plugin, is then, naturally something to strongly consider too.
There isn't too much to say except that if you're using Google My Business, and WordPress to manage the connected site, you should also be using the Post to Google My Business plugin.