Instapage is an online tool that can help you get faster loading time, and optimize your site's performance. However, one of its main purposes is to help you create captivating custom landing pages that are targeted at different audiences and work no matter what your business model is.
But, what is a landing page and what does it do?
A #LandingPage is a page on your site that's created with the intention of turning casual visitors into #Leads.

There are two basic purposes of a landing page. The first one is to get your customers' information in order to build a mailing list so you can market to them in the future. The other is to "warm up" the casual visitors to whatever it is you're offering and in turn to make it easier to send them further down your sales funnel as time goes on.
If you're one of the few people that still don't have a tool to help them with this important aspect of online business, then keep on reading and check out our top picks of tools for creating great, fast-loading landing pages.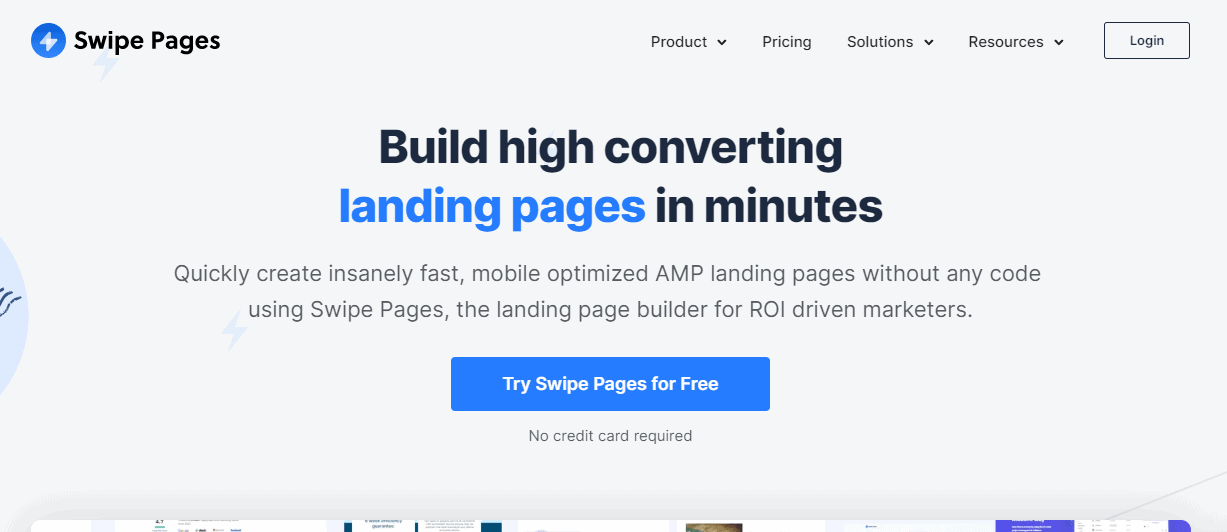 One of the best features of Swipe Pages is its extremely user-friendly drag-and-drop interface. Using it, you can create beautiful landing pages with over 40 templates that the tool offers.
These landing pages are optimized to help you get as many conversions as possible. Every single page that you make is hosted on a powerful cloud service, so your data is never going to get lost.
The pages will go through performance optimization and will always run at top speed.
With Swipe Pages, you can also create forms and customize them to your heart's desire, as well as transform longer ones into step-by-step forms that are going to help you get more long-term customers.
Once you've created everything you wanted, test your landing pages to see how they perform. There is also a tracking system included in Swipe Pages so that you can see how your campaign is doing.
FEES: AppSumo is currently offering a special deal on all three Swipe Pages plans. The Single plan costs $49, the Double $98, and the Multiple $147. All of these are one-time purchase offers.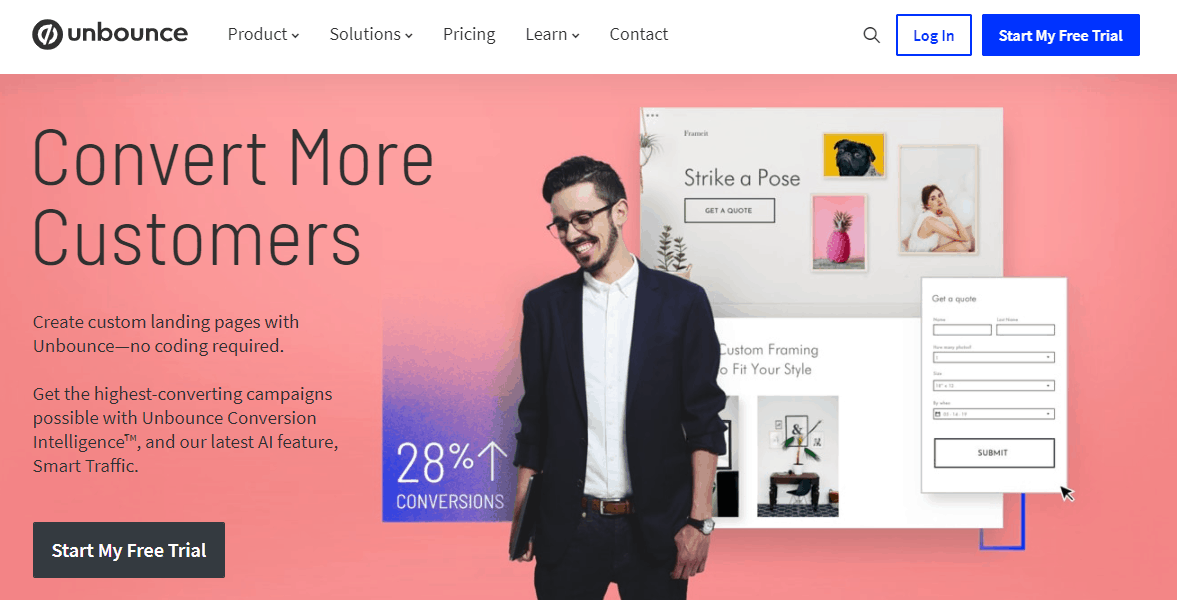 Unbounce is a landing page builder that's going to help you convert more leads and get more sales. The tool is quite easy to use and there are over 100 templates to choose from. Plus, you can copy and paste between pages and clone entire pages if you need to.
Unbounce puts a special emphasis on making your pages work on phones because let's face it, everyone spends way too much time on them anyway. Their AMP (Accelerated Mobile Pages) feature will make the mobile pages you create load up to 85% faster than the standard.
Unbounce also has a separate Mobile Layout Assistant, so that your pages will never look off and wonky on a mobile screen.
You can publish your landing pages to any URL and have them integrate with other campaigns that you already have going on. If you decide to get Unbounce, you'll also get access to 850,000 pictures from Unsplash.
FEES: Unbounce has 4 subscription options that you can choose from. The Launch and Optimize options which are recommended for smaller companies will come around to either $80/mo for the former and $120/ mo for the latter. The options targeted at bigger and fast-growing businesses are called Accelerate which costs $200/ mo and Scale which costs $300/mo. You can save 10% on any offer if you choose to be billed annually.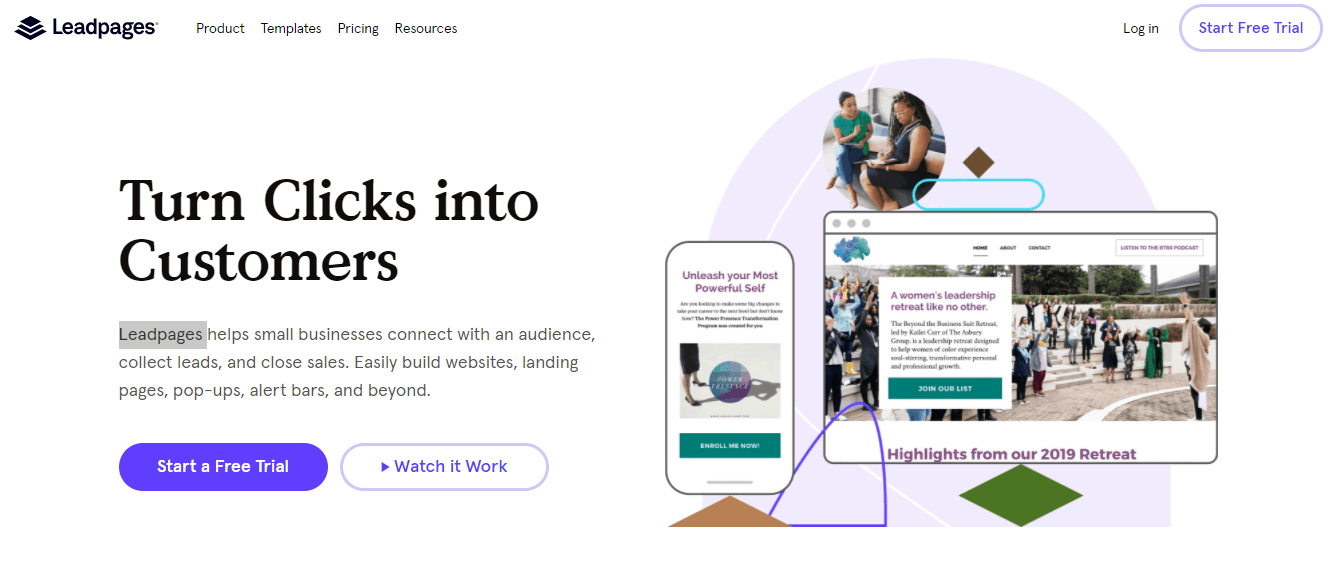 With Leadpages you can build a full website as well as landing pages. The builder for both is an extremely simple and elegant drag-and-drop editor with a large selection of templates. And if you choose this tool, you'll have the ability to use, what they call, the Complete Conversion Toolkit which allows you to create alert bars, pop-ups, opt-in-texts, and more.
Your analytics are also very easy to track with Leadpages as it shows real-time conversion tips and provides you with A/B split tests.
Leadpages integrates with many digital marketing tools you already use, so you can save yourself a lot of time by connecting their data. And probably its best feature, the built-in conversion guidance, is going to help you a lot by predicting a page's performance even before you publish it.
FEES: There are 3 subscription options to choose from depending on how big your business is. The Standard option costs $27/mo, the Pro option $59/mo, and the Advanced option $239/mo. If you choose an annual plan, 3 months will be free. Also, Leadpages does offer a free trial so you can make an informed decision and decide whether or not it's for you before committing to a plan.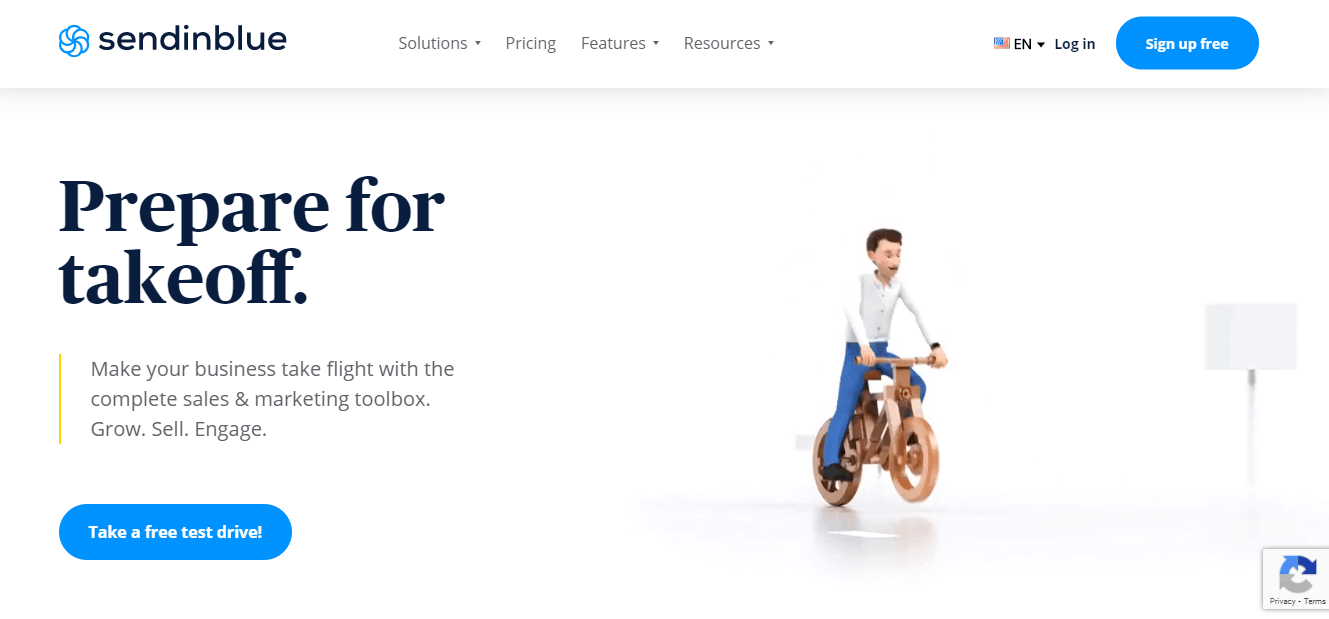 Sendinblue makes communication between you and your customers easier and more efficient than ever before. With it, you can do email marketing, SMS marketing, and set up a chat option to answer any potential question as quickly as possible.
The tool also provides you with marketing automation that can boost your site's performance by a lot. You can also turn up your engagement by segmenting, or in other words, sending out messages to targeted audiences.
Sendinblue allows you to create elegant landing pages and a better experience for all your visitors by making the pages fit your campaign perfectly.
You can use the tool to launch Facebook ads and create a custom signup form that you can integrate into your website. There are also a few great analytical features such as A/B testing and real-time statistics.
FEES: There is a free version of Sendinblue but it only allows up to 300 emails a day. So unless you are just getting started, chances are you'll be needing a bit more than that. The Lite version which is best suited for smaller marketers costs €19/mo, the Premium version €49/mo, and to find out the price of the Enterprise version, you'll have to have a chat with people at Sendinblue. They also offer a free trial of their product, so you can see if you like it or not before committing to a plan.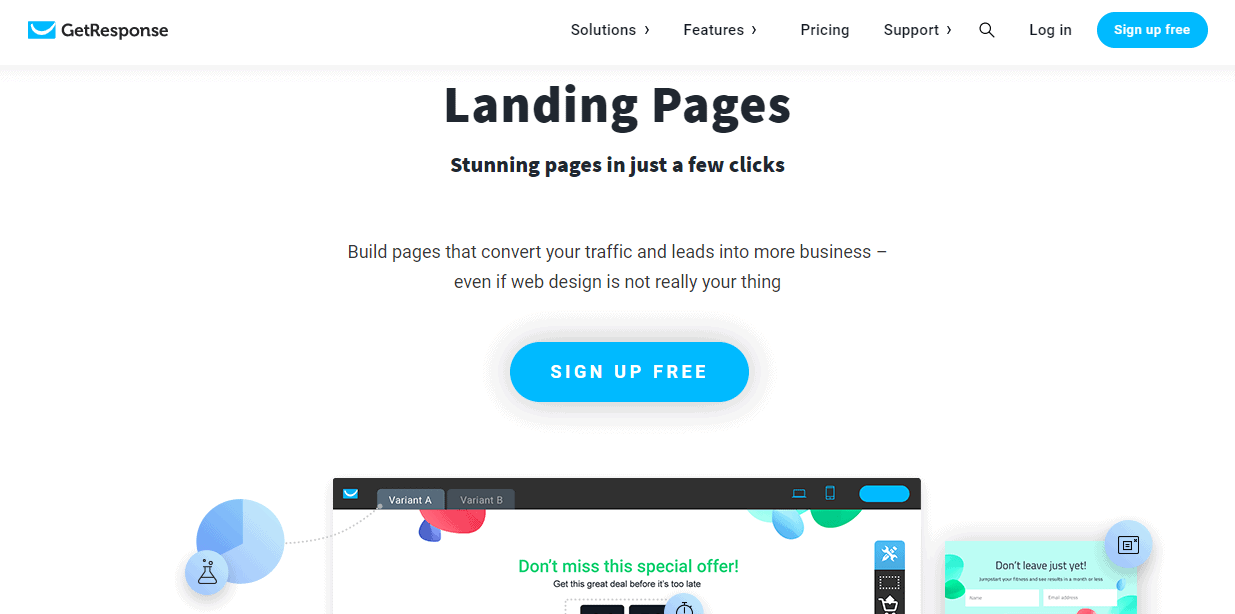 GetResponse email marketing software is a tool that focuses on automating your email marketing. Its first feature is email design, and with it, you can create interesting emails to catch the eye of any potential customer, manage your subscriber lists, and track how your emails are doing through analytics reports.
Creating elegant SEO-optimized landing pages is also made easy with GetResponse. You can even integrate it with Facebook Pixel to make everything even simpler. And once you create a landing page or a form, you can set up a timer for when certain time-limited campaigns will go out.
Another interesting feature that sets GetResponse apart from its many competitors is the possibility to use it for webinars. All you have to do is set one up, and from there onwards, you can share your screen with the people watching, set up polls and surveys during or after the webinar, use a digital whiteboard to better collaborate with your team, and set up a call-to-action button to promote your products or special offers.
FEES: The price of any version of this tool is going to vary based on your list size. The list size used for these prices is 1,000. The Basic version costs $15/mo, the Plus version comes around to $49/mo and the Professional version is going to cost you $99/mo. The Max version, on the other hand, is something you'll have to chat about with the people at GetResponse. Also, like many other tools on this list, GetResponse offers a free trial.
Conclusion
When it comes to running your business online there's no time to waste, so use every tool at your disposal to make your work as efficient as possible. A landing page is extremely important as it helps you convert visitors into leads, and we all know that leads are vital to your business.
If however, you are still unsure about which tool you should use, let us recommend Swipe Pages as it's quite easy to use and does the job it's supposed to do perfectly.
Not to mention that there's a one-time purchase offer currently up on AppSumo, meaning you'll never have to worry about subscription fees. However, no matter the tool you end up choosing in the end, it's important that it's the right tool for you and that it does everything you need it to do. That way you can finally say that you've learned to work smarter and not harder.