There are plenty of RPGs available out there that you can try. Some of them are paid, while others are free. As for Path of Exile, it belongs to the latter group. Even though the game is free-to-play, it is one of the best RPGs created to this date. Therefore, there is no reason for you to not try it.
Discover 3 websites that can help #PathOfExile Players

As Path of Exile is an RPG game, players struggle to enjoy it at the beginning. The reason is not the game's state but because they cannot figure things out. This is something expected from an RPG game, as they are created this way. Take Elden Ring for an example. You don't even get directions to where to go next in that game. Thankfully, Path of Exile isn't as strict as Elden Ring, but you can get confused while playing it.
Many players decide to stop playing Path of Exile as they just can't figure anything out. No matter how hard they try, they fail to perform properly in the game. If you belong to the same group, continue reading this post as we will mention some sites that can help you out in the game. There are many more sites other than the ones we will mention, but we think that these ones are better than almost every other site.
Path of Exile Fandom
If you want a site where you can find everything related to Path of Exile, waste no time in visiting Path of Exile Fandom. This website is maintained by the community of the game and contains up-to-date information. In other words, if the developers make any changes in the game, the community makes sure to update the site instantly.
The amount of information it contains makes Path of Exile Fandom one of the best sites for players. On the site, you can find everything about the game, such as equipment, exiles, skills, and so on.

Crafting is a big part of Path of Exile, but many players can't figure out how to properly do it. This is because crafting requires you first to gather multiple items. Thankfully, Path of Exile Fandom has a dedicated section for crafting, and you can use it to learn everything about it quickly.
Another amazing thing about the site is that it has a section you can find the latest news about the game. Furthermore, they also share details about different updates that are released for Path of Exile. Thanks to it, you can stay updated with what's happening with the game, and what the developers have added through recent updates.
Overall, Path of Exile is a site that is worth your time, so you should check it out if you want to get better at the game.
SkyCoach
Next, we have SkyCoach. For those who don't know, SkyCoach is a platform from which you can purchase different boosting and carry services. And if you're unfamiliar with such services; they are used to get help from professional players who know every little thing about the game.
Among many other games, SkyCoach offers services for Path of Exile as well. For instance, if you're currently struggling with getting Chaos Orbs in the game, you can use their service to get as many Chaos Orbs as you like. They offer a similar service for Exalted Orbs as well.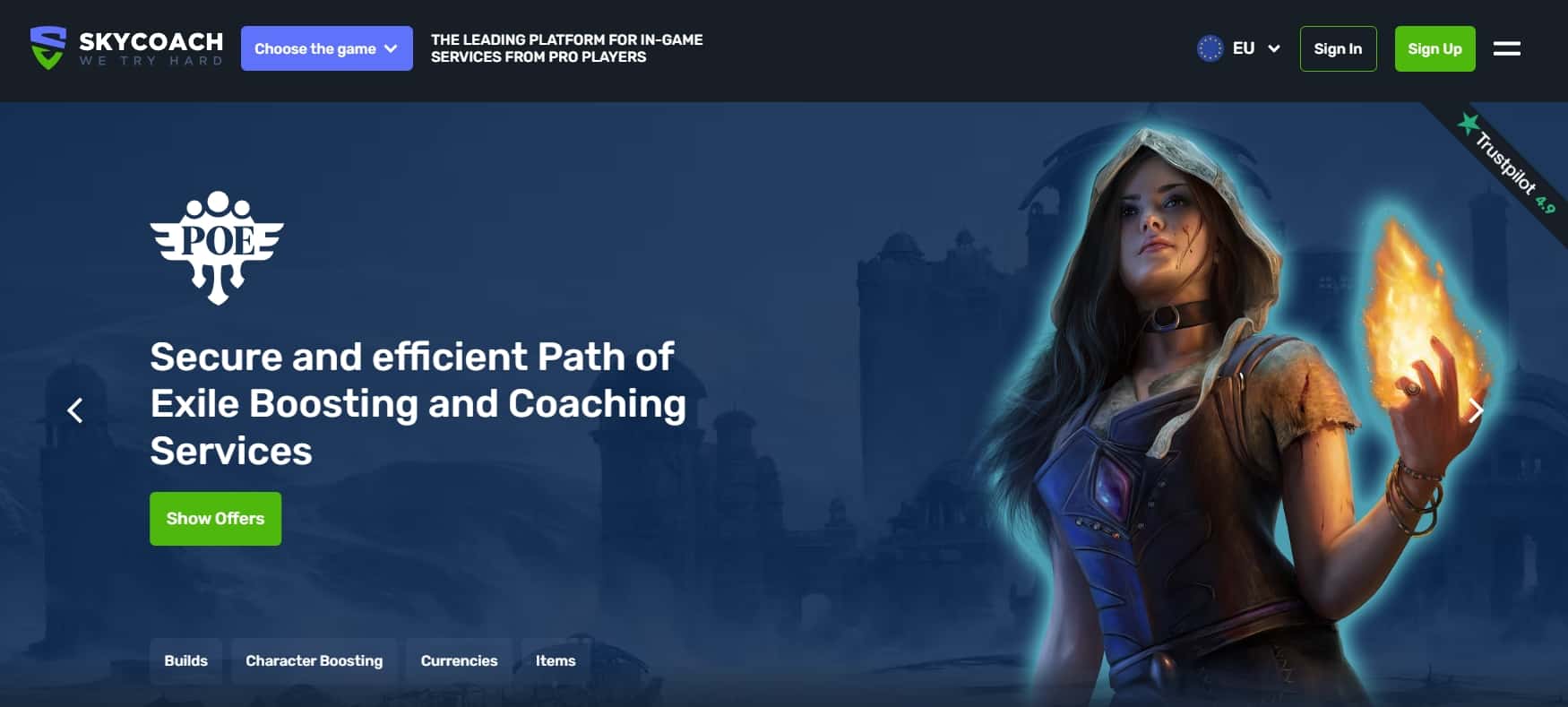 The best Path of Exile service offered by SkyCoach is Farming+. After you purchase this service, you will get help from professional players who will assist you with getting a lot of loot from your desired areas. Furthermore, they will also kill powerful bosses for you. The professional players will take control of the account and do everything for you.
SkyCoach is one of the best platforms for such services because of their rates. They offer their boosting and coaching services at cheap rates. In other words, they won't become a burden on your bank account. Furthermore, they offer 24/7 customer support service, so you can contact them anytime. Overall, SkyCoach is an amazing website for Path of Exile players looking for help in the game.
PoEDB
Last but not least, we have PoEDB. This is a hub for Path of Exile players from where they can find information about plenty of stuff. The best part is that they have properly organized all the information so that people can navigate through their site easily.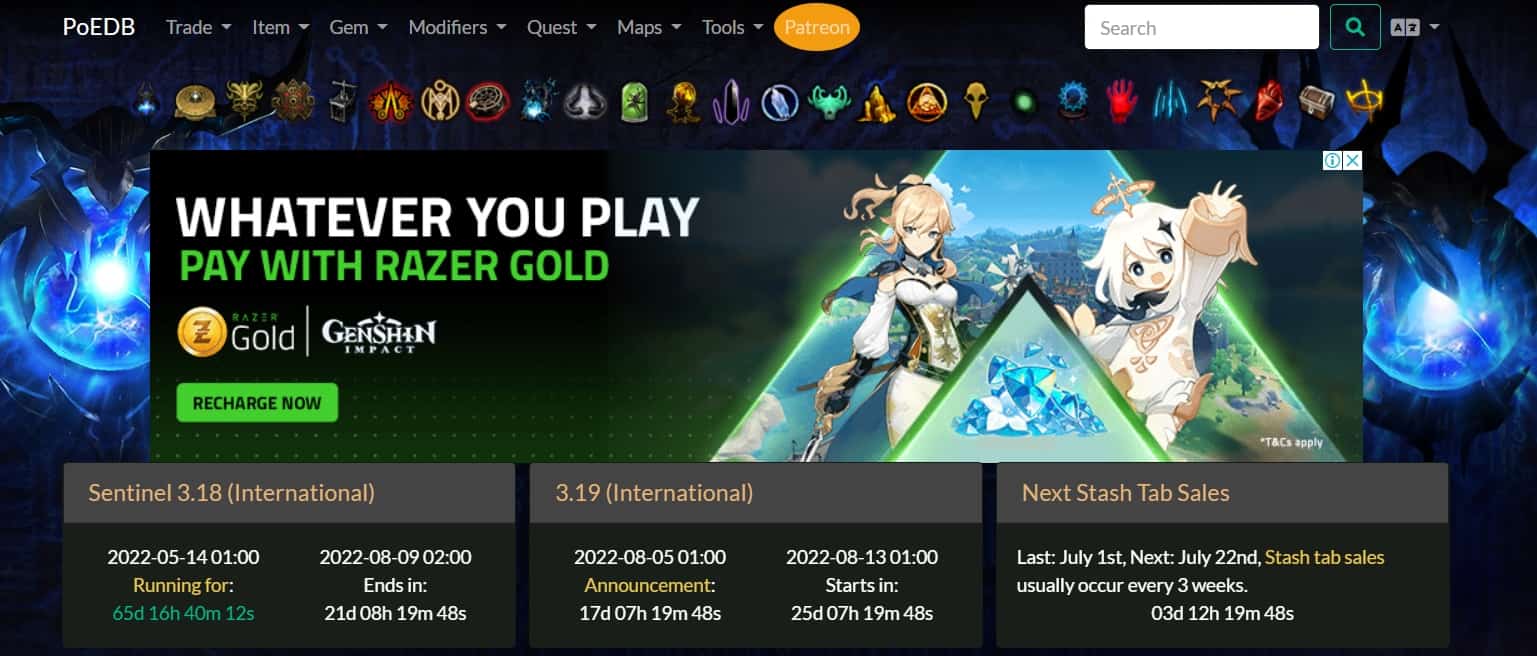 They have categories such as Trade, Item, Gem, Modifiers, Quest, and Maps. Furthermore, they also offer different tools that are designed to help Path of Exile players. You can visit each category to get detailed information about something. For instance, if you go to the Gems tab, you will get a list of all Gems present in the game.
This marks the end of our post. We hope that you will be able to use these sites to perform well in the game.