Whether you're building a SaaS product, opening an eCommerce store, or something else, building trust as a new business doesn't come easy—especially with a new website. People are skeptical.
With so much fake #news, hacking scandals, and spam on the #internet, it's easy to disregard an exciting new #business as fake, a scam, or simply not worth the time.

We understand the struggle. However, there is a light at the end of this digital tunnel. This article will share nine ways your new website can build trust with website visitors.
TL;DR:
Consent management: GDPR, Cookies, & CCPA
Accessible content
Under construction pages
Customer reviews & success stories
Chatbots and access to salespeople
Technical optimization opportunities
Visuals
Social media presence
Let's hop to it.
Nine Ways to Build Trust for Your New Website
1. Present Visitors With Consent Options
First and foremost, you need to present new website visitors with their consent options and make it easy to say yes or no. There's nothing more frustrating for a new website visitor to have to select "accept all cookies" because the navigation to selecting specific cookies is too complicated or unclear.
At the same time, think about the presentation of this cookie modal and how intrusive it is to the new web visitor's experience. Are you freezing the website navigation if you're using a pop-up modal to give users their consent options?
Or, if you're just using a banner to present consent options, think about its colors and how it can grab a user's attention without interfering too heavily with their website experience. Take a look at this example from the SaaS email automation tool, Userlist. The cookie modal is unobtrusive, has smart use of emojis, and gives easy-to-nav opt-in or opt-out buttons.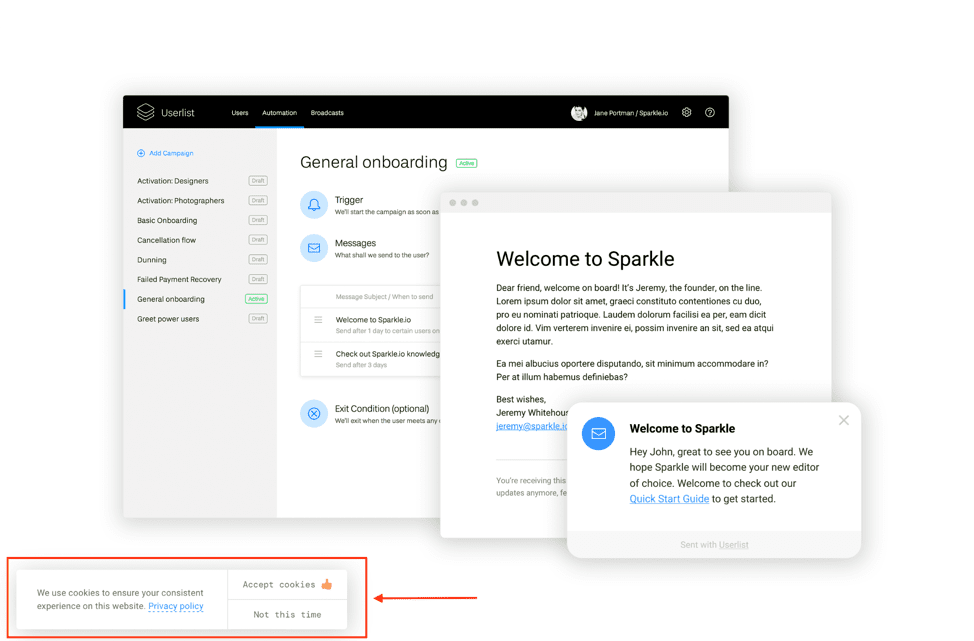 Consent doesn't stop at cookies. Depending on where your business is in the world, you'll have GDPR, CCPA, and other data privacy laws to consider.
A McKinsey report found that over 80% of customers will stop doing business with a brand if it gives away sensitive customer data. Using an opt-out guide can help you understand your data privacy rights and make informed decisions about how your data is collected and used. Read more about managing consent, and figure out how you can smoothly give website visitors ways to opt-in or opt-out of their data options.
2. Use Videos With Subtitles
Accessible content is absolutely key in building relationships and reaching wider audiences. Your website needs to be inclusive of different types of visitors and factors that may affect their experience with your website.
Placing subtitles on your website's videos is an easy way to enable your content to be consumed by a greater audience. Subtitles will help people that don't have access to sound, for whatever reason, to understand your videos contextually.
You can even expand your website's reach across languages with language-specific subtitles. Generating video subtitles automatically with SaaS tools is an easy win solution that'll save you time and effort while continuing to build trust with new website visitors.
3. Under Construction Pages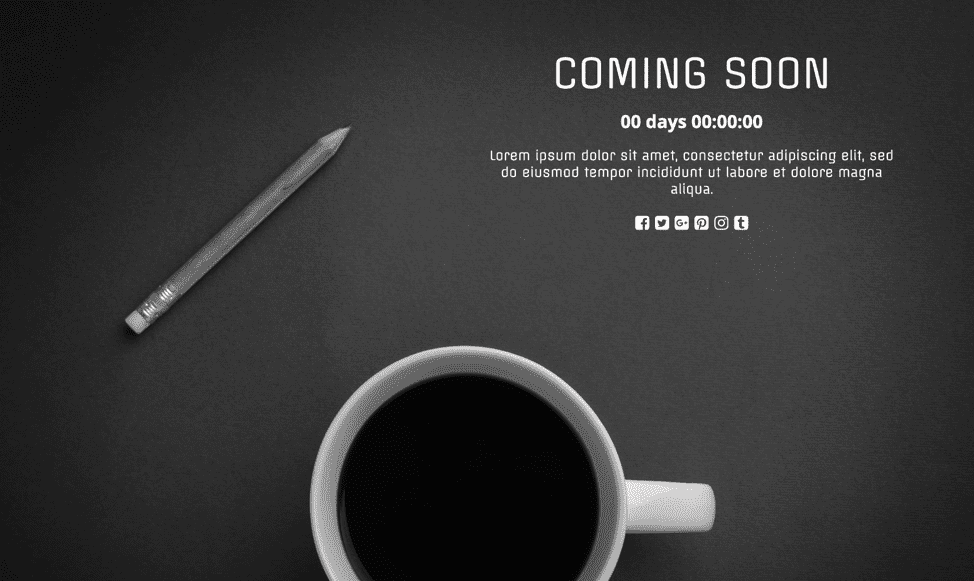 If you're working in an agile culture and looking to release your product or service to the market as quickly as possible, then there's a high chance your website will not be totally ready. That's okay! There's no point in waiting for your website to be perfect before launching.
Websites are in a constant state of flux; they're always being built on, expanded, and optimized. Release what you've got ready now, and use under construction pages for those areas of your website that are not quite ready but coming soon.
These massively help you to build trust with your users by sending them to a broken link or a messy landing page that damages their brand experience.
4. Showcase Customer Reviews
Close to 90% of customers won't make a buying action before reading customer reviews. Over 90% of millennials trust online reviews to the same extent they'd trust a recommendation from a friend or family member. Reviews go a long way in building trust; utilize them for building trust around your website.
If you can, link to the profiles of the people whose reviews you're showcasing. Show that these people are real and give someone the option of reaching out to these people—if they feel it necessary.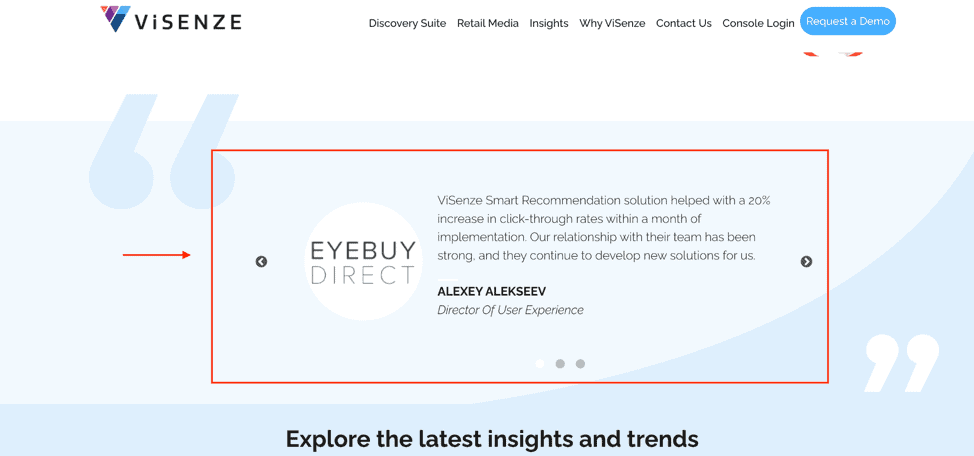 AI-powered product discovery tools, ViSenze, puts customer reviews front-and-center on their homepage, and it pays off for trust-building tactics.
5. Host a Chatbot
Chatbots are a massively underestimated trust-building tool for websites. They can act as a content knowledge base, answer common questions, and ensure the right content gets in the right hands. They can also be an interesting way to capture consumer information and initiate sales flows.
When it comes to trust-building, chatbots can identify the right moment to put a consumer in touch with a human representative. They help showcase a little personality behind your brand and, of course, give it a human touch!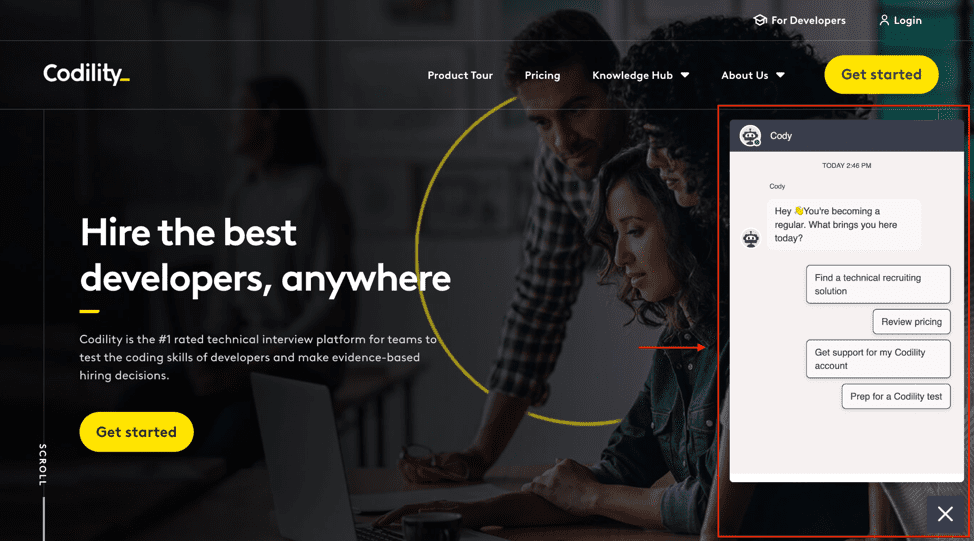 Technical interviewing platform, Codility, does a great job with their aptly named chatbot: Cody. The bot delivers personal experiences, nudges potential buyers in the right direction, and answers FAQs in a couple of clicks.
6. Pay Attention to Your Colors
Color psychology is massive for trust-building. Of course, this point will need to be considered in your brand guidelines. However, depending on how you want your website visitors to feel will depend on the colors you use for your UX design, especially when it comes to CTAs.
When it comes to building trust, calmer colors work best. Particularly blues, greens, and grays. If you're a relatively new business, then color psychology should be threaded into your logo design and brand colors. Consider how you want users to feel about your brand both on and offline. Is your brand supposed to excite or calm? Is it supposed to be creative or insight optimism? Look into color branding and apply these tactics across the board.
7. Optimize for Speed
Close to 70% of consumers said that a website's load speed affects their inclination to buy from an online retail store. Technical SEO edits that help your website's load speed can help you build trust with new website visitors.
A few technical changes you can make to optimize your website's load speed are:
Reducing image sizes
Reduce the number of website plug-ins
Choose the best hosting option for your content
Use browser caching
Externally host your videos
When visitors can navigate your website faster, they'll trust your business more and are more likely to buy from your website.
The same can be said for all areas of your business. Fast responses build trust as long as they still deliver value and a personalized approach. Try to bring the same concept of speed to all of your brand communications, not just your website.
8. Use Images With People
People relate to people. However, it can be tough to showcase the people behind your brand, especially if you're a new business and you actually don't have many people behind your brand! Research found that websites using visuals of people help to build trust for first-time visitors.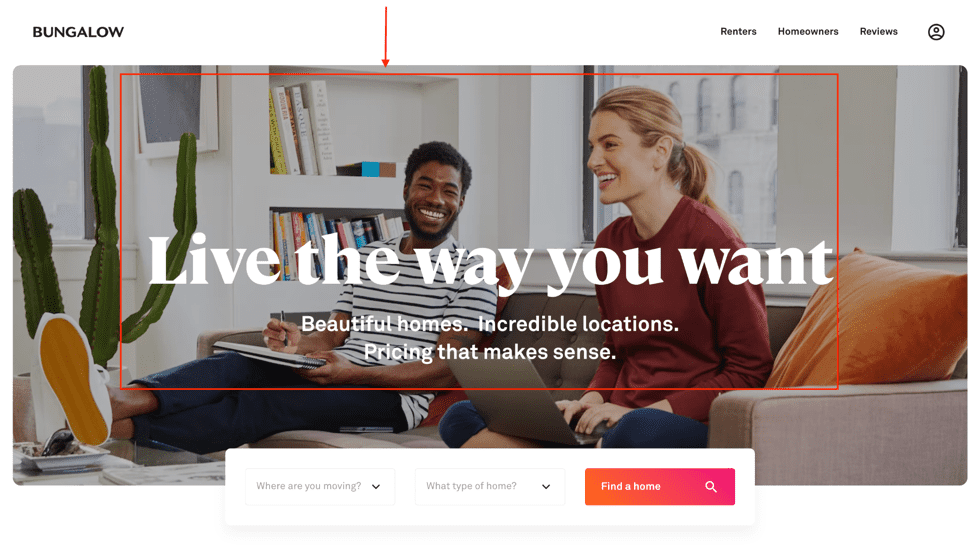 Long-term rental platform, Bungalow, does a fantastic job with its homepage visuals. The team put people front and center on their homepage, with big smiles and a hero image feature, and it's a huge trust builder for first-time users of the platform.
Steer away from stock sites like Unsplash or Pexels, and try to run your own, branded photoshoots. However, if you're stuck on resources, then stock images, including people, are more likely to build trust over graphics or illustrations. Find a way to sync your brand and product to people, no matter what it is.
9. Link to Social Media
Last but certainly not least, showcase that your brand exists out of your website domain. Social media is a fantastic way to build trust with customers and hold conversations with them. Be upfront with your social media channels and give website visitors easy access to all of your social media channels using icons.
What's more, combine an earlier point we mentioned and showcase social media reviews if that's something your customers are doing. They add more validation over curated reviews and can help you to build trust quicker.
Build Trust From Hello!
There you have it, nine ways you can build trust with your website visitors for a new website. Remember, trust is something that takes time to build. It's your business's reputation. However, the lift is well worth the reward, as trusting customers will be that much more inclined to buy from your business.
Hopefully, you've found some actionable points to go away and work with, so you can start building trust and winning a higher ROI for your website.