There are many reasons why you may end up cloning a WordPress site. You could move from local server to generation server or the other way around; you may set up a testing domain or organizing server on the web. Perhaps you're moving your site to an alternate hosting provider, or need a duplicate for a comparative study.
Migrate Guru is a free, fast, and fully automated #WordPress plugin that will help you cut down the number of tasks and move the site instead of you

Maybe you just like having a backup. Regardless, it's key that the content compares precisely to the original site. All things considered, what is the point of tinkering around with your variants if they do not correspond to your live site? Nothing! Obviously, you can clone your WordPress site manually. As a rule, this more often than not includes the several processes like the following:
Duplicating your records and database
Transferring them to the new domain
Refreshing the database references
Altering wp-config to fit the new site condition
Let's be realistic — duplicating a WordPress site on your own is a huge headache. On the off chance that you were looking for alternatives, today is your day of reckoning!
Say hello to Migrate Guru!
As WordPress plugin, Migrate Guru can help you cut down the number of tasks to be performed when you want to migrate your website. Migrate Guru is a free, fully automated WordPress migration plugin that is easy to use, fast, and reliable. Move any WordPress site, or multisite network, to a new host without any worry. Migrate Guru duplicates the site in question to external servers, and utilizes these servers' resources to move the site.
This is how it bypasses the usual errors faced while using other migration methods. Migrate Guru simplifies website migration by performing the task of migration with almost zero technical knowledge. Really, you do not need to know any coding or have advanced technical experience. It also transfers WordPress sites without any manual work, add-ons, or additional tools.
It automatically rewrites URLs, bypasses import-export scripts, and handles serialized data. Migrate Guru is different from other WordPress migration plugins because it uses a simple 1-step process that runs on BlogVault servers. This way, it doesn't overload the live (source) website and ensures that websites as large as 200 GB can be moved without any issues.
Why Migrate Guru
Migrate Guru claims to have the following features and they sound pretty much awesome. Is it worth it? Let's investigate.
Real-time alerts: You will receive real-time email alerts to keep you up to the minute regarding the migration status.
Storage space not required: Migrate Guru automatically copies your site to Migrate Guru servers. After the migration is complete, the copy is erased. Your privacy is retained, at no cost for their storage space.
Migration in one click only: Once you enter host details and click Migrate, you are done. Easy, right?
Web hosts compatibility: Move your site to and from any web host.
Source site is not overloaded: The migration process works on their servers, so it doesn't crash your site.
Large site capacity: Move or transfer sites as large as 200 GB effortlessly. Large site migrations usually fail because of live-site server import limits. That is not the case here!
No add-ons required: Add-ons are not necessary to move multi-sites or sites with serialized data. You are not charged extra for anything!
100% automatic Search and Replace algorithm: Serialized data with accurate Search and Replace algorithms are placed for you at the correct intervals. Verdict? I think this is worth the shot. But does it deliver? We won't know till we tried and I have, for you!
Let's get started
Here's the simplest guide for Migrating or transferring WordPress site from one server to another in 5 minutes. I had these close at hand before I started. Make sure you do too. They are the basic requirements for migrating a website.
A domain with the new web host, with WordPress, installed on it.
Your destination server's IP address (which can be found in your Bluehost cPanel)
cPanel details
Note: It does not require any expertise. Only a basic knowledge of the server cPanel (i.e. backend) is sufficient. However, if you wish to transfer your domain name to a new host, then check out this tutorial.
Step 1: Install Migrate Guru
To add Migrate Guru WordPress Plugin using the built-in plugin installer: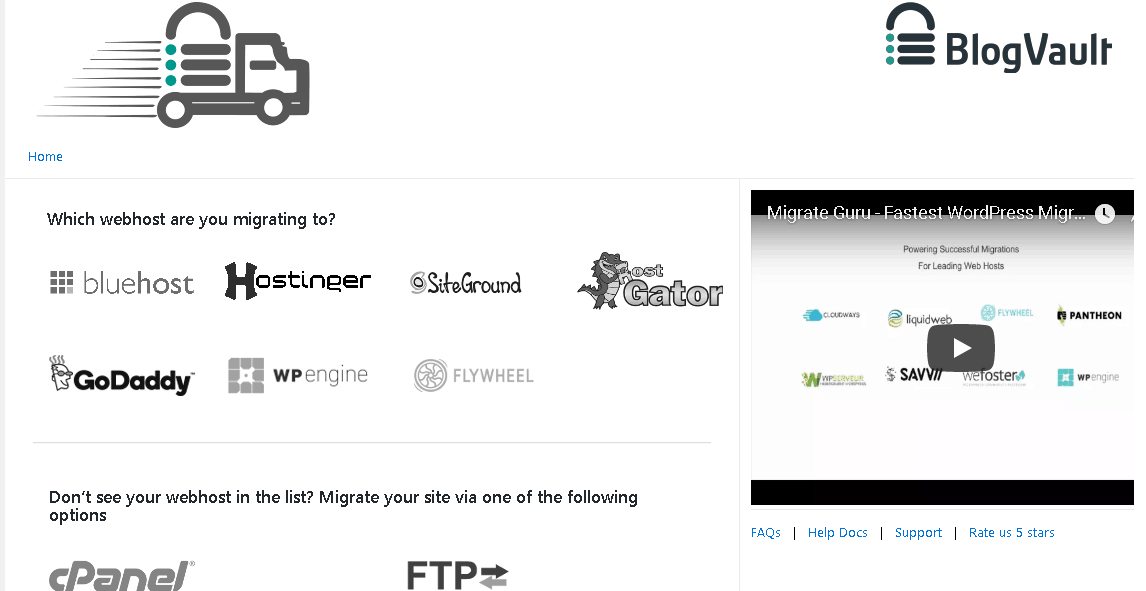 Type in the name of the WordPress Plugin, Migrate Guru or a related descriptive keyword, author, or tag in Search Plugins box or click a tag link below the screen.
Once you find Migrate Guru, you have to install to install it.

Click Details for more information about Migrate Guru and instructions you may wish to print or save to help set up the Plugin.
Click Install Now to install the Migrate Guru WordPress Plugin.

The resulting installation screen will list the installation as successful or note any problems during the install.
If successful, click Activate Plugin to activate it or Return to Plugin Installer for further actions. Alternatively, you can download Migrate Guru from here and install it by uploading it to WordPress dashboard or via SFTP. To know more about Installing Plugins click here.
Step 2: Filling out the Migrate Guru migration form
The Migrate Guru plugin will give you a small form to fill up. The fields of this form are:
Email: Enter your email address so that Migrate Guru can send you updates at the two different stages of the migration.
Destination Site URL: This is the URL of the site (domain) you've set up on your new web host.
Destination Server IP address: This is the server IP address of the site configured on your web host account.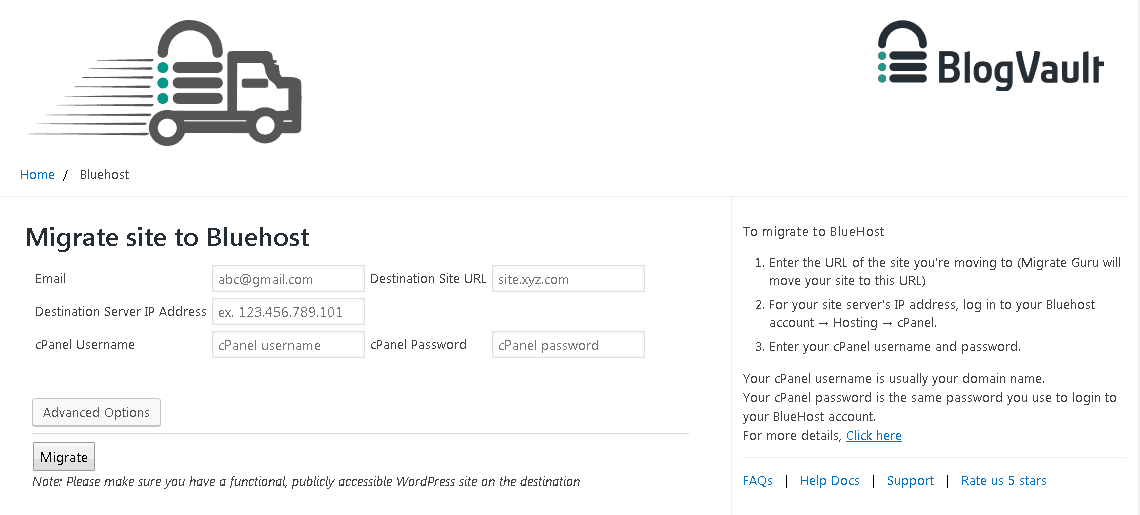 To find these details, follow the steps below:
Log in to your web host account and go to the menu bar displayed at the top of the page.
Click on Hosting and choose cPanel.
After you are done with this, you will find the destination server IP address in the left-hand bar of the cPanel page.
Retrieve your cPanel Username and password perform this step. Your cPanel details are the details you use to log into your web host account. For the cPanel username, access the mail your web host would have sent you when you first signed up for an account. This email will contain your cPanel username. (The subject of the email would be 'Welcome'). The cPanel password is usually set when signing up for web host service. It is the same password you use to login to your regular web host account.
Note: If you've forgotten your password, click on the Forgot password link from the login page. Your web host will then mail you a password reset link, which you can use to set a new password.
Advanced Options: Click on this option ONLY if either the site being moved or the destination site is https:/' instead of HTTP://.
Note: If the URLs of either one begin with 'https://', they are HTTP authenticated. If your web host domain's URL is protected with HTTP authentication, you would have received an email with the validation credentials. These credentials can also be retrieved from the site's server logs.[/box]
Now that you have all the required details, enter them in the Migrate Guru form. If you have any more doubts there is a Support and Help section over to the right.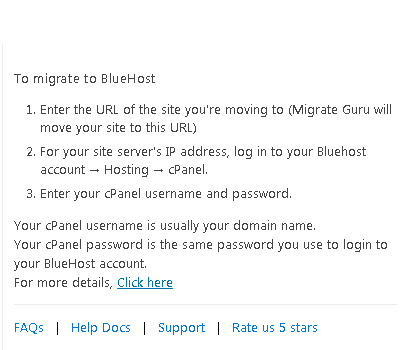 Step 3: Click on Migrate
There you go! You have successfully completed the required steps to migrate your website!
After you click Migrate button, Migrate Guru will send you an email notification confirming that the process of migration has begun.
In the meantime, you will also be taken to a screen that portrays the real-time process of your website migration. A link to this page can also be found in the email notification sent to you. The screen will show some progress bars once the migration begins. You don't need to keep your browser window open once the migration begins.
If you don't see this screen, or if the migration screen reloads with an error message, then odds are that something wasn't entered correctly. Or, if you just created your website, it may take a little time before Migrate Guru can connect to it. Go back to the directions above, and carefully make sure each field is correct, then retry.
Once the migration process is completed, you'll receive another email from Migrate Guru notifying you of the migration. You can view your new site by clicking on the Migrated Site button, which you'll also receive a link to in your email alert. With this simple process, moving or transferring sites as large as 200 GB is so easy, you will not believe your eyes!
TL;DR: Simply enter your hosting details and click Migrate.
Migration Plugin Price
Migrate Guru is a free plugin, don't sweat about it! You can migrate, move or clone your website easily, free of cost now. Isn't that neat? Are you a visual learner? Watch this! If you have any queries you can contact the Migrate Guru team using their contact form at support page.
Winding up…
Migrating a website in WordPress doesn't have to be complicated. As long as you pick the right tool for the job, you are set. It might not even take you long, either! In fact, if you're a Migrate Guru user, all it takes are three simple steps to move your entire website.