All Amazon sellers understand that the competition on the market has become tighter recently, and they need to do something about it. Taking an Amazon FBA course is great for learning the fundamentals but sometimes you need more research tools at your disposal.
Niche evaluation requires hours of deep research, analysis, and tracking – it may be hard to complete all the tasks quickly and effectively.

And that's why a revolutionary Amazon product research tool is your powerful weapon in this struggle for domination.
IO Scout helps sellers enter the market with high-demand products and receive meaningful details concerning their goods. With this tool, you'll easily upgrade important business processes and maximize your income. And it's only the tip of an iceberg! Keep on reading to find out why IO Scout is worth your attention.
Why Choose IO Scout: Top Reasons
Have you been looking for a cost-effective and practical solution for your business? Ama top product analyzer is at your service whenever you need a high-quality research tool.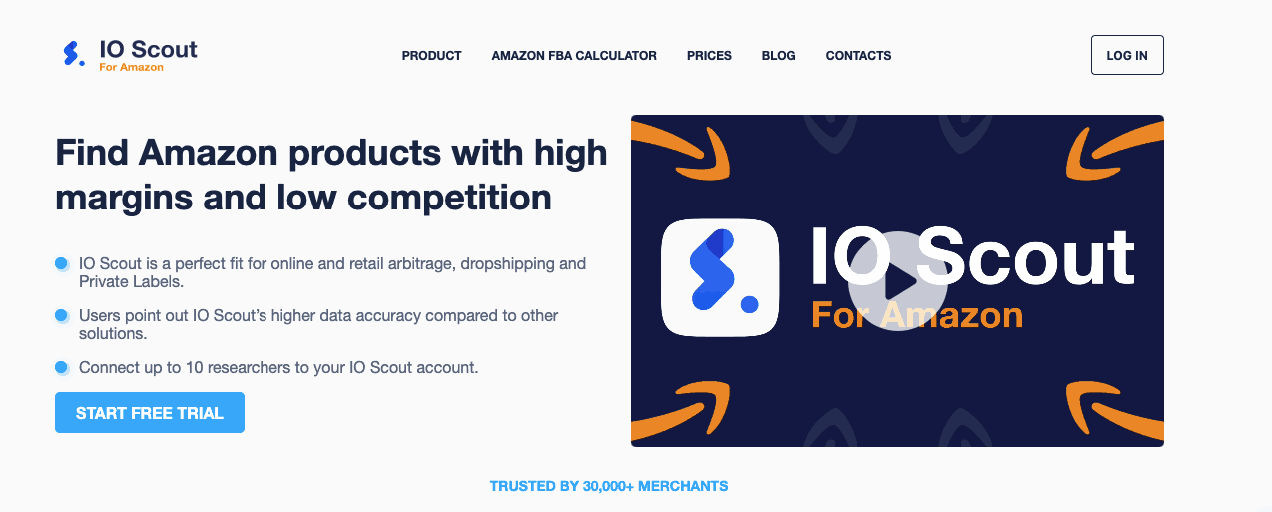 Over 30 000 sellers have chosen it, and we'll explain why:
1. Ease of use
Every seller wants to launch a highly profitable item but often doesn't know how to do that. With IO Scout, you'll quickly scan the market and figure out which products bring real money. You can use it in any convenient method – as a web app or Chrome extension. If you select the second variant, you don't need to switch between pages and tools. Monitor the market directly on Amazon.
2. Access to millions of items
The search process may lead you to nowhere if you don't have an effective tool. IO Scout is your key to millions of goods represented on the platform – get the necessary report on the chosen category within seconds. Conduct Amazon product research to find out how the competitors are doing and which item is more popular among buyers.
3. Dozens of filters
Don't worry if you don't know where to start and which data is more critical. This software allows you to set search filters, including price, stock information, sales, testimonials, sellers, and even more. Compare costs, analyze the niche, and select products that will grab the attention of the audience.
4. Get back to the history

Trends are changing rapidly, but this tool will help you keep up with the times. You can't build a business successfully if you don't know the background of your products. How have your goods been performing in the market? When were they in high demand? IO Scout generates information that helps predict changes in the niche and prepare for upcoming transformations.
5. Connect your team to IO Scout account
Do you have many employees? There's a place for each member of your team in the IO Scout account. The software lets users add up to 10 specialists who can also do research, analyze the niche, and evaluate the market. Everyone has access to all product-finding features, so together, you'll be able to grow your business, increase the number of sales, and expand the brand's opportunities on Amazon.
6. Data accuracy
No wonder why so many sellers trust this tool. When it comes to data accuracy, IO Scout product tracker Amazon is the best solution for your business. The software has an effective algorithm that helps generate the flow of correct information and evaluate the market according to revenue, sales, stock status, and other details.
7. Opportunities for product tracking

Pay attention to the fact that you don't have to sit in front of your monitor for hours. The tool provides reports quickly and regularly updates the information. Use bookmarks and save the chosen details whenever you see a popular category or item with high potential.
IO Scout allows you to become an invisible agent who knows everything about the competitors. You can watch how their goods are performed in the market, the prices they set, and many more. Analyze their strategy and reports connected with the cost of their items to make the right decisions for your brand.
8. It's a perfect solution for businesses
It doesn't matter if you're only launching a business or have many years of experience in the sphere – this tool grants amazing opportunities for everybody. It works perfectly for Private label entrepreneurs, dropshipping, retail, and online arbitrage. IO Scout offers unique services for every company, small and big ones. Besides, the prices are reasonable, and you won't feel like someone has just grabbed all the money from your wallet. You can start with a basic package that costs approximately $30, and it's cheaper than other plans in the market.
Final Thoughts
With a high-quality tool, you'll easily achieve all your business goals, prepare practical solutions, and upgrade your project. Of course, IO Scout won't think instead of you, but it will essentially ease business processes and help implement effective tactics to boost sales. Conduct product research for Amazon, analyze the niche and explore the history of goods to get the desired income. This software will help you avoid many risks connected with finding an item for promotion – you'll never lose money or time anymore.