WOptimize.io is a newborn baby in the WordPress support and maintenance world. It has been launched in October 2017, thus it's still quite small – right now the team counts only two members. The business has its headquarters in Italy but since the team considers themselves digital nomads they're usually not in the same place for more than a few weeks or months. They have a handful of long-term clients, and with WOptimize.io they've just given a nice package to what they were already doing to try and expand their client base.
Meet the new guys  in the #WordPress maintenance industry and learn more about @woptimize and their support services

Stefano Ginella is 34, coming from Italy. He's a freelance web designer and developer working mostly with WordPress and WooCommerce since 2012, but playing with it as a hobby since much longer (probably 2007 or 2008). Since WOptimize.io is small, he does most of the work, from managing clients to promotion and marketing to providing support. WOptimize will expand the team only when they start feeling uncomfortable with the amount of work.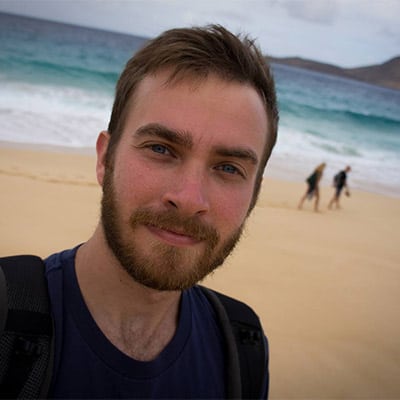 Why should WordPress users choose your company over competitors? Name something your company does better or in a unique way.
First of all, we do whatever it takes to keep our clients happy. We don't hide behind a complicated help-desk platform, forcing clients to open a ticket for everything. You just have to send us an email.
Besides our core services aimed to keep your WordPress website updated, backed up and constantly monitored, we offer support and development time included in our WOptimize Plus plan. We can do pretty much anything related to your WordPress website during your support and development time: adding new posts, pages or products, doing HTML, CSS and JS fixes, optimizing loading speed, hardening, managing redirects, migrating your website and much more.
And the most important thing is that we don't outsource anything.
Is there a tutorial or a video you would recommend to beginners who want to start doing WordPress maintenance on their own?
There are a handful of websites from where we've learned a lot and from where we're still learning (you never stop learning in the www world): wpbeginner.com, bobwp.com, smashingmagazine.com and obviously the WordPress Code Reference.
What was the hardest WordPress issue you had to solve?
Having to update and do some changes to a website which hasn't been updated for 5 years and with a horrible and badly coded custom theme.
What was the highest number of installed plugins a client had?
I build most of the websites I worked on and I always try to install a reasonable number of plugins (a rule of thumb is "no more than 15", but it depends on which features the client needs). Anyway, I've worked on some websites built by others, and I never found more than 30 plugins. I've probably been very lucky! 🙂
If you could recommend just one plugin to your clients, what plugin would that be?
Only one? That's difficult. I'd say Cache Enabler (or SG Optimizer if you are hosted on Siteground). It can give a great boost to your website performances.
Do you use ManageWP, InfiniteWP, MainWP or any similar tool? What CRM do you use to handle payments and generally manage clients?
Yes. we use ManageWP to handle our core services. It's a great tool that let you save tons of time on repetitive tasks. Subscriptions and payments are managed with WooCommerce and Stripe.
Is there a hosting company that you don't work with, ie if a client has a site with them you won't work with that client? Is there maybe a hosting company you recommend on a regular basis?
We work with any hosting company, but if a client asks for speed optimization and we find that the hosting is a performance bottleneck, we suggest a new one and we take care of the migration. Depending on the client's budget and requests it's either: Siteground, Flywheel or Pagely.
How did you learn WordPress and become a maintenance expert?
I started playing with WordPress since 2007 or 2008, building my first amateurish photography blog, and I've seen it becoming a fully featured CMS. Since then I always tried to follow all the platform developments.
How/where do you promote your services and find new clients?
Up till now, it was just by word of mouth, but now we're exploring new ways and preparing an aggressive promotion plan which involves Facebook Ads, Twitter Ads, Google AdWords, guest posting, and actively participating in various communities and forums related to WordPress.
Do you think the industry and your business will still be operational in about 2 years?
WordPress is not going away anytime soon. It keeps growing and getting better, and millions of websites are based this platform. Speaking about us, I've read somewhere that only a small percentage of companies and startups live longer than 3 years, we've started in 2012 (not with WOptimize.io but working with WordPress in general), so there is a good chance we'll be around for many years to come.