Every business that relies heavily on appointments has faced the challenge of finding the right front desk manager to manage their appointments. Or, even worse, their employees have been working their jobs, taking bookings and receiving payments. It's a recipe for disaster.
In this modern, impatient world, where time literally is money, a five minutes delay when someone has already taken the trouble of making the appointment, can cause you to lose a customer.

From private clinics to gyms, beauty or spa salons, to repair shops, dealing with multiple customers throughout the day can be difficult. And in specific branches, five minutes delay with one customer usually means that it will cause additional delays with other customers during the day.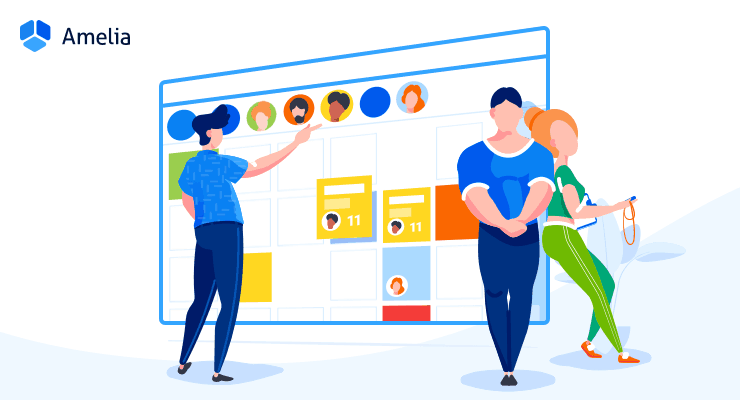 Let's not add to that mess sick days, employees not showing up, having to accept only cash, and having someone just picking the phone and creating appointments at all times. This person is likely to quit anytime soon or create another trouble every now and then which could cost you a returning customer. After all, they are only human.
You need to avoid this, at all costs. As a business owner, you want to be as approachable as possible to your customers. You also want to show them that you value their time by making sure that each and every one of their appointment goes smoothly and by accommodating their preferred payment methods.
You can do this by allowing them to book, and pay, for their appointments over your WordPress site. With Amelia, you can take control of your appointments and provide them with an exceptional service that will have them coming back for more.
What is Amelia?
Amelia is a WordPress plugin that will prove to be the best secretary you could ever hire to do the booking job for you. Not only it is quite efficient but is guaranteed to be less error-prone than your last human hire.
Amelia was developed by TMS, the same company that developed well-known tables and charts creator plugin wpDataTables, used by 20000+ people and businesses worldwide.
Why should I let Amelia handle this job for me?
Because this plugin knows how to do its job, and how to do it impeccably, round the clock. With a bunch of features that you can use, it can fully replace a human front desk officer without a single grey hair. If you want to see it in action, check out these demo sites Amelia has in its resume.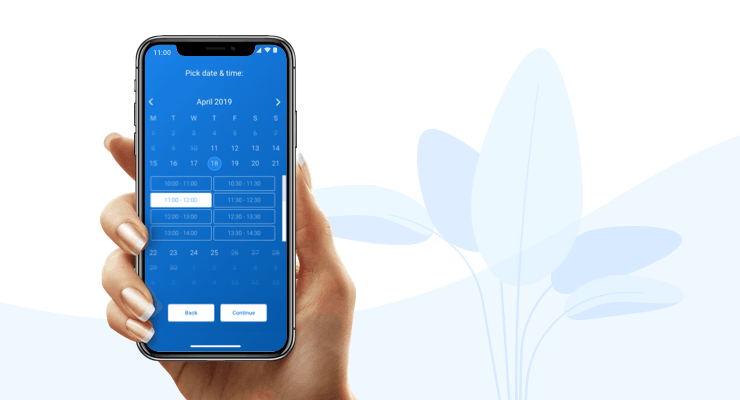 Amelia's features:
It is indeed a long list of truly useful features!
When dealing with customers, it is very important to keep them in the loop if any changes in your cooperation occur. It is mandatory to be able to keep in touch with them and to do so instantly. With this plugin, you can communicate with your customers through SMS text messages, and let them know any information they might find important.
No employee is a robot, and you are probably very familiar with that. This could be the main concern of hiring Amelia for the job as it might not take into consideration an employee's individual pace. Still, with the custom services schedule feature, you do get the flexibility you need.
Simply configure working hours and individual break, and you can do so both per service and per employee combination.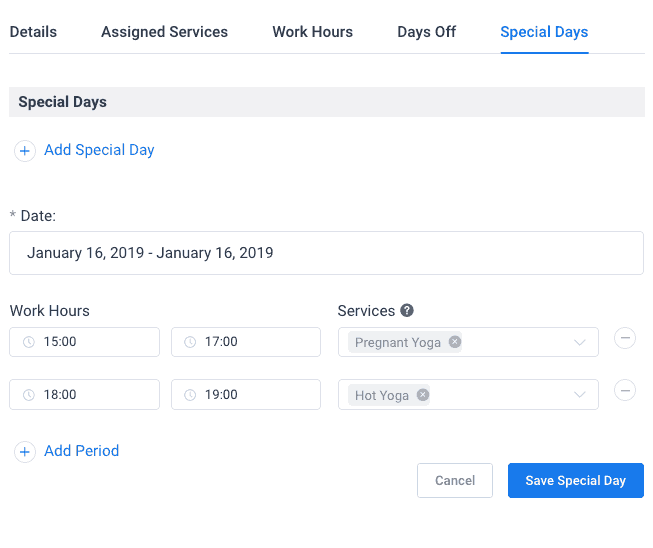 It is the holiday season and you are working part-time? There are times when you need to close your business early for the day, or to start later in the day. There is no need for these changes to mess up your schedule.
Actually, it is a must that it confirms to these one-kind situations so that you do not let down your customers. With Amelia, all it takes is a couple of clicks to create a schedule with these special working hours.
Unless you are offering a single, one-size-fits-all service, which is highly unlikely, you need to get information from your customer. What do they need help with? Is there an additional piece of information which could impact the way you need to handle the task? You can still get it, without having to stick to the communication by phone.
With this plugin, you can effortlessly create a booking form, which will match your needs. Add as many custom fields you need, from checkboxes to text areas, and do your thing properly.
With this feature, you can take advantage of the fact that all your employees have smartphones and calendars on them. Instead of having to communicate with them by calling them or having any of those soul-eating meetings, you can let Amelia do the job by synchronizing with their calendar.
Another time and money saving integration you can benefit from is its native integration with WooCommerce. You no longer have to waste any time, or money, if you have to hire another person, to deal with your invoices, payments, or to handle your taxes.
Some customers are already aware of which service they need, especially if you are running a beauty salon, for example. Sometimes, people coming to you are already familiar with your employees, and trust one more than another.
In these particular cases, this feature will be highly appreciated, as much as the opportunity to search and book a specific service or employee. Additionally, they can search for the available time which would fit them perfectly!
Another convenient feature your customers will appreciate. While booking, they can choose one parameter at the time to create the most convenient appointment for themselves. At each step, they can choose the preferred time, service, and employee to handle their appointment.
If you want to showcase your services and get new customers interested in what you have to offer, you can effortlessly create a catalog with just a couple of additional clicks. Show your new customers what they can expect, and show your existing and happy customers what more you can do for them.

You need to keep improving at all times and at all costs, but you also don't need to fix anything if it isn't broken. How can you tell which areas need more attention, and which are performing exceptionally well already? Take a look at Amelia's dashboard and reporting. You can check there financial and conversion-related KPI through its charts.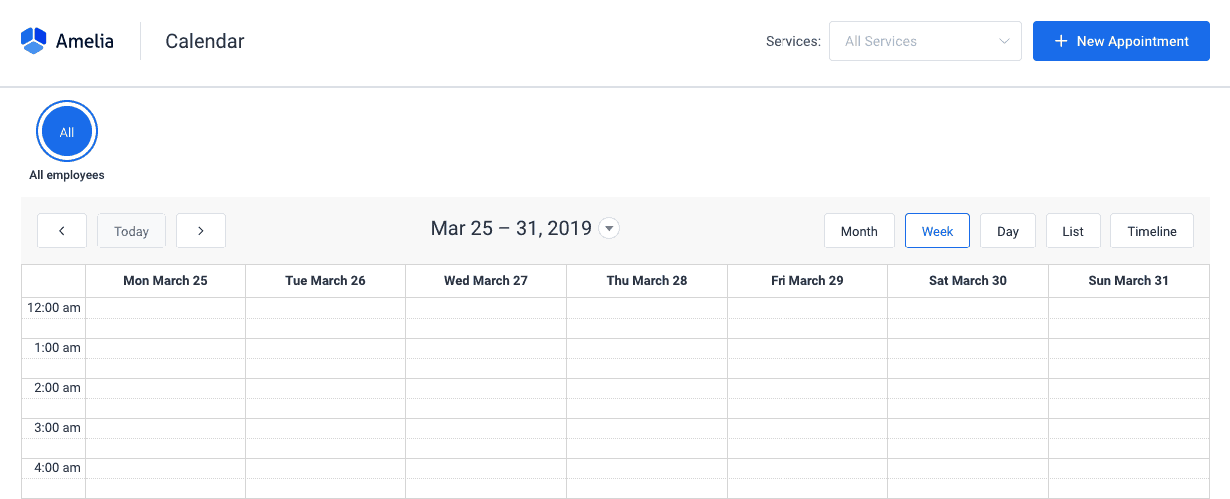 A good organization within your company is paramount. Being able to check how everything fits in together is another must. Depending on the need, with Amelia, you can check the workflow and manage it through a couple of views. You could find it easier if you could track by calendar view, or stay in touch through an interactive list. Either way, you can effortlessly see that is up ahead for you and your team.
Managing people is the toughest work there is, as people are very unpredictable. However, you can use Amelia to keep the employees' data in the database, to manage the amount of work they do and to keep track of their performance.
If you have part-timers as well, you can take advantage of this feature and work up a schedule for each of them, as well as the days off.
Just like with your employees, managing multiple locations is truly stressful since you multiply the issues you have with a single one. With this plugin, you can still store information about your locations, such as contact data, address, and geolocation.
Sometimes when your customers land on your website, you are already booked. You shouldn't flaunt the services or people you can't promise, so make sure to create forms on your front end that match what you have to offer. Create a form that books any service or employee or just a specific one.
Got an interested group? With Amelia, it is not a problem, and you can still accommodate them. Set up maximum or minimum capacity per group, and greet them with open hands.
If you had to organize each day every day and work on the schedule all the time, you would drop dead in an instant. Make sure your days are planned in advance and use this feature to help you out with it.
Create a minimum time before someone can make an appointment. It could be a day, or even a week if you are very busy. Don't waste an appointment because of late cancellation, but give your customers minimum time to do so, so that you have the time to fill that spot.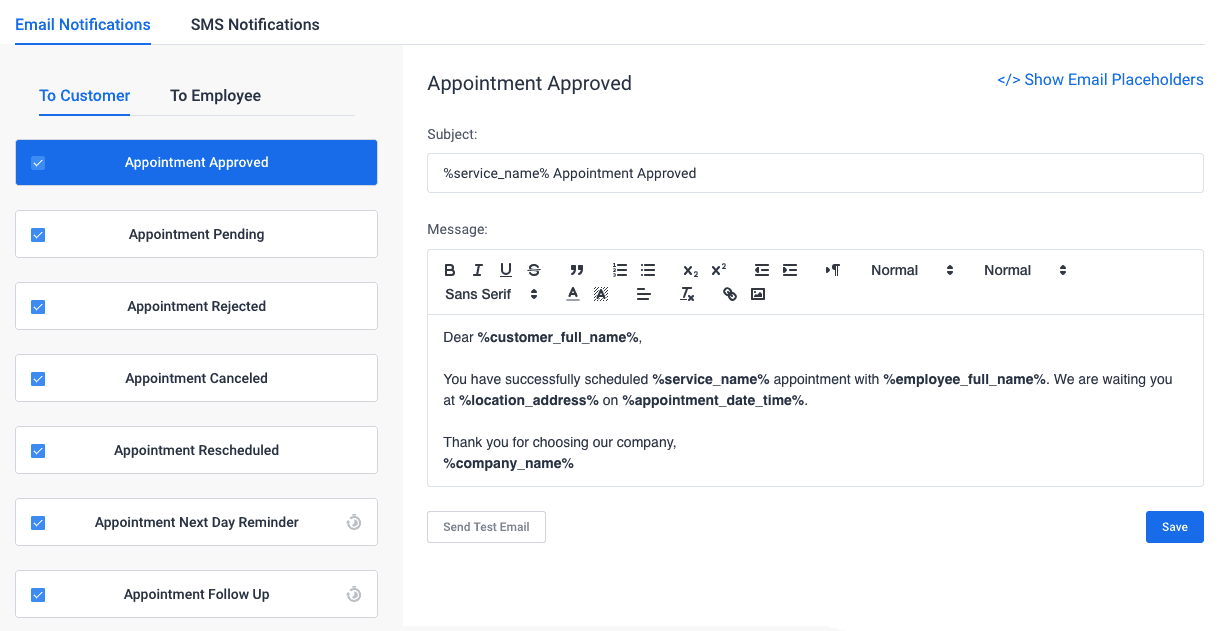 The best way to Communicate, without you having to say a word. Set up automated notification with Amelia. This way you can notify your employees of appointment status changes, and start communicating with your customers. Wish them a happy birthday or follow up on an appointment. In other words, make your customers feel appreciated by not lifting a finger.
Amelia supports SMTP, standard PHP Sendmail, and Mailgun API. This allows you to set up the gateway for sending emails that work best with your requirements.
Wherever in the world you are, you probably don't expect your employees to work during a holiday, or to try to figure the odd hours coming from a different timezone. With this plugin, you can effortlessly set up working hours to fit your company and your business.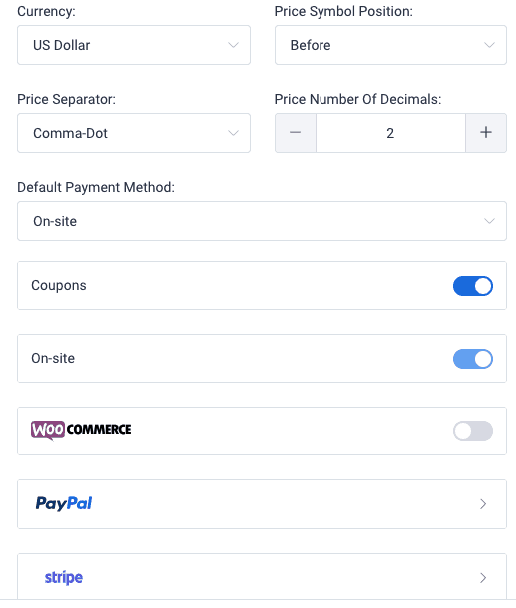 Same as with the working hours, you shouldn't be charging dollars if your base price is in euros. Use this feature to fully set up Amelia to work best with your country's standards.
You want your customers to be able to pay you, and you want to provide them with the opportunity to pay in the way that benefits them the most. PayPal is the most popular payment system out there, and you should be able to support it. The good thing is that Amelia supports it out-of-the-box.
Apart from PayPal, you can also take advantage of the Stripe payment system. Amelia supports this payment system so you can rest assured there will be no payment issues, regardless of the payment system of your customer's preference.
If you offer a wide variety of different services, you might worry about whether Amelia will be able to support all of them, or not. Truth is, the number of services it supports is unlimited, and Amelia will allow you to add individual parameters to each of them, such as duration, price, and number of employees.
There are some businesses and practices that cannot handle customers coming in and out like through the revolving door. Some appointments require preparation beforehand, or clean-up after, and your schedule needs to take that into the consideration. Luckily, Amelia does, and it allows to set up the buffer time between appointments.
If you are looking to showcase your services with a good gallery, and you are unsure how this plugin has you covered. Amelia allows you to upload several pictures per service, create a gallery of it, and present it on your site's front end. This is a perfect way of showing your customers what they could be getting for their money.
If you are spicing some of your services up with a bit of something extra, you have to make sure that your scheduling can keep up with the changes. This plugin will allow you to configure that bit of extra, even if the special treatment is provided together with the service but for additional bucks.
You can't get rid of your telephone just yet. Still, this is not due to Amelia not being able to keep up, but because your customers might be slow to pick up the change. If you are still allowing booking by phone, which you should, you should know that Amelia allows you to quickly book their appointment from the back end using its admin panel.
If you want your customers to have an account they can use to create appointments with you, you can create one in a matter of seconds. Later, the same customer can use their user account to book additional services.
Once you have users, it is quite important to keep a list of them. This list doesn't have to take you hours and hours to set up and use. Actually, it will be set up for you, and it will be filterable.
This way you can sort your customers depending on their names, or the date when they visited you last.
Keeping track of all the payments is mandatory. Amelia provides you with a single database of all payments where you can take a look at every payment you ever received.
Check whether the payment is finalized or pending, whether they used PayPal or Stripe, check total amount they paid, or whether they used the discount you provided them with.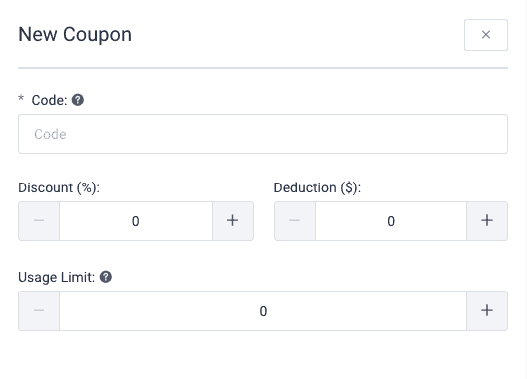 Your faithful and returning customers should be eligible for a reward, but you already knew that. You probably already have set in place special discounts, and have given out quite an amount to your most loyal customers.
Amelia can assist you with that, by allowing you to create these coupons, and later, to track them.
When creating them with this plugin, you can set up various parameters. Your coupons could be good for a specific service only, can be used once, or every Monday or they can get an unlimited percentage off every time they drop by.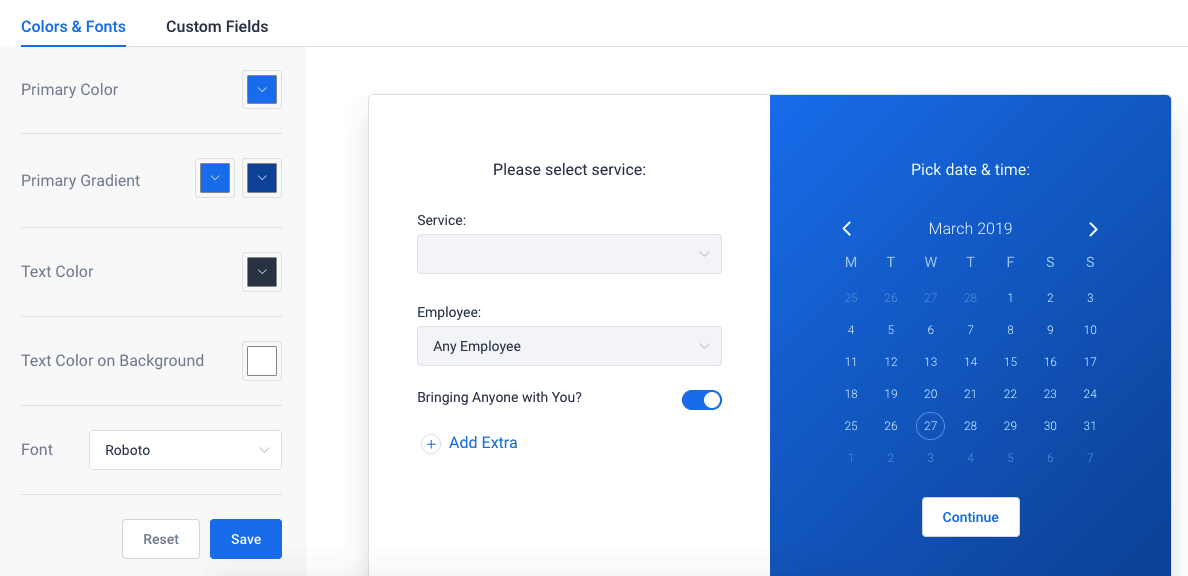 Amelia can do a lot, while still looking gorgeous. It allows you to customize any front end elements, and match the colors or the fonts of booking controls. You want to make sure that your brand remains, and that the booking controls match the theme you have chosen for your WordPress website.
You might be the boss, but you don't have to do everything yourself. Amelia can manage your bookings and payments, but managing Amelia doesn't have to be a one-man job. It initially has four built-in user roles: admin, manager, employee, and customer.
You can give additional or remove existing permissions to each of these roles.
Unsure whether to hire?
Still not sure if Amelia is the right choice for you? Head on and check their demos. With four different business demo websites, you can choose which one is the most similar to your business, and give it a look.
You can check out both front-end and back-end demo, to see if Amelia can work well with what you have to offer. With all these functionalities, hands down, Amelia is the best choice for handling this complicated aspect of a business.
Each of these is strategically created, and well-thought-out, to make sure that this plugin can handle every aspect of businesses' daily life. While it takes into consideration employees and customers hectic behavior, it doesn't have one itself. So with Amelia, you can rest assured that it will be doing its job properly, without a break, 24/7!