Hosting. Such an important aspect of our websites, yet still to receive proper attention from everybody relying on it. Choosing the hosting provider for the website usually revolves around the price, and freebies offered.
Most people tend not to pay hosting service a second thought, or a good extensive research until something goes south.

Unfortunately, that is what happens with most of the offers out there these days.
There are a lot of things to take into consideration when choosing your hosting provider, as it is important for it to be able to live up to your website's needs. Do you need shared or dedicated hosting? What is this "uptime"? How many backups could you need, after all?
Why is it important to pick the right hosting provider, anyway?
Because you are trying to make a living, and your online presence is a fundamental aspect to it. Regardless of whether you have a website promoting your brick and mortar store, a travel blog or you are selling your avocado cupcakes through it. You need good hosting to do that.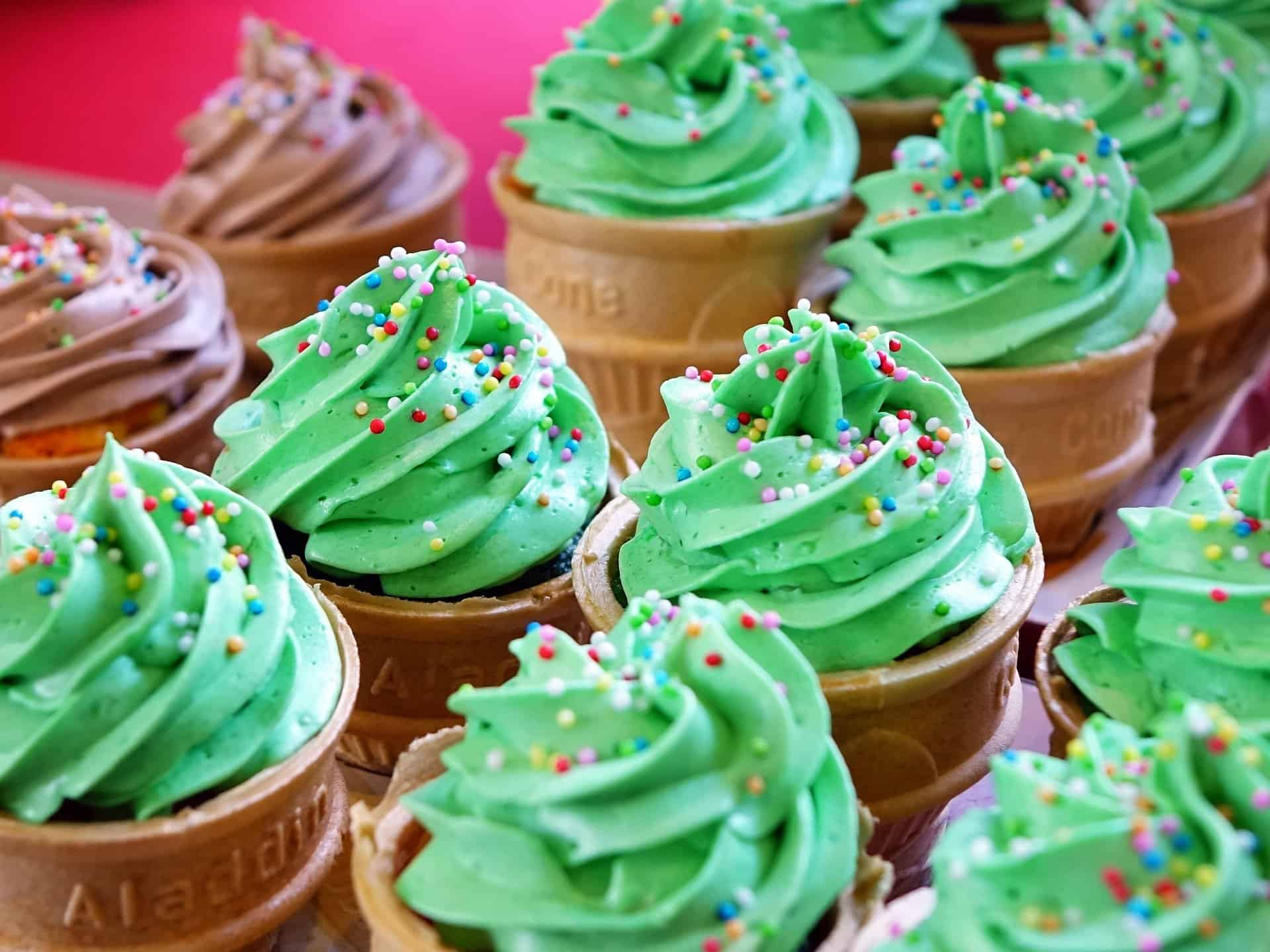 Good hosting will ensure:
Uptime – Your website should be up and running at all times. Your visitors will not appreciate an unavailable site, and you will be losing customers slowly, but surely.
Better SEO – Search Engine Crawlers will get upset, too, if your website is unavailable most of the time. It will have a huge impact on your Google ranking. The speed of your site counts for that as well. With the right hosting, you should have no out-of-hand worries about your SEO.
Protection from Hackers – While no one can guarantee that your site won't get hacked, a good hosting company should have your back if it happens. It could be by creating enough backups to restore your site after a mishap, helping you set up your SSL certificate, or simply by providing 24/7 support.
When all is summed up, trying to save time and money on choosing the best hosting is the recipe for losing a lot of money in the long run. Bad hosting has a huge impact: it upsets your visitors, Google, and brings more worries to your table than money to your pocket.
Now that we've covered the basics let's present you with one of the best hosting options: Hostens. Apart from having a hamster as their representative, Hostens has many other features and offers to make your website doing its best.

What is Hostens?
The leading Lithuanian hosting provider, Hostens is on the market providing the best hosting packages for over five years now. Mostly aimed at individual websites and those of small businesses, Hostens is a transparent and affordable hosting solution that lives up to its promises.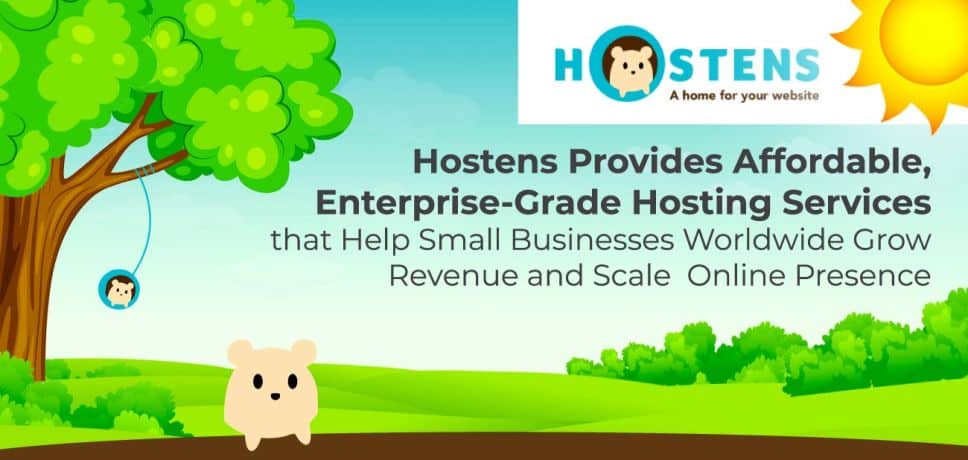 Most importantly, Hostens prides itself on its experienced team, which is always available to provide excellent support to all of its users. Considering how important hosting is, just the fact that you can rely on an experienced team to help you out should be enough. Still, there is more to what Hostens offers. Read on!
Hosting
Hostens provides you with three different hosting options, makes it truly a one-stop-shop for any hosting your business might need.
With all three packages, you get 90% off for the first month, which boils down to a couple of cents. Their "clear deals" policy stands for no hidden costs, so if you are looking to try any of these out, you won't receive a huge bill at the end of the month.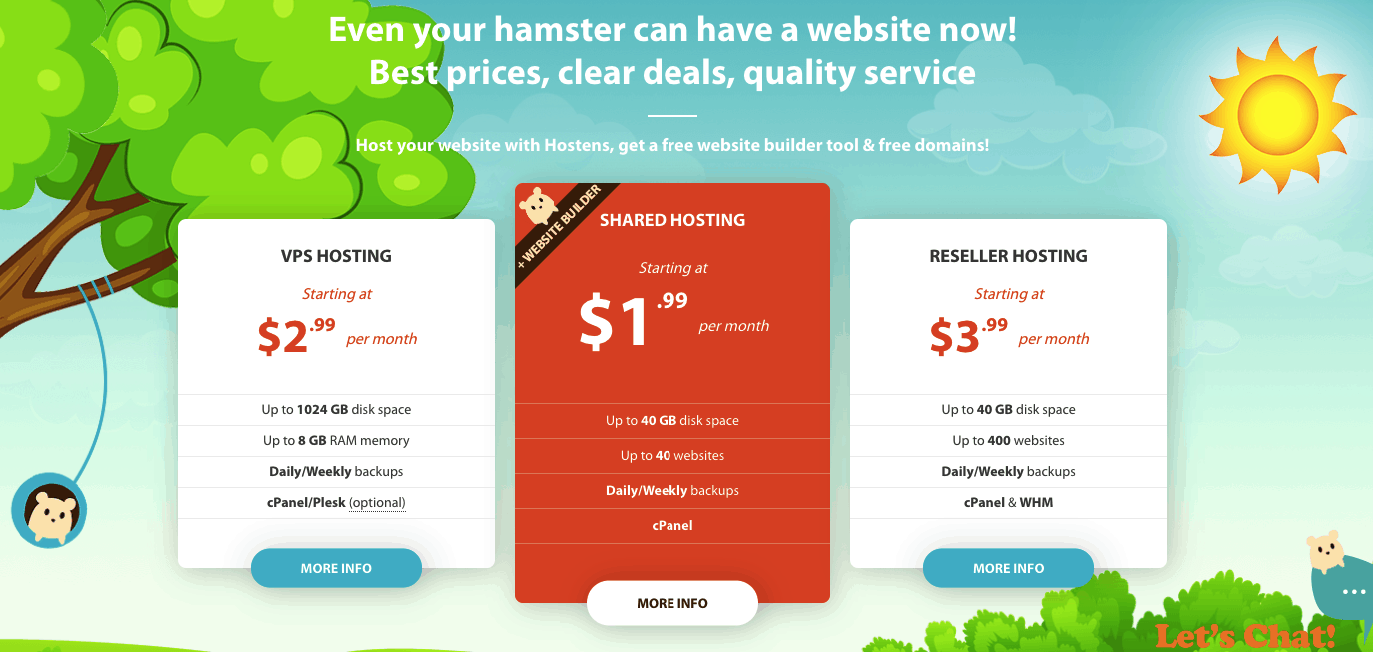 You also get a free website builder with each of these plans and do not worry; we will get into a bit more detail later on.
Let's check out the hosting options:
Shared Hosting
Shared hosting is usually the first pick of many, and it is no wonder. It is usually cheaper than other options, serves small websites just as well, and is easy to set up. If you are a blogger or planning to use your website as your portfolio, this could be your pick. So, let's see what makes Hostens' Shared Hosting.
CMS Optimized
While you do get a website builder for free, you might be more comfortable using some of the CMS solutions out there, such as WordPress. Hostens' Shared Hosting is optimized for WordPress, Joomla, and Drupal. Regardless of which one you choose, you can sleep tight knowing that your website is up and running at all times.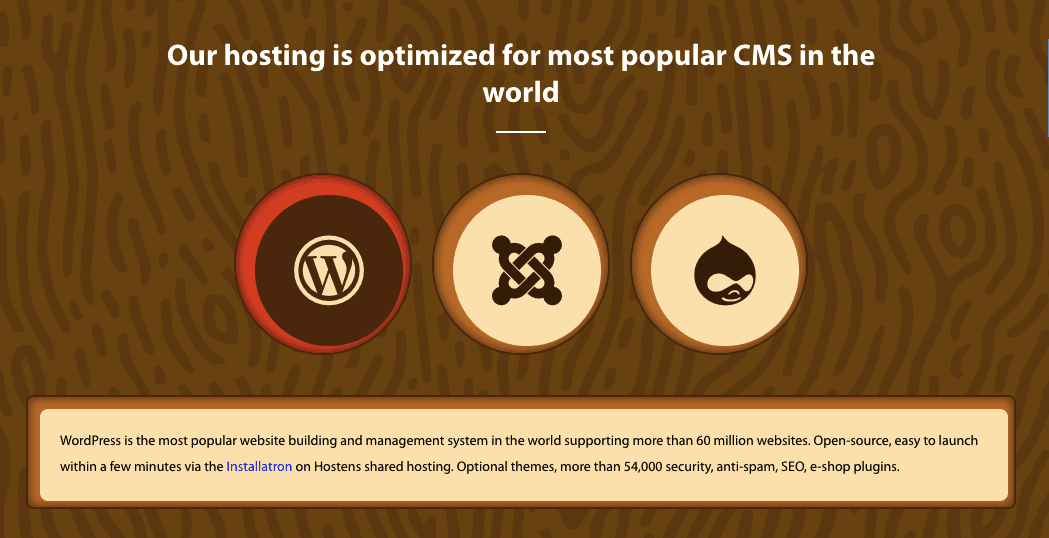 Uptime Guarantee
As we already mentioned, uptime is fundamental for every website there is. If your visitors cannot access your site one too many times, there is no reason to expect they will try again later instead of heading over to the competition. This is why, when picking your hosting provider, the promised uptime is crucial.
Hostens promises you 99.95% uptime. Translated into hours, your site will be offline for exactly 4 hours per year. Considering that with many other hosting plans, your website could be down for 4 hours per day, this is a pretty reasonable downtime and quite impressive uptime offer.
Free domains
Ah, the free goodies. Is there anyone who doesn't like them? Considering how memorable domains are important, into which we will get a bit later, these free goodies are a part of the offer you can't refuse.
With Hostens, you can get .online, .store, .website, .tech, or .site, domain for free, if you decide to go with the annual billing cycle. Such a wide variety of domains will surely cover anything you had planned for your website. Use .tech to cover your developer's portfolio, or .store for your avocado cupcakes.
Quick set-up and easy to install
If you had to struggle to set up your hosting or spend hours installing your CMS or scripts, then you probably should check out another provider. Luckily, Hostens makes all that a piece of cake.
You can use the service right after the payment. cPanel, together with Installatron tool will allow you to set your website up and running in no time.
Pricing
Of course, there is the question of price. It is safe to say that Shared Hosting is very affordable, but, check it out for yourself.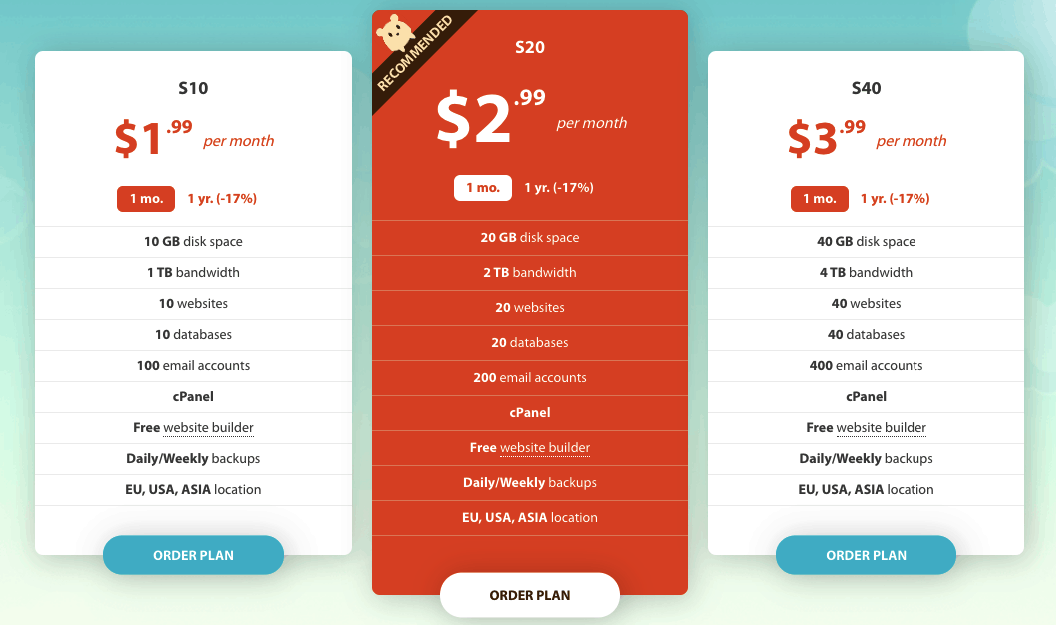 VPS Hosting
If you need a bit more from your hosting than all of the other things mentioned above, then you should consider VPS Hosting. It enables you to create isolated resources for your project, sell cloud hosting, or handle a larger amount of traffic. There are some projects that need VPS because they need Windows servers, or they need a different control panel than the one offered.
There are several great things about Hostens' VPS Hosting, so let's check them out.
Flexibility
It happens – you underestimated the point to which your website will scale, and now you need a bigger server plan. Or you went with "better sorry than safe", and now you are looking to get a better plan that will match your website's requirements.
No worries, as Hostens' VPS hosting is very flexible. You can upgrade to a better plan in no time, without any restarting required.
Cloud infrastructure
Having infrastructure in the cloud is a must these days, as it truly does wonder when it comes to reliability.
Hostens' platforms are built on enterprise-level hardware. So, you don't have to worry about it being in someone's garage, and that anything will impact your site's uptime.
OpenVZ/KVM virtualization
Speaking of virtualization, Hostens offers OpenVZ and KVM virtualization. While both add up to more stability, you should pick the one that matches your needs.
OpenVZ is container-based, and it puts less pressure on the host, while KVM enables you to run both Windows and OS side by side, but you will need more resources from the host.
Pre-made OS Templates
It is good to know that your hosting provider can match your OS requirements with their VPS hosting. Hostens has multiple OS templates prepared in advance for you.
Go ahead and select Ubuntu, CentOS, Fedora, Debian, OpenSUSE, Webmin, VestaCP, ISPConfig, ownCloud, whichever suits your project best.
Pricing
Again, as with shared hosting, the pricing with Hostens is rather reasonable. Pick one of the four VPS options, and get the best one for your needs.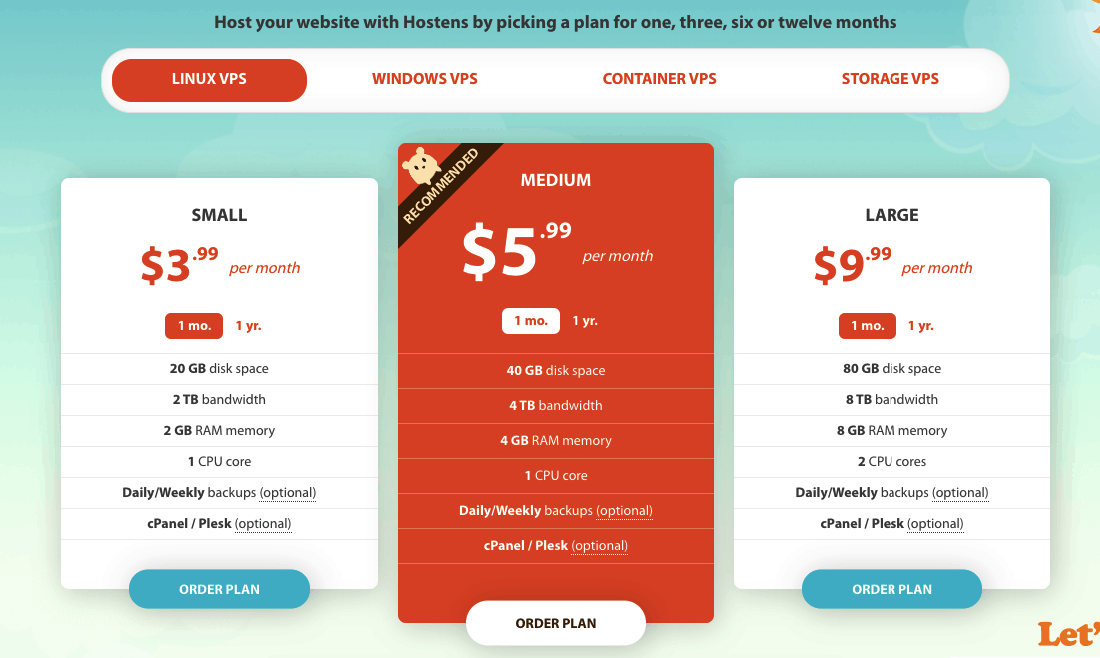 Reseller hosting
Reseller hosting is a great option for anyone looking to get into hosting business. With this option, you can resell Hostens' hosting as a small hosting company, and make a profit off it. It isolates one site from each other, so you can effortlessly manage various sites, regardless of CMSes or scripts they use.

Speaking of managing multiple websites, reseller hosting is a great solution for developers and agencies that are providing their clients with solutions that need hosting. What makes this reseller option great? You are the one who chooses how you manage your resources, Hostens will let you take care of the number of users you create, or resource distribution, without limiting you in the process.
The servers for reseller hosting are also built on large scale hardware, and you can get all the help you need from their experienced team. They will also monitor network security, and handle managing, updating, and configuring the servers, which you would normally have to do yourself with other options out there.
As with other hosting plans, there are no hidden fees or fine print.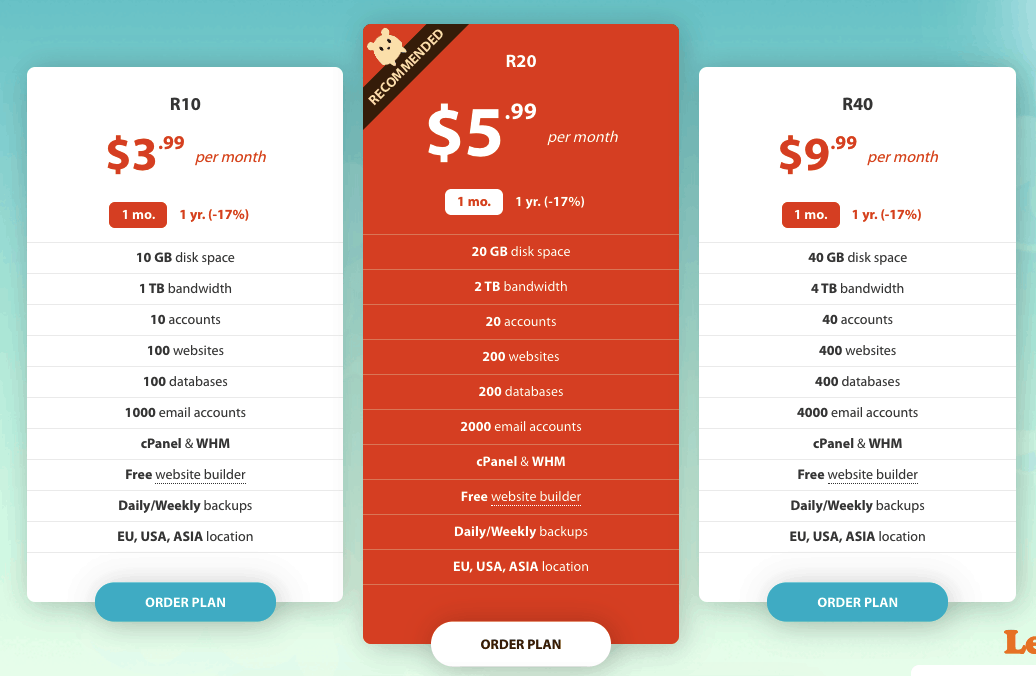 Website Builder
As mentioned before, each of the hosting plans come with Website Builder. Hostens' website builder is perfect for non-developers looking to set up their own site, and combined with other Hostens offers (hosting and domain), you can get your website up and running in no time. It truly makes Hostens the one-stop-shop for your website's needs.
If you are looking to find out more about Website Builder, you can take the easy way out and check out their video.
If you need more details, let's check out what features Hostens' Website Builder has.
Drag and Drop
No coding needed! Just simply drag and drop the elements you need to create the perfect website you have envisioned. You have around 200 templates to use! To see how this works, make sure to check out their demo!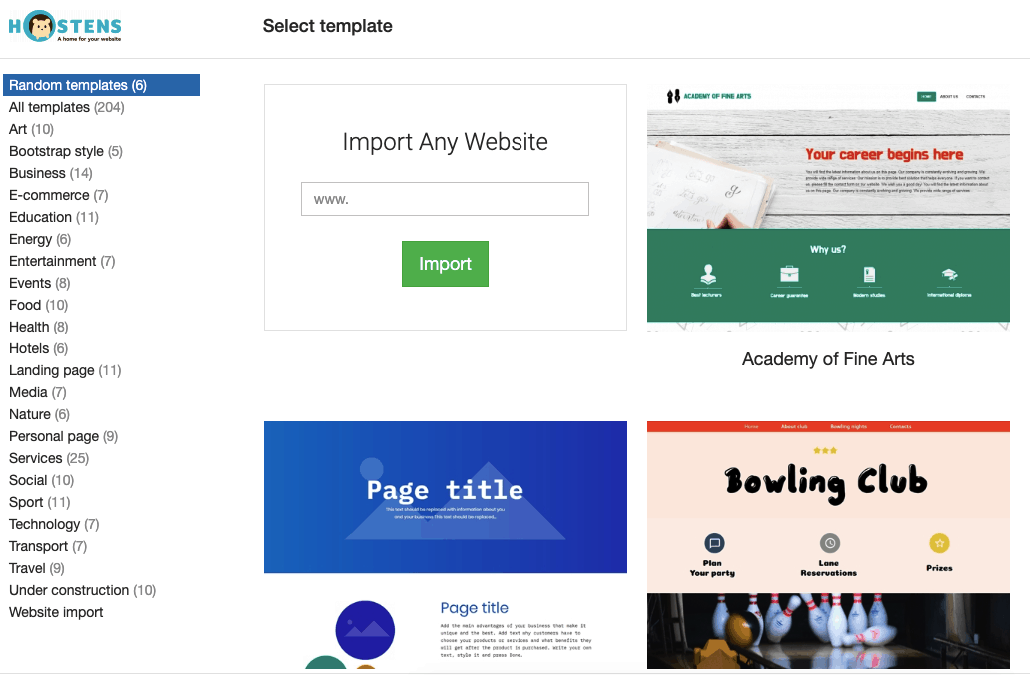 E-commerce features
Looking to create your online store? Hostens still has you covered. Website Builder comes with all the e-commerce features you would need to create the perfect online shop!
Multi-Language
Need a globally popular website? You should start out on this journey by creating a multi-language site. With the builder, you can do that in no time, stress-free, without any coding knowledge required.
Numerous plugins
It's up to these available plugins that no coding knowledge required comes true. With these pre-made solutions for your website's needs, you don't have to code any of the functionalities that you want on your site.
Mobile Responsive
There is no point in making a website that is not optimized for mobile these days – browsing on the mobile is now a norm. Even Google went to mobile-first indexing recently, following this change in trends.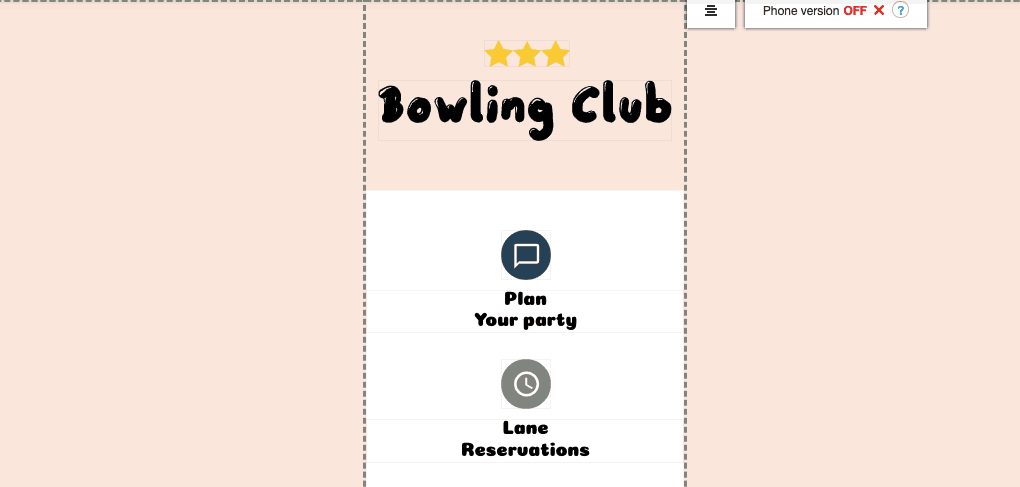 With this Website Builder, you don't have to worry about responsiveness – it will take care of it for you. You should just go ahead and design the perfect website, and the rest will be done without you having to lift a finger!
Domain Name
Picking the right domain name is as fundamental as picking the right hosting plan but in another matter. Having an appropriate domain name is one of the key aspects of your brand, and you have to ensure that it is effective, memorable, and that it stands out enough for your customers.

Why? You want them to think of your domain when they are looking to purchase something that falls under your arsenal. You want them to type your domain when they are looking for answers in your field of expertise. Just like a good logo, your domain name plays a huge part in establishing you as an authority in the field.
Apart from the domains that you get for free with the annual plans mentioned above, you can also purchase and register additional domain options at Hostens. Namely, including free ones with annual plans, Hostens offer 13 different domains for you to use. From .com to .org, Hostens has you covered. It is up to you to figure out the perfect domain name for your business and register it with Hostens!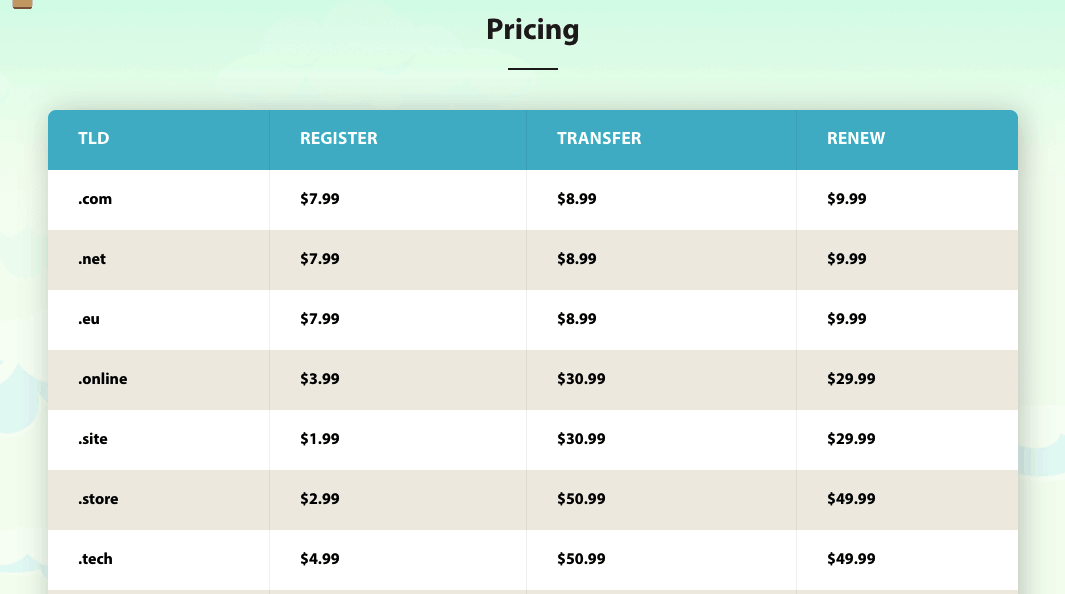 Security
Apart from hosting and domain needs, Hostens can also set you up in terms of security. Security is a crucial aspect of each site. If your website is not protected, not only are you harming yourself and your visitors, but you can also harm other websites, too.
Data breaches and hackers are still out there, and while you might think that it can't happen to you, all it takes is one hacker to pick you in the crowd. You could end up saying goodbye to your hard-earned money, or whole business in a worst-case scenario.
In short, paying attention to your website's security is mandatory. Let's see how Hostens can help you out in that regard.
SSL Certificates
If you are not okay with an idea of someone eavesdropping on your conversations, you are probably not okay with anyone unwanted listening up the information passed between your site and your customers.
While it seems that SSL Certificates only add a letter to your URL, in the background, they ensure that the transaction of information between the participants we mentioned above is safe and secure. Even the single letter, and turning http into https does wonders for your credibility. To streamline this process, you can use a plugin like WP Force SSL to ensure all your content is served over a secure HTTPS connection. Also, implementing a plugin like WP Login Lockdown adds an extra layer of security against brute-force login attempts. Even the single letter, and turning http into https does wonders for your credibility. Your visitors will have more trust in the secured site and will have no issues trusting you with their credit card information.
Hostens' SSL Certificates can help you out with this.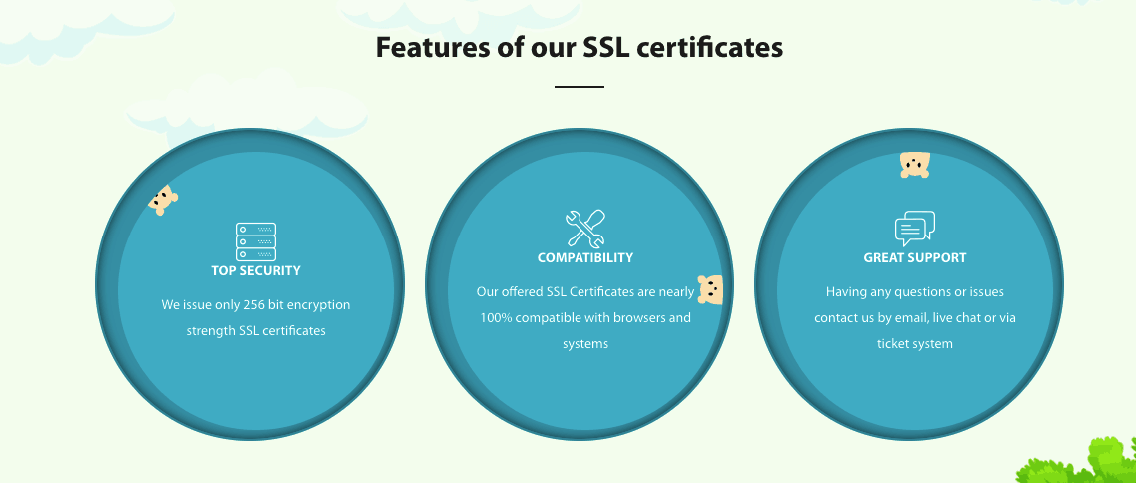 Top security certificates
Hostens' certificate strength is of the highest. With it, you can only find the 256-bit encryption, which is the strongest one available.
Compatibility
Not all certificates are compatible with all of the browsers out there, so it is an important thing to consider when getting them. Since there are a lot of people that still use Internet Explorer, picking Hostens' certificate is a good idea, as it is nearly 100% compatible with all browsers.
Pricing
Not to mention that all the pricing options are rather affordable.
Spam Filter
While emails notifying us that our distant relatives from Africa died and left us a fortune in cash are not as common as they used to be, spam emails are still circulating the internet in different forms. You could get a good laugh out of those, of course, but if you receive one too many to your business email, it can turn into frustration in no time.
These spam emails can contain a number of viruses or malware. It means that all it takes is a single click on a wrong email, and you could catch a serious security issue. So how do you protect yourself from these? Using a spam filter. And, yes, Hostens does offer one, as apparently, hamsters hate spam, too.
If you are looking to get out of this email struggle, check out Hostens Spam Filter.
Spam protection
Hostens uses filters to quarantine these malicious emails. It identifies spam emails instantly and proactively protects you from them. Also, it is constantly detecting new patterns, meaning that it will keep you safe even from the most advanced spam attempts.
Scanning for viruses
Hostens' partnership with SpamExperts means that virus scanning feature is continuously updated, providing you with the highest level of protection.
Hands-on approach
While you don't have to lift a finger to have this all set up, you still have the option to do it yourself. All the control options you might need are available to you, so you can effortlessly tweak the settings for what lands in your inbox.
Virtual Private Network
Were you worried about the privacy of your internet browsing the last time you were in a cafe? Probably not, and you were super excited about the "free WiFi" to kill your time. However, this is probably not the safest thing to do, and you should seriously consider getting a VPN. Why?
If you are looking to protect yourself from hackers, or even free yourself from country-established censorships, you should consider getting a VPN. There is nothing simpler for a hacker to hack than a free WiFi network. You need another security solution set in place.
Hostens can set you up with one. Actually, with Hostens' VPN, you can start using it as soon as you buy it. Setting up is also rather easy, as all you have to do is use one of the provided tutorials.
Speed: All Hostens' VPN servers have at least 1GB port speed. No worries about that there.
Multiple Protocols: Hostens uses a couple of different protocols to protect your information. You can rely on OpenVPN and L2TP protocols with this VPN solution.
Several continents: Hostens has servers in three different continents. Europe, Asia, and North America are covered at the moment.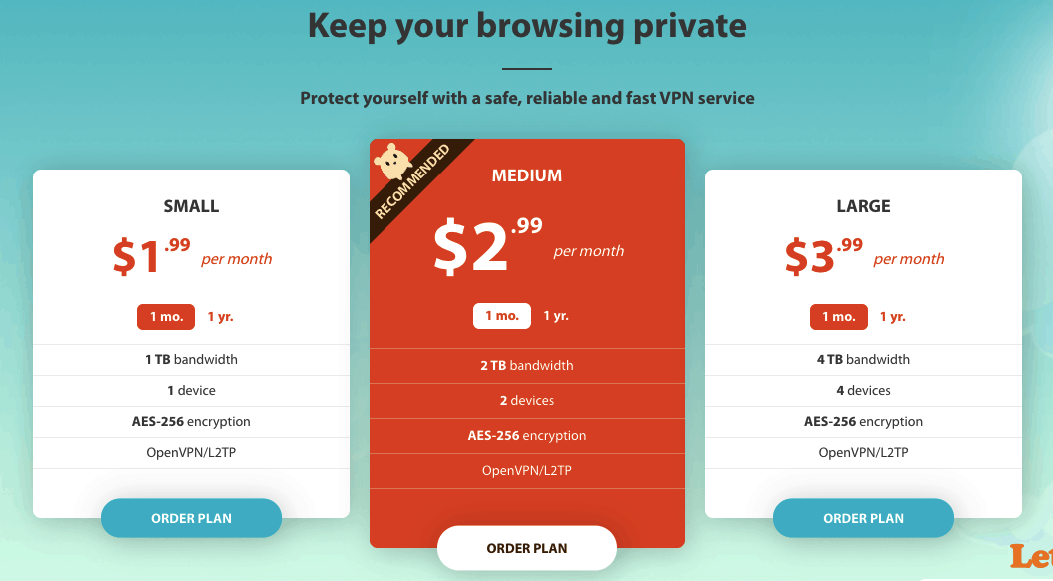 Overall conclusion
With the new knowledge on the importance of good hosting provider, a unique domain name and security, you can easily realize why just picking the cheapest and easiest route will not cut it.
However, it doesn't have to be complicated to get all of these aspects ready for your new site. As you can see, you can handle all that within a single option – Hostens. Transparent and reliable, it is definitely the one-stop-shop for all the hosting, domain, and security requirements for your site. Plus, their hamster is super cute.
Considering how affordable they are, there is no need to go with other solutions, either. Ensure that your website is performing to its best with good hosting, that your visitors can easily remember your domain, and that they can trust you with their money – all within Hostens.