No matter what type of business you run, you may be targeting varied and — in some cases — even completely opposite audiences.
Your company may serve many different people rather than just consumers or other businesses.

Or, you may offer various product lines and services that distinctly differ from one another. In any of these instances, targeting multiple audiences while keeping a single, cohesive website isn't always an easy task.
In a survey of 351 small business owners, researchers discovered only 64% of small businesses have a website. If you want to remain competitive in a tight market, you need a strong online presence.
The best place to start is with a website. Now, how can you build something that speaks to all your visitors? Here are eight tips to help you set up a site that stands out from all the others out there while still meeting the needs of your specific audience.
1. Know Your Goals
Targeting more than one buyer persona means you must know the goals you have for each group. When a consumer lands on your website, what do you want them to do? If a business owner arrives on your landing page, on the other hand, you may have a separate goal for that person. Write out your objective for each type of audience. Your home page should guide and direct the user toward each aim — which may mean having separate sales funnels and offering two or more choices on your home page.
2. Offer Options
Use your home page to move visitors to the area most pertinent to their needs. Think of your website as being a grid that transports users to the right section of your site.
While you certainly don't have to design on a grid pattern these days, knowing which areas of your website go to specific information is helpful. You can find clues about what visitors are looking for by seeing what keywords bring them to your page, studying internal traffic patterns, and analyzing heatmaps of your site to see where they linger the longest.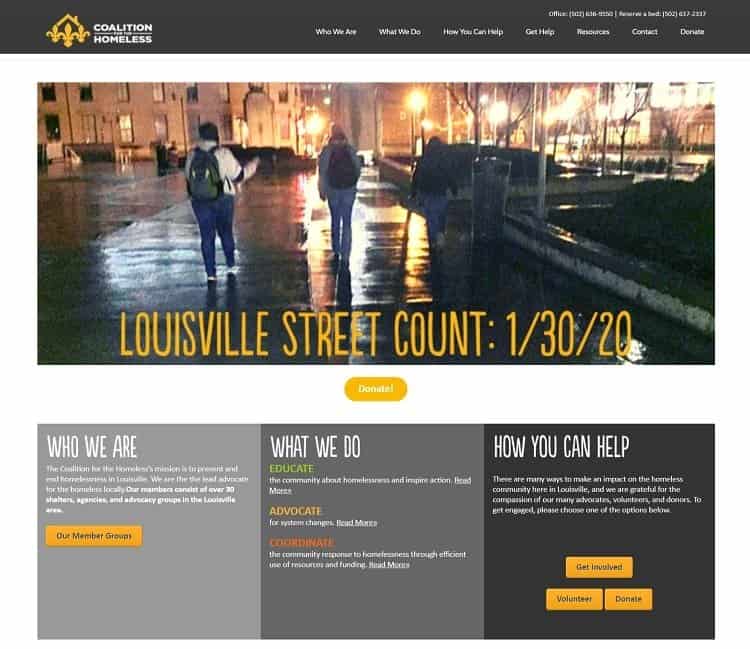 Coalition for the Homeless breaks the fields of their site into clear audiences. The three choices on their home page allow visitors to learn more or help them out. Under "How You Can Help," they utilize three buttons that read "Get Involved," "Volunteer," and "Donate."
3. State Your UVP
What is your unique value proposition (UVP)? What do you offer to your customers that no one else does? This answer will likely be the same for any audience. Perhaps you create the most innovative products in the market. Maybe your customer service stands out from the competition. The key here is to make your UVP general enough to speak to all your audiences while remaining specific to your business.
One well-known example is the brand Nike, which sells shoes to sports teams as well as individuals. They are known for high quality, sharp-looking footwear — a value that applies to all their audiences.
4. Speak to All Audiences
While one particular buyer type might make up most of your business, be careful that you don't focus on that one audience so much that you ignore the others. While you should put most of your focus on the money maker, considering other buyers' wants and needs is equally important. Create buttons, information, and additional areas on your site to serve all your customers.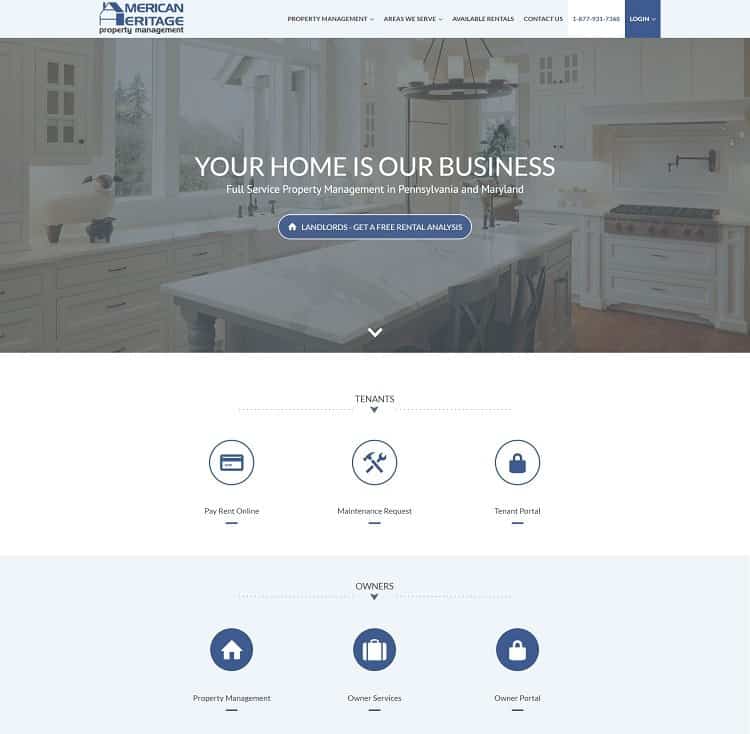 American Heritage Property Management is aware of their two audiences. They realize their main clients are landlords, and most of the info above the fold is geared toward property owners. However, they also serve tenants — and if they wish to attract some of the best tenants, they must speak to them and keep them happy, too. Note how they offer two sections geared for each specific audience's needs.
5. Go With Standard Placement
Some elements of good design remain the same no matter who your audience is. Users have come to expect certain details, such as a logo in the upper left or top center that links to the main page of your website. Navigation should remain near the top of the page as well. Contact buttons typically go to the far right and the home key to the far left. Pay attention to web design standards, and don't deviate too far from them.
6. Summarize Your Business
Even if you serve multiple buyer personas, you should be able to say in a single sentence what you do as a brand. At the core of everything, what do you make or offer to buyers? You should be able to apply this sentence to your operations no matter who the buyer might be. Once you have your big statement, share it on your homepage or in your tagline on every page.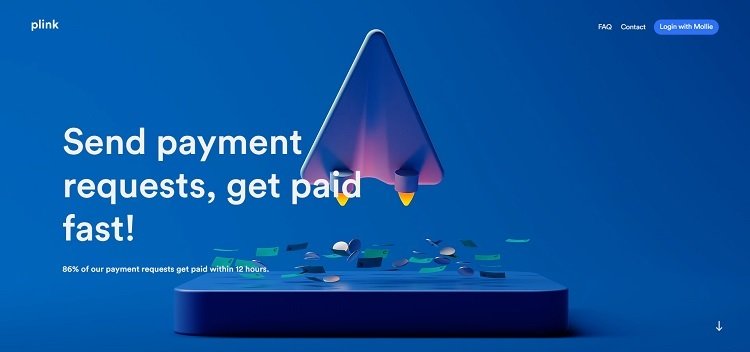 Plink uses a single line to summarize what they do — "Send payment requests, get paid fast!" This phrase explains their business model and applies to both businesses invoicing customers and consumers asking for payments. Notice how short the statement is.
7. Use Your Hero Area
The hero area at the top of your page allows you to feature your main services. You can easily rotate between three or four without losing site visitors' interest. An automatic slider, for example, allows you to highlight services for different audience types, upping the chances you'll hit on something the different buyer personas need. Think about the pain points of your different buyers and offer a solution upfront.
8. Add Different Landing Pages
While your home page may need to speak to multiple audiences by necessity, your different service or product offerings should each have their own landing page. The key is to funnel site visitors toward the right part of the site, grab their attention, and then share why you're the best in the field in that particular area.
Ready to have a captivating website for your business? Leave it to our website design experts to take care of!
One Site With Multiple Audiences
Serving the needs of a diverse customer base via a single website is a complex task. However, it is much preferable over operating separate websites, as some customers could see your product offerings, cross over into your other markets, and buy additional products and services from you. A little planning and a thorough understanding of your buyers will result in a site that speaks to everyone's needs. Paularoloye.com helps 10x businesses by connecting them with the right targeted audiences boosting their sales and return on investment.