The aim of running WordPress blogs is to earn money online, as you give quality services and information. However, this is only possible through monetization of your WordPress blog.
There are many monetization methods of WordPress websites, but AdSense is the easiest and among the most popular monetization methods since no technical knowledge is required in setting up and using it.
If you want to earn money from your #blog, you will need one these 10 amazing #WordPress themes built for #Adsense and #SEO @wparena

To monetize and make some revenue from your website, you only need to utilize AdSense WordPress plugins. However, there are multiple dedicated WordPress themes that are useful in increasing AdSense revenue. To ensure your website is fit for displaying ads, the themes feature many subtle optimizations and ad locations.
Factors that make the themes listed below to the best include:
Have Ad-block detector that is built in
Placing ads is easy
They are mobile friendly
All are SEO optimized
Here are the top 10 best AdSense WordPress themes to choose from.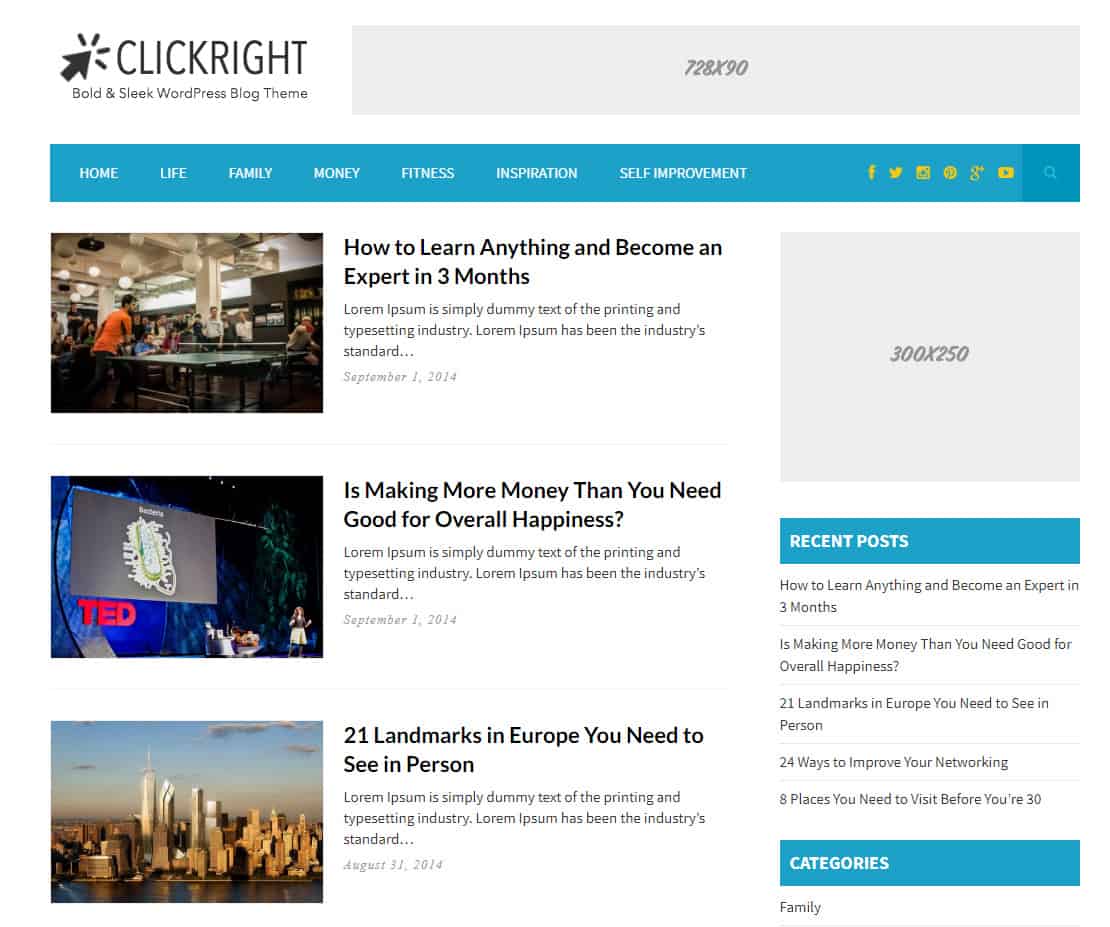 A sleek and clean WordPress theme that is elegantly designed and it offers high performance.  The theme makes a good match for optimized ad layouts because of the attractive content design.
Before turning the theme into widgets, it was first tested and optimized.  Therefore, the Clickright theme comes with widgets that are ready for AdSense, positioned in layouts that provide the highest CTR.
Features
Responsive Design – The Clickright theme is made with responsive CSS, thus works perfectly on all devices.  Besides, the design provides an attractive layout in all screen resolutions.
Sturdy Framework – The theme is built on a rigid light-weight framework, for higher performance and speed.  To ensure the performance and speed of the theme are higher, unnecessary codes that are available in most WordPress themes were removed, and the primary components got fine-tuned.
AdSense Optimized – This WordPress theme is ready for AdSense. To ensure its AdSense optimized, the theme is tested on various ad locations on the website after its development stage.  After the testing, the highest performing location is coded into ad-widgets, which you only need to copy and then paste on your code.
SEO Optimized – The construction of the Clickright theme is done for SEO purposes. The builders of the theme spend most of their development time in ensuring the on-site SEO structure of the theme is completely perfect. This makes the theme 100% friendly to search engines, as the schema is properly done.
Very High Speed – The Clickright theme is among the fastest WordPress themes, as its load speeds are lightning fast. The principles behind the construction of the theme are SEO Optimization and speed, to give you the best experience in optimization. Find ClickRight Coupon from WPArena WordPress Black Friday Deals page.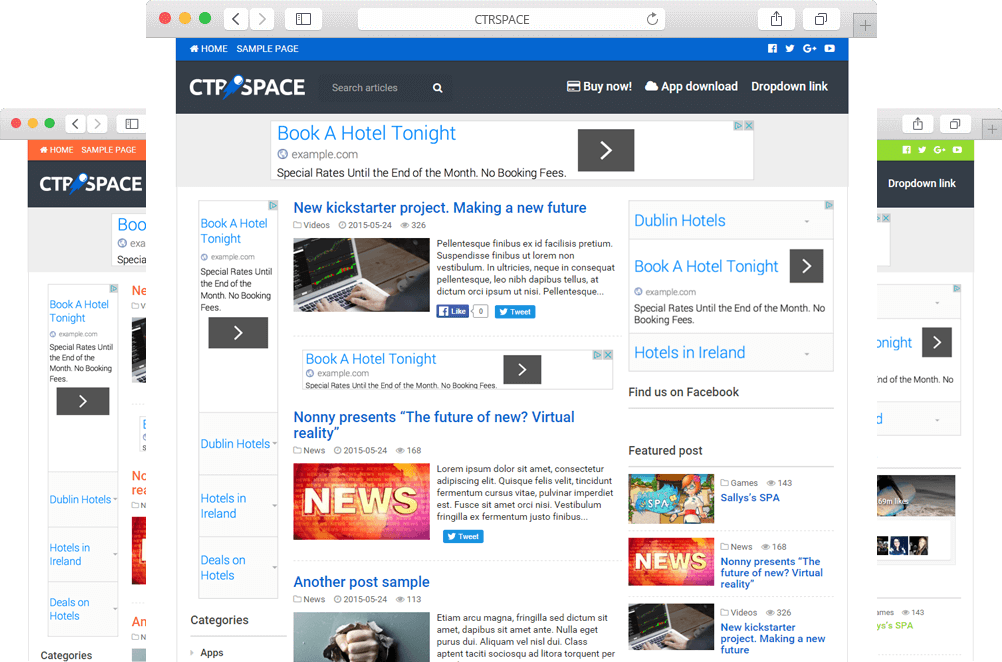 CTRSpace is a classic WordPress theme that is specially designed to increase your AdSense revenues using quality and unique features. To help in monetizing your site immediately after purchase, the theme features ready to use ad placement options.
The use of CTRSpace in monetizing your website does not require coding knowledge because it comes ready, and the infrastructure of the theme is based on Google AdSense heat maps, making it the best system in the management of WordPress content.
Features
The CTRSpace theme is developed using features that are nice and modern, for effective performance.  Here are the unique features and options.
SEO Friendly – The structure of CTRSpace is done in such a way that it is SEO friendly.  The designing and building of the theme make it optimized for search engines. The efficient use of keywords and tags in the theme makes you be exposed to search engines as expected.
Setting Up is Easy – The installation of the theme will cost you some minutes, and you can then set up anything concerning the theme with ease, even the powerful options panel.
Super-Fast – To ensure the CTRSpace theme loads with lightning speed, it is built using lightweight codes. Loading pages takes less than a second, which you can verify on Google page insight, where the theme is rated high.
Easy to Customize – The CTRSpace theme is not only customizable but also easy to customize. In fact, you do not need to use codes in customizing and adjusting everything. Among the things you can easily adjust and customize are responsiveness, layouts, fonts, color and multiple headers among others.
Enhanced Earnings – CTRSpace features a rigid ad management, thus increasing your earnings within a short time. The theme enhances your profits by maximizing your CTR as much as possible.
Powerful Backend – Theme options panel in CTRSpace theme is both powerful and advanced.  The panel allows you to update things that are connected to your website, such as Google Analytics and logo among others. Besides, the panel ensures your output is perfect as expected.
Unique features of CTRSpace Theme
Social Media Option – The theme is well integrated with social media. The aim of social media integration is to optimize your content through sharing on social media sites.
Multiple Layout – CTRSpace is a strong multi-purpose theme designed differently from other WordPress themes. The theme has multiple layouts to accommodate all web situations, such as apps download, landing pages, and blogs.
Single Click Customization – CTRSpace allows you to customize all aspects of your website using a single click.
CTR Optimized – The theme is CTR optimized, to help you increase your website revenue. Also, the theme allows you to use different colors in increasing your click-through rate.
Ad Spaces – CTRSpace theme customized AdSense ad spaces that are optimized to maximize your conversion and increase your website revenue. For improved ad revenue, the theme is designed with Google AdSense heat map.
CTRSpace is suitable for use in personal and corporate blogs, because it is constructed for optimization of AdSense revenue, offers great user experience and support. CTRSpace dedicated coupon is available at WP Coupon Code site.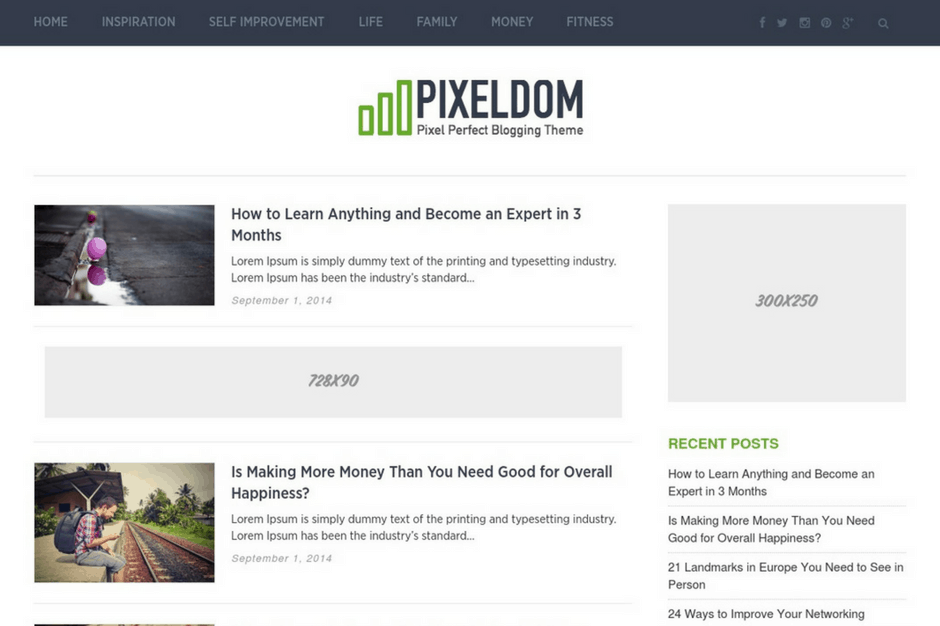 The theme was updated recently, and it is now better than the earlier version. To provide super impressive CTR and a beautiful appearance, the theme utilizes wide AdSense leaderboard.
Pixeldom theme ad layouts are among the best performing because it applies wide content layouts, which provide higher optimized positions of 728 by 90 Ad leaderboards.
Features
Wide Layout – The theme has the widest layouts. Although people mostly avoid wide layouts for AdSense positions, it is beneficial as it is high performing.
SEO Optimized – Pixeldom is built for SEO purposes, thus features super-fast speeds and an excellent SEO on-site framework.
Responsive Design – The theme is completely coded using responsive CSS, making your site to function perfectly on all screen resolutions and devices.
Fast Speed – Most of the time is used in the development stage of theme, to ensure it has the highest speed possible.  To perfect in speed, junk codes get eliminated, and essential components get fine-tuned, as they cause WordPress websites to slow down.
AdSense Ready – The theme comes with ready widget ad blocks, which are coded in the design. However, the widgets are not active, and you only need activate them by pasting your ad code.
Optimized Ad Placements – Pixeldom theme features a 728 *90 ad block, which among the best-performing sizes in various ad networks and AdSense. The performance of the ad block is maximized by testing different ad blocks in higher CTR positions.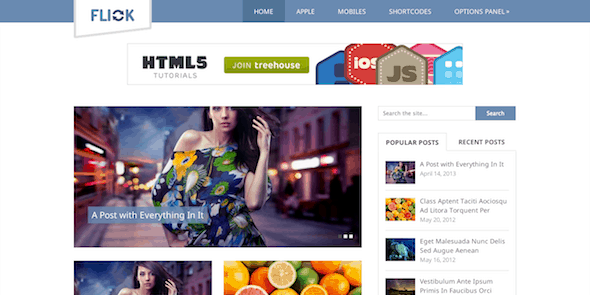 A small and simple WordPress theme that is suitable for creation of a portfolio, personal and blog websites that have positioned ad spaces.  The entire design of the theme matches the sponsor section, sidebar ad space, and top banner.
If your site focus is on social media, flick theme is the best option. The framework of the theme is borrowed from Twitter Bootstrap, making it completely SEO optimized and responsive, for total exposure to search engines.
Also, the theme features a powerful options panel, which allows you to customize the settings of your website.  The custom widgets of the theme are easier to use and of great importance.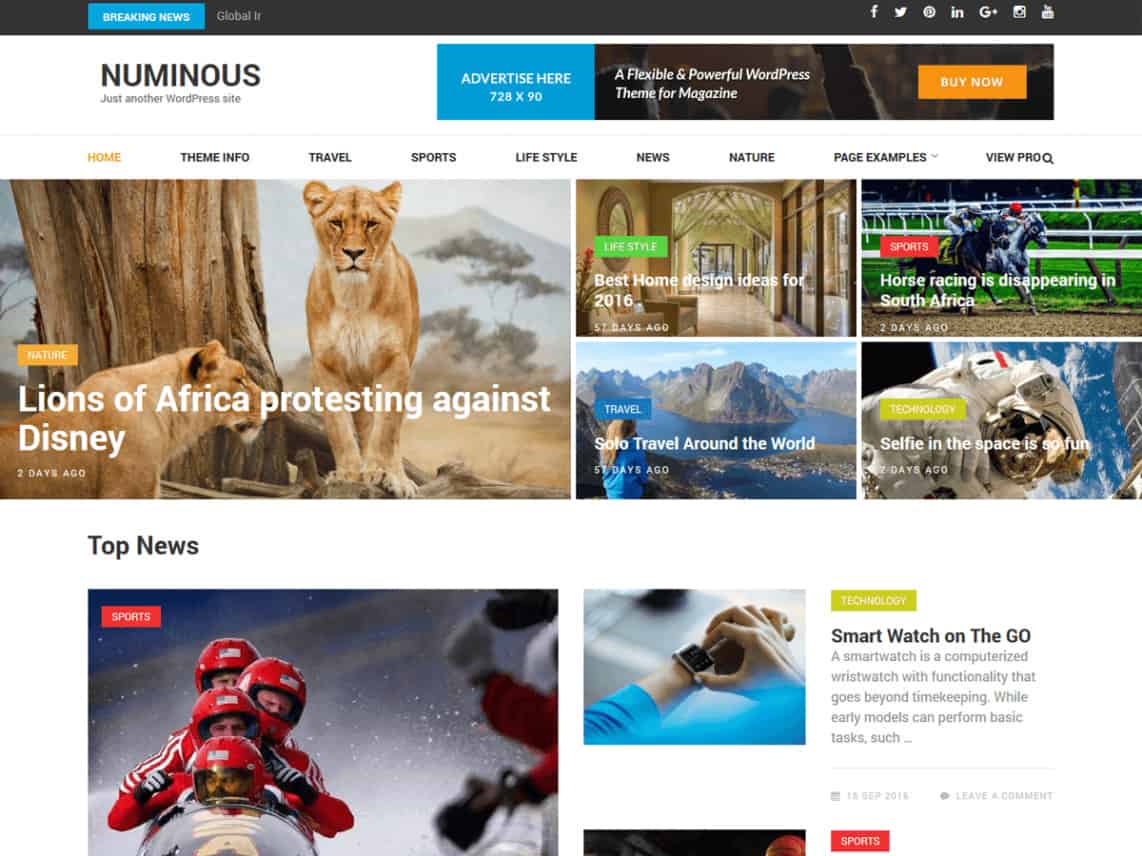 This WordPress theme is magazine based and perfect for use in blogs with loads of content. You should expect higher revenues from your website if you spend most of the time writing valuable content for use on the site.
Nevertheless, users block ads on their browsers using ad-blocker tools, which might affect your earnings, since Google only pays for ad clicks. To avoid such, Numinous Pro theme is the solution because it has inbuilt Ad sections and Ad-blocker detector which makes you money through pay-per-click ads, just like AdSense. Also, Numinous helps you in maximizing your site revenues, as well as organizing your content.
In addition, placing ads on the theme is easier, as it features an ad management system that is inbuilt, allowing you to put ads in sections such as sidebar, footer, below the content or title and in the header.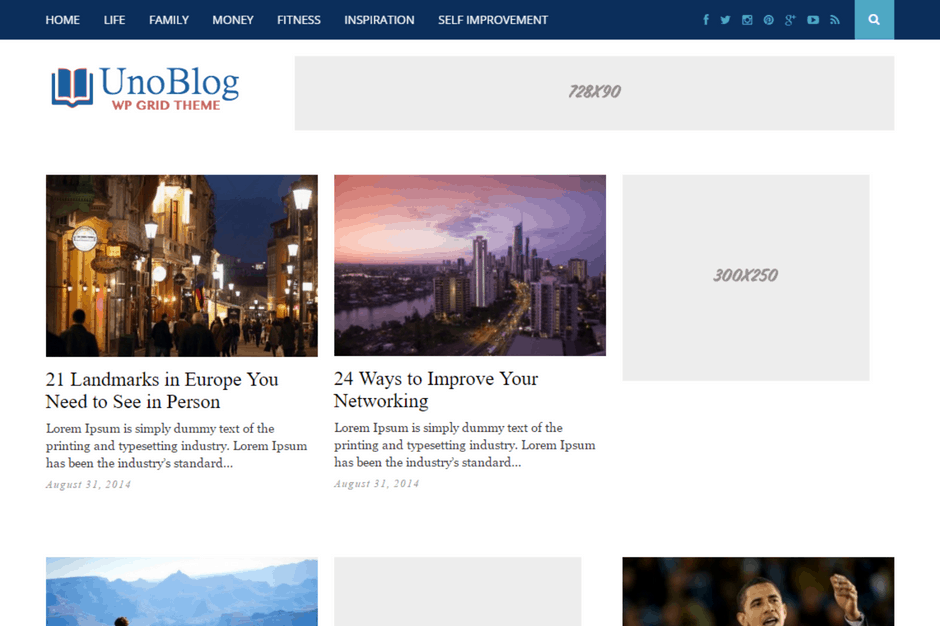 UnoBlog is an ultimate clean grid WordPress Theme, built for serious bloggers. The intelligent theme is perfect for online content delivery, due to its SEO on-site structure and lightning-fast loading time.
Life Hack, Thought Catalog and other online media blogs that are large are behind the inspiration of UnoBlog Design. Blogs with heavy content and images need high speed and power to function effectively. As a result, UnoBlog Theme is built as a matching grid layout featuring high speed and attractive design.
Features
SEO Optimized – The main foundation in the building of UnoBlog theme is SEO. The designing and building of the theme is done with an aim of enhancing the on-site SEO performance of your website, by focusing on all SEO aspects.
Extremely High Speed – UnoBlog theme is a product of ThemeBounce themes, where SEO optimization and speed are the primary principles in designing and building. UnoBlog is an ultra-light theme with lightning speed.
Responsive Design – To ensure users enjoy great design and elegant layout on screens with different resolutions, the theme is made with responsive CSS, making it function on all screens.
Option Sidebar – If you love sidebars, you only need to choose and add them to your homepage, index pages, inner pages, and blog posts when using UnoBlog theme. The addition of option sidebar makes your index posts grid appears as attractive 2-column grids.
Optimized Widgets – UnoBlog features built-in and optimized ad-widgets, making it perfect for use in blogs monetized using AdSense. For higher CTR and impressions, the ad-widget positions get tested when building.
A 3-Column Grid Layout – UnoBlog is a clean grid blogging WordPress theme, because unlike most themes, it has a 3-column grid layout, to avoid cramping of blogs, which occurs regularly when blogs have a grid style.
Read UnoBlog Review at WPLift.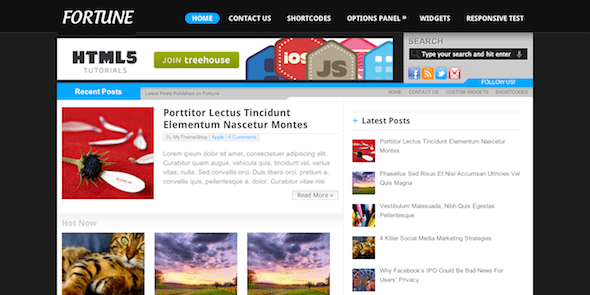 Fortune is not only an excellent WordPress theme but also AdSense friendly. If you deal with viral content, fortune is a perfect choice, because its design enhances the exposure of viral content.
Besides being fully responsive, Fortune theme is AdSense Optimized, making it user-friendly and effective in maximizing your earnings. In addition, the theme is super-fast, very light and easy to integrate with multiple social media due to the presence of custom widgets.
Also, the presence of a lightbox in the theme plays the role of a media viewer of your video contents and images.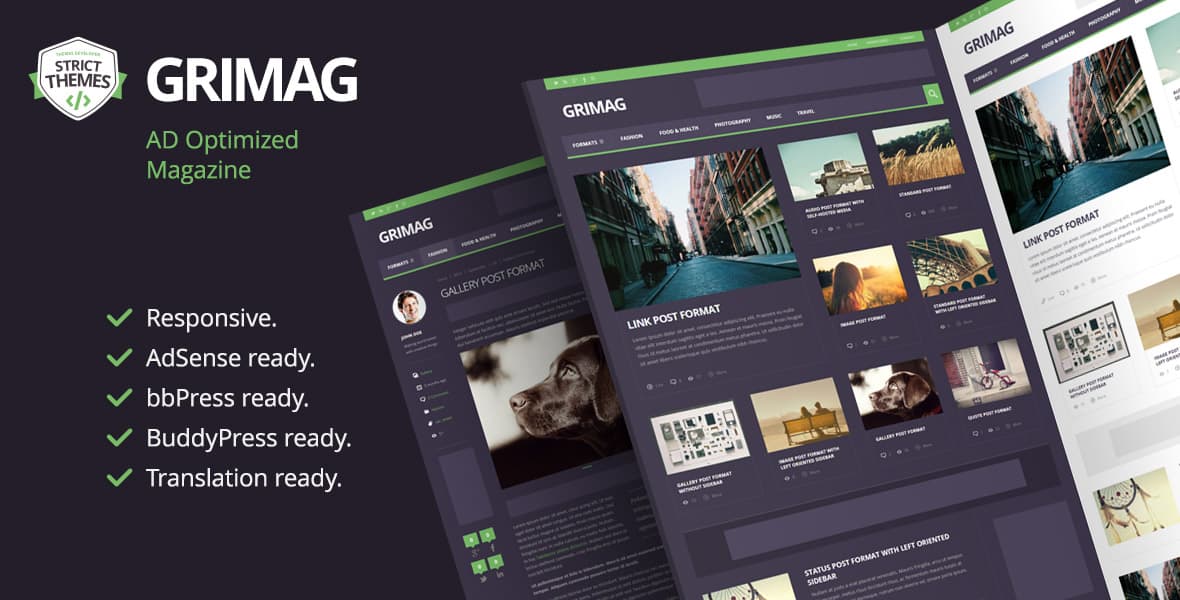 This is an ad optimized WordPress magazine theme that is suitable for publishers and editors. GriMag theme developers optimized it to ensure your monetization output is at maximum.
The entire design of the theme is matched through strategic positioning of ad locations, which makes it easier for your content to earn higher profits because the ads are attractively displayed using the theme.
The fixed sidebar is the most critical feature in GriMag theme because the sidebar enables you to display site-wide ads with ease. However, the theme has other features, such as a completely responsive layout, which makes your site to appear beautiful on screens of various sizes.  Also, the WordPress theme is retina-ready and can be translated into different supported languages.
A light AdSense optimized theme that is small in size. The theme provides layouts that are sleek and clean to professional blogs, news sites, and magazines.
It is easier to display Ads in contents, sidebars, and headers when using the theme because it comes ready for AdSense. Twitter Bootstrap framework is used in the theme, making it responsive. Based on the size of the screen, your WordPress theme gets adjusted by this theme automatically.
Apart from the theme having a professional and attractive appearance, it supports numerous customizations, unlimited color scheme, and custom short code.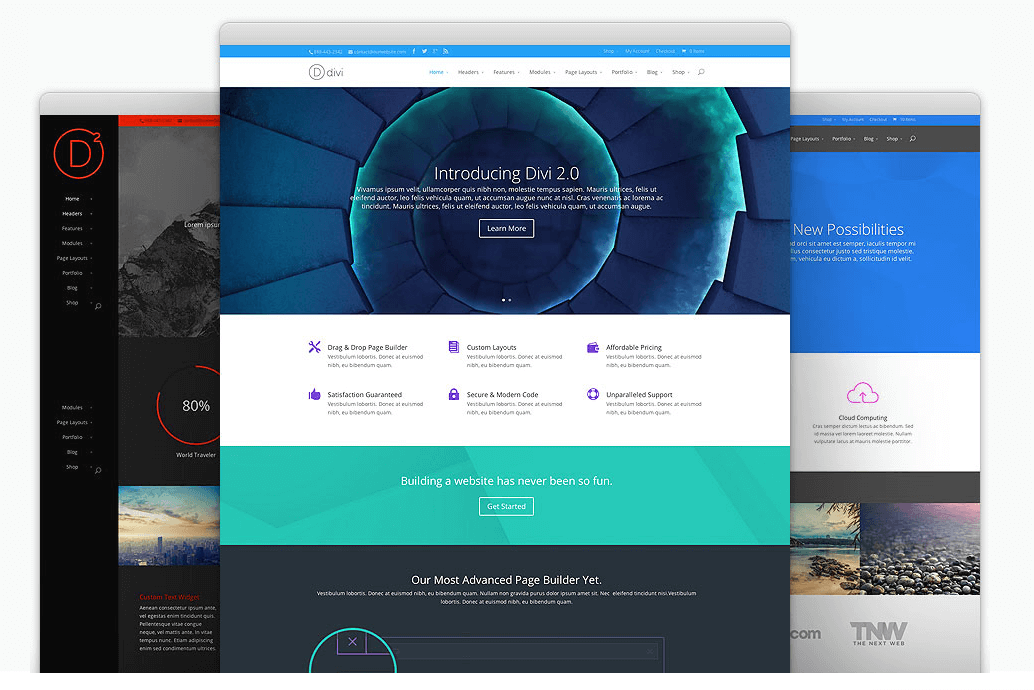 The theme is powered by Divi builder, and it is a front-end editor theme that is highly intuitive and fast. Apart from the Divi theme being AdSense optimized, it is designed professionally with the mind of online marketing through ad placement.
The theme features elegant layouts and outstanding design, which will highly attract followers and visitors. Also, Divi theme is fully-translatable, thus allowing you to target foreign demographics with ease, as it supports even right to left writing.
Divi theme eliminates all resizing errors, as your ads and content can be displayed on all screen resolutions. Additionally, the theme is compatible with various browsers, customize your website settings and build layouts, as well as importing pre-made versions. Read in-depth Divi Review.
Conclusion
Apart from the above-listed AdSense WordPress themes, there are many others available too, but it depends on you to decide the theme that works perfectly for you. Also, you should choose the theme that suits your website content and niche, to give the users the best experience and a good WordPress Hosting company to achieve desirable results.