It is highly recommended to use author boxes as they allow you to share author biographies and create a sense of connection between the reader and the author. Building personal connections is important to your business and can greatly improve your brand's visibility and reputation.
Once you add an author box, you can add text and links that your readers can click on and open quickly. This way, they can find out more about the author and see his/her other work. Another benefit is that it creates more organic traffic and, thus, generates more revenue through more engagements.
By creating a strong connection between the author and his/her readers, they start to think of your brand more highly, and it increases the chance of a successful business transaction.

For Bloggers, this is a must, as they highly rely on returning readers to keep their business running.
Some may think that adding author boxes is a difficult task but have no worries as I'll show you how easy it is to do it properly.
There are many WordPress plugins that allow you to add author boxes to your site, and we will go through a few of them shortly. Most of these WordPress plugins offer a free version, but keep in mind that you get what you pay for!
Simple Author Box
Simple Author Box is a useful and fully responsive WordPress plugin that allows you to add a responsive author box at the end of your posts. It shows the author's name, gravatar, and of course, the desired description. Another good thing is that it adds is over 30 social profile fields on the WordPress user profile screen, which allows you to display the author's social icons in the author box.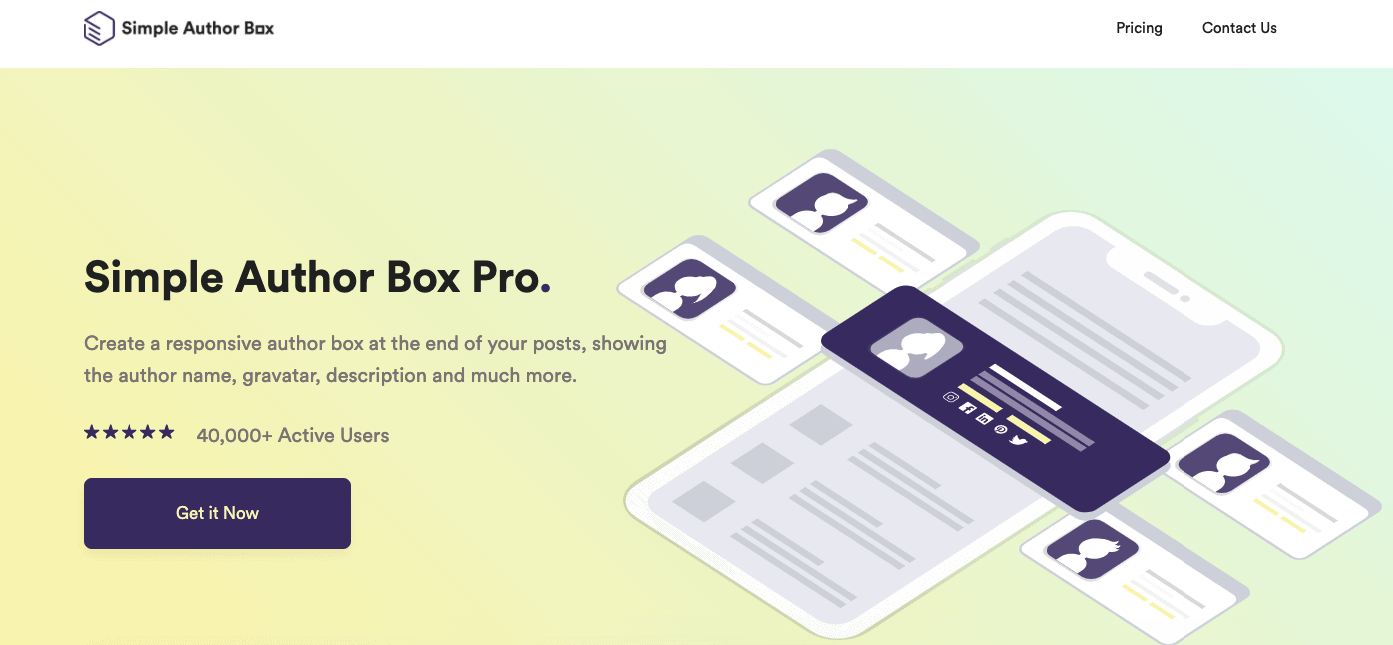 The plugin is highly efficient and lightweight, and it doesn't decrease your WordPress site's performance.  This is enough to make it one of the best author box plugins out there.
Upon activating the plugin, you can customize it by going to Settings > Simple Author Box page. By default, it will display the author box in the posts, and you can choose where to place the box by enabling it in the settings.
You can select the font, its size, and color. Customize the author box to match your theme design. Also, you can hide the author box if the author description is empty. There is support for RTL languages if you need it. Try out the free version here.
Main Features (Free)
Display author gravatar, name, website, description, and social icons
Fully customizable and allows you to match your existing theme design
Crisp look on desktop, laptop, tablet, and smart devices
Automatically add the author box at the end of your posts
Manually insert the author box on your template file (single.php/author.php)
RTL support
AMP support
Premium Features (Pro)
Show author box position before/after content
Select the author's name to link to its website/page/none
Pick the position of the author box
Use the rotate effect on author avatar hover
Open author website link in a new tab (on/off)
Select the "nofollow" attribute on the author site link
Pick the author site's position: right/left
Social icons type, style, and effects
Change the color palette to your liking
Pick fonts and sizes for the author's job title, website, name, and description
Assign guest authors and co-authors
Use guest authors as co-authors
Top authors widget – shows the highest-ranking authors based on comments
Simple author box widget – shows the selected users
WP – Author Box
WP – Author Box allows you to take full control of your author boxes.  It allows you to create widgets and unlimited tabs. Choose from up to 6 (predefined) skins. This WordPress plugin is fully customizable and lets you display your site's top authors in the sidebar. It even allows you to display avatars in a circular form. Match the author boxes to your theme design. Assign social icons and boost the author's followers.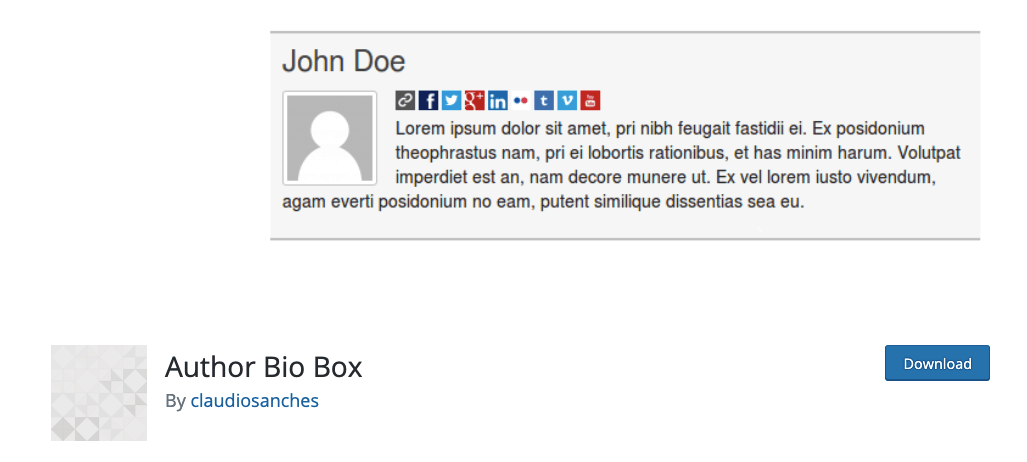 It is fully compatible with Contact Form 7 and Gravity Forms!
Features
Fully control the author box
Integrated Google authorship
Create Unlimited Tabs and increase engagement
Automatically add author box before or after (or both) your posts, pages, and custom posts
Create Widgets and Shortcode
Choose from 6 skins
Create your own skin
Set User Role Permission
Contact Form TabWP
Top Author WidgetWP
Co-Author Plus Plugin Support (except guest authors)
Custom User Role PermissionWP
Xing Social Icon
Fanciest Author Box
The plugin offers a beautiful user interface (UI) and various useful features. There are multiple display styles to choose from, and they allow you to place the author box above or below posts, among other places.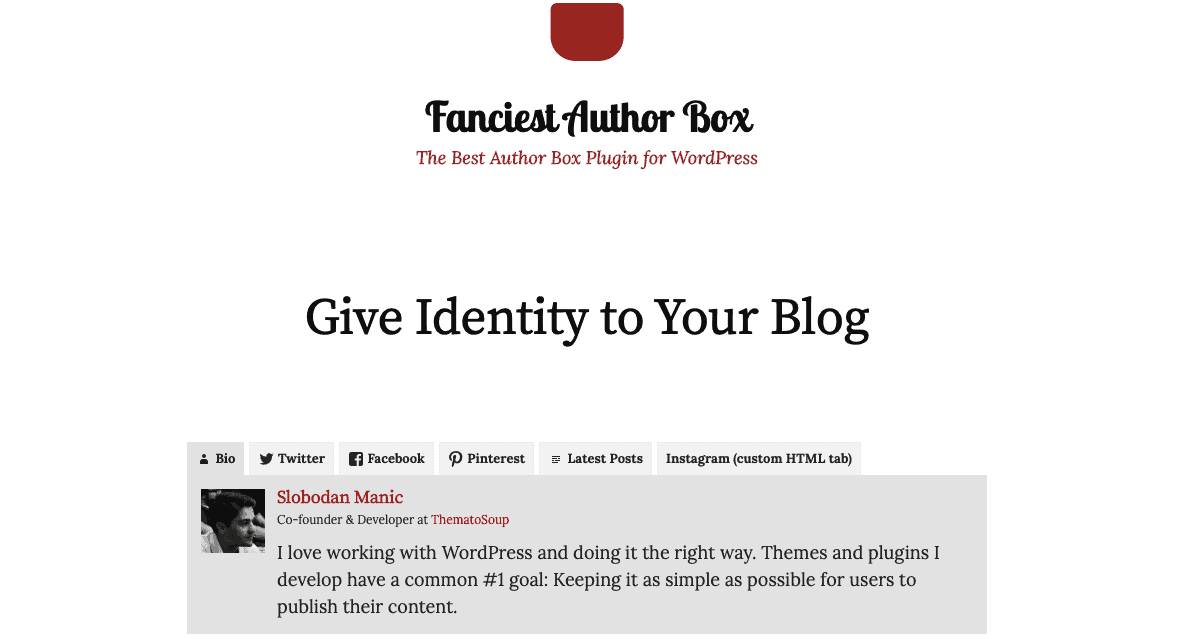 It also has unlimited colors and fields for your job title, latest posts, website URL, and a whole lot of social media links. This plugin is fully responsive, looks, and performs as well on mobile phones as on desktop PCs. If needed, you can also translate the plugin to your language.
Use the plugin to add an author bio, social media, and mini-portfolio of their latest posts. Automatically add an author bio to the beginning, end, or any part of each post and a link to each author's social media profiles (Twitter, Facebook, LinkedIn).  Use the plugin as a widget, shortcode, or template tag and easily customize to your liking.
Features
Retina ready
Translation ready
Color pickers, pick your own color scheme
Random author option for widgets
Automatically or manually added before, after (or both) your posts, pages, and custom posts
RSS feed author box
Lazy load – improves page speed
Co-Authors Plus plugin compatible
Widgets
Bio tab
Twitter Bio & Latest Tweet
Facebook Like & Follow
LinkedIn Widget
YouTube Subscribe Widget
Pinterest Widget
Latest Posts tab
Custom HTML tab
Starbox
Create and manage gorgeous author boxes that will make your readers want to find out more about the authors. Position your author bio box above or below their posts.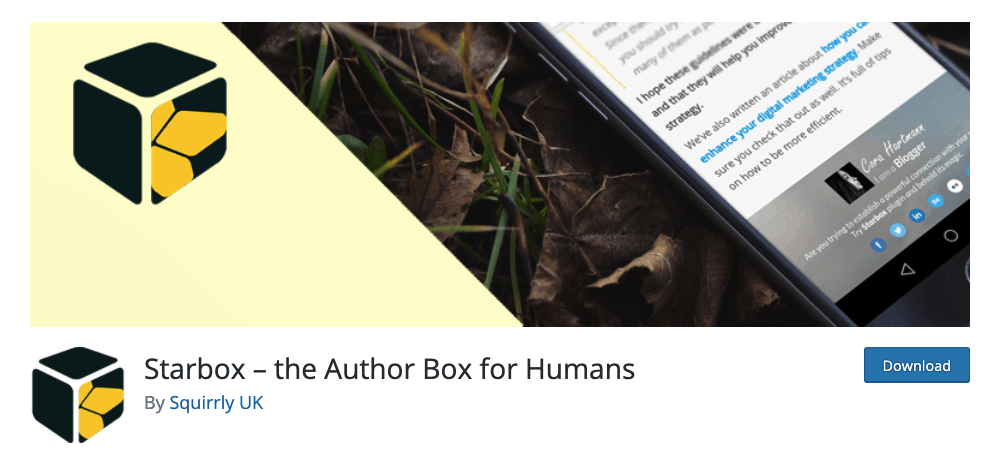 Author bio boxes are fully customizable, and Google Authorship and Facebook Authorship are fully supported.
Customize and match your author box to your site, or simply try out any of the six (existing) themes. Use Google Microformats and create snippets for search engines (Google, Bing).
You can also add multiple boxes to a single post, and there are many more useful features such as WooCommerce support, etc.
Features
HTML 5
Google Microformats (vCard) – display snippets in search engine results
Easily customize each author
Google Authorship
Works only on blog posts, only on pages, or both!
Social media profiles (authors): Facebook, Twitter, Google+, Linkedin, Instagram, Youtube, Vimeo, etc.
Each author can have a different number of social media profiles assigned
A dedicated place for displaying the latest posts of a chosen author
Changeable Themes
Themes setup for each author
Set the author's name
Set the author's job title
Set a company (with a link to the company's site)
Choose not to show the box for certain authors
Auto-removal – zero duplicates
Allows you to upload your own image (no need for a Gravatar)
Special Pages for authors
WooCommerce support and for or other eCommerce plugins
Ultimate Author Box
Give identity to your author's posts and build trust between authors and readers. Choose from more than 19 well-designed author box templates. Create custom tabs and use unlimited colors.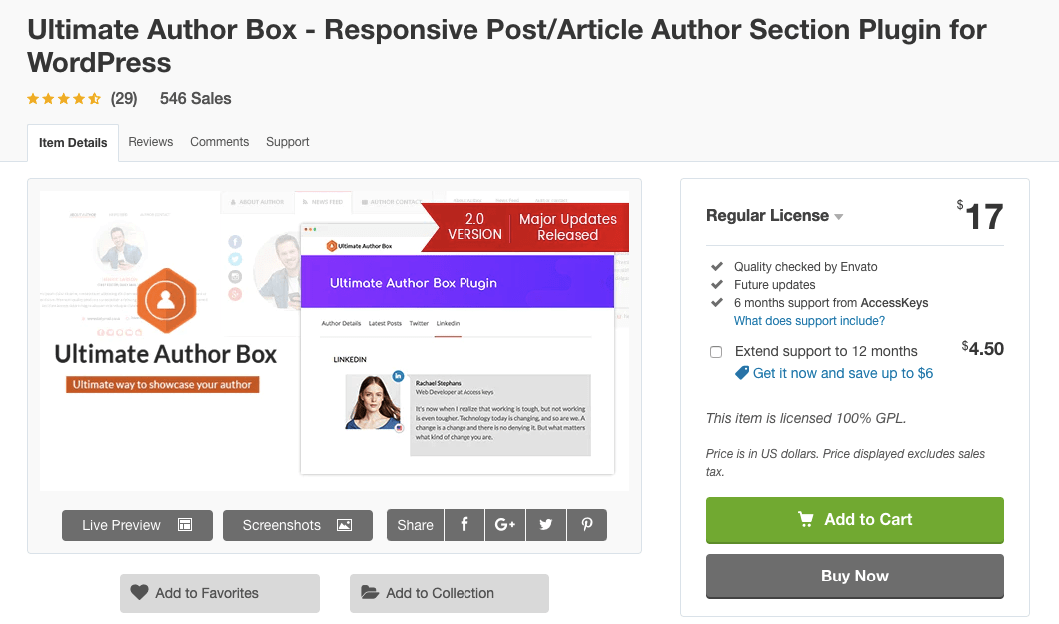 Other features include contact form integration, author posts list, 20+ social media icons, and responsive design, to mention a few. There is even support for guest authors and co-authors, as well as the in-built Contact form or External contact form using shortcodes. Set and manage role restrictions for author boxes. Share your social media profiles (Twitter, Facebook, Instagram) and set your profile image from social media. The plugin fully supports all major web browsers such as Chrome, Safari, Firefox, Edge, and Opera.
Features
You can add tabs with your author boxes
Author box posts are customizable
You can set role restrictions for any author box
Support for 20+  social media profiles
Unlimited color scheme
Author summary via a pop-up display
2 widgets – Author Box Widget (auto-detect Author) & Author Box List Widget (slider, grid & list view)
BuddyPress
If you are looking for modern, robust, and sophisticated social network software, then BuddyPress is the right choice for you! It has all of the typical features for social network support, and even allows add-on features through WordPress's plugin system.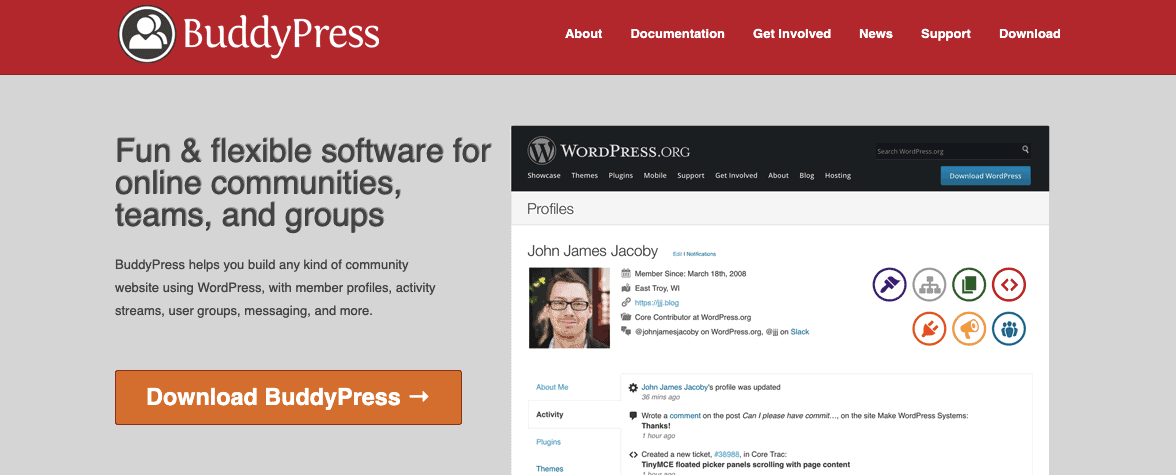 This plugin is aimed at site builders & developers, and the focus is on simple integration and use.
It allows registered users (members) to communicate with each other through private messages. This creates social connections, and members can create, manage, and interact in groups—something like your own (simplified) version of a social network.
In-built themes are (customized) WordPress themes, and even you can create your own theme! There are many available BuddyPress-specific themes for download at WordPress.org or from third-party theme authors.
Conclusion
Author boxes allow your readers to engage with your content authors. This increases organic traffic and helps you rank higher in the long run. The stronger the connection between readers and authors is, the higher their engagement per author's post. Since there are many free and basic plugins, there is no need to spend a lot of money here. However, if you'd like something more fancy that stands out from the crowd, you can still stay well within your budget. Make sure to frequently check to see if you're running the latest version of the plugin to ensure the best stability and plugin responsiveness.