If you are a student and wanted to test out any of your projects online, but you do not have enough bucks into your pocket, then 000WebHost might be the perfect choice for you.
#000WebHost is an entirely free #web hosting option which comes with many great features.

I know that if you are a student, then it becomes a bit difficult in investing your hard, saved money on web hosts just for testing your projects. Even back in 2015, when I was learning web development, I faced the same problems. And then I started searching for free web hosts and came across 000WebHost. Yep, I had already used it back in 2015. This web host really impressed me with the features they are offering, even without having to pay a single buck. So, now I am going to review 000WebHost's free web hosting and let you know what's so good about it.
Why 000WebHost?
When you search for a free web hosting site, you'll get a huge list of sites that allow you to host your web pages for free. But choosing the right one is the biggest hassle. You need to choose a web host which offers quality services with useful features. And 000WebHost is one of the best free web hosts that comes with a perfect combination of quality services and useful features.

000WebHost offers some premium as well as free plans, and today we are going to review their free plan. So, the free plan comes with 1 GB of free space and 10 GB bandwidth. In this 1 GB of free space, you can make a maximum two databases which means you can host two websites with them. They also offer a free website builder along with cPanel.
So, let's talk about the features that 000WebHost offers in their free web hosting. The free plan also comes with the free version of the UnderConstructionPage plugin so you can relax while designing your site.
1 GB Disk space with 10 GB of bandwidth
Website Builder with cPanel
2 Domains hosting with 2 MySQL database
9% uptime guarantee
PHP, MySQL, No Ads and much more

So, these were some of the features that 000WebHost's free hosting offers. Now let's talk about the things that really impressed me for reviewing 000WebHost.
Things impressed me about 000WebHost
Premium Pricing Plans
I know that this article is about the free web hosting offered by 000WebHost, but the reason I am talking about their premium plans is that they are very budget-friendly. Though 000WebHost doesn't officially offer these plans, all of these plans are offered by their sister company Hostinger and 000WebHost promotes it. I have already talked about Hostinger and their plans, so I am not going to talk about that in deep.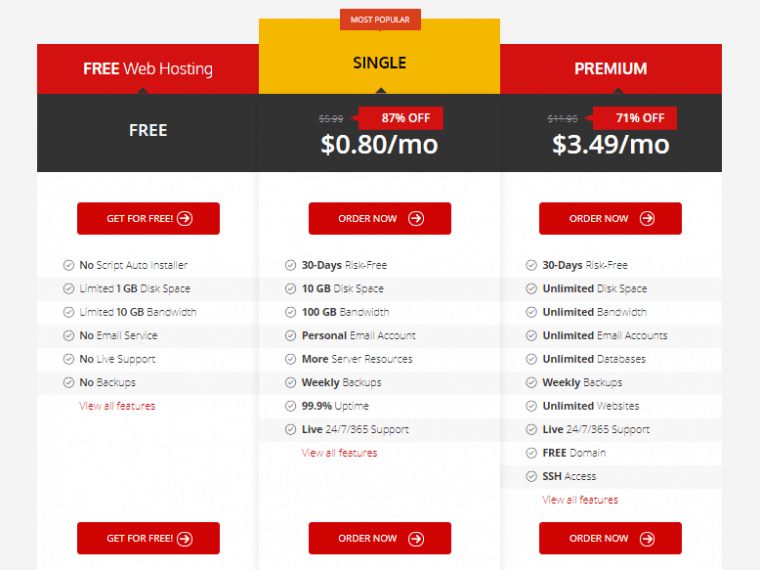 Disk Space and Bandwidth
000WebHost offers free 1 GB of free disk space along with 10 GB of unmetered bandwidth which is more than enough for a personal blog or a small project. You can run almost any project in this much space unless you are going to test an e-commerce store. Also, they allow us to create 2 MySQL database, and you can even park two domains there as well.
Instant Backup
Taking a backup of your crucial data is one of the most important things for anyone. 000WebHost comes with an inbuilt feature that allows you to take full backups of your site. All you have to go to cPanel and in a few clicks you can take a full backup of your site. It's even possible to restore it from the control panel. It takes a full backup which includes both website's data and MySQL database. Also, I haven't seen any other free web host that allows you to take a full backup of your site.

Traditional cPanel and Website Builder
000WebHost offers the latest version of cPanel so that you can set up any type of website you want. With the latest version of the traditional cPanel, they also offer you the one-click script installer where you can install more than 100+ scripts such as WordPress, Joomla with just one click. Even they support BoxBilling in their free web host plan. BoxBilling is an invoice system which allows you to invoice your customers.
With the cPanel, they also offer a free website builder so that you can customize your website the way you want. This website builder is a template-based builder which allow you to drag & drop feature to customize and publish your site.
Ad-free
If you have read about the other popular free web hosts, then you'll realize that many of them show their ads on your website so that they can generate their revenue. Even you are not allowed to use your ads on your website, but this is not the story with 000WebHost. 000WebHost not only allows you to use your ads to start monetization your site from day one, but they don't show any commercials on your website.
You can monetize your website with Google Adsense as well as other Ad networks such as Media.net or Taboola. Though I have seen many posts on their forum that Google Blocks ads serving on 000WebHost and their team is working on solving this issue. Meanwhile, you can use other ad networks until then.
PHP and MySQL support
Many of the free hosts claim that they offer a full PHP support but often that claims get disputed. 000WebHost gives a full PHP support, and you will not have to worry about that. With the full support and the latest version of PHP, you can use the GD library and the mail functions. Also, they offer the latest version of MySQL, too.

Apart from PHP and MySQL, it also supports CURL and Cron JOBS. So you can make API calls to other websites with the help of CURL and with the help of Cron JOBS, you can execute scripts any number of times. These are some of the premium features that you can't even think with other free web hosts.
Customer Support
000WebHost offers a good quality customer support, and you can get in touch with them with the help of Email support feature.  They have a dedicated forum for helping you where many of the experts are ready to solve your issues. You'll easily get answers for any of the issues that you are facing, but just in case no one replies you in the forum, you can visit their FAQ page because probably you'll get the solution of your issues in the FAQ page.

Apart from the Customer Support, they have a dedicated section for Web Development where you can get free tips about PHP and MySQL. You can even ask questions about PHP and MySQL, and people will help you in building your website. This kind of support is really good, and don't forget that it comes from a free web host.
Conclusion
So, this was all about 000WebHost. So, would I suggest you go with 000WebHosts?
Of course, I will! The reason is that this is one of the best web hosts that allows you the Full PHP support and somehow when it comes for testing sites, this host remains good at all the times. Still, try to take backups every time you make a change on your website.