WP Maintenance, a plugin available in both a free and a premium version, lets you hide the fact that your website is currently broken or perhaps that some work is being done on it. So, you can set up a nifty maintenance site and avoid losing out on your SEO power. It takes no time, and it is extremely intuitive. Naturally, the premium version offers more features. Firstly, let's talk about the free version, which also offers an array of useful tools.
The Maintenance plugin gives the website's administrator the power to close it for repairs or servicing all the while you can put up a provisional page with authorization. You can turn the "503 Service temporarily unavailable" off and on and exclude any pages you would like from Maintenance mode. When you do this, it will also make your page invisible to search engines. It is compatible with all popular caching plugins, so you do not need to worry about incompatibility in any way.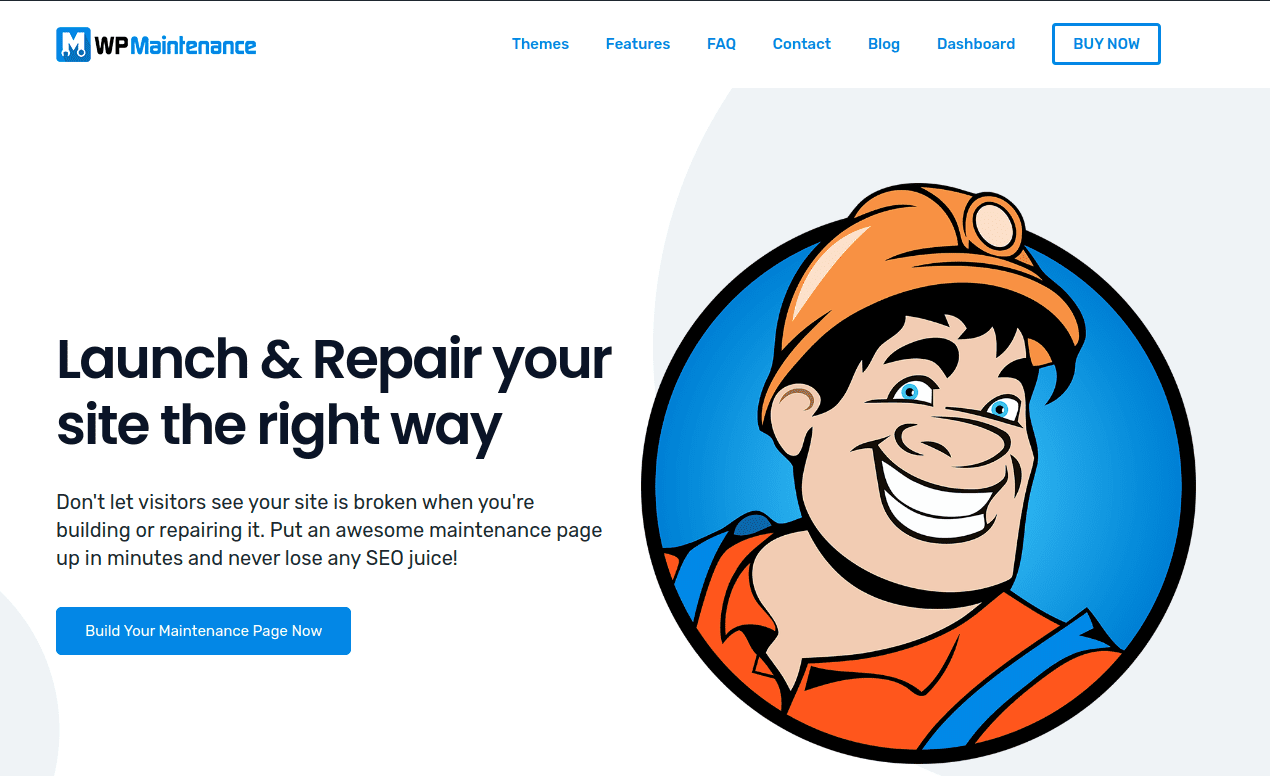 It can be highly customized and personalized to your exact liking. Not to mention you have the option to blur the background to get that refined effect and that the background is full-screen. In addition, you can precisely adjust the color of the fonts, background, and icons you opt for. Furthermore, you can modify the headline, text, and title. Naturally, you can upload your own logo, as well. Getting the whole thing up and running can be done in less than a few minutes of your time, and absolutely no experience or special skills are required.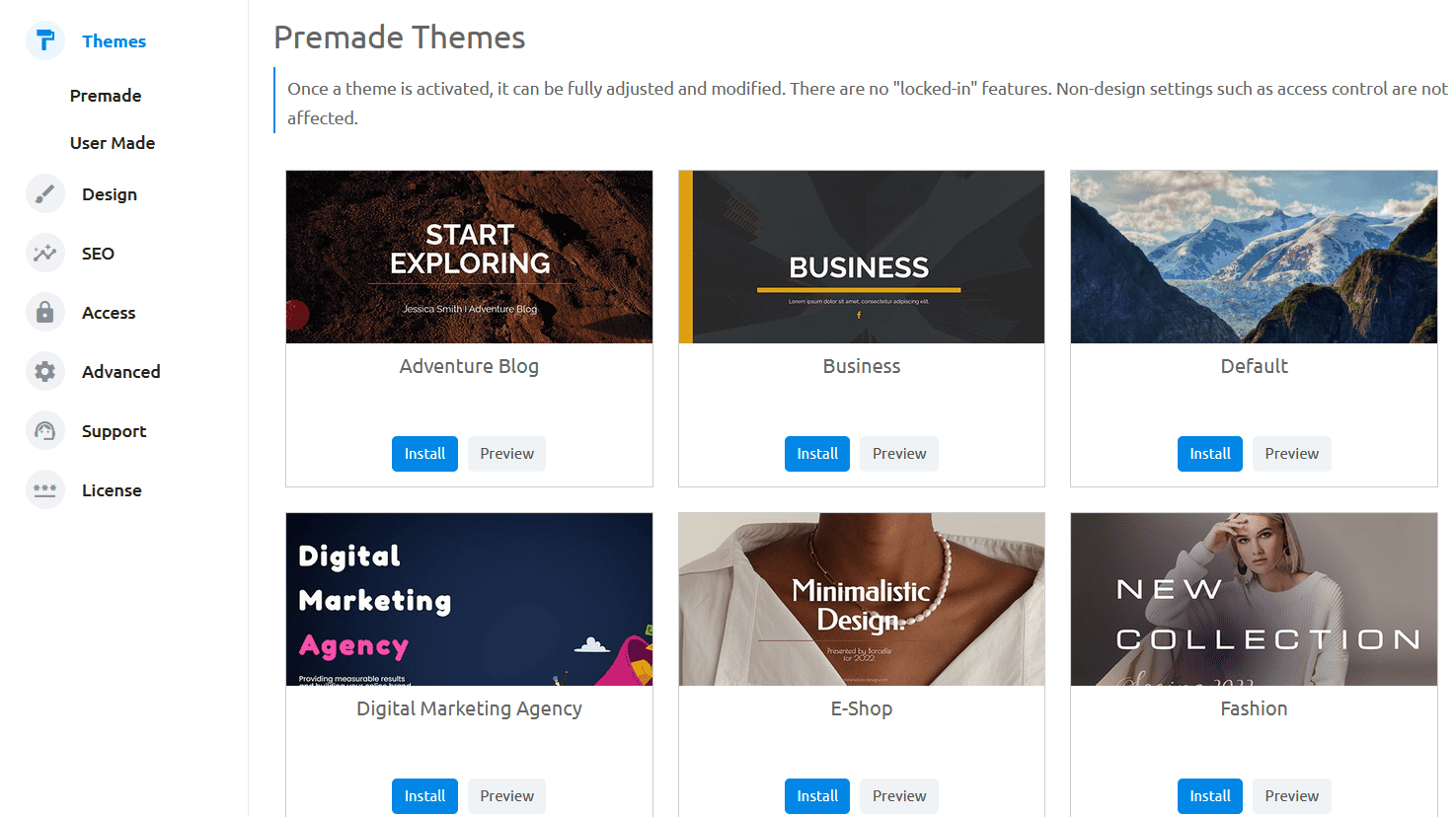 It also offers features such as retina-ready HTML/CSS layout, user login on the front-end, and an administration status bar. Best of all, it integrates with Google Analytics so you have access to extremely useful statistics provided by it. This can be used to track the number of visitors to your website, assist your marketing intentions, and most importantly, aids you with optimizing the search engine so you can better your SEO and bring in more visitors.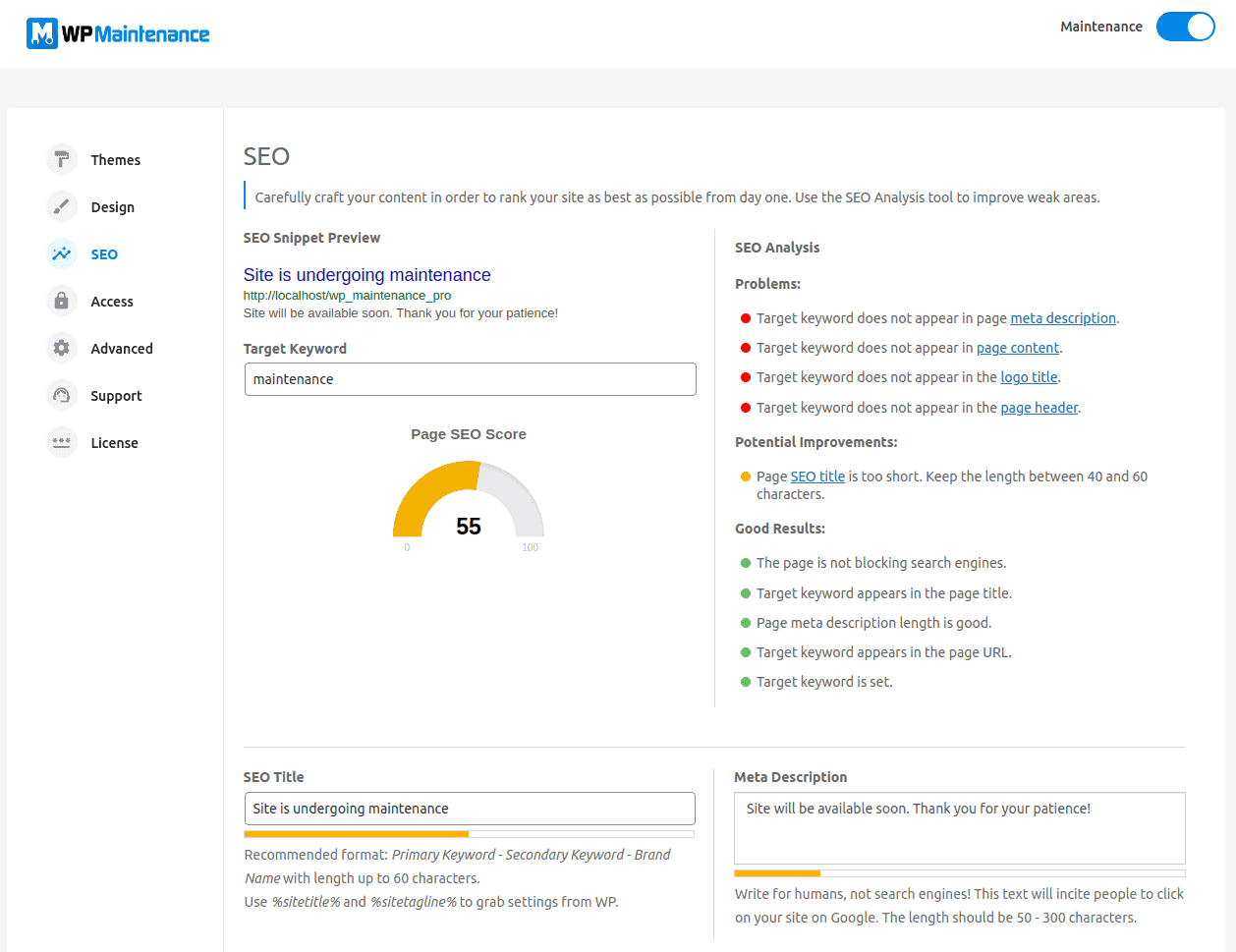 The premium version of the Maintenance plugin offers every feature mentioned above that the free version offers, and naturally, even more features than the free version. Of course, it also helps you create your ideal maintenance page in just a few moments of your time. So, there is no wasting time as it saves hours of your time for an affordable price. There are more than twenty impressive, professionally-made themes for you to choose from. They are meant for many different types of business, so yours will surely be covered. Simply opt for one of the immediately available themes and have the page ready in seconds.
Even before your website is done and ready to be released out into the wild, some of the plugin's features help you optimize it so you get the best out of SEO. Even if it is far from being finished, as in containing just a few sentences. WP Maintenance has been evolving for ten years now, ever since it was first released. And it only got better and more stable over time, offering an abundance of useful features along with the basic ones. Today, it has more than 700,000 regular and satisfied users.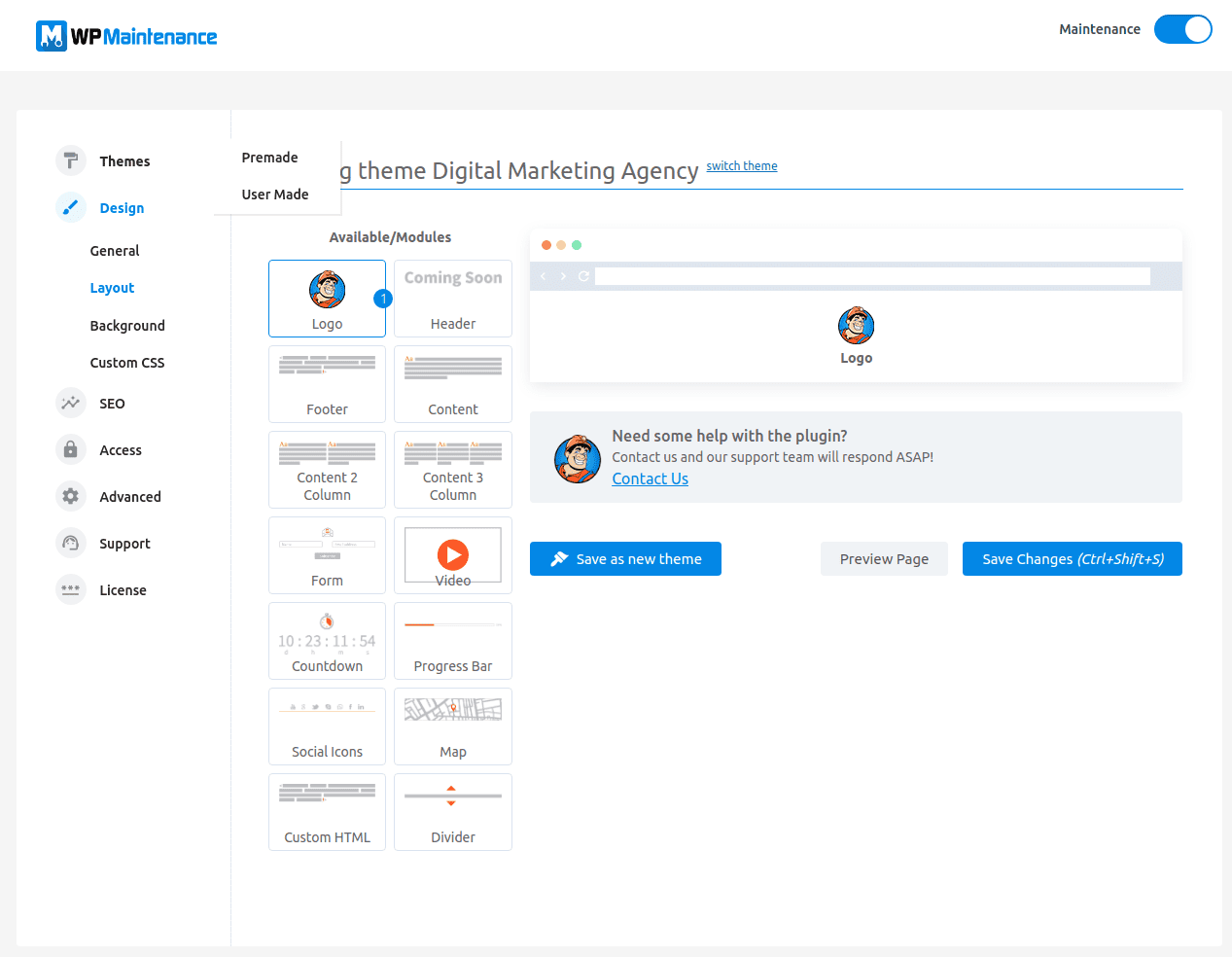 It is extremely easy to use, and as intuitive as it gets since the user interface is clean and simple. You don't have to read any guides to begin using it or even to get the hang of the features that sound like they would require some skills or experience to use. The plugin provides you with a drag&drop builder that makes things super easy and uncomplicated. Page building has never been easier, as this is the most straightforward way to do it. No more wasting time on learning how you should use it.
WP Maintenance supports CRM, software for webinars and marketing purposes, and most autoresponders. So, getting subscribers is a piece of cake as collecting e-mails is trouble-free.
There is an array of premium images for you to choose from. More than 3.7 million, at that. Of course, with the premium version of the WP Maintenance plugin, all of those HD pictures are free to use. Just search through them, and use them for your website with just a few clicks of your mouse. No more need to worry about finding the right high-quality images when so many are at your fingertips, ready to be used.
Your clients should have no problem taking a look at the website if you are making them for them. Of course, the members of your team can see it, as well. The Secret Access Link feature of the plugin lets them check the site in progress freely.
Everything you need can be done from the dashboard, so it's all centralized and in one place. You don't have to know how to code or change it as text, colors, the plugin name, and logo can be altered directly from the plugin's dashboard. Not to mention that all of your licenses, websites, brands and purchases can be handled from it, as well.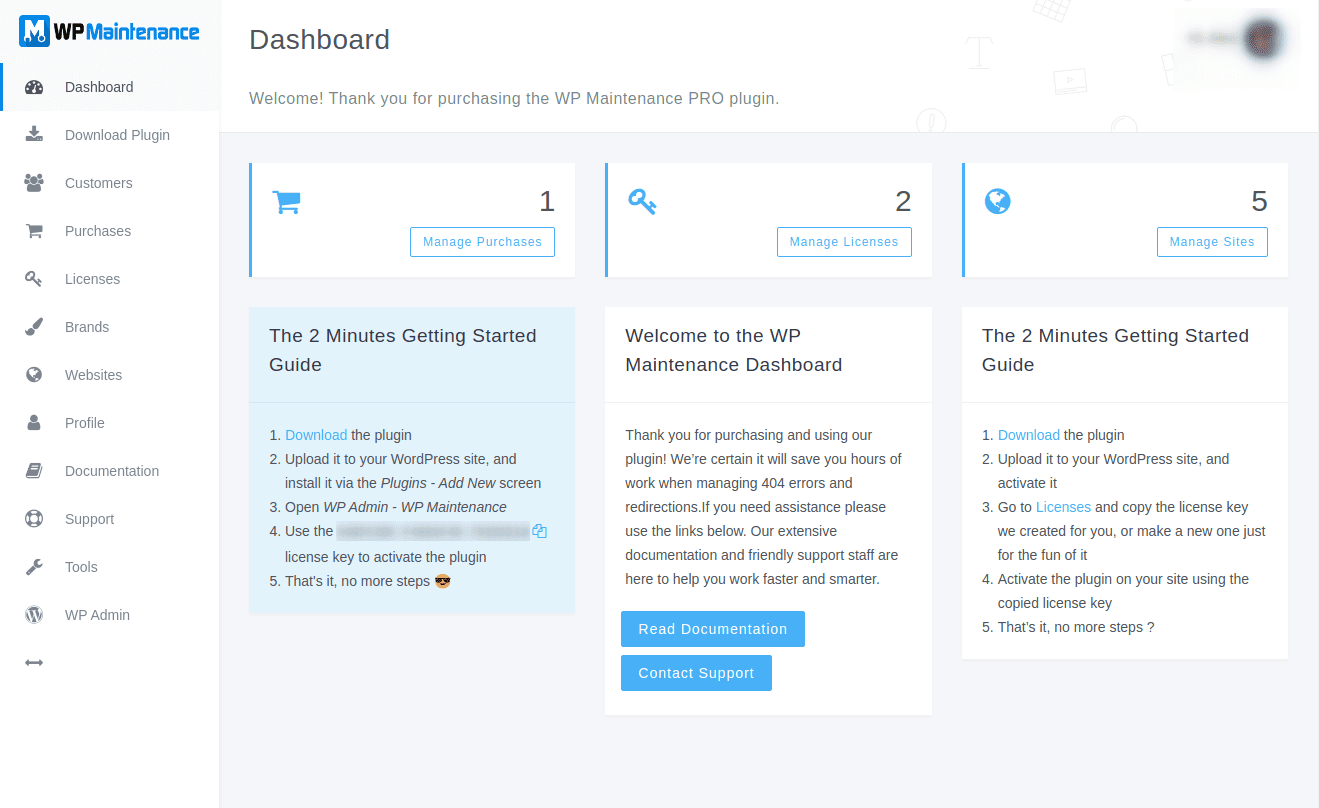 If you are having any problems or questions, WP Maintenance's support team is there for you. They are quick, reliable, and well-disposed. They mostly consist of people who have actually worked on making the plugin, meaning the developers who know what they are doing.
As far as the cost goes, you can opt for one of three different lifetime packages: the first one, Personal Lifetime, gets you a license you can use on a single site, along with 5 new themes per month, more than 20 ready-made themes, and lifetime support and updates, options for rebranding, and a white-label mode. All of that for only $59.
The Team Lifetime option for only $69 offers you a license for 5 sites, and all of the features that the personal one offers, along with additional ones such as a license manager right on your dashboard.
The Agency Lifetime one for $119 includes licenses for one hundred different sites, with all of the features the previous two packages include, of course.
You do not have to worry about committing, though. You can try the plugin out, and then without any questions get your money back in the next seven days if you perhaps think it does not fit you. You get the full amount of your money spent back, and that's a guarantee. However, the plugin has many satisfied customers, so chances are you will like it too.
Performing #maintenance on your #WordPress website? WP Maintenance will help you create a temporary maintenance page in a few clicks

However, if you are looking for something similar, there are a few alternatives to WP Maintenance, such as UnderConstructionPage (https://underconstructionpage.com/) and Coming Soon (https://comingsoonwp.com/). They have different editors and themes available.
With the UnderConstructionPage plugin, you can place links and links to your business's social media so the customers can contact you even while your site is down. Just put up an attractive landing page as there are lots of HQ images for you to choose from. It's toggled by a simple on and off button, and you can whitelist users among other things.
The Coming Soon plugin also has a straightforward system for making the perfect "coming soon" page. There is no experience required for it, either. It offers many nifty features so your site looks good before it even launches.
Conclusion
If you own a website, especially if you own a business one, you should definitely check out the WP Maintenance plugin. You can get the free version or the premium one which offers even more features. If you go for the premium version, you don't have to commit as there is a risk-free money-back guarantee. However, you probably won't need it since the plugin offers a lot while remaining very affordable.
So, if your website needs some work done and you don't want to lose out on any SEO power, or you would simply like for your customers to check out your social media or such while your page is currently down, this is the right product for you. It saves a lot of time and money, it's very user-friendly and intuitive while absolutely no experience is required to get it going or manage it in general. With WP Maintenance, you can either opt for the quickest way by choosing one of the pre-made, professional-looking themes, or you can tailor-make your own from scratch. Either way, you will surely be satisfied with the results.