More and more we are all connecting with each other with our visitors or with any other social networks you may have. If you add your profile on Instagram, Facebook, and other things you've collaborated on with others, your website can easily be cluttered. It can often happen that you get lost in the pile of links you put on your WordPress website, and why not avoid this with some plugins? Your life can become simpler. That's why I bring you WP Links – Take control over links on your WordPress site.
WP Links helps you take control over links on your #WordPress site

WP Links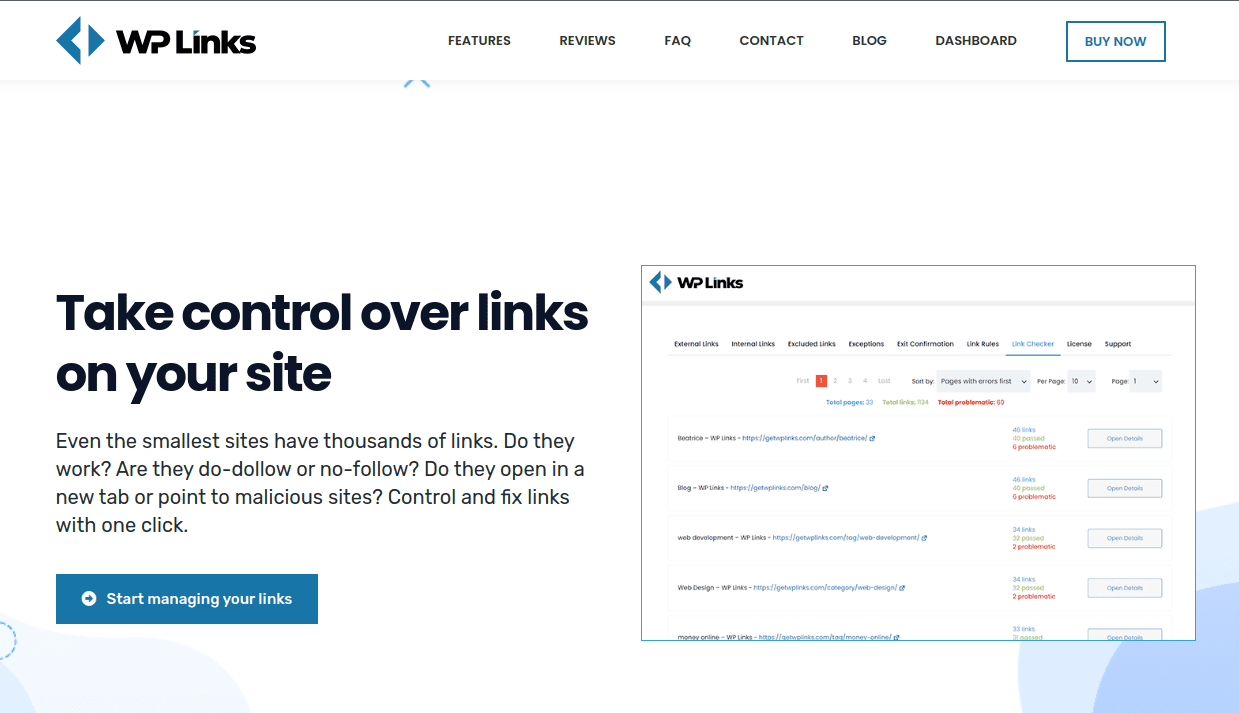 At first, it will seem that you don't need this plugin, but if you have a lot of links that you use, WP Links will definitely help you. This plugin will surely help you in establishing complete control over all your links on your WordPress website. You can achieve a lot in just a few clicks because WP Links is very easy to use and straightforward. Now that we've piqued your interest a bit with this great plugin, keep reading. Below you can read a little more about all the things offered within this plugin and which will best help you with your links.
How to control links
Here you will find External and Internal links. The connections that direct users to a website on a separate website are known as external links, as the title indicates. Unlike external links, links to websites on the very same website are referred to as internal links. Internal links improve SEO for your website but external links pass SEO authority to the domain you are connecting to. This is the essential distinction.
Which links are external and which are internal must be accurately identified through attribution, tagging, styling, and customer feedback. You can open external links, set follow or no follow, add to rel attribute or CSS classes, set title, and many more. In addition, you can do the same things with Internal links, so you have a huge choice in front of you.
Exceptions
Once you have put most of your effort into determining which links are excluded from the previously defined criteria after you have created some broad principles for the links on your website. You have a lot of options for personalization, and one of those options allows you to decide whether these settings apply to absolutely all information on your website or only to certain parts, such as widgets, comments, or, say, uploaded content.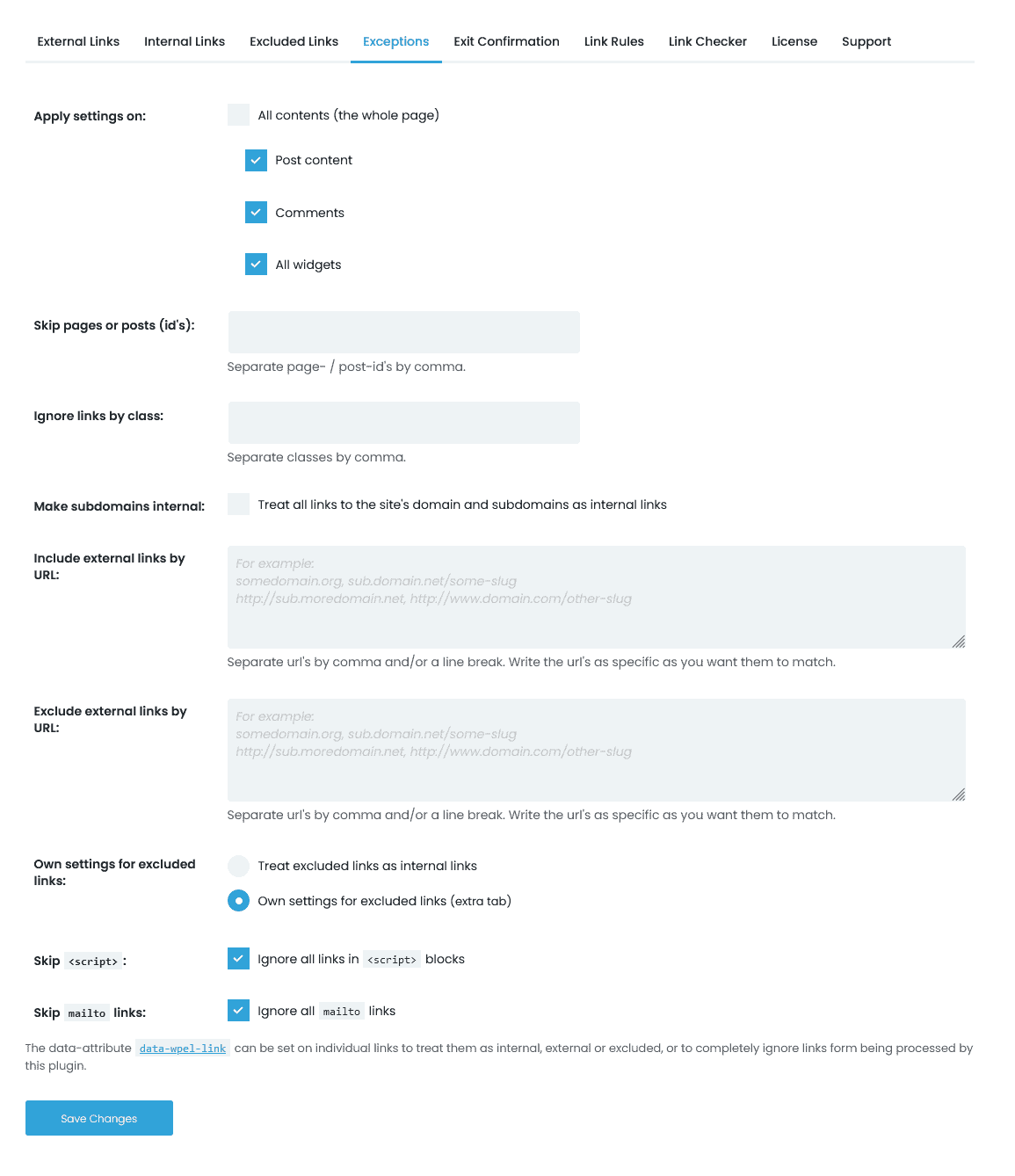 Skip pages or posts, ignore links based on class, make subdomains internal and many other settings are available. You can do anything with them. For example, using the skip page or post option, you can do exactly what it says, you can skip certain parts of pages or posts on your website. It's great that you can set it up just as easily as everything else with WP Links. To accomplish this, look for the items ID in the URL of the website you wish to go forward with the rules. After that, all you need to do is locate it in the field below, where you can input it to have this plugin stop applying rules to that particular website.
Exit confirmation
Once set and activated, a popup will appear. Those popups can be edited, added to with information, and received for every individual who hits on the outside or incoming link that appears. But what about all third-party links that can also appear? Give it your best shot. Make a popup that is appealing and effectively communicates the point.
As a result of clicking on a third-party link, the user will be successfully informed to leave a website in this approach. There are several design choices available on the Exit Confirmation page, allowing you to customize the screen's size, colors, backgrounds, typography, and many other aspects that affect custom WordPress web design cost.. You can also define how your connections behave when they are visited with exit confirmation.
Link Rules
For this one, you will need to use your imagination because you will have a very large number of options that you can experiment with. Also, with the help of Link Rules, WP Links can make your task incredibly simple, especially if you are seeking to advertise your unique product or website. Here you will find everything you will need to create a rule. One example is to make each link contain a specific keyword.

Then based on that you can set them up. In another scenario, if the URL includes the term "star," it will be identified, allowing users to automatically generate an image for each link together with the URL. You will find an "Add Link Rule" icon on the left when you are in this area. Choosing keywords for those rules is the first step you will need to do before adding them.
Link Checker
This button will be one of the most significant features for you since it allows its users to scan your whole website and every link on it. After a comprehensive examination of everything on your website, you will get a nice list of all the problematic links that you have on your website. Such links might be redirected, contain some malicious data, or simply no longer exist.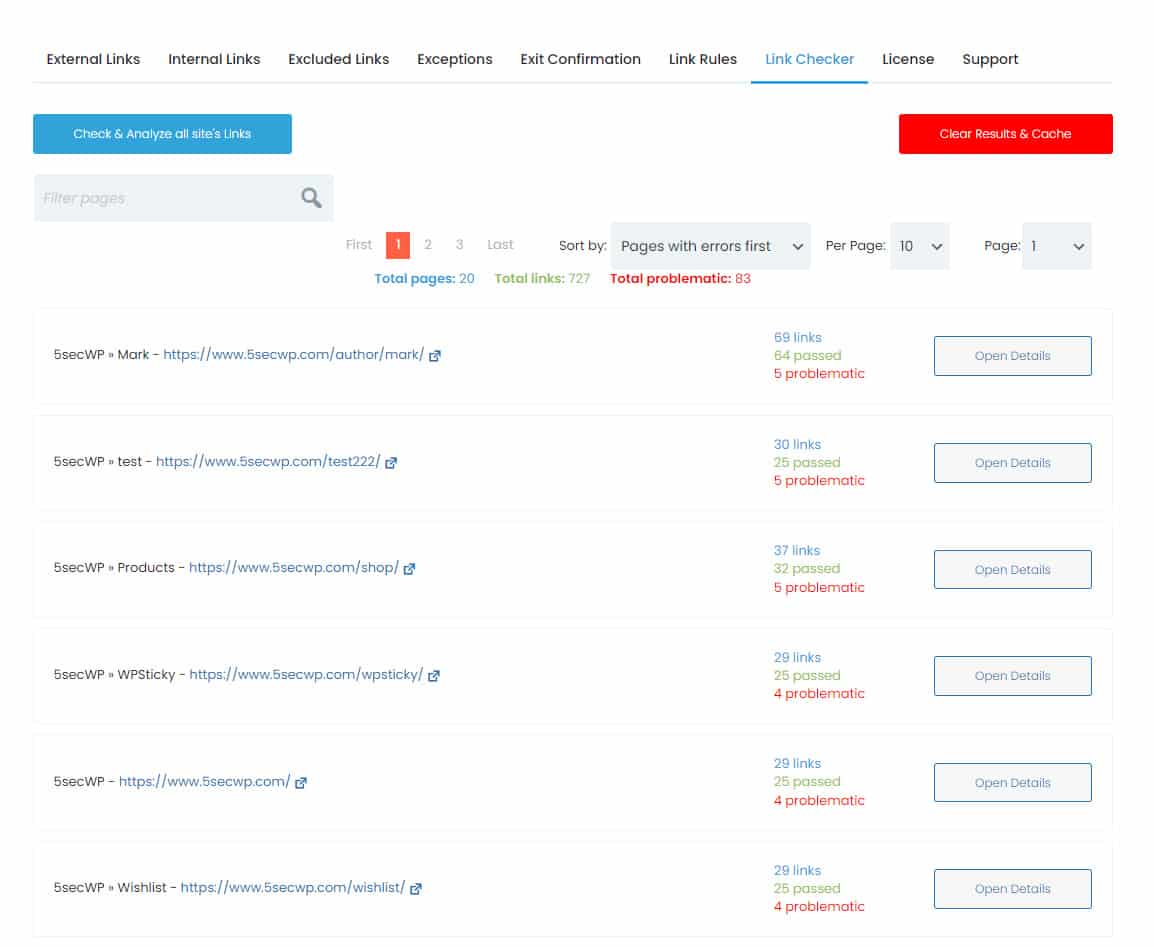 The scanner will also give you the ability to change anything right away, allowing you to customize it as much as possible to meet your needs. Even though you have the option to manually search everything, why would you want to do that when the scanning will be finished in a good few minutes?
Pricing
You can find three payment options for WP Links, namely Agency Lifetime, Team Lifetime, and Personal Lifetime. Each of them has its pros and cons, but one thing they have in common is the option to pay for the plugin once and it is yours forever. If you don't like this plugin after you buy it, you will have a 100% money-back guarantee option without any risk within a week after you buy it.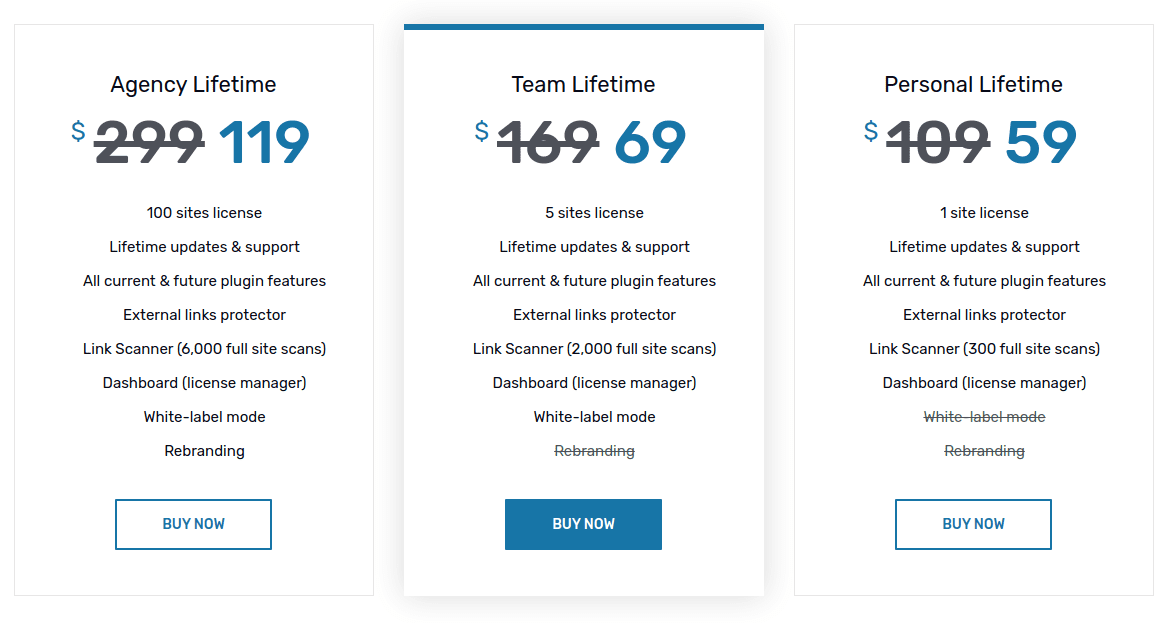 Conclusion
After you have read this article and familiarized yourself with a great link-heavy carry option, it is time to try it out for yourself and see it work in action. You will not regret it one bit and we are sure you will regret not coming across this plugin and adding it to your WordPress website sooner. In addition to making, it easier to deal with links and fix them, you can also fix your SEO. And if you need help with this, you can always buy backlinks.
So do not be afraid to try out WP Links for yourself.