Christmas has become more than just a day that's important to Christians. It has exceeded the religious limits and has become something that's celebrated throughout the entire month of December, in practically every corner of the world. When you combine that with the New Year where people decide to splurge on travels, parties, food & drinks, you get the entire month dedicated to holidays.
Although many people will tell you how they hate all the fuss about the holidays, the truth is that most of us actually enjoy this time of the year. And to celebrate the holidays the right way, we have decided to show you some WordPress Christmas & New Year discounts that every blog owner will love!
Surprise family, friends or yourself with some amazing #WordPress plugins & themes for #Christmas and #NewYear2019

Whether you want to surprise a family member or a friend with a digital gift in form of a premium WordPress plugin & theme, or you decided it's time to wrap the Christmas gift to yourself, take a look at the amazing deals we have this year.
Happy Holidays from WebFactory!
Santa told us that you liked our Black Friday & Cyber Monday deals, so we decided to do something similar for this holiday season as well. We have put a 30% discount on all of our premium WordPress plugins. You can grab them with this special price until the end of the year!
Whether it's a simple maintenance or under construction page, a coming soon page for your new site or a complex landing page, UnderConstructionPage PRO is the plugin you will want to have installed. With more than 150 templates, you will be able to create a page in less than five minutes by using its powerful drag & drop visual editor. Add, remove, and modify the elements, control all the options & even decide which user can get access to the site. The UnderConstructionPage PRO plugin can help you with all that, and you can get it with 30% off during this holiday season!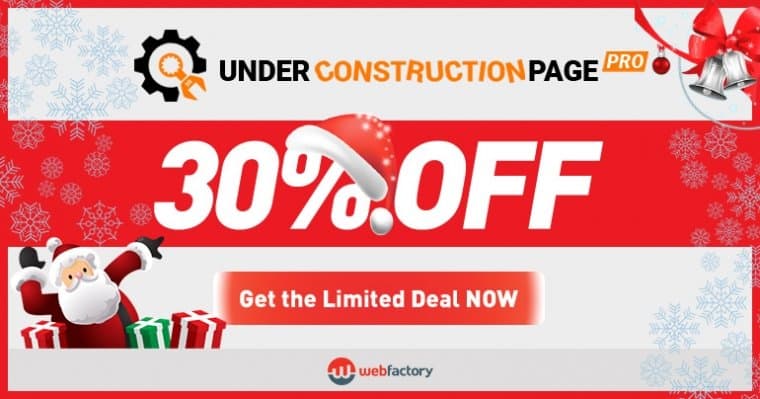 If you have a local business that you want to put on the map, show your travels or simply let people know about different places that are interesting to you, Google Map is something you will just need to have. Although embedding a map is easy as copy-pasting, it doesn't leave you many options. With Google Maps Widget PRO, you can use more than 50 features that will make your maps unique & personal. And maybe the most important part – Google Maps Widget PRO will speed up your site simply by not including everything that other map plugins do. Follow the link to get 30% off any GMW PRO plan and see why it's the best plugin for the job.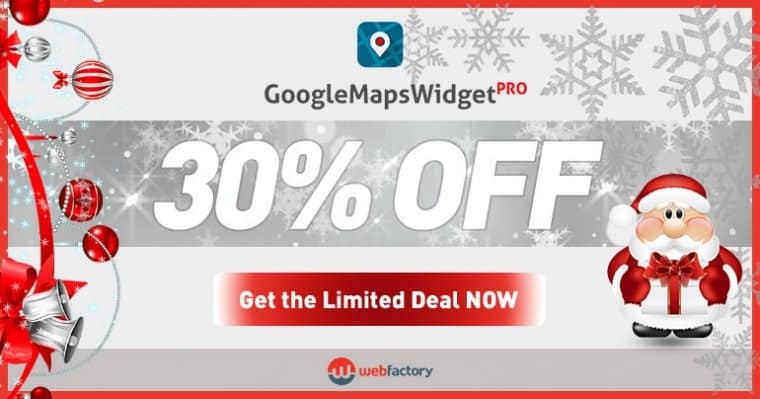 It doesn't matter how beautiful your website is or how much effort you put in the content if you leave it open for attacks. Hackers are waiting on every corner to take over your sites or place malicious code without your knowledge. That's why we created Security Ninja which can help you to protect any WordPress site you might have. Run detailed scans regularly, add a firewall, log everything people do and have your site protected all the time. Simply follow the link the get 30% off any of the Security Ninja PRO plans.
Building a custom coming soon page takes time & knowledge. Instead of spending days on designing and programming features that you need, you can have everything ready in less than 5 minutes. Coming Soon & Maintenance Mode PRO allows you to choose from one of more than 70 professionally designed themes which you can modify to your needs. Add Google Maps, newsletter forms, show progress bars and choose from 650,000+ images for your background. Include videos, control access, and do so much more with Coming Soon & Maintenance Mode PRO which you can now get for 30% off.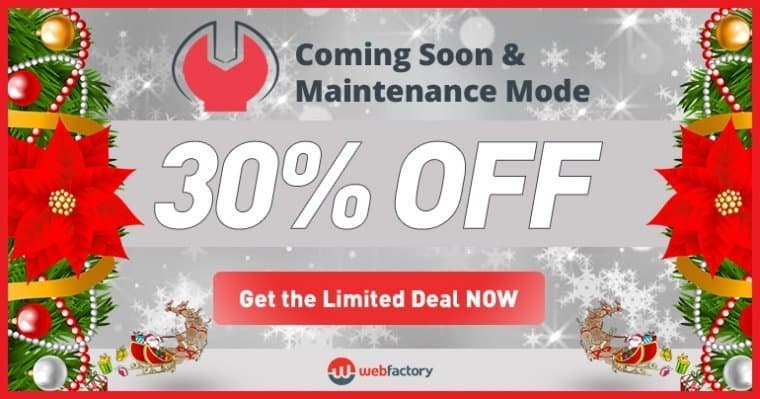 Other Interesting deals
If you haven't spent all the money on all those amazing Black Friday & Cyber Monday deals, here are some interesting WordPress items that you can get with the discounted price until the end of the year.
PremiumCoding develops beautiful, professional WordPress themes with a minimal and clean design, to help your site stand out. Choose from a wide variety of their modern themes and start your blogging journey today. Use code PremiumChristmas30 at checkout.
Valid from December 15th, 2018 till December 31st, 2018
Get the deal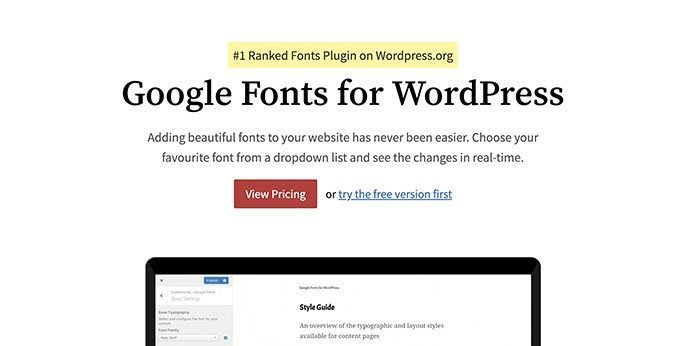 Add any Google Font to your website with just a few clicks! Live preview and customize over 870 fonts. Use code XMAS at checkout for 20% off.
Valid from December 17th, 2018 till January 2nd, 2019
Get the deal
| Name | Discount | Description | Valid Through |
| --- | --- | --- | --- |
| Astra | 20% | Astra is one of the most popular and best-selling WordPress themes of 2018. The theme is a masterpiece and one of its kind when it comes to speed, performance, and intuitive user experience. | January 2nd, 2019 |
| Convert Pro | 20% | Convert Pro is the most reliable, advanced lead generation and onsite retargeting plugin that helps to boost leads and grow your revenue instantly! | January 2nd, 2019 |
| CyberChimps | 30% | Get a CyberChimps Club membership or multipurpose themes bundle. | December 30th, 2018 |
| Greta Themes | 30% | GretaThemes has the mission to create WordPress themes that are not only beautiful but also SEO-friendly, ease of use, even for the beginners. 30% off is applied for both single themes and premium bundles themes. Check them out! | January 5th, 2019 |
| Imagely | 33% | Imagely offers the leading WordPress gallery plugin, NextGEN Gallery along with NextGEN Pro for photographers to sell digital downloads, prints and offer proofing for their clients. Imagely also creates stunning themes for photographers all built on the Genesis framework. Save 33% off using the coupon code XMAS33. | January 6th, 2019 |
| MetaBox | 30% | Meta Box is a simple yet powerful WordPress plugin that helps developers handle all about custom fields. With a bunch of wonderful extensions, it offers a variety of useful plugins just for your needs. Use the coupon HPNY19 to get 30% off. | January 5th, 2019 |
| Permalink Manager Pro | 25% | Use XMAS18 coupon code at checkout to get the discount. | January 6th, 2019 |
| Photocrati | 33% | Photocrati is a supertheme for photographers, packed with customizable controls over nearly every aspect of your website. It might have bells and whistles, but it's easy for anyone to use no matter the level of experience with WordPress. Save 33% off using the coupon code XMAS33. https://www.photocrati.com | January 6th, 2019 |
| RSVP Pro | 30% | RSVP Pro makes it easy for you to manage and run events on your WordPress site. Save 30% off using the coupon code XMAS18. | January 6th, 2019 |
| Schema Pro | 20% | Implementing Schema markup on a website is no longer a task! Schema Pro adds structured data to make you stand out against your competition in search engines with eye-catching results. | January 2nd, 2019 |
| ShowThemes | 33% | ShowThemes offers the best user experience for your event through gorgeous WordPress event themes. Each is deeply integrated with the most popular WordPress event plugins around. Save 33% off using the coupon code XMAS33. | January 6th, 2019 |
| Tesla Themes | 33% | Tesla Themes offers elegantly designed premium WordPress themes for developers, web designs, retail stores, restaurants and much more. Many of the themes are ready to sell products with WooCommerce, and all are responsive for the mobile-first era of Google. Save 33% off using the coupon code XMAS33. | January 6th, 2019 |
| Ultimate Addons for Beaver Builder | 20% | It comes with 45+ advanced modules and 300+ page and section templates that can be dragged, dropped and customized within minutes. | January 2nd, 2019 |
| Ultimate Addons for Elementor | 20% | The Ultimate Addons for Elementor is the most popular and reliable widget library for Elementor. With 50+ ready-to-use full website demos, scale your design creativity and make websites live in minutes! | January 2nd, 2019 |
| Wbcom Designs | 30% | Wbcom Designs is offering 30% off on all WordPress and BuddyPress Themes and Plugins. Use coupon code: XMAS30 | January 1st, 2019 |
| weDevs | 30% | Use the following coupon at checkout: XMAS30 | January 2nd, 2019 |
| WooPDF | 25% | Use XMAS18 coupon code at checkout to get the discount. | January 6th, 2019 |
| WP Native Articles | 25% | Use promo code XMAS18 | January 2nd, 2019 |
| WP Portfolio | 20% | With an easy-to-use interface, you can create a quick portfolio by importing the websites, videos and images you've created. | January 2nd, 2019 |
Do you have WordPress deals that we still haven't listed?
We have tried to contact as many businesses as possible, but there's still a chance we haven't got to you yet. If you have a WordPress theme, plugin, hosting or any other related product for which you have created a Christmas & New Year discount, please don't hesitate to contact us. We would be happy to include your deal as well!