The landscape of nearly every business sector is different than it was just a few months ago. COVID-19 has impacted most industries — some more than others. Even if your company is still running at full capacity, you've likely had to make multiple changes.
Now is a good time to update your business website and show how you're working to protect your employees and customers against the virus.

In April, American companies cut about 20.2 million jobs as the impact of coronavirus led to changes everywhere. The way we run our businesses has changed likely forever. Essential companies may be so busy that they're having trouble keeping up with the updates. On the other hand, organizations that are temporarily closed to revamp their operations may feel overwhelmed.
Updating your site is one step you can take during this time to keep customers informed. Use your online platform to put fears at ease and explain new procedures. Here are a few ways to start:
1. Offer Creative Solutions
The usual business procedures aren't possible for some sectors of society right now — and still won't be in the foreseeable future. Guidelines about social distancing mean gatherings are limited to fewer people. High schools across the United States canceled proms and graduation ceremonies. If your business serves large groups of people like these, you must come up with creative ways to continue meeting people's needs and show them your ideas on your website.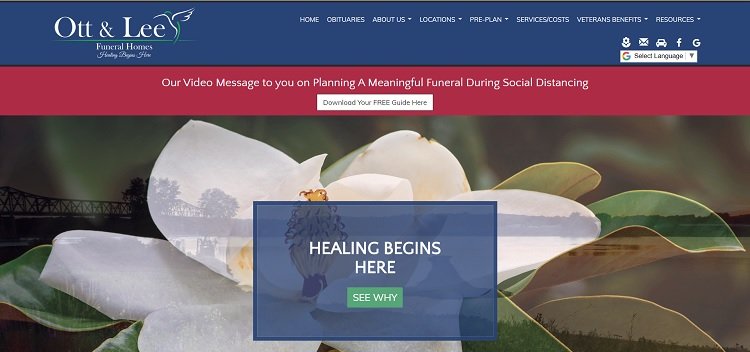 Ott & Lee Funeral Homes added a video message link to the very top of their landing page explaining they will help you plan a meaningful funeral according to social distancing guidelines. They offer a free guide outlining some ideas on helping everyone feel involved, even if they can't be at the actual event. Think about some ways your business is bound to change and how you can still meet your customers' needs and provide options for them.
2. Improve Your User Experience (UX)
Now is an excellent time to create a customer-centered online store and make sure everything functions correctly. People are stressed out. They're turning to online shopping solutions because they either can't or don't want to go to local stores. Do your part to make their shopping experience a positive one.
Start by ensuring your site operates as it should, including smaller components within its layout. Click through all links and fill in and submit forms to test them.
Look at your site through the eyes of your typical customer. Is everything intuitive?
3. Update Your Customers
People feel very uncertain during this pandemic. It's hard to know which stores are considered essential and when businesses might reopen. If consumers need your product or service, they may wonder what your new hours are and how to get in touch.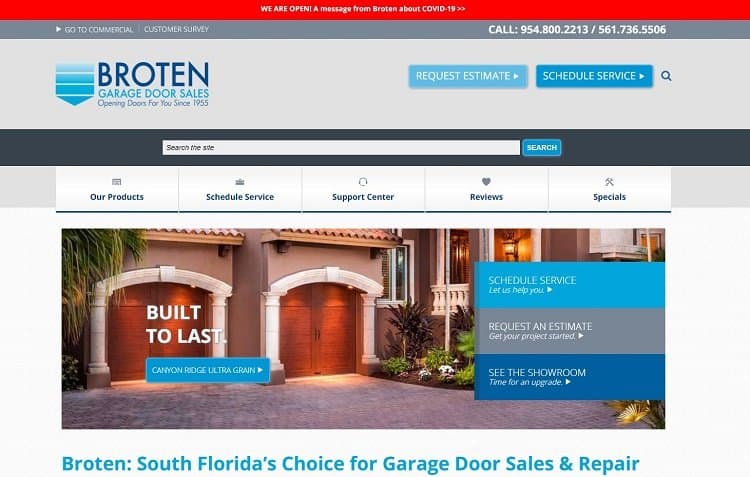 Broten Garage Door Sales adds a header at the top of their page in a pop of bright red. The message reminds customers they are still open and invites people to read more from Broten about how they're handling COVID-19. The brand uses this information to reassure clients they are putting the safety of both consumers and employees first. They explain the process of scheduling appointments and inform you that they allow for contactless installation if desired.
Think about the fears your users have and come up with solutions to keep everyone safe and confident.
4. Update Your Business Hours
Most businesses are keeping shorter hours, so they have more time to clean their establishments every day.
Keep your customers posted on your hours by updating your website. Modify your available times on any other online spots where they're listed, such as social media sites and Google.
Customers need to know when they can come in and pick up an order or what hours you're available for phone calls. Remember to change the listings back when your times return to normal.
5. Explain Safety Measures
Offer reassurance during these difficult times. Explain what safety measures you've put in place and how you're protecting those around you. Choose a set of COVID-19 recommendations and stick to them, but make sure you get them from a valid source. Don't make up your own rules and expect your customers to feel safe. Instead, reinforce what you do with the best and most current scientific standards.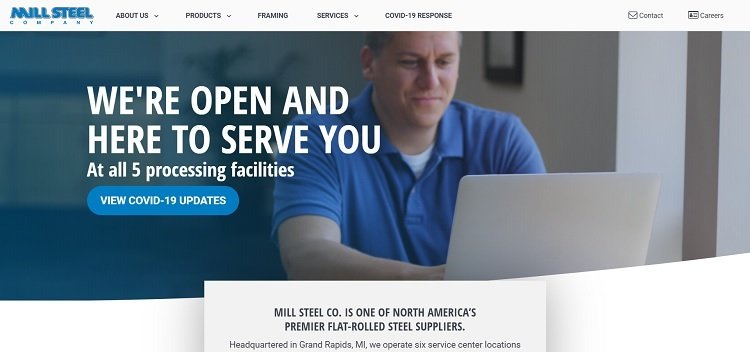 Mill Steel Company added a slide to its hero carousel, highlighting that the company is still open as well as all five of its processing facilities. They then added a call to action (CTA) button inviting site visitors to "View COVID-19 Updates." Placing those safety measures on a separate page allows the company to update their website anytime new recommendations become available.
They make it clear they are following regulations from the Centers for Disease Control and Prevention (CDC) and not just any advice out there. Show your clients you care about protocols and plan to stick to expert recommendations.
6. Speed Up Your Site
Even if your business was already 100% online, more people are at home and browsing the internet than normal. Categories such as home furniture and retail tech are up across the board. Unfortunately, the tourism industry took a hard hit of about 78% less website traffic and 90% less revenue. You can't control how many people are buying or booking trips, but you can control how well your site performs. As the trend improves, you'll be ready with a fast and efficient website.
Talk to your hosting provider about upgrading your account, so the pages load faster. Optimize your images to avoid slowing the download times.
Test everything thoroughly once you've made the changes.
Review Your Site Frequently
During a time in our history when things change rapidly from day to day, make sure you revisit your website often and figure out what needs refreshing. As your protocols transform, update your customers. If your governor announces new rules, share how you're meeting or exceeding those. Get feedback from your buyers, and do your best to keep everyone safe and feeling confident that you have their best interest at heart.