Have you ever wanted to create your course? Or, on the other hand, be part of a learning program? Have you always been attracted to share your knowledge with others or to have your understanding of a specific topic presented to other people?
However, you may have always connected this part with the schools or similar institutions, where, in particular, we have learned things and gotten a degree. Perhaps, it seems to you that only schools or similar institutions can provide such great managed courses.
It seems to be very #hard to create a #course, then manage and maintain it on your own.

You could still use old, traditional ways that are often painstaking and with which you could never achieve that status of the right course. Do not worry. We have all answers and solutions for your struggle.
Let us bring you closer through this article to the meaning of LMS software, but also the best LMS software for 2022, with which all your wishes will become a reality.
What Is an LMS and Why Do We Need One?
LMS stands for Learning Management Systems. We can conclude from the name that these are systems intended for learning and creating any courses. These extraordinary LMS software creators aimed to create a tool that would serve both students and instructors.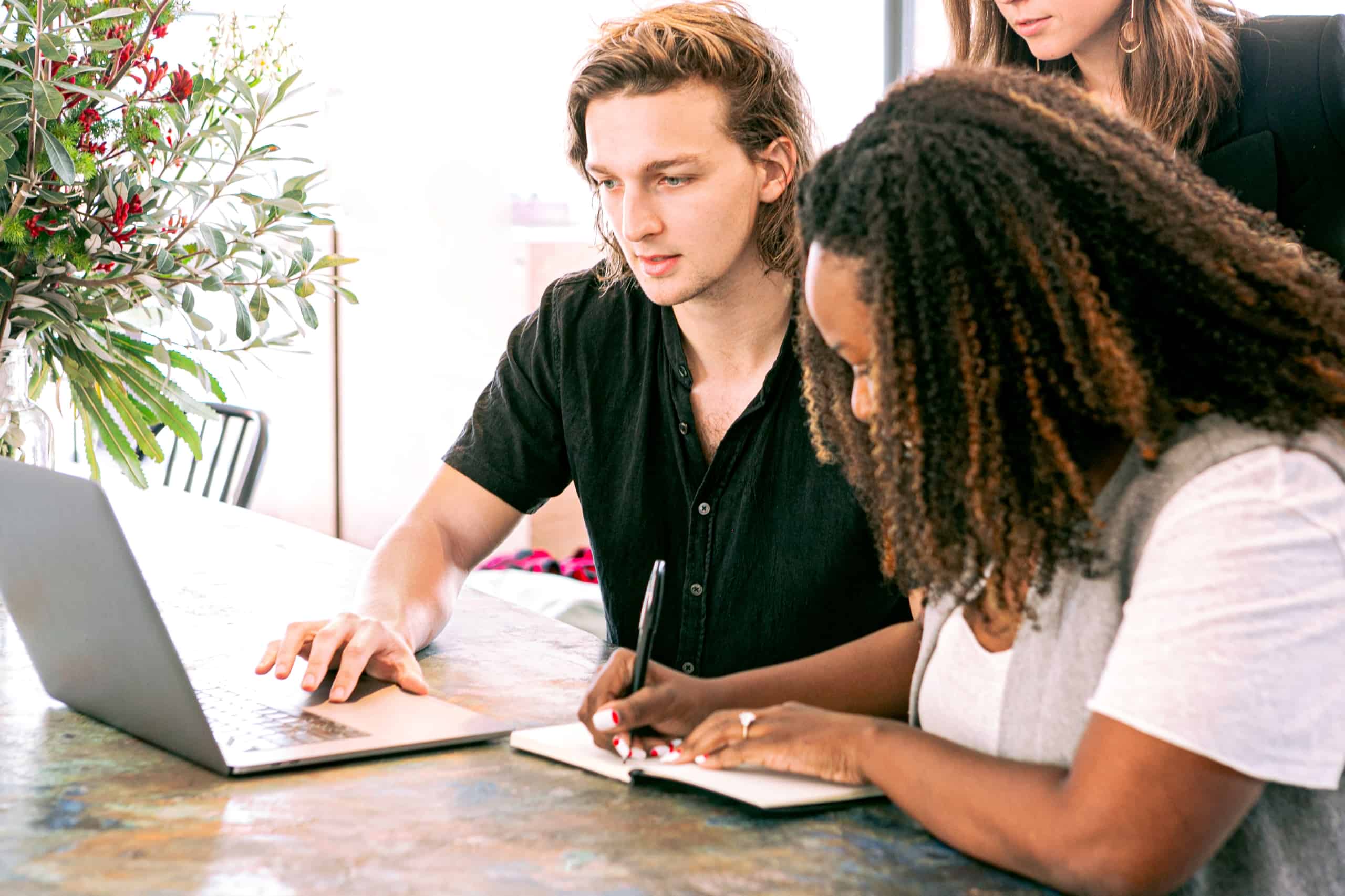 Namely, LMS allows you to create, design, manage and distribute online courses or learning programs. Indeed, it has become a boom in the world among user instructors, but it has also become trendy among students and course participants. Simpler and faster, knowledge travels from instructor to student, and interaction is also enabled.
Today, the LMS has flourished more than ever, and only the sky is the limit. Stay with us and see why you need this kind of software and the advantages of owning it.
The LMS will enable the monitoring and learning, analysis, reporting, and delivery of courses or learning programs to anyone. It is simple. You just need to have the will to pass on your acquired knowledge to others or, on the other hand, to receive the knowledge that is provided to you. If it seems quite simple to you and you suspect that there is a catch somewhere, we assure you that it does not exist and that it has never been easier to create an application, learning program, course, etc.
When we have explained what LMS is and why it was created, below are some of the best LMS tools. We were thrilled by them, and we hope you will be too. Choose the right tool and let your knowledge, courses, or learning programs travel the world.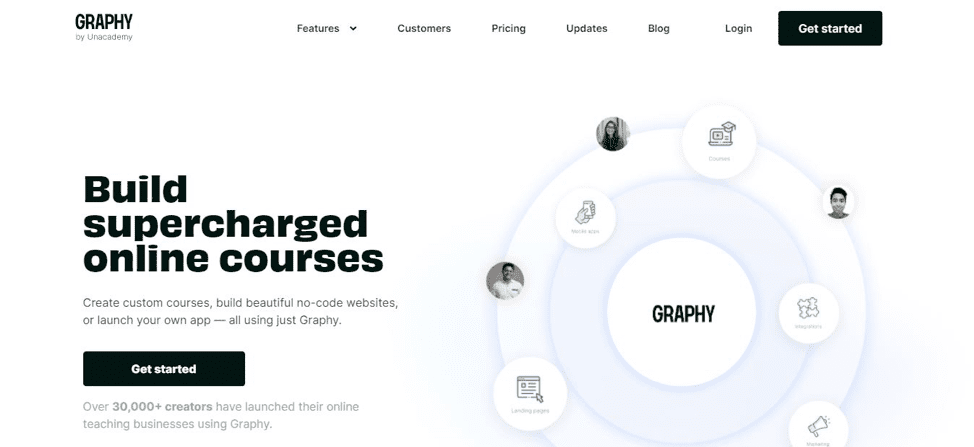 The first choice for the most attractive and useful LMS tool falls on Graphy. It comes with many advantages and characteristics that we will explain later in the article and is considered the greatest potential in the LMS field.
Sometimes it can be challenging to realize everything you imagine, and the path to achieving the goal can be arduous. However, with adequate tools, this path will be greatly facilitated, and it is often said that by choosing the right tool, half the work is already done.
Whether you want to create custom courses, custom websites without printing a single code, or you still have the desire to build an application, with Graphy, it's all made possible.
The fact that creators have chosen Graphy more than 30,000+ times from various fields shows how popular it is and how often it is a sought-after tool. Also, on their official website, you can see many large companies that have chosen this tool for their needs.
Creating interactive online courses will be easy and fun. Everything you want to be a part of your course, Graphy experts already had in mind when they made it. Insert everything from videos, webinars, ebooks, audio, PDF files, YouTube links, Assignments, Certificate, Exams to Scorm / HTML5. 
Your course will work flawlessly no matter where your students are or in what numbers. Define how you want the course to take place, that it can be accessed via a mobile app or the web, or both. Create impressive certificates that will be recognizable in the labor market. Also, security is specifically covered. Content encryption, login restrictions, and device protection make you feel safe and secure.
Another feature of Graphy is the creation of branded websites and mobile applications. Without a single line of code, you can create a page that you will be proud of. Graphy has prepared many templates that you just need to choose and that will fit into the business you are doing. There is no room for concern when it comes to domains, either. With this tool, you can integrate your domain name and place your website under your own name.
Graphy makes it possible to make an app with just one click. Content downloads are limited, but so are screenshots, all to increase security. You will have more credibility and look professional if the app has your name and logo.

We will also mention the integrated payment gateway. This feature gives an extra plus to the Graphy tool. Since you will probably provide some courses for free, and some will require payment, you need to choose a payment method. Graphy gives you the option to choose the international payment network (collecting payments directly to your accounts using Stripe or PayPal.) or by using one of the local payment gateway methods.
Graphy also thought about your marketing and sales tools. From integrated blogs through SEO-friendly platforms, coupons, and promotions to increase sales to tagging events and resources. All to improve your position and sales.
Customization of course content depending on the feedback of participants or students is also enabled. Communication between lecturers and students and interaction is also a big plus of this tool. Students can seek help from teachers, talk about what is wrong with them, or exchange opinions and be on two sides of the world.
And finally, security. One of the security elements is access control by logging authentication, content encryption, token protection, and digital rights management. Protect yourself from potential unauthorized access and malicious attacks with SSL authentication and device restriction. With content delivery without buffers, all participants will always be able to access the course without any delays or issues.
Features:
Multimedia course
Branded website & mobile app
Integrated payment gateways
Marketing & sales tools
Community & engagement
Most secure platform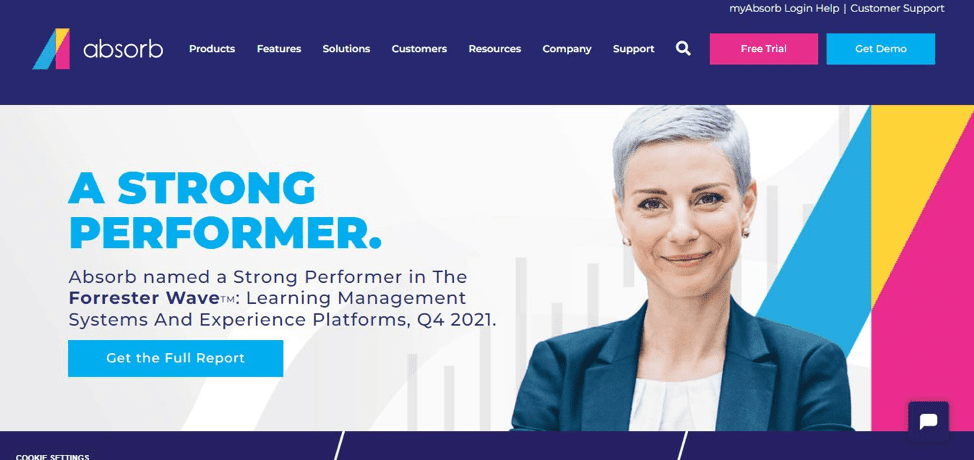 In addition to the exceptional Graphy, below we will show you other tools that you can also try. Absorb LMS is one of them. One of the features of this tool is that it will provide you with content libraries with award-winning courses that will take social learning to the next level.
Characteristics of more interactive content, components of micro-learning in courses, but also the Smart Administration module are also worth mentioning. The module serves for planning and automation that administrators can use.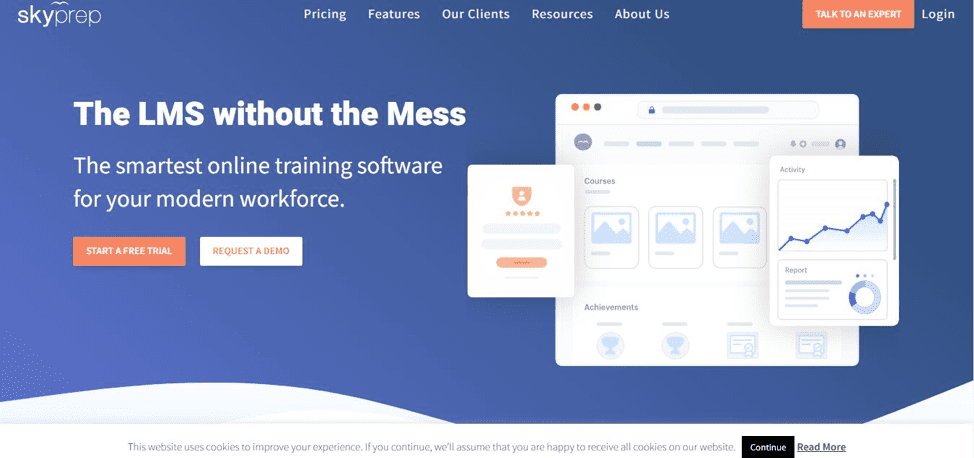 SkyPrep is the third LMS software we present. This LMS solution will enable you to hold online training with SCORM compliant and optimize training. Like previous LMS software, it was created with the idea of creating courses and learning programs. In addition, we will mention the feature of keeping files or applications, making the course available whenever you need it again.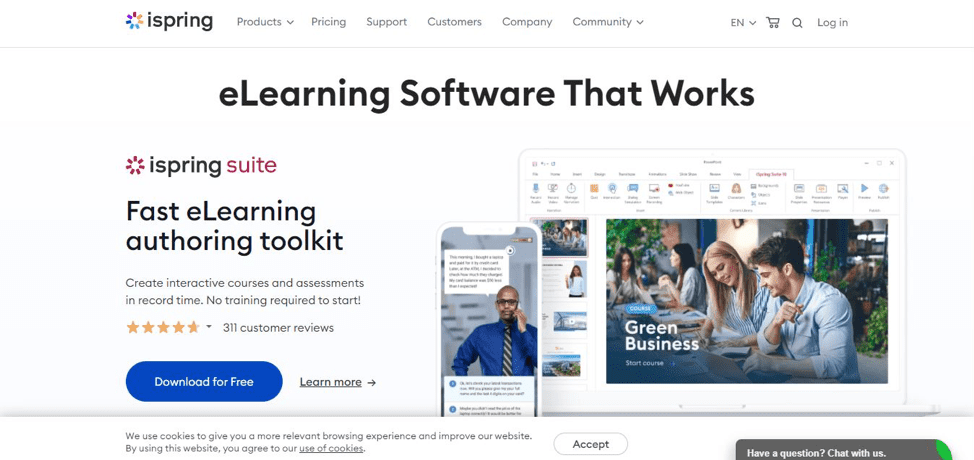 For fans of cloud realizations, here is the LMS software in the cloud environment – iSpring Learn LMS. With this buddy, you get the benefits of detailed statistics for completion rates or individual performance reports. It is very easy to use and can be used via the cloud from desktop, Android, and iOS devices.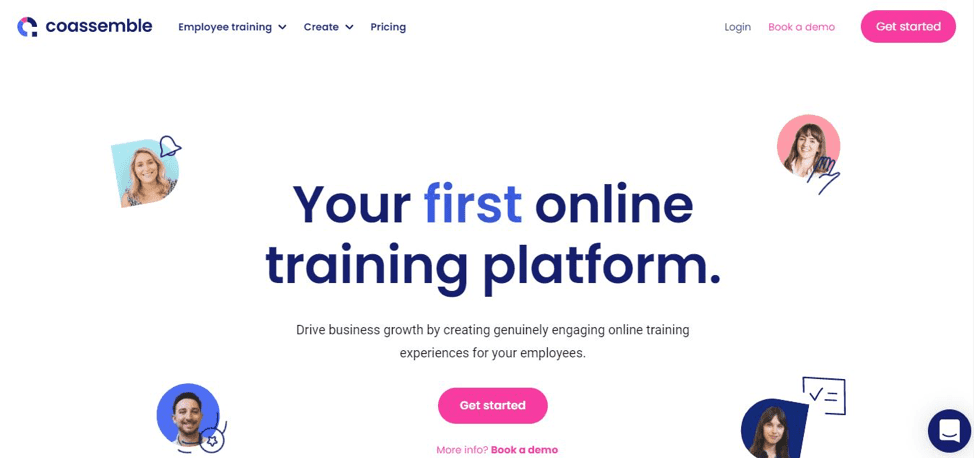 We are closing our search for the best LMS software for 2022 with Coassemble software. It is truly a tool worth mentioning with over 40 free templates, ease of use, and the ability to create your training programs. In addition, it will allow you to conduct training and review progress reports. In addition, for better integration, Coassemble works perfectly with Zapier, MailChimp, Slack, Gmail, etc.
Conclusion
There are several solutions on the market that you can use. Still, we have selected the best among the best for you. Once again, we would mention Graphy as the solution that offers the largest selection of LMS capabilities. By choosing the Graphy tool, you get an end-to-end learning platform for content creators.
If you care about the domain, don't worry. Graphy has been taken care of that, and this tool already comes with the ready domain. In addition, 24/7 support is what it also adorns and makes it even more popular. You have the tools you need to start the implementation and start the course that will be talked about.