To say eCommerce is the future nowadays seems redundant, because the future is now, as the popular saying goes.
The #retail market has been on its knees for a while now and the current global pandemic (of all things) we're all experiencing could be the final nail in the coffin that could turn it into a fringe market if that.

As a more than perfect substitute, eCommerce has flourished and expanded exponentially in the last decade with the rise of global internet availability and speed. Because of this, running a business that centers around sales can't function without a webshop as a complement to the retail store in the least, or the singular selling platform as the usual practice.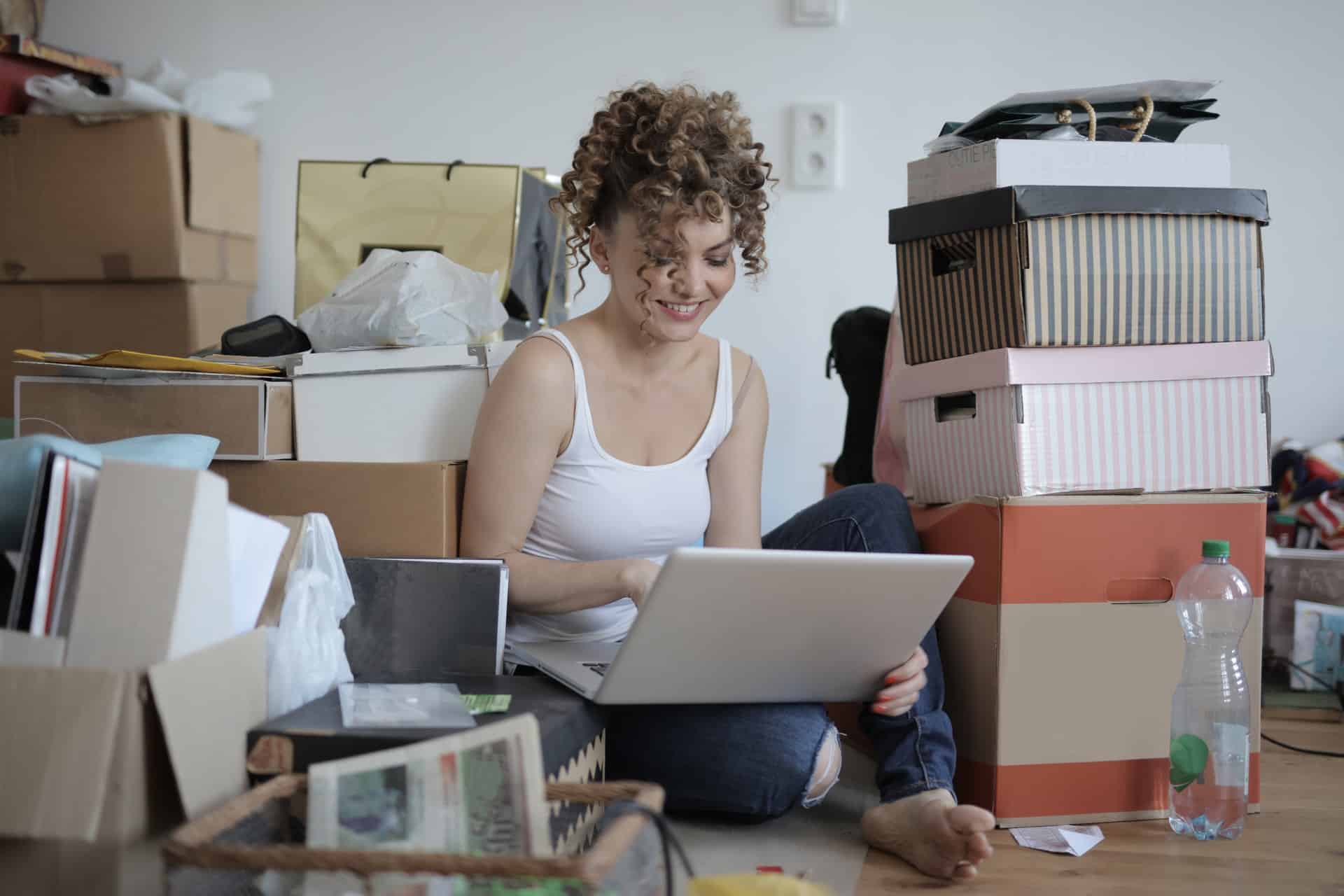 The reason for this switch in market presence is obvious if you think about it. Once the infrastructure was already there, the costs of running a digital business, as opposed to a physical one, are glaring. On one hand, you must pay rent/purchase space, hire staff, and constantly switch out goods if they're seasonal (fashion, tech gadgets, etc.) and, in most cases, you'll have times when the store is simply closed. On the other hand, you have to secure only warehousing (which can be anywhere in the world) for your goods, no retail staff is needed, just those that maintain your site (and even that you can outsource, or do yourself), your entire stock is always visible (i.e. you can just add new items and never have to remove old ones) and crucially, you're always there for your customers.
Every time they feel like shopping, they can do so in just a few clicks from the comfort of their home – even if everything else can be debated about (personal approach, you actually see the goods in person, etc.) this is something retail just can't match.
Now that we've quickly informed you on the importance of having an eCommerce platform for your business it's only fair to also provide you with a solution.
Because webshops have become so important, there's also a saturation of services, that let you create your own. One that we've found does a great job in every aspect is SmartSeller.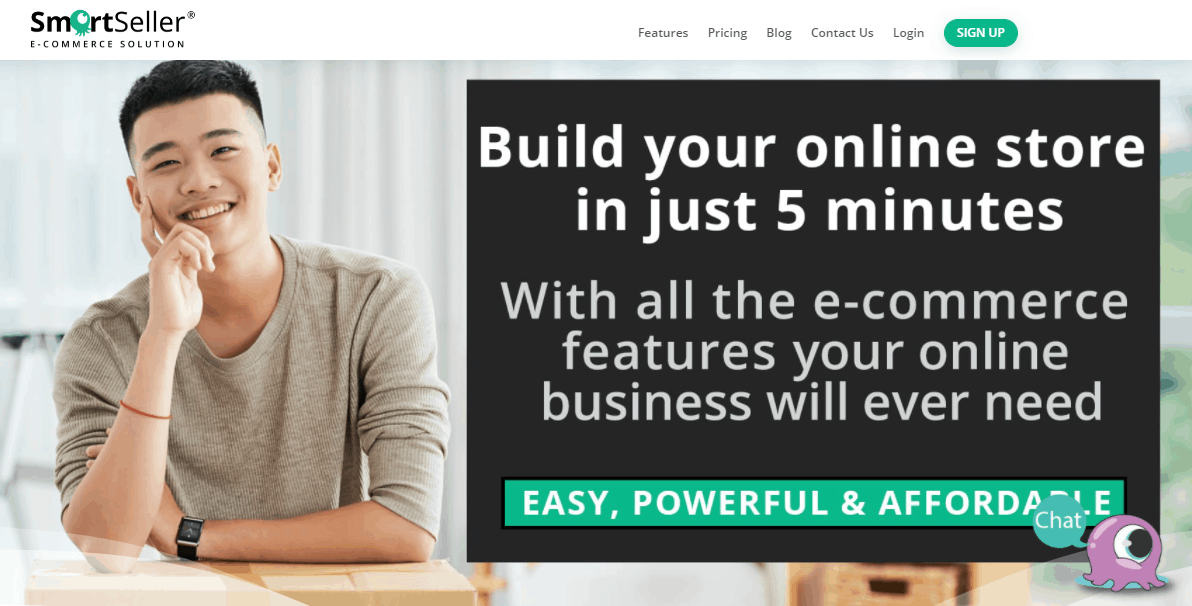 Make it look the way you want
Setting up your first webshop can be a frightening task. Most notably, you can be at a loss where to begin, the start is always hardest after all. Well, SmartSeller has you covered with over 50 professionally made templates that you'll be able to use in a flash. Each of them can be further customized to fit your preferred style, but even as-is, you can work your content into them with no coding required.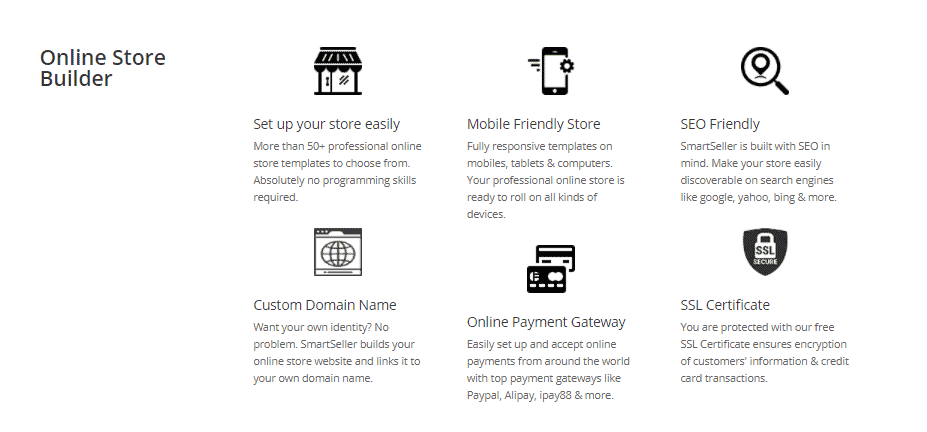 Not only are they great to look at but are all completely responsive, meaning each will automatically fit on every screen. Much like how eCommerce is replacing retail, the same could be said for mobile browsing replacing desktop browsing.
We've all experienced this; you spend much more time on your phone than your PC or laptop most days. And since using the same user interface for mobile display as you're using on a desktop is never a good business decision, this feature must be considered as one of the essentials.
Build up your brand awareness and SEO rating
While setting up your store it's important to think ahead and start building brand awareness right away. Your ultimate goal is for your business to be recognized without even reading the name. Short-term, however, you'll look to build up everything you're putting out under the same "umbrella".
SmartSeller helps with this because it allows you to link your store to your own domain, which in turn enables both of them to build one another up simultaneously, instead of having to fight for their share of the market separately.
Building up a singular brand also helps with your SEO ratings because keywords and keyphrases are shared, and since there's safety in numbers, many more of your pages will pop up on top of search results lists.
Payment and security
Outside of adding things to your cart, the most important data your customers will be giving you is their payment information. Understandably, people are always cautious when spending their money so it's a good thing that your pages will have an SSL certificate that lets your customer know their data is safe. After the security has been taken care of, you'll need to set up the payment methods.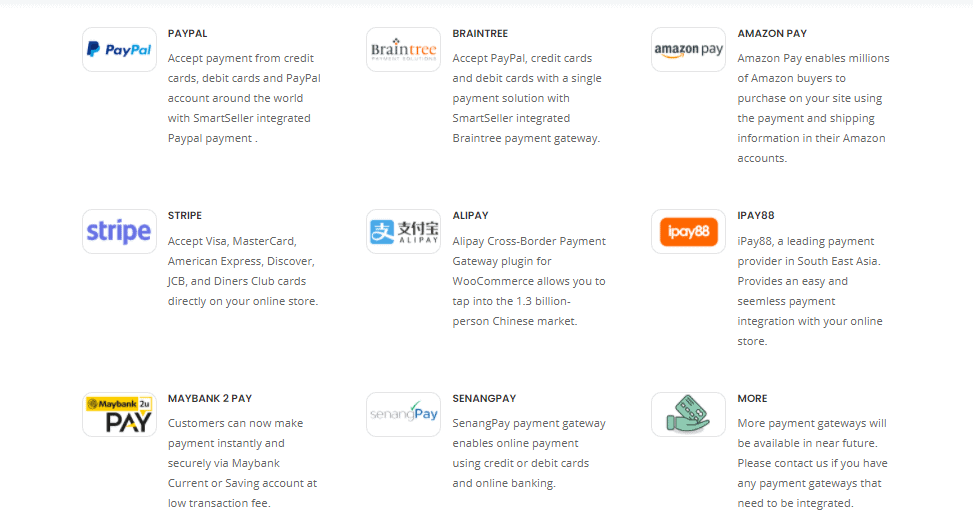 There are many online payment services and while PayPal is the most common one, you can never discount customers wanting to use something else. Thankfully, SmartSeller has you covered here as well with integration to most payment services, not limiting you (and your customers) to the few popular ones.
Not having to open up new accounts just to make payments on your site (instead of using something they're already accustomed to) will go a long way in terms of customer satisfaction.
Manage your products
Up until now, we've primarily put our focus on the frontend of your site – brand identity, customer approach, etc. However, there's the whole backend part that's rarely seen from the outside, but it makes the whole operation run.
Keeping with the theme of the platform, all backend features are at the same time simple to use and robust enough to handle even larger shops.
With shops, retail or digital, it's all about products, you have to sell something after all. The more products you have, the harder it is to keep them all organized, so you'll need to put the product listing panel SmartSeller provides you with to use, right off the bat.
Your products along with their description, quantity, price, etc. are all in one place – it's your digital warehouse, keep it clean.

The dynamic of listing new products will undoubtedly vary from time to time, coming in single digits one month, and triple digits the next. Since inputting products into your database is still done manually every help you can get is more than welcome. In this instance, it's the ability to import and/or update any number of products directly through CSV files which significantly cuts the time needed to finish this tedious task.
We've already touched on the importance of branding and it can be further expanded upon by simply adding watermark signs to your images. This way any time someone's looking at an image from your pages, they'll also be seeing and noticing your brand. We can't stress enough how important it is to just be present in people's minds (especially until you become a household name) all the time – the moment they forget about you is when things start to turn south.
Manage your customers
Managing your products is only one half of backend management, the other half is managing your customers. It all starts with a customer database. Usually, webshops ask for registration before you can use their services, and this will immensely help you build up a database quickly. You can then use the information you have to personalize their shopping experience on your site thereby making it more likely they'll become repeat customers.
Speaking of registration, it's important to note that signing up with an email account nowadays isn't the only way. More and more sites are implementing social logins (these services have already verified your customers so, you can just "take their word for it") and so should you.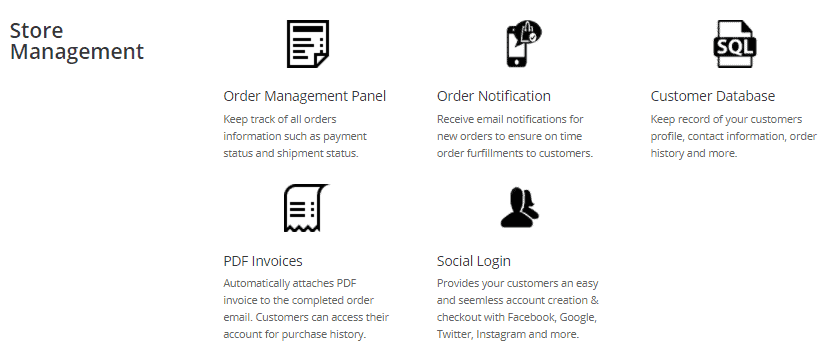 With just a few clicks you'll get to enable checkouts with the likes of Facebook, Instagram, Twitter, etc. To complete the order your customers will need confirmation. SmartSeller has an automated PDF invoice feature that will make you forget about the confirmation process since you won't have to do almost anything at all for it to work.
You've done everything right and the orders have been placed, however, your work doesn't stop here. You need to ensure the delivery is done on time, as advertised. Helping you in this endeavor is the order management panel and order notifications. Both have the sole purpose of minimizing the chances an order is missed. A hundred percent success rate is something you should always strive for and these will without a doubt be crucial for the task.
Run the numbers
In order to establish and run a successful business, digital or not, you need to track the stats. They'll let you know what to focus on, what's working and what isn't, and will even allow you to make educated guesses about future actions you can plan.
With SmartSeller, all of this data is found within the dashboard. Stats concerning both your customers and your products are right there at your fingertips enabling you to create the perfect strategy that encompasses both.

For pure site/page data there's the Google Analytics integration and for maximizing your social media presence you'll get to use Facebook Pixels. The former lets you study your visitor's habits aside from their shopping habits, while the latter lets you optimize your ads that will in turn boost sales and make it easier to stay within your budget without waste.
Expansion
The internet is a big place, so why limit yourself to just your site, when you can promote and sell your products elsewhere as well. SmartSeller lets you sell your product on established platforms like Amazon or eBay (and more), simultaneously updating the products there as they're updated on your site.
The same can be said about social media platforms where you can easily share your top products to raise their demand even higher.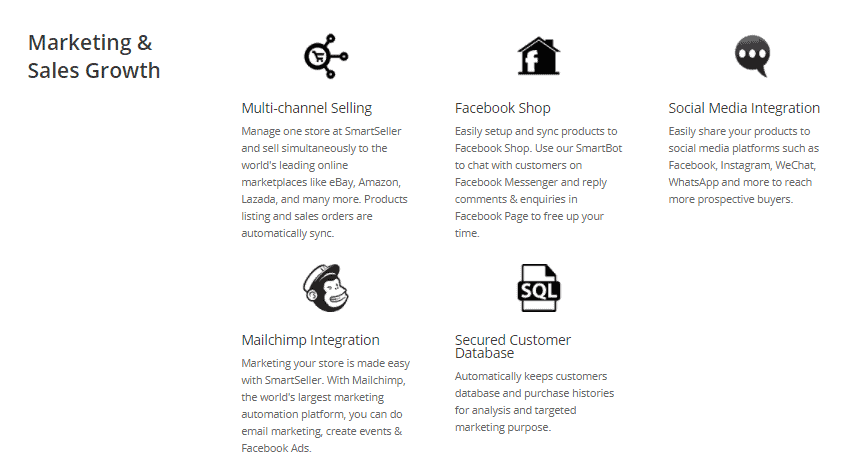 On top of just sharing, you can use Facebook Shop as your platform as well, which will enable you to reach those that prefer Facebook as their go-to place for more than just socializing.
If you're looking to start an email campaign there's no better option than MailChimp, the world's most commonly used automation platform. With it, you'll get to create the aforementioned email campaigns, ad campaigns, newsletters, and more – all included within the MailChimp integration.
Promotions
Sales aren't as straightforward as they once were, i.e. you have a product – you sell a product. There's much more to it now. Take pre-order for example, you're essentially buying the promise of something instead of the product itself (at least until it's available), but some products are just so enticing that customers can't resist.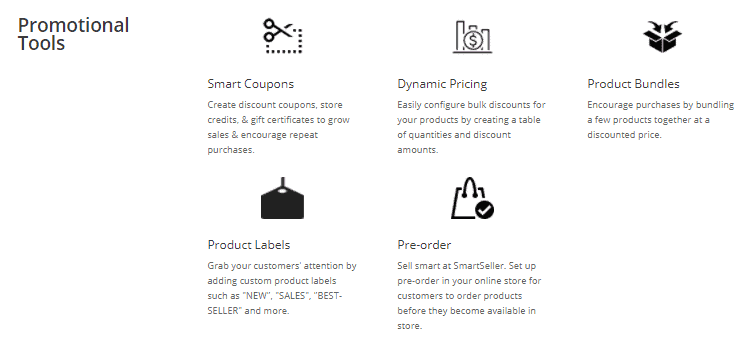 To boost awareness about a product, look into attaching labels to it ("new", "bestseller", etc.) because these will surely attract views. Getting creative with products is also always a good idea – put them in bundles, give away coupons, or create bulk discounts when buying multiple items. All these choices can be utilized to boost sales of underperforming products, or further increase sales of top-selling products and all are available through the SmartSeller platform.
Affiliate program

A rather unique feature of SmartSeller is their affiliate program. In essence, it functions based on referrals, more specifically, you'll be able to earn a commission when someone you've referred subscribes to one of the plans. It's nothing groundbreaking since we've all at one point or another seen this type of business practice, but it is refreshing to see it with this kind of service.
The key selling point on the affiliate program is the fact that it provides a substantial monthly passive income, or in other words – you'll be making revenue without having to actually do anything. Now that we've gotten your attention, let's break it down.
The first thing worth mentioning is that there is no limit to the number of referrals you can make – you'll get a commission for each one. The commission is recurring (monthly) and amounts to 25% of the subscription plan the new user has opted for. This goes on for as long as the subscription remains active.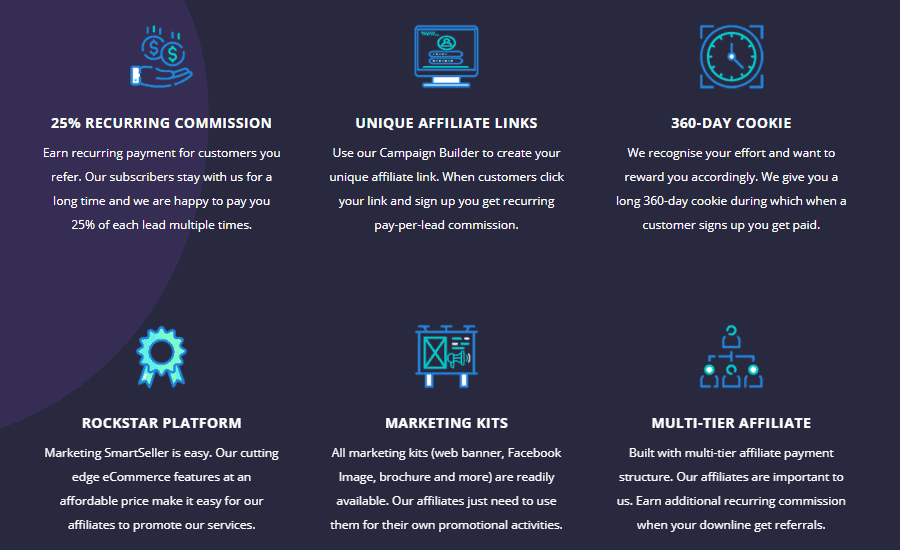 By now you're probably thinking – great, but how do I get others to subscribe. Have no fear because SmartSeller has you covered.
First of all, you'll be outfitted with unique affiliate links you can publish on your pages to earn a recurring pay-per-lead commission, along with a 360-day cookie that gets you paid every time a customer connected to your site subscribes. Secondly, advertising for SmartSeller is already available. From banners, images, brochures, and every other marketing kit you can think of, everything just waiting to be incorporated into your pages, you won't have to create anything yourself.
Naturally, you can also use all the features that are available to you for promoting your site to also promote SmartSeller.
Best of all, the affiliate program is not one-note but instead offers a more enhanced multi-tier affiliate structure.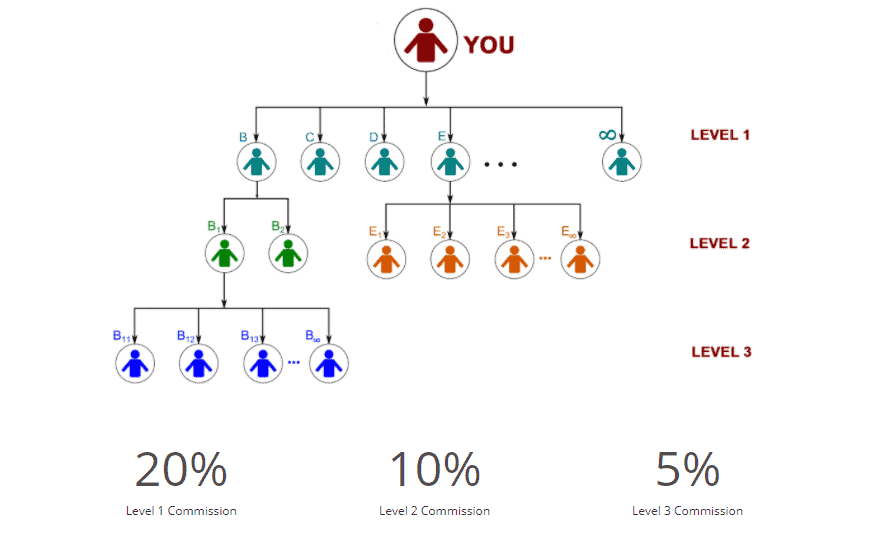 When the downline you've referred gets further referrals you'll also gain a commission. Of course, these commissions will be smaller than those that are directly yours, but it still represents an additional passive income.
For a better understanding of how multi-tier affiliates work we urge you to check out some great real-world examples on the SmartSeller pages.
Conclusion
eCommerce is something each business that strives to be successful has to take into account. That goes double for new businesses that haven't made a name for themselves yet.
SmertSeller provides you with an all-encompassing, robust platform that's full of easy to use features that will ultimately provide you with all the necessary components to fulfill your goals. On top of that, you get the chance to be part of the uniquely rewarding affiliate program that will give your revenue an additional bump each month.
All things considered, if you're looking to start a new webshop, or improve on an existing one you'll be hard-pressed to find a more complete solution than SmartSeller.