In the last decade or two, the world and the way we do business has become increasingly digital. Where you would once go into your local store, today almost every company has an online presence. Many young people will tell you they don't want to talk to someone face-to-face. Instead, they prefer to live chat, text messaging, social media, or email.
About 52 percent of people say they're more likely to buy from a company that offers live chat, but 47 percent of those surveyed haven't had a positive experience. Businesses should ensure their levels of customer service are just as high via the online platform as any other way customers reach out to your brand.
You might wonder if an industrial website needs a live chat option.
The simple truth is that any type of business that interacts with customers in any way can benefit from having live chat on their site.

However, there is a right and wrong way to offer the feature.
1. Offer Convenience for Customers
If someone is already on your website and they have a question before placing an order, it is much easier for them to ask on live chat rather than walk away from the computer and make a phone call. The person may access your site via a mobile device while in public and not want to speak and disrupt those around them. A live chat option offers a silent way to get answers immediately.
FireRock offers masonry products and building materials for the construction industry. If you aren't quite sure what you need, you can talk to a product expert online. It also offers access to local dealers if the customer prefers working with someone on a regional level or wants to see samples of products. Note the pop of color for the call to action (CTA) to talk to an expert.
2. Save Money
Studies show live chat is a more cost-effective option than some other forms of customer service support.
Implementing live chat into your industrial website may require support agents who take on multiple roles. You may not have nonstop requests for live chat, but when you have one, you should respond immediately. Train your reps to service customers via email, telephone, and live chat, so they are adept at all forms of communication.
That way, they can jump in and answer questions as well as solve problems as needed.
3. Use Live Chat as a Pop-Up
When there are several options on a page, it can be challenging to know where to turn for help. When the live chat comes up as a pop-up and proactively asks if the customer needs assistance, it can serve as a prompt that increases conversions. Place a pop-up chat to the lower-left corner of the screen, as this is where most of them appear and meets customer expectations. Include a way to close out the pop-up if the person doesn't need a live chat.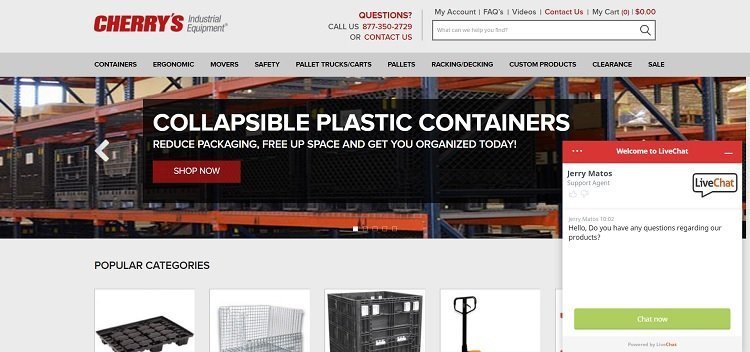 Cherry's Material Handling features a live pop-up chat on its landing page. When you visit the website, a box appears in the lower-left corner that says, "Welcome to Live Chat." You are given the name of the support agent online and a note that reads "Hello, do you have any questions regarding our products?" The live chat CTA reads, "Chat now." Everything about the box encourages communication and engagement.
4. Capture Introverts
It's been estimated in the past that introverts make up as much as 50 percent of the U.S. population. People who are more quiet and self-reflective tend to avoid situations where they have to engage with people they don't know, including phoning customer support.
Reaching out to a stranger is very uncomfortable for some people. Offering a live chat solution removes some of the stress because it puts a screen and keyboard between the consumer and the tech support person.
5. Remember Mobile Usage
More people are using their smartphones to access the internet. About 48 percent of the total traffic online is now from mobile devices. Make sure your live chat works as well with mobile devices as with desktops. If not, you may want to offer an SMS option for smartphone users.
For high volume SMS messaging, you can consider using an SMPP gateway API. If you're wondering what SMPP is, it's considered the industry standard for sending SMS to network providers. The Short Message Peer-to-Peer (SMPP) is a protocol used by the telecommunications industry for exchanging SMS messages between Short Message Service Centers (SMSC) and/or External Short Messaging Entities (ESME). This type of gateway allows you to send your bulk text messages fast and reliably.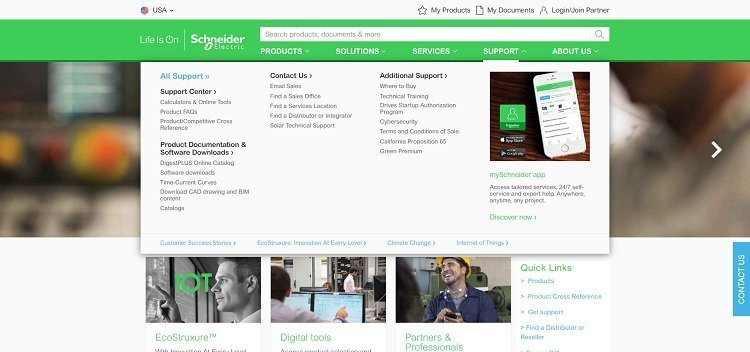 Schneider Electric offers a mobile app that allows customers to get immediate responses talking to a live agent via its mobile devices. While it doesn't yet offer the option on its desktop site, it does talk about it under the support tab. It also provides a support center with multiple options for contacting the company.
6. Offer Other Options
What if a customer has extremely technical questions that the live chat rep isn't equipped to answer?
You should offer a toll-free phone number, contact form, and even an email where they can seek answers to complex problems. A FAQ page is a good idea for basic technical questions, but if the issue is more involved, then provide a way for the customer to get personalized help.
Is Live Chat Right for You?
Visit two dozen industrial websites, and you may not see a single live chat option. The manufacturing industry is a bit slower to embrace this technology than e-commerce and some other sectors. However, that doesn't mean there aren't many advantages to offering live chat as a customer service option. Anything you can do to set your business apart from others is a positive thing to do. If you have a way of operating the online chat lines, then it's an excellent option for your site.