Thanks to the Covid-19 pandemic, employees, executives, and board members have been forced to adapt to their working conditions to remain safe and healthy. The communicative relationship within companies changed due to these extraneous circumstances, and now these organizations are turning to board portal software to conduct everything from an online board meeting to collaborative work efforts.
When a board of directors can function as well as possible, they can #support the #management team in running the #business.

This support then trickles down to employees, which makes reliance on a paperless meeting solution these days more necessary than ever before.
Step Forward, the Virtual Boardroom
The virtual board software is imperative if a company is going to thrive in times when working in the office is less than practical. It can also help reduce costs and overheads.
In the next sections of this article, we'll be covering some of the best board portals to simplify communications between executives and board members. If you'd like to know more about each board management software product, check out the providers' official websites.
1. ContractZen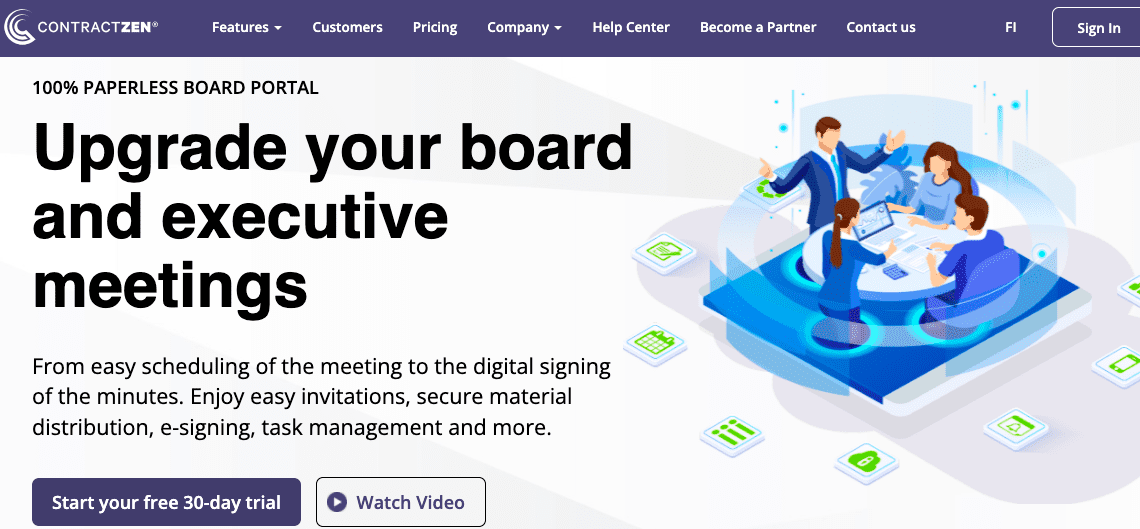 ContractZen is a comprehensive cloud-based governance software that allows board members to carry out many responsibilities with ease, including entity, board, and complex contract management. This board portal also allows digital signals and offers a virtual data room service. With this software, management can assign follow-up tasks after board meetings and keep track of all minutes with ease.
ContractZen key features
Contract management capabilities
AI-enhanced search options
Legal entity management
Dynamic filtering
Built-in VDR
eSignature services
Document generating
ContractZen pricing
Three monthly packages:
Standard: $9.50 per user
$1,800 per month for 250 users
Enterprise plans
Contact ContractZen for more information.
2. Diligent Boards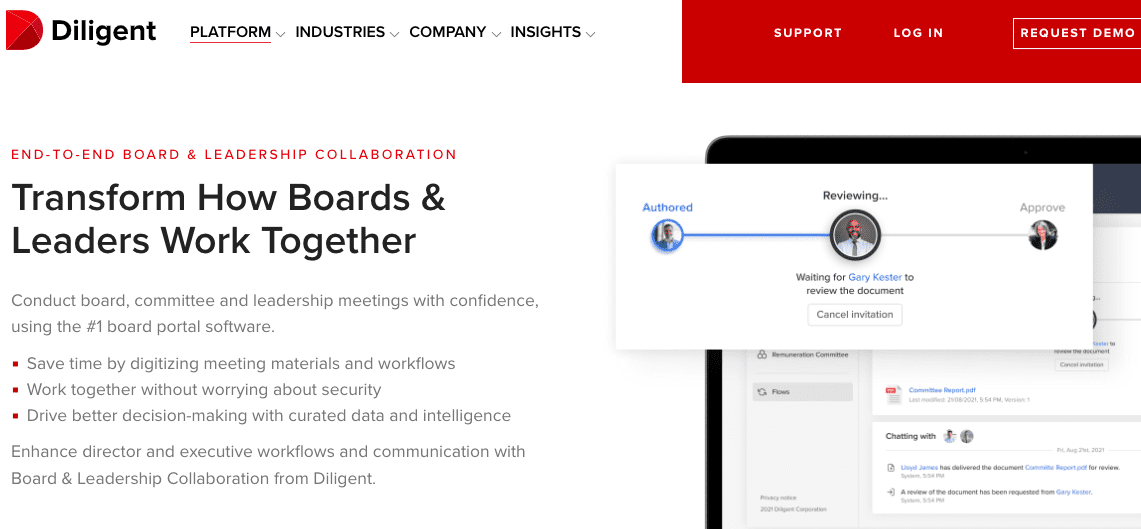 Diligent Boards is board portal software that facilitates communication and workflow between executives, directors, and other board members. The platform offers numerous features to help members of a company work together remotely with ease.
Using intelligence and analytics, Diligent Boards offers insights and workflow solutions to help executive and board members make better decisions for the company.
Diligent Boards key features
Virtual meeting capabilities
Schedule planning
Dedicated channels for sensitive material collaborations
AI and analytic features to better present data
Automation for certain processes
Diligent Boards pricing
Contact Diligent Board for demos and more pricing information.
3. iBabs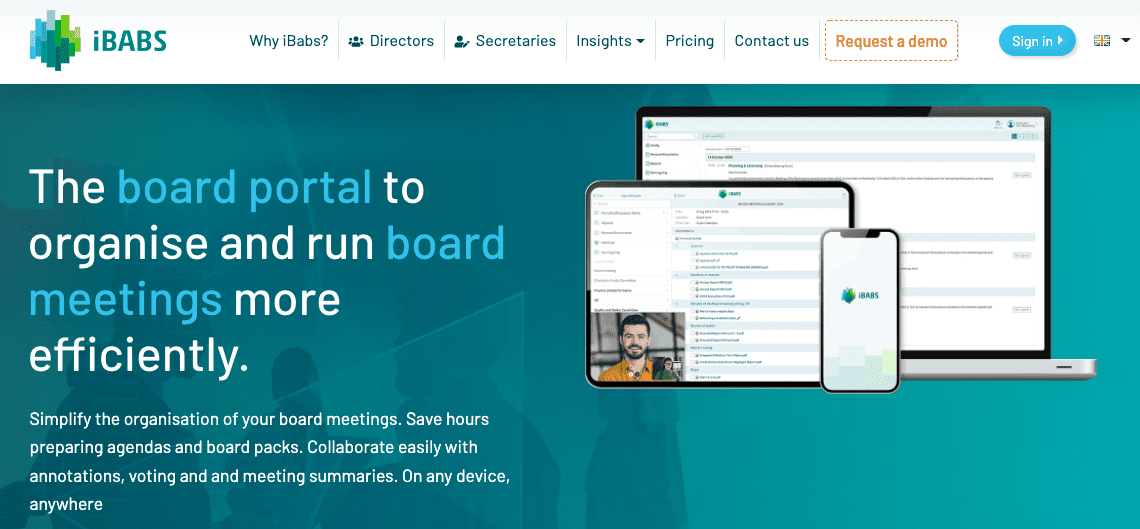 iBabs is a board management tool that lets organizations work efficiently from any location. Executives can record minutes and create work packs quickly. In addition, iBabs allows collaborations and votes, and provides meeting summaries on any device. Board members can keep an eye on agendas, goals, and company decisions as well.
iBabs key features
Instantaneous board pack creation and delivery
Document access from any location or device
Offline work supported
Automatic emails and push notifications
Control over approval process
iBabs pricing
Contact iBabs for more pricing information.
4. Govenda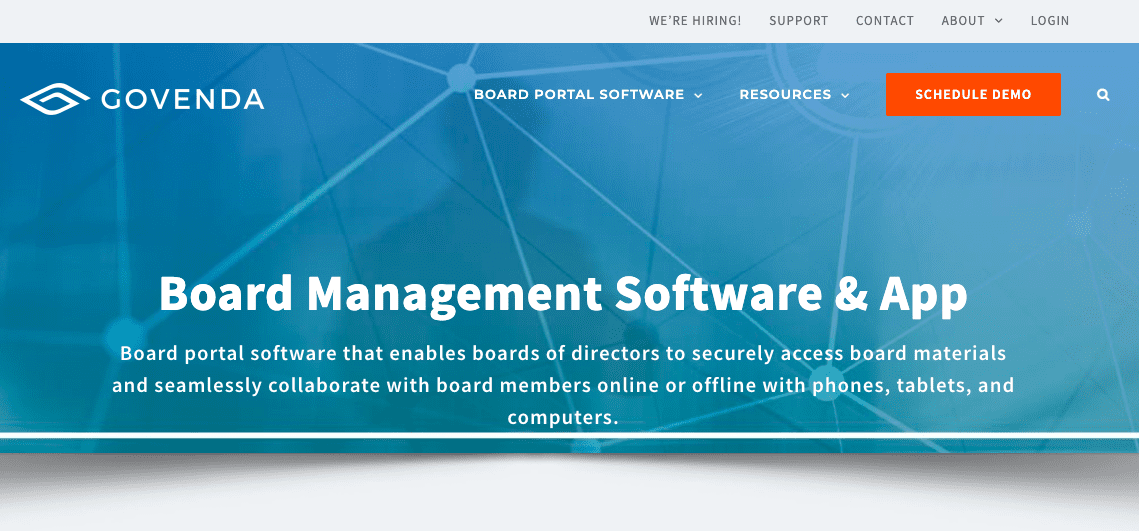 Govenda is a board portal that lets board members and executives access sensitive documents and collaborate offline and online wherever they are and with whatever device they choose. This software lets managers and executives save time and work more efficiently, streamlining many processes and allowing votes and digital signatures quickly.
Govenda key features
Electronic board book creation
Board roster management
Sensitive document management
In-depth compliance management
Govenda pricing
Contact Govenda for more pricing details and to request a demo.
5. OnBoard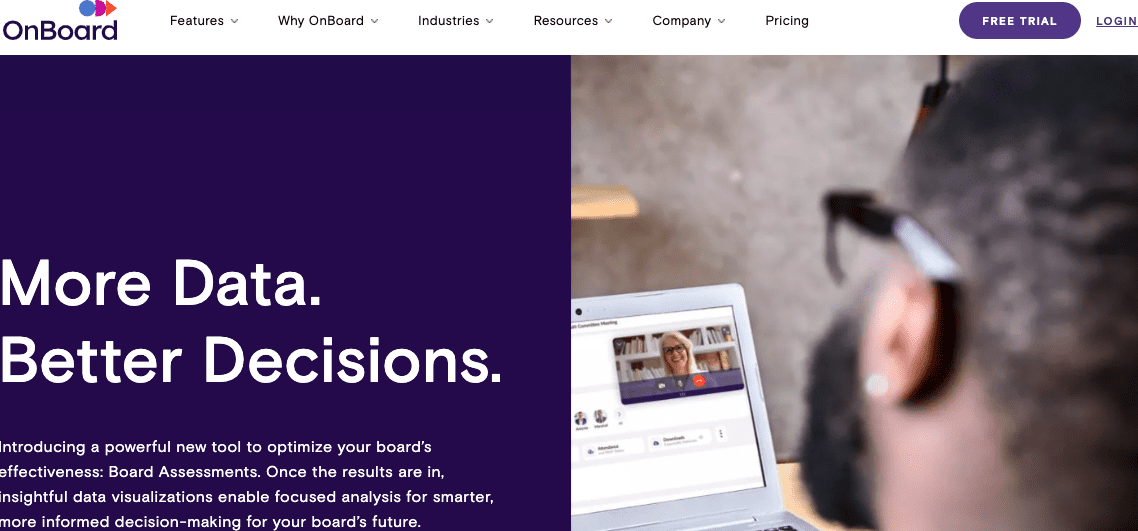 OnBoard is a board portal designed to act like the board itself. The software's focus is to provide automated solutions to various board processes and reduce complexity, so board members can focus on the issues important to their stakeholders. In short, OnBoard takes the reins on numerous time-consuming protocols, so board members can make decisions quickly and take affirmative action in other areas.
OnBoard key features
Drag and drop for minutes processes
Board evaluation capabilities
Real-time conference analysis
Track, review, and organize approvals and votes
Skill tracking for executives
OnBoard pricing
Contact OnBoard for more information on their pricing.
6. Appcues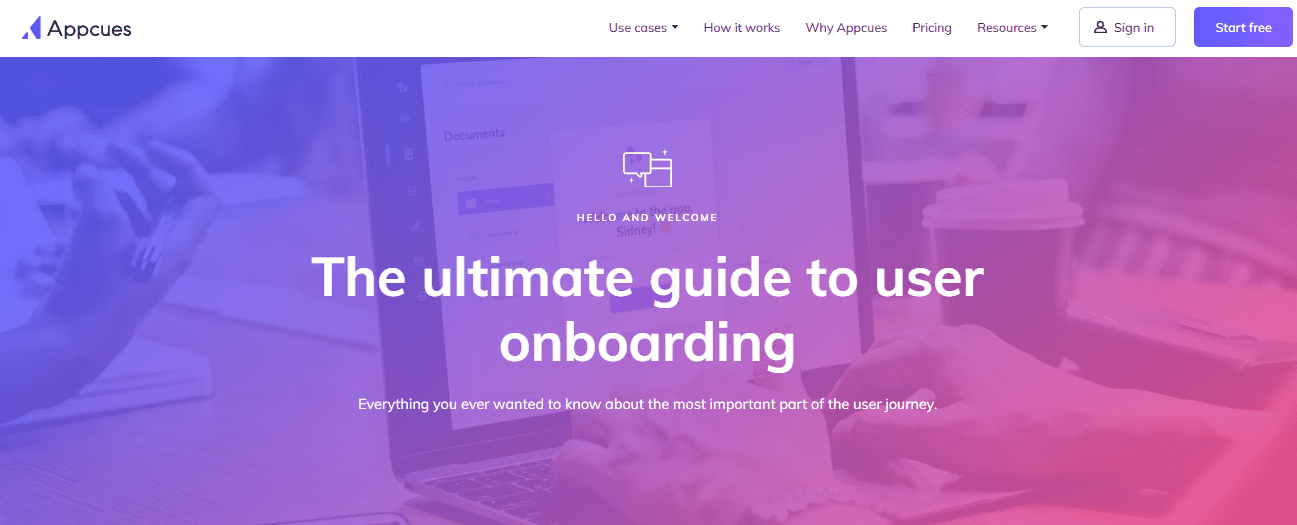 Appcues empowers executive and board members to measure and improve product adoption—without a developer. This tool also allows features adoption, data insights, and triggering announcements. Make sure to check Appcues' in-depth guide on user onboarding as well.
Appcues' key features
User onboarding
Feature adoption
Insights
NPS & Surveys
Announcements
Appcues' pricing.
Visit Appcues for more pricing information.
Final thoughts
As you can see, there are numerous tools available to simplify executive and board member communications. However, there are many others on the market. Do some research and find the right software for your company. Working remotely does not mean inefficiency or less productivity when you have the right tools at your disposal.