Your business is growing fast, but your processes are not growing fast enough. It happens. If your business is in a stage of rapid growth, you'll need to be on your toes when it comes to operations and streamlining how you work.
A large part of #business growth comes from your #people, however, another comes from your #tech.

In this article, we'll explore the top three SaaS tools you probably haven't heard of to help your business grow in 2022.
4 Secret SaaS Tools for Business Growth in 2022
An average company with 250+ employees uses more than 100 SaaS tools, on average, and 70% of CIOs 70% state that agility and scalability are the top motivators for using SaaS tools. There's no doubt that SaaS tools can do wonders for your growth, but finding the tools that go beyond the traditional SMB tech stack can be a chore, especially if some of these tools are new in the market and yet to win a rightful rank in Google searches.
So, here we are. You won't find Slack, Airtable, or Notion on this list. Instead, we're sharing three lesser-known SaaS tools to try this year.
Happy Scribe: for Transcribing Video to Text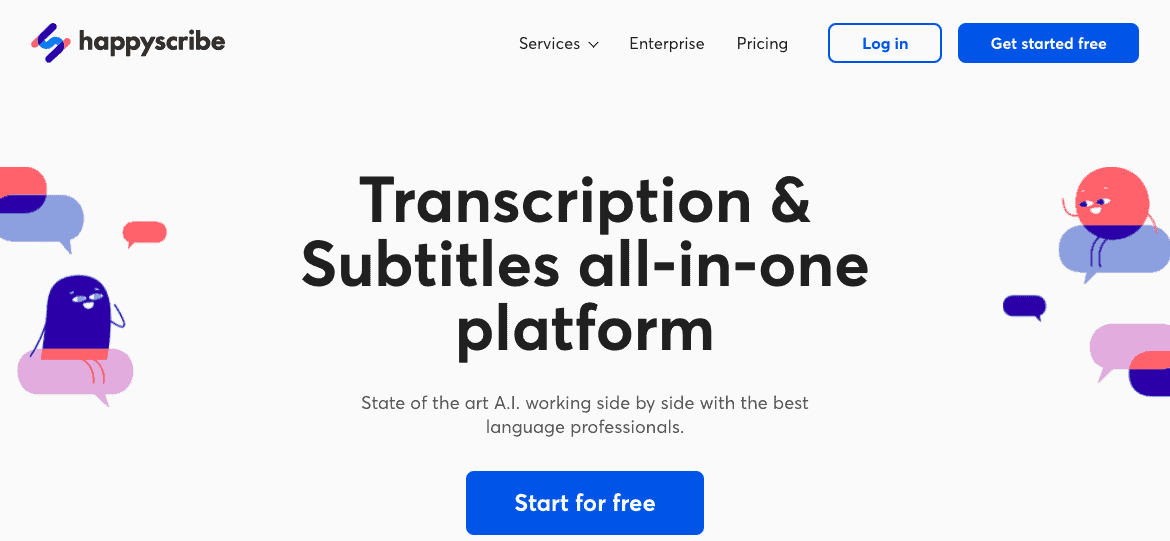 There are 13 areas of diversity for businesses to be conscious of with their content. Plus, 86% of people that use video in their marketing strategy say it's been effective for generating leads. No matter what niche you're in, video can generate results. Yet, video content can often exclude certain people. For example, those with visual impairments, hearing difficulties, or those in geo-locations with a poor internet signal.
It means that despite businesses making more of an effort to create video content, they're also needing to create inclusive versions of this content that enable their brand reach.
Now, you can transcribe a YouTube video to text with Happy Scribe. Doing so will ensure that your video content that's performing well on YouTube can be used elsewhere in your content strategy; as a blog post for example. Give your video content the reach it deserves, while ensuring you're including as many people as possible in your TOFU content.
Happy Scribe Pricing and Reviews
Happy Scribe wins a highly credible 4.8 stars out of 5 on G2. One customer said:
"Excellent subtitle generation. Happy Scribe is fast. I use it for videos created by a Spanish speaker, and the % of errors is minimal. When it fails to transcribe correctly, the sharing features allow you to create a link for the speaker to view and edit the transcription, so it works very well. Love the interface."—Gilles C CEO.
As you'll see from the pricing table, Happy Scribe comes with a free trial on their automatic subscription services. Asides from that, the rate is pretty affordable for small to medium businesses, and the turnaround time is even better for any human-made transcripts.

Murf: for Placing Voice Overs on Google Slides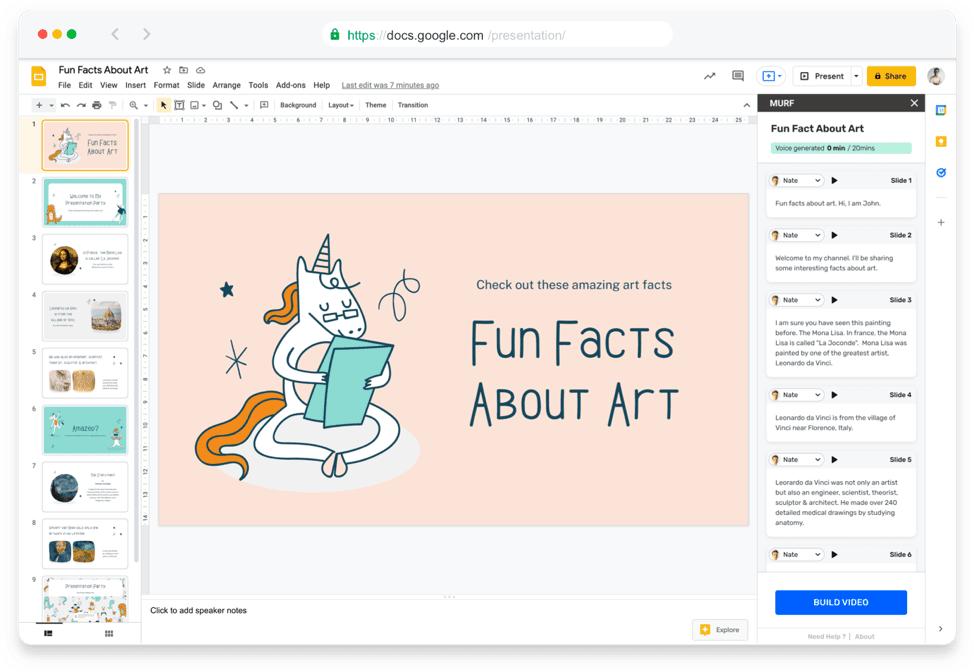 Businesses use presentations a lot. Perhaps you're using presentations for internal processes like team onboardings, or quarterly reports. Or, perhaps you're using presentations in your sales teams, or for customer onboarding with your customer care teams. Whatever you're using presentations for, a go-to resource for many is Google Slides.
However, in this hybrid world of remote and in-office work, there's a high chance your teams and your customers are not operating in the same timezone as other members of your team. This massively limits your potential reach unless you're building asynchronous communication strategies.
Cue Murf, the AI voice generator. Murf enables you to add voice overs to your business processes, enabling an asynchronous culture.
For example, if you're looking for how to do a voice over on google slides, then this tool enables you to select a voice that suits your brand TOV, automate syncing with your slides, and communicate your message in five steps. It's definitely a SaaS to consider for distributed teams or businesses with a customer base that spans across time zones.
Murf Pricing and Reviews
Murf has also earned a respectable 4.7 out of 5 stars on G2. Not bad at all for such a niche tool! One customer review said:
"Great Customer Service and Affordable Option. I find the pre-sales and technical support of this company to be extraordinary. My questions are answered promptly and I believe their tech support persons have the patience of Job. I also appreciate the layout and functionality of their software."—Sandor S Instructor /Course Writer.
For what could be quite a complicated product, reviews like this fill us with reassurance about Murf's usability. Plus, hearing they've got a great support team on hand to guide you through the process is always a nice bonus.
Murf also offers a free starter plan so you can see if this product is going to be a fit for your business processes. After that, their basic, pro, and enterprise plans are very reasonable if you opt for yearly contracts.
Abstractapi: for Improving Email Delivery Rates With Verification API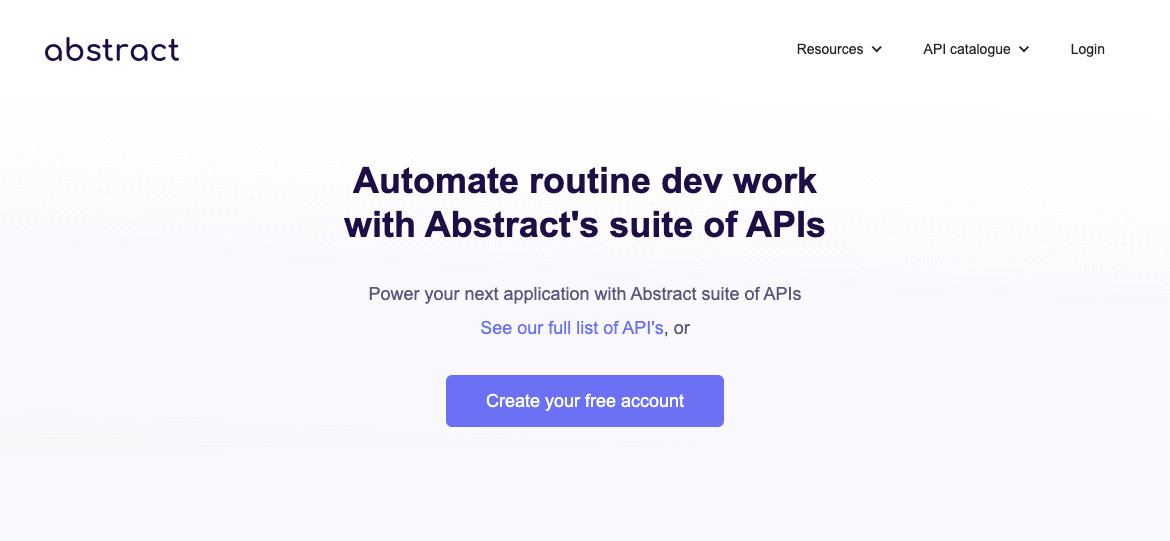 For every $1 you spend on email marketing, you can expect a $42 ROI. Just about every business today is benefiting from email marketing, and if yours isn't then you're probably not doing it right!
There's a huge amount of power an email marketing list can have for your sales, however, ensuring those lists are effective and usable is a job in itself.
New businesses often struggle with storing and managing their email data while complying with privacy laws (GDPR, CCPA) However, Astractapi is here to save the day. Abstractapi has a free email validation and verification API that enables your teams to improve their delivery rates and clean email lists while staying within privacy laws and minimizing room for human error.
It's small tasks like this that can go a long way when it comes to the success of your email strategy.
Abstractapi: Pricing
It's tricky to find reviews of Abstractapi online, however, their pricing model is not something many can argue with. You'll have the option to run a free trial with all of their plans. Plus, the starter pack at just $9 per month is a steal for any SMB—especially with 1,000 requests per month at your fingertips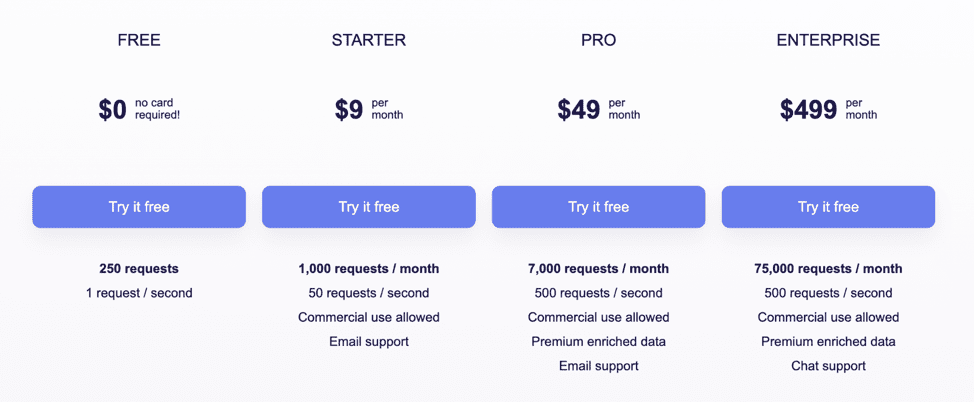 WebWork Time Tracker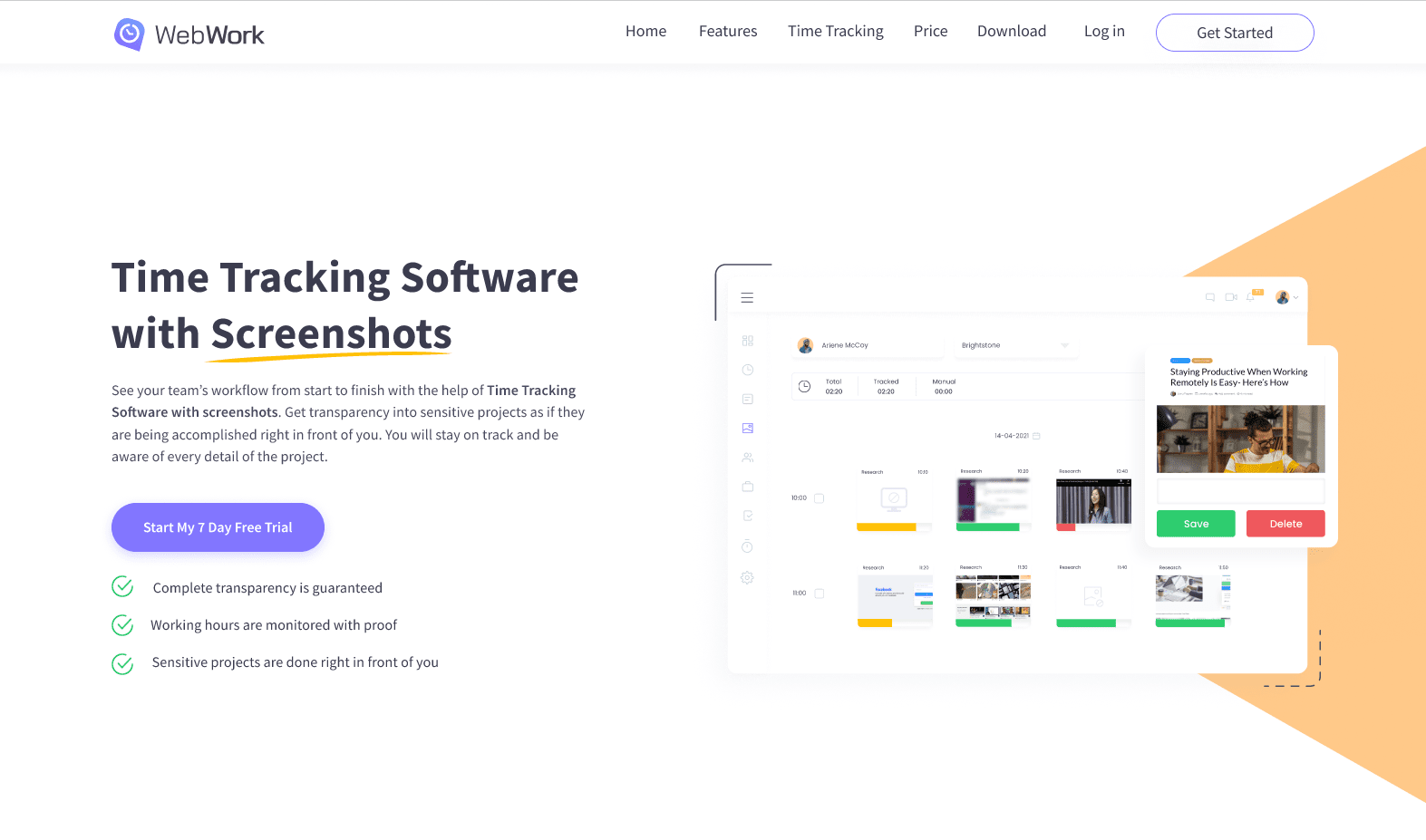 Employers need to be aware and up to date with their team's workflows in order to make sure that work is in progress and to exclude possible bottlenecks. This issue has especially become prevalent recently, with the rise of remote work. For this purpose, tools like time trackers are used.
WebWork Time Tracker assists teams and employers in this regard. It uses screenshots and activity tracking methods to record the work process and provide detailed reports. It functions not only as a time tracker but as a task management system as well. Features like App & Website Usage, Attendance Monitoring, Screenshot Modes and more provide a granular picture of the whole work process.
With the help of WebWork, teams can rest assured that their working process will be coordinated, synchronized and transparent. The built-in messenger and project management system make communication faster. Whenever there is an unexpected remote issue, it can be shared and resolved quickly, as the whole team functions in one platform with everything they need at hand.
If some projects and teams need special or less monitoring, different screenshot modes can be used accordingly. In case of privacy concerns the No Screenshot or Blurred modes can be used, while sensitive projects that require transparency can be monitored through the Screenshot Mode.
WebWork Pricing and Reviews
WebWork has a rating of 4.6 out of 5 on G2. Here's what customers say:
"Detailed monitoring of the team's performance without changing a seat!". User-friendly and consumer-centric software which's the best part for me is its analytics. As I can see the overall performance of my team. – Administrator in Marketing and Advertising
There are 3 pricing plans for WebWork. The Free plan allows you to use the product without any limitations and pay at the end of the trial. This way the customer can use the tracker and simply not pay if they are unsatisfied. The Basic plan is 2.99$ and is a great deal in the market for the amount of features that you get.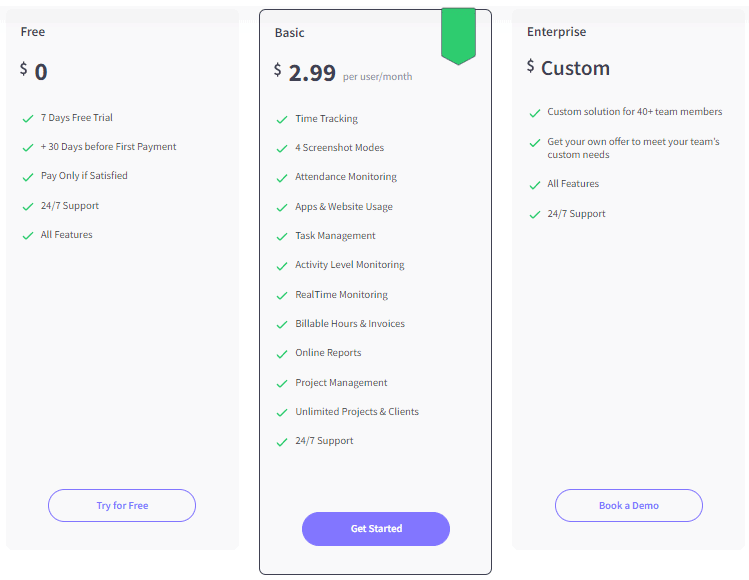 5 Things to Look Out for When Considering a New Saas Tool
When you're looking to onboard a new SaaS tool it can be all too easy to give in to the low pricing plans, thinking you've got your business an absolute steal. However, there are a few things to keep in mind if you really want to get the most out of your new tool.
1. Onboarding Time & Flow
First up, you'll need to ensure you're in a position to start benefiting from this product in the time you need to be. There's no use onboarding a tool you need for next week, but having an onboarding process that's three months long.
At the same time, you'll want to ensure the onboarding process fits your company culture and structure. Are you able to onboard teams across multiple time zones? Does the app have a self-serve onboarding flow, or are you relying on customer support for information? If it's the second option, does the SaaS offer customer service in every language your business works in?
All things to consider!
2. Internal Resources
Do you have the internal resources to actually benefit from this new SaaS product, and does your team have the time to learn and use it to its fullest potential?
If you're not internally ready to onboard a new tool, then you're not going to be ready to benefit from it. That's to no fault of the SaaS company. Look internally before you seek external tool help.
3. App Integrations
Does the SaaS integrate with the tools you're currently using? Think about your project management, communications, and file storage platforms. It's always a good idea to check the SaaS you're interested in and its integration opportunities to make your onboarding flow that much smoother, and ensure you stick to using it.
4. Free Trials or Freemium Plans
Try before you buy! We've all heard the expression before, but there's a lot to be said from trying a SaaS product out before you dedicate it to that yearly plan.
Check to see if there's a freemium version of the product you can give a go or even a time-orientated free trial.
If not, the SaaS sales teams are going to need to run an extremely in-depth product demo.
5. Room for Growth
Last, but not least, is there room for growth with this SaaS tool? There's a high chance you're looking at a new SaaS tool because your current way of doing things is simply no longer working. Your business could have outgrown your previous SaaS tool's capabilities, or you could be doing things manually and realized there's now a tech solution to help you get your job done.
Whatever the reason you're looking at a SaaS tool, check to see if it can grow with the expected trajectory of your business—and if you'll need to upgrade your plan in the process!
Wrapping Up
That's a wrap on three underrated tools to consider for business growth in 2022. Hopefully, this article has shed some new light on how you can upgrade old processes—What's that? You want more? Fine! If you're looking for drag-and-drop construction pages for those web pages that are a work in progress, check out our list of over 200 premium templates—designed for every kind of business and guaranteed to save your developer hours.
Done. That's a real wrap, with a side of fries. Now, go get growing!