So you have a wonderful website, you are about to release it and planning a lot of things to make it even better. But are you thinking of all the aspects of owning a website? Are you sure you are making all the efforts to improve the performance of your website? Are you sure you are on the right side of the law?
Learn more about the importance of legal pages on your website, and generate ones automatically with the amazing #WordPress plugin

Whether you are a blogger, professional writer, a lifestyle mentor, a motivational speaker, or a businessman, if you own a website, you need to protect it legally. Whether you are running a commercial website and earning money from it, or not, it is necessary to have legal pages on your website. Wondering why? Let's find out.
Why Should You Have Legal Pages on Your Website?
The need of legal pages for a website first recognized, when the Federal Trade Commission realized that the ways of advertising and marketing that are being followed by online businesses and website owners can possibly be weak in terms of safety and leave a room for dishonesty.
To protect the data on a website as well as the personal information that visitors share when they visit a website, the FTC created and imposed some law on online businesses and websites. These make sure that website owners are being honest and transparent about their motives, strategies, and policies or businesses to their visitors.
Having any kind of content on your website calls for the need of its legal protection.
Whether you are posting articles, images, videos, or you have an online store, you must have all the legal policies declared on your website; it is mandated by the law.
These laws were primarily made to protect the consumers or visitors on the internet from deceptive and fake advertisements and prevent their personal information being misused. The FTC regulates all the online activities that interact with visitors in any way, to ensure the safety of the visitors during their presence on the internet.
What Could Go Wrong if Your Website isn't Protected Legally?
Handling legal issues can be the most tedious and disturbing task, which is a common business on the internet currently.
Not having privacy policies on your website can get you in trouble, including getting sewed if anything goes wrong.

Many websites including Google and Amazon, will not let you put up advertisements or participate in affiliate programs with a website that does not have legal pages. If something goes wrong and your website is not protected legally, you could face major problems like paying fines or penalties, having to shut down your website, or even having to go to jail in severe cases.
So, basically, with these legal policies, you declare your terms and conditions and follow a practice of being transparent with your visitors about your motives and strategies. Having legal policies like privacy policies, disclaimers, user agreement, terms and conditions, etc., can save your business from any kind of legal mishaps.
How to Protect Your WordPress Website Legally?
There are broadly two ways to have legal pages on your website – you can add them manually, or you can take help of readymade tools or plugins that can protect your website automatically. If you didn't go to a law school and don't know much about the laws about the privacy policies online, adding legal pages on your website manually can be little tedious job sometimes.
If you want to protect your WordPress website without having to spend more money and time, you can take help of WP Legal Pages, which is a WordPress legal policies generator plugin that provides around 25 templates of different legal policies mandated by law for websites.
How WP Legal Pages Helps in Creating Legal Pages Easily
WP Legal Pages is a WordPress legal policy plugin that is extremely easy to use, and it can help you protect your WordPress website with important legal pages without having invested a lot of money and time.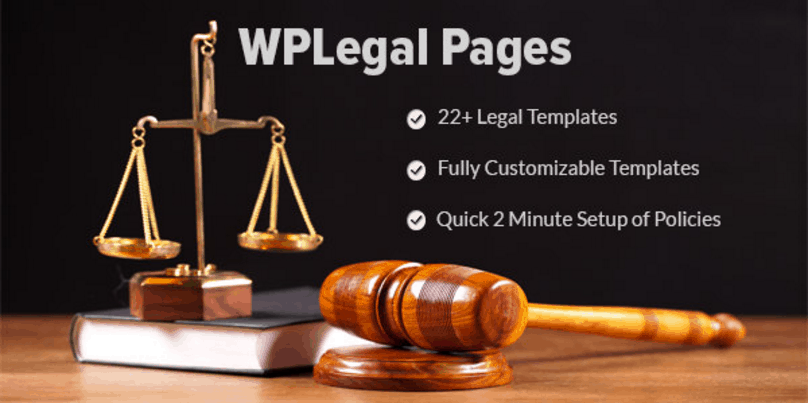 With using this powerful WordPress plugin that has an easy to use dashboard, forced page option, customization options, extended menu options, and forced page option, you can protect your WordPress website with all the necessary legal pages and policies within less than 5 minutes.
WP Legal Pages provides templates for around 25 legal policies including:
Terms of Use
Linking Policy
Affiliate Agreement
Amazon Affiliate Disclosure Template
External Links Policy
Refund Policy
Terms and Conditions
DoubleClick DART Cookies Policy
Affiliate Disclosure
Privacy Policy
Antispam
Facebook Privacy Policy
Earnings Disclaimer
Disclaimer Template
FTC Disclosure Statement Template
Medical Disclaimer Template
Testimonials Disclosure – As per FTC guidelines
California Privacy Rights Policy Template
DMCA Policy Template
COPPA – Children's Online Privacy Policy Template
Digital Goods Refund Policy Template
Blog Comments Policy Template
FTC Disclaimer Widget
Newsletter Subscription Policy and Disclaimer Template
Returns and Refund policy
All these policies are professionally written with high-quality content, declaring which on websites is mandatory by the laws in different countries.
WP Legal Pages is legal page generator plugin that is made by considering laws in different countries, including EU cookie law, which equips the plugin to provide all the important legal pages from different kinds of websites.
Upon installing WP Legal Pages, important legal pages are automatically generated on your website. With its advanced features like easy-to-use interface, easy to edit pages, pre-built in legal pages, shortcode integration facility, responsive popups, etc., generating legal pages and protecting your WordPress website legally becomes extremely easy.
By making sure that you are following the law with declaring your legal policies with WP Legal Pages, you can run your online business stress-free, without having to fret upon the legal issues that may come forth.