So, are you ready to build a website for your business? Luckily, there are a lot of free website builders available on the internet that you can use.
Maybe you are looking for the best deals out there, and you notice the ones that offer free services. You are intrigued, of course.
When you are unsure of what you are looking for on your website, it could be tough to pick the best website builder, and you might get wow-ed by the free features.

So, how do you pick one of the best free website builders that will suit your needs? In this post, we will tackle the pros and cons of five of the popular website builders in the market today:
1. Wix
Wix is one of the most popular website builders out there, and it is easy to see why.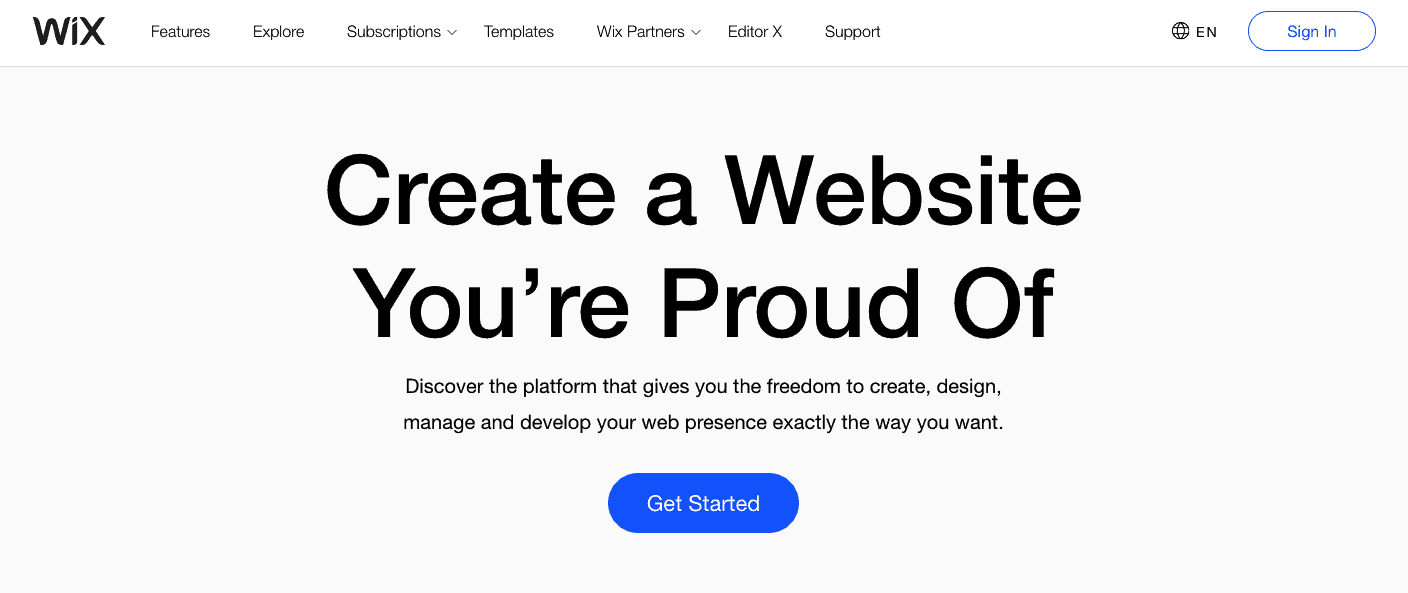 It is filled with unique features and amazing templates, making one of the ideal choices when building a paid site.
But how about the free version? Does it do well in this arena, too?
Well, it usually depends on what you are looking for. For the free plan, there are hardly any restrictions on its features and templates. In desktop, they will be placing a visible ad on top of your header. Fortunately, on mobile, it is hardly visible and sticky.
Advantages:
It features an extremely flexible editor and a great selection of themes.
Wix also comes with an extensive app market and a free webspace of 500 MB. In fact, they do not have a page limit, and you can customize and optimize your web pages.
Its Connect Domain plan goes as low as $5 per month, so you can use your own domain name.
Disadvantages:
Again, the Wix ad is extremely visible and sticky. The free URL provided is too long as well, and not easy enough to remember.
2. SITE123
SITE123 claims to be one of the easiest and simplest website builders there is. But while their tools are not that cumbersome to use, it is not exactly the most user-friendly.

A good thing about this builder is that it has great-looking, highly responsive themes. The paid plans start at $9.80 monthly, which includes a basic e-commerce store and an email marketing tool.
A word of caution, though: Expect to get several emails when signing up.
Advantages:
It allows you to build a one-page or a multi-page website. There is an excellent choice of plugins, and the website builder is easy enough to work with.
Templates are responsive, and the website has an SSL encryption. You also gain full access to your SEO settings.
Disadvantages:
You have to switch the content in a separate window, which can be frustrating. To do basic things always requires a lot of clicks. Some of the templates can be pretty restrictive, as well.
3. Weebly
Weebly is one of the largest website creators out there, which is why it secures one of the top spots of our list. But because we are mostly looking for the free plans here, we have to focus on whether Weebly's free plans is up to par as well.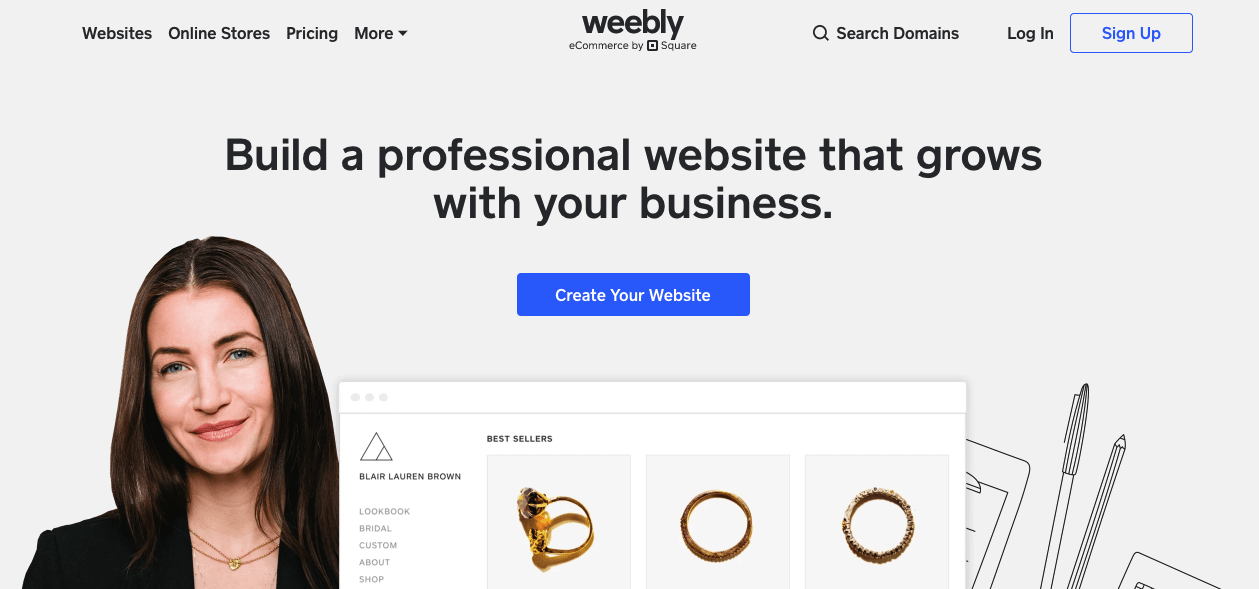 Weebly's free plan does not quite shine bright, mostly because of the highly visible ad found in the website's footer.
Advantages:
It comes with highly responsive themes, as well as an app center that has third-party add-ons.
Apart from the free 500MB webspace, there is no limit to the pages. Plus, you can use the SEO settings to optimize your web pages.
Disadvantages:
The only downside of Weebly is its footer ad that is so highly visible.
The cookie notice they are showing is a little bit annoying as well, as there is no way to shut it off. Apart from that, it skews your website analytics tracking.
4. Strikingly
On the broader spectrum of website building, Strikingly is on the end with its all-inclusive platform, giving everything that you need to start and grow your site.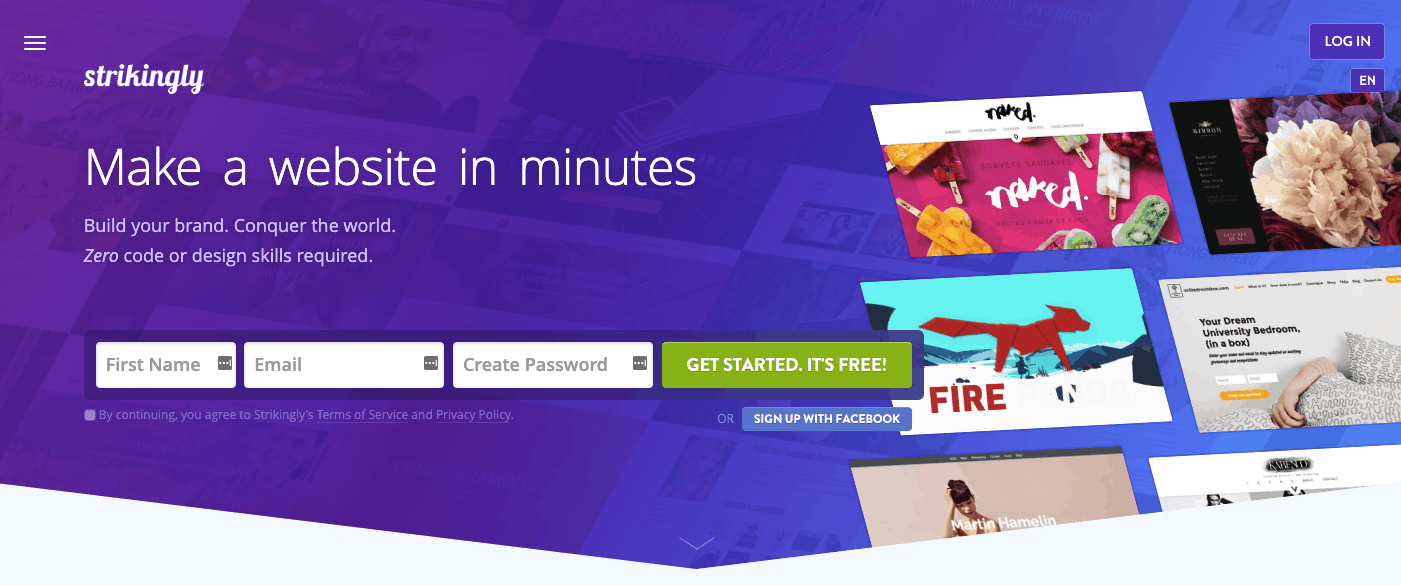 Using this website builder is like renting and customizing an apartment in an elegant development rather than buying your own place.
You are still the one who has control over the look, updating, and maintenance of your website. However, you cannot control its technical structure.
Nonetheless, it is a trade-off you are obliged to do in exchange for speed and control.
Advantages:
One of the biggest benefits of Strikingly is how easy it is to set your website up and running. All you need to do is enter your information, choose your theme, and that's it!
Disadvantages:
While this is certainly easy to use and a great option for DIY builders and small business owners, there is a lot left to be desired when it comes to pricing.
Most of their plans are a bit limited, whether its domain, the number of "pro" websites that you can create, or its storage capacity.
5. Jimdo
Jimdo is a website builder that was created back in 2007, blooming into a top website builder with satellite teams all over the world.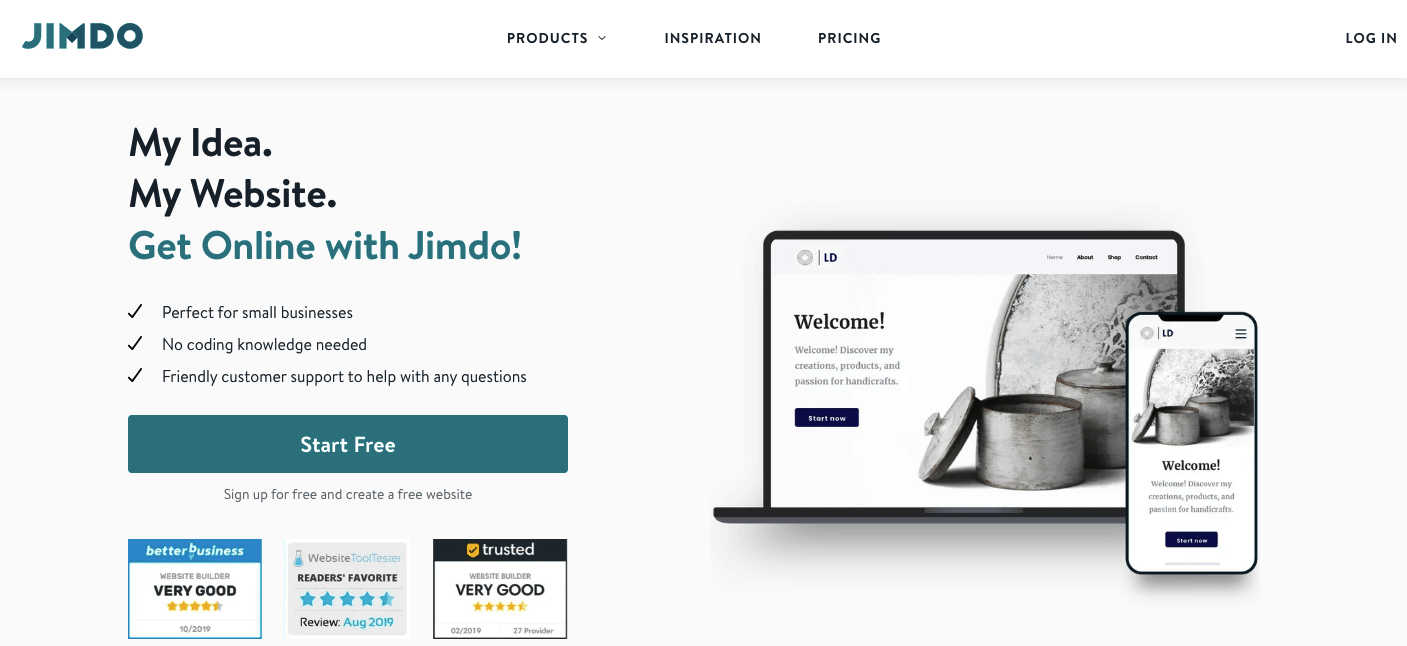 The platform is an excellent choice for small businesses that want to create a simple website for themselves. This is especially true for those who want to create a website and integrate a basic e-commerce functionality.
Advantages:
Great for blogging, Jimdo also works well with Andriod and iOS apps. Apart from its HTML and CSS editing, it also provides one with strong SEO options for paid plans.
Disadvantages:
It has limited accounts for a free plan, the editor not easy to navigate, and its templates are rather limited. It does not allow multiple contributors, too, and there is no site export option.
The Takeaway
Hopefully, this post gave you an idea of the pros and cons of the best free website builders in the market.
If you're looking for a little bit more, you could bypass these free options and sign up for a premium web builder. Remember that you need to invest with something that will provide you with the right tools and the functionality that can support your business.
So, it is crucial to put aside some of your time, because you might need a little bit of research and planning. You also need to invest with the right website builder that can scale as your business grows in the future.