All websites across the globe are subject to a certain set of standards and rules. This is made to ensure that they are accessible to everyone, including people with disabilities.
Various organizations, such as the #EuropeanUnion have passed #laws saying that all #websites must implement, maintain, and follow a set of standards that will make them easily #accessible for everyone.

This is regulated by the European Web Accessibility Directive and means that all governmental, local, and national websites must follow such rules.
Web Accessibility By accessiBe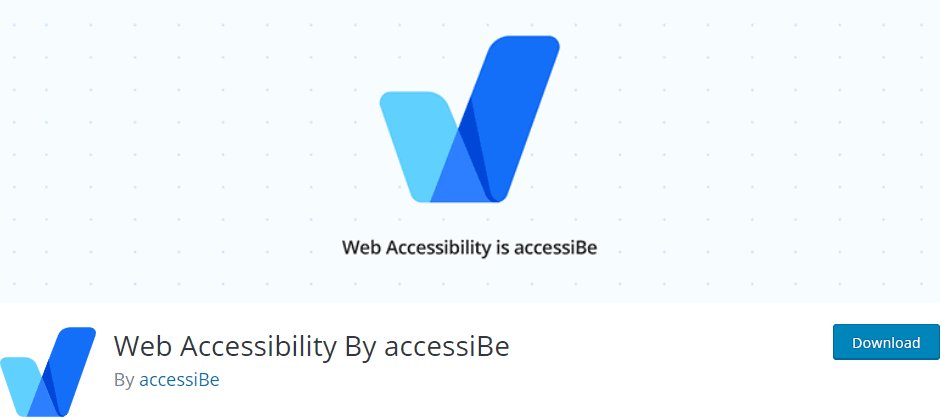 Web Accessibility By accessiBe is a fully automated web accessibility solution that is made to protect small businesses and others, such as bigger industry leaders from lawsuits. It is designed to ensure you follow all the rules set by the Web Content Accessibility Guidelines (WCAG).
This plugin protects your business from any potential lawsuits based on the American with Disabilities Act (ADA) and WCAG. It will also help boost your reputation, open your website to new customers, and make your website compliant with WCAG 2.1, ADA Title III, and many other worldwide legislations.
This plugin uses two applications to ensure full compliance with the rules. The accessibility interface is one application that is responsible for all of the user interface. It includes website design adjustments, such as sizing, spacing, and color contrasts. You can also customize the accessibility interface to fit your website.
This allows users with visual impairments to adjust the design of your site to meet their needs so they can freely browse through it.
The AI background process is the second application that handles optimizations for screen-reader and keyboard navigation. To do this, the AI scans and analyzes your site while simultaneously learning the purpose of each element before fixing it. This includes pop-ups, menus, dropdowns, and buttons. It also uses technology to provide alternative image descriptions for those who need them.
The installation process only takes a few minutes, and the plugin will immediately appear on your site to make it compliant with different regulations. The plugin is designed to scan your website every 24 hours to ensure it is always compliant with rules and to remediate your new content widgets, and the pages that you add.
Currently, it cost $49 per month to use this plugin.
Cookie Notice for GDPR and CCPA
Cookie Notice is a free WordPress cookie notification popup plugin that lets users give or refuse to give their consent for you to use cookies. There are also many other options including revoking the consent, manually blocking scripts, as well as selecting the position of the notice container and of the privacy policy link.
You can customize these cookie notices for your users and include links that lead to your privacy policies and legal pages.
The plugin is SEO friendly, completely free, and it is compliant with GDPR and CCPA (the California Consumer Privacy Act).
Complianz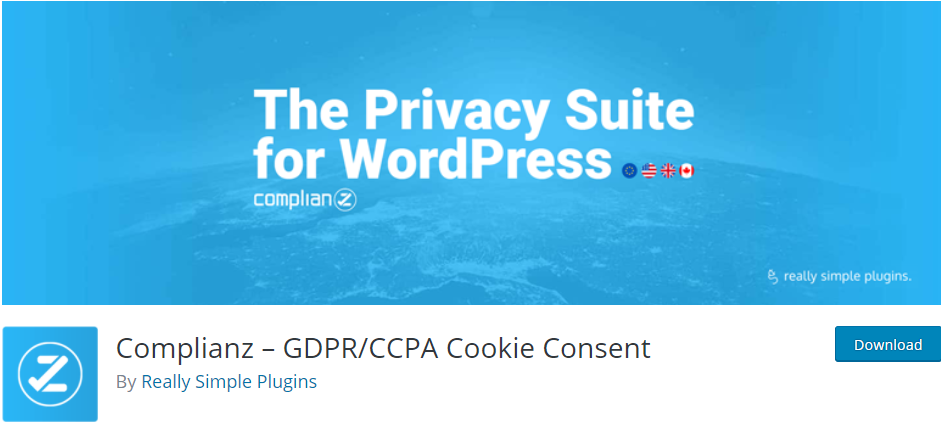 Complianz is a plugin that lets you create notices for different regions, such as the EU, the UK, the US, or Canada. It offers you the ability to become compliant with the GDPR, DSGVO, PIPEDA, CCPA (DO Not Sell My Personal Information), and COPPA (Privacy Statement for Children) rules.
You have a built-in option that allows you to scan your site for cookies and add cookie descriptions to your site. It is very easy to set up as it takes you, step by step through the whole process.
It can be integrated with Google Tag Manager, Google Analytics, Hotjar, AdSense, and more. You can also block scripts and third parties, and design your cookie banners the way you want to or choose one from different templates.
You start with a questionnaire that generates legal documents specifically for your website's purpose and regions.
In the premium version, you can see statistics, use A/B testing, and generate legally approved documents for $45 per year, but there are other plans too. For example, if you want this plugin for more sites, that will cost $165 or $355 per year.
WPLegalPages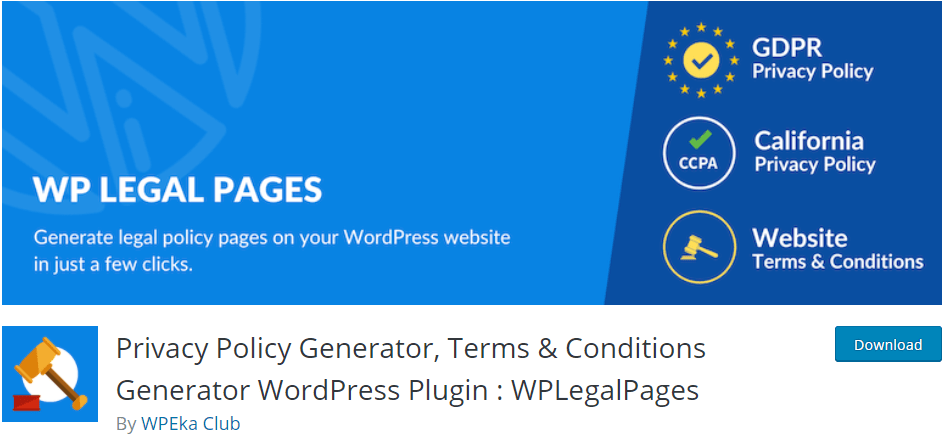 WPLegalPages is a plugin that allows you to set up a legal pages generator so you can have a wide range of policies on your site. It has a feature that forces your visitors to agree to your terms, privacy policy, or any other legal pages.
There are pre-made templates you can use, just fill in your information, and publish them on your site. They are all lawyer-approved and adhere to internet laws.
You can add the latest EU cookie law and the plugin overall has more than 25 legal policy templates ready to use for all website policies. You also get helpful documents and guides so you can rest assured you will add your legal pages with no problems.
With the Amazon Affiliate Disclosure, you can create a compliance policy, otherwise, your site may get a permanent ban from the Amazon affiliate program. The FTC will also require you to disclose such a relationship to your visitors, so they are aware of it.
Avalara AvaTax

Avalara AvaTax is a sales tax plugin that ensures a proper calculation of sales taxes. Since online retailers need to collect sales taxes this can be a bit of a challenge, especially since tax codes are unique and they keep evolving and changing depending on the country and region.
This calculation is based on geo-spatial mapping and each transaction will provide a correct sales tax at the time of the checkout. This lets you relax and not worry about ensuring that taxes are properly calculated.
This plugin contains a vast catalog of product taxability and rules, as well as any tax law changes. Also, it automates the collection of sales transaction data from marketplaces in order to prepare for tax preparation and filing.
In the plugin, you have more than 700 prebuilt integrations and SaaS tax solutions that are widely used in accounting, e-commerce, and other areas.
When it comes to pricing, you pay based on the volume of transactions that your company makes and you get a 60-day money-back guarantee.
Conclusion
As you can see, there are lots of different plugins that can help you follow many rules and regulations set by different governing bodies. They are there to ensure you create a website that is accessible to everyone, as well as GDPR-friendly and honest in tax collection.
However, to ensure compliance with different rules you will probably have to use more than one plugin. This will also depend on your industry.
If you are in e-commerce and are doing business worldwide, then having a good tax calculation plugin and different privacy and legal pages is a must for you. However, if you are just a national, local, or governmental informational website, then ensuring that your website is accessible to everyone is top-priority. Thus you need to be aware of the different sets of rules and guidelines set by different governing bodies to ensure compliance.