Are you about to design a logo for your new business? Or are you thinking about upgrading the existing logo of your current business?
It's never been easier to create a simple, targeted, thought-provoking logo that perfectly matches the expectations of your industry than with logomyway logo maker.

In fact, it's less expensive and faster than ever when using the LogoMyWay logo maker to get the job done. This blog post will explain how to use the logo maker.
Why is it such a great choice? The platform operates completely online, so you never have to download unwanted software to your hard drive. And once you use the online platform to begin the logo design process, you'll have access to existing templates, thousands of different fonts and colors, and an affordable way to create a customized logo based on a wide range of images and templates that are currently available to customize to your liking.
LogoMyWay is really beginning to make a name for themselves after being in business for a number of years. They've simplified the logo design process so much that even the least artistic man or woman with zero graphic design experience can create a top-quality logo for their company in as little as 10 minutes.
What to Expect When Using the Online Logo Maker from LogoMyWay
The online logo maker from LogoMyWay is an Internet-based design tool that puts the power of logo creation directly in the hands of the business owner. They no longer need to rely on high-priced graphic designers that charge a small fortune for their services. They can access the online platform for free and use the existing templates to create a powerful, brand-focused logo to represent their business. Once they've finished, they'll pay a nominal fee to download the logo files.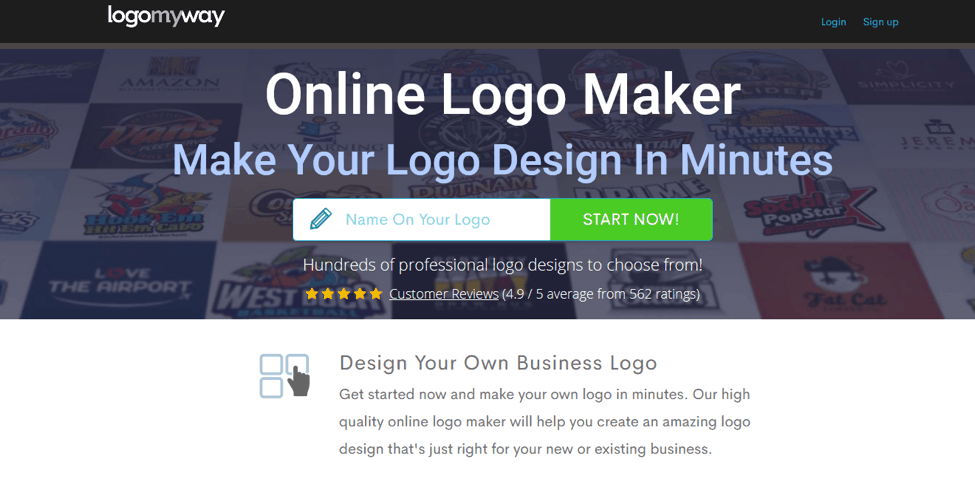 Guess what? LogoMyWay has gone out of its way to make the overall logo creation and design process as simple as humanly possible. They've loaded up their program with tons of templates, colors, fonts, and numerous file types to meet all of your very particular business needs.
Have you ever dreamed that it would be possible to design a brand-new business logo with a couple of mouse clicks? Have you ever imagined that you'd be able to save hundreds or even thousands of dollars by creating your own custom-designed logo for your social media and online brands? It's now possible, and LogoMyWay has made it easier than ever to capture your brand's voice and personality in a completely customized logo designed to meet your business and personal needs.
Are There Any Other Benefits to Using the Online Logo Maker from LogoMyWay?

It shouldn't come as a surprise to learn that there are many wonderful benefits to using an online logo maker like the one currently available from LogoMyWay. As a matter of fact, we believe these benefits are so important that we'd like to spell them out for you in plain English below.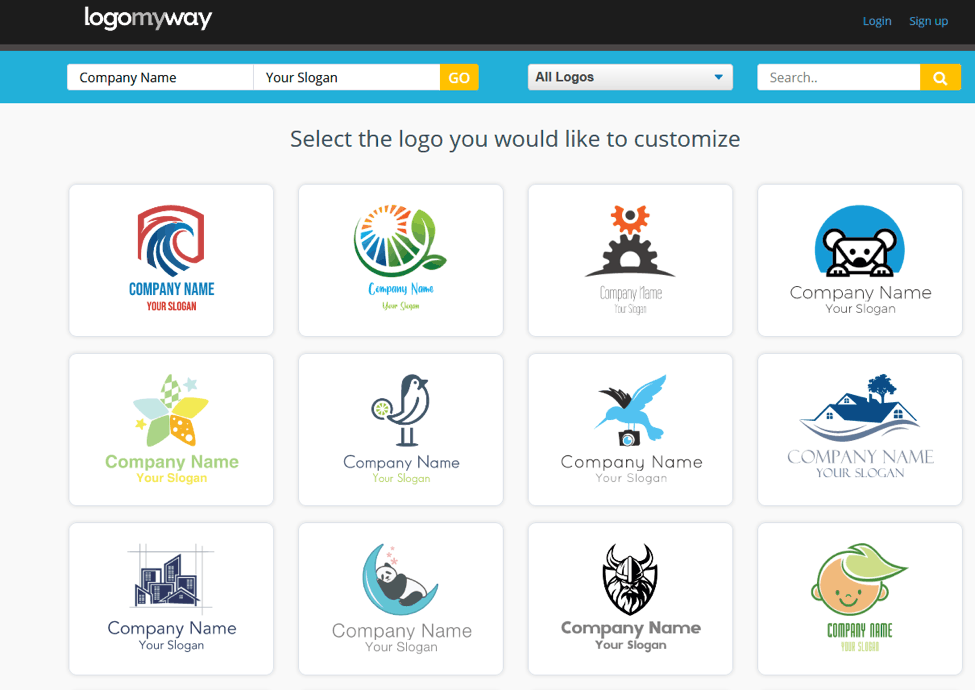 The major benefits of using online logo maker programs that do not require a software download include the following:
Eliminate the middleman entirely
At this stage of the game, eliminating the middleman is an absolute must if you're looking to save money for your business. Why pay top dollar to a professional graphic designer when you can spend a fraction of the cost to design a logo yourself? Or, if you're stuck and need assistance, you can pay a small fee to utilize one of their in-house graphic designers for a pittance.
Gain full control of the logo design process
Believe it or not, when you deal with an expensive graphic designer, you actually give up all of your control during the logo design process.
You certainly have the opportunity to make suggestions about the direction of your logo design, but at the end of the day, the graphic designer is the one creating the logo needed to represent your brand. Is this really a good idea? Do you really feel comfortable giving all of your logo design power to somebody else that may or may not know anything about your business? It's time to take back your power and eliminate the middleman altogether.
Create a customized logo based on your market
Sometimes, a graphic designer will not understand your market. They will not understand the message you are attempting to get across with your logo design. And when this happens, you will suffer the consequences. You will end up with a logo that doesn't match up with the expectations of your prospects. You'll have a logo that doesn't fit in with the other businesses in your industry. And when all is said and done, you'll have spent a lot of money on a completely useless design that actually hurts your business much more than it will ever help it. By using the LogoMyWay online logo maker, you can take an existing template and craft it to perfectly match the needs and expectations of your target audience.
The 5 Step Logo Design Process That Only Takes Minutes

As you're about to learn, designing your own business or brand logo on the LogoMyWay online platform is fast, and it only consists of a five-step process. By the time you're finished, you'll have a gorgeous logo for your website, company letterhead, and social media platforms.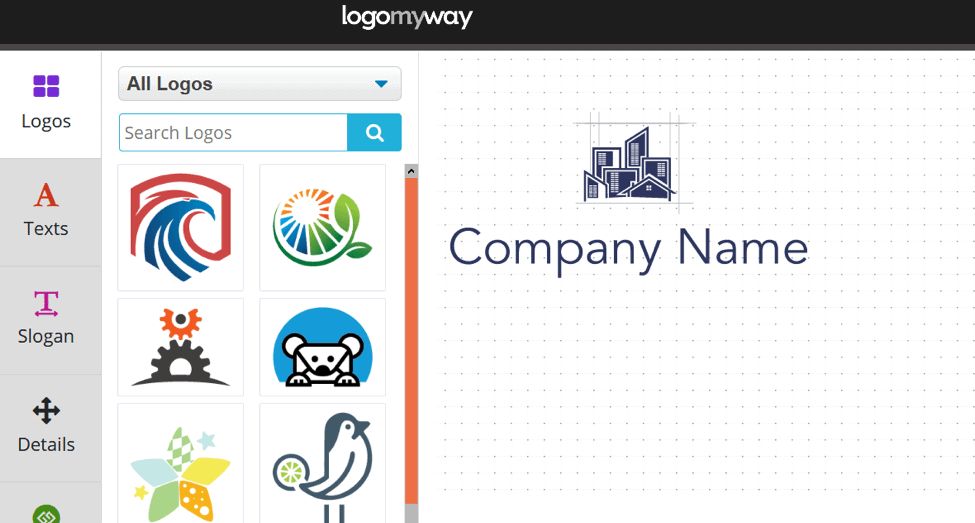 For those interested in getting a professional-looking design without paying professional prices, you cannot go wrong by choosing the online logo maker from LogoMyWay.
The five-step logo design process includes:
1. Selecting a Template for Your Logo
Before you can begin customizing your logo, you'll need to choose a template that you'll use as a base to begin the design process. On the LogoMyWay website, you'll have access to hundreds of professional design templates that you can choose to get started.
As you look over the templates, find a design that fully represents your business and brand. Make sure it grabs your attention, catches your eye, and fits in with the theme of your industry or company.
The template you choose should ring true to your business model and industry. Your customers should be able to take a glimpse of your logo and know your industry right away.
2. Selecting the Best Colors for Your Logo
Now it's time to pick the colors for your logo. You'll want to choose a color scheme that best represents your brand and business model.
You'll want to mix colors that match well, appeal to your audience, and don't clash because this will make your logo look unprofessional, ugly, and a complete eyesore.
Instead, focus on choosing the right colors to communicate your marketing message to your audience. Does your company sell outdoor goods? You may want to add green in your logo because it will remind your customers of nature. Do you currently run a dating website? Adding red or pink to the logo reminds your target audience of romance, passion, and falling in love.
3. Add Text to Your Logo
At this stage of the game, it's time to add text to your logo. Adding the company name is a good place to start, and it's definitely important to add it to your logo creation and design. But is that the only text needed for your logo?
Many business owners like to add a company tagline or slogan to the logo design. This way, they can promote the company or get a particular message across to their target audience. This lets their customers know why they are such a good company to do business within their particular industry.
4. Selecting the Perfect Font for Your Logo
Right now, it's time to decide upon the ideal font to best represent your business or brand. Some fonts suggest that you're a fancy business, so you may want to pick cursive letters that flow in this case.
On the other hand, if you're opening a construction company, you'll likely benefit more from choosing a font that looks clean and straight. Some of the best choices include Europe, Souvenir, Garamond, and Ageone Serif as prime examples.
5. Download Your Logo Files
Your logo is finished! How does it look? Are you satisfied with the overall design? Do you like your font and color scheme? Are you happy with your overall choices and feel they really represent your business or brand?

Now you can finally download your logo to your computer. Using the logo maker is 100% free. But you will have to pay to download your files. They are available in AI, EPS, PNG, and JPEG format.
Final Thoughts
You should know that the LogoMyWay online logo maker is a huge boon to businesses of every type. You can avoid the middleman altogether and cut out the need to pay expensive graphic designer fees. Plus, you'll have your logo ready in minutes instead of waiting days or weeks for your designer to finally get back to you with the first iterations of the design process.
Doesn't this sound like the smart way to create a logo in today's fast-paced online business world? Try LogoMyWay online logo maker immediately if you're looking to save money, control the design process from start to finish, and have a brand-new company logo in your possession in no time flat.