Knowing ahead of time that clicking on a particular hyperlink will send them toward another or unknown website would be appreciated by visitors. But have in mind that it will be much easier to have a specific icon that can be used to precisely show your website. Various popular shopping websites have their logo set as an icon so that users can immediately see who it is.
Want to improve the situation with your website on the Internet and raise it in the search engine? Then you are in the right place because external links will help you the best. For such a reason, we are providing you with the solution to the query How to Add an External Link Icon on Your WordPress Site.
What are External Links?
Before starting we think you should know what External Links are. With the help of External Links, you have the possibility of using which will direct you to the desired domain. This does not apply to domains with which there is no link. These links will actually have the most impact on search engines and your popularity than anything else. And why are they good to add? In addition to helping, you rise in the search engine, it will also make it easier for you to communicate with others and improve your credibility.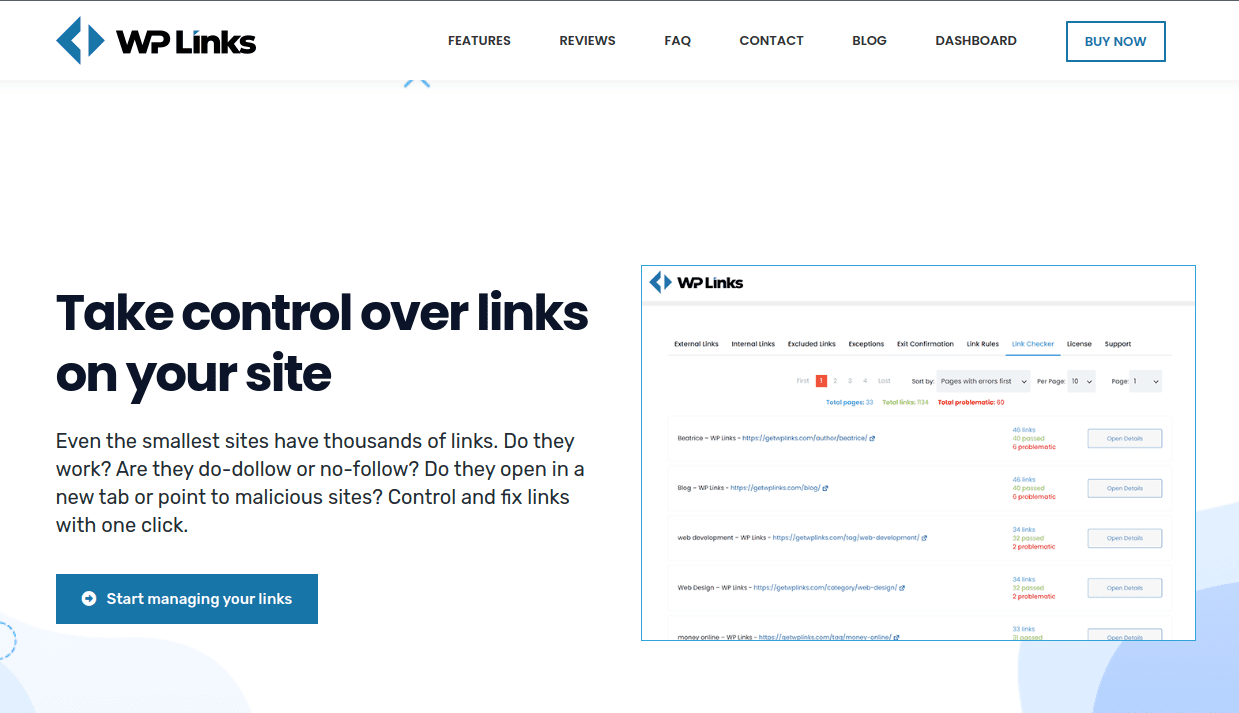 Why use WP Links?
If you want to achieve that, you will be able to do it with the ingenious WP Links plugin, which you can find on this link. Below you can see a wide variety of options that you can have fun with and try out to see what you like.
With this plugin, you can create exactly what you are here for, namely External Links. In addition to being able to do that, this plugin will offer you many more horns. Some things you can do are Link Scanner or Exit Confirmation.
A Guide for Adding an External Link Icon
The first thing you need to do is install WP Links and find them in WordPress settings, and you can find them very easily. After that, all you need to do is click on Appearance and find plugins and activate it. As soon as WP Links is installed, you will notice that you will be allowed a plugin that gives you control over external links.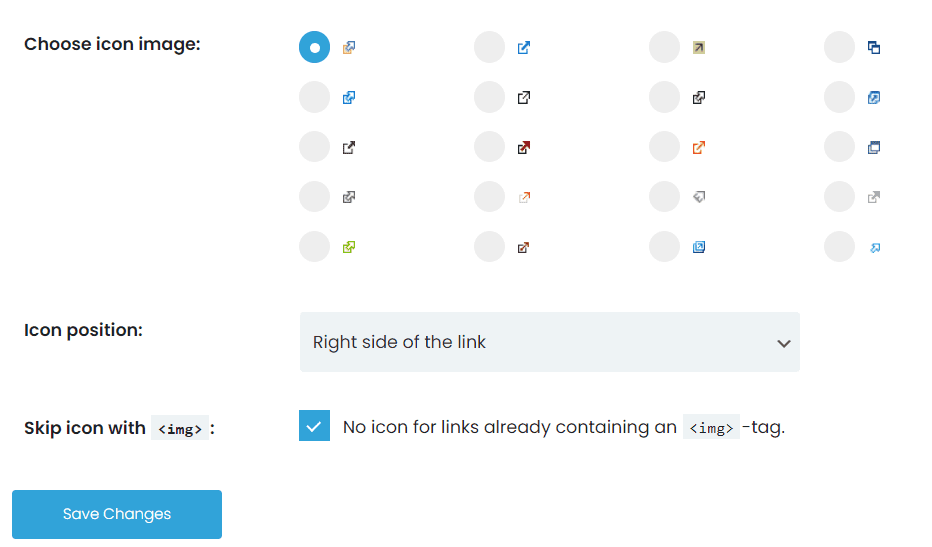 After that, all you need to do is turn on WP Links and find "Apply these settings" to activate the possibility of using those links.
All the choices you will undoubtedly need will then be made available for you to utilize and configure as effectively as you can. Below you can read a little more about all the options and choose how you want to set everything you want and how you want these links to be maintained on your website.
Choose what you want with external links
After adding External links, you can choose how you want these links to open on your website. About complete influence across the links and their attributes, the possibilities unquestionably deliver all you want. As a bonus, the WP Links will warn you about actions that are not advised, like as launching several tabs or windows in the very same single window, preventing you from making rookie errors.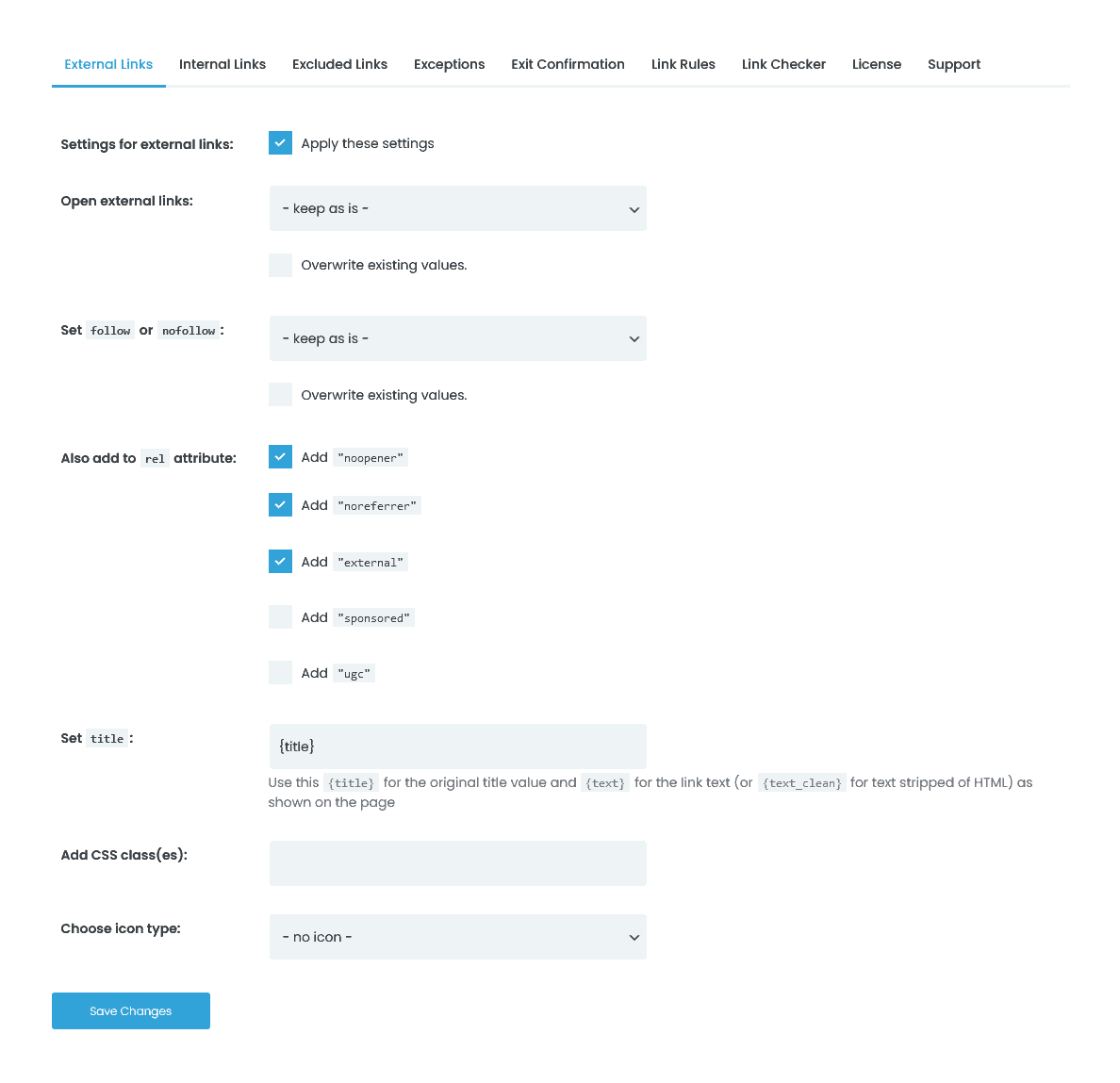 Choose to follow or not follow links
Every time you place a no follow the hyperlink on your website there is a chance that it will go directly to you, boosting your credibility and rating. But on the other hand, no follow links will not drive traffic directly to you. It all depends on what exactly you want to do with those links and how you want to place them on your website. You will choose to add follow or no follow for SEO.
Adding rel attributes
The next thing you can do is choose how to set the rel attributes. Incorporating "no opener" as well as "no-referrer" prevents you from providing referral data to connected websites, respectively. Therefore, it prevents possibly malicious websites from gaining power over your website. To identify hyperlinks as external or paid, you can add the word "external" or just simply add the word "sponsored." You will add that for security. Also, you can incorporate user-generated material. You can do that just by ticking the "UGC" option.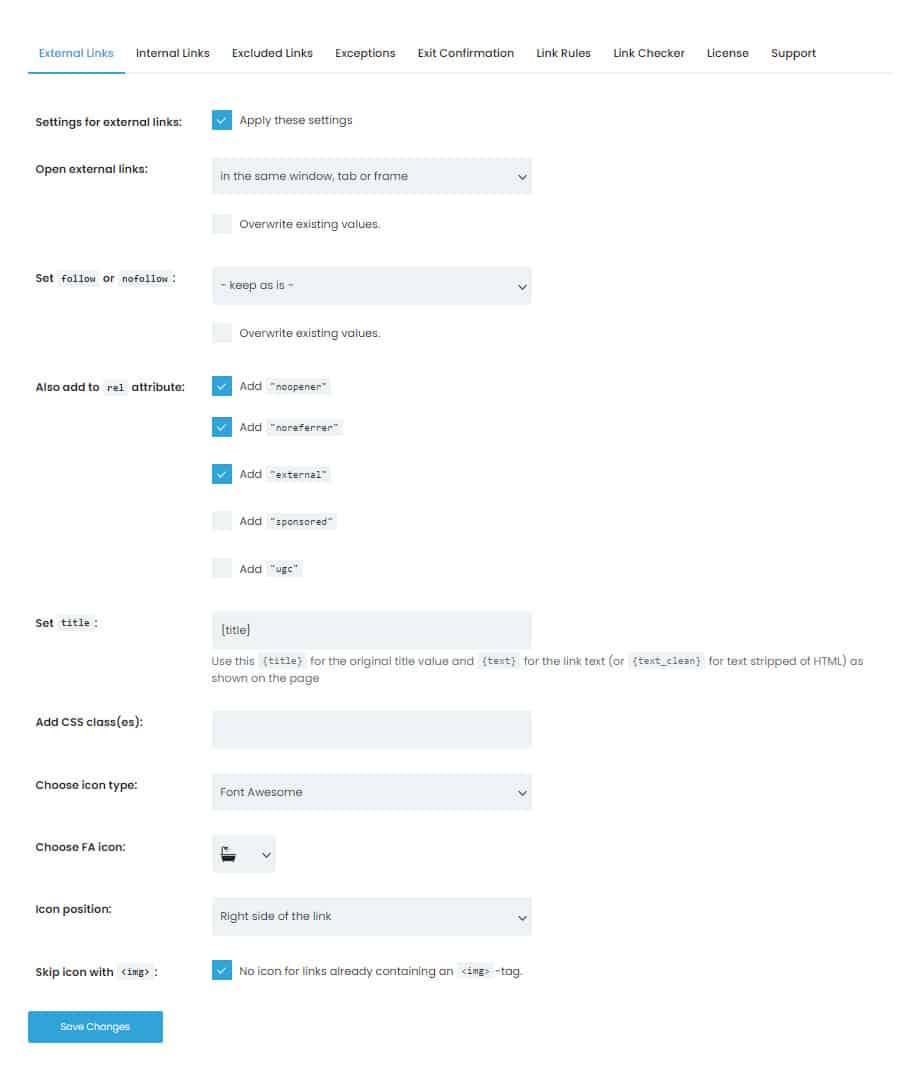 Adding icons
Before choosing which icon, you want to use, you can choose what type of icon you want to use. You will have three options, which are image, dash icon, and Fontawesome. With an image, you can upload an image immediately from your personal computer, or you can choose from one of the existing icons on WordPress or on Fontawesome icons.
Including an icon is among the numerous options you have. You will see a wonderful little selection of different icons in front of you that you can add with just one tiny click and choose where you want to establish the location of the symbol.
Conclusion
You can achieve the outcomes you want by following this quick tutorial on how to add external connections using WP Links. Do not be afraid to try it out and see what you like best out of all of this and what would suit your visitors best. But keep in mind that your highest priority is your safety and the safety of your visitors. We are sure that those external links will help you at least a little, but that the already-mentioned plugin will help you the most.