If you are regularly browsing the Internet, I am sure you have come across something called a VPN. It's a great thing, really, and it has many benefits and advantages.
First of all, VPN (Virtual Private Network) is sort of a barrier between your data and any possible danger.
While your #VPN is turned on, you don't have to worry about your #privacy or the #security of your information.

A VPN is excellent in many situations.
When you are using a public network, such as those in coffee shops or at airports, there is a certain possibility that someone might be spying on it. You can't know for sure that the network you are connected to is legit and not a scam. That suspicion can be significantly decreased once your VPN is active.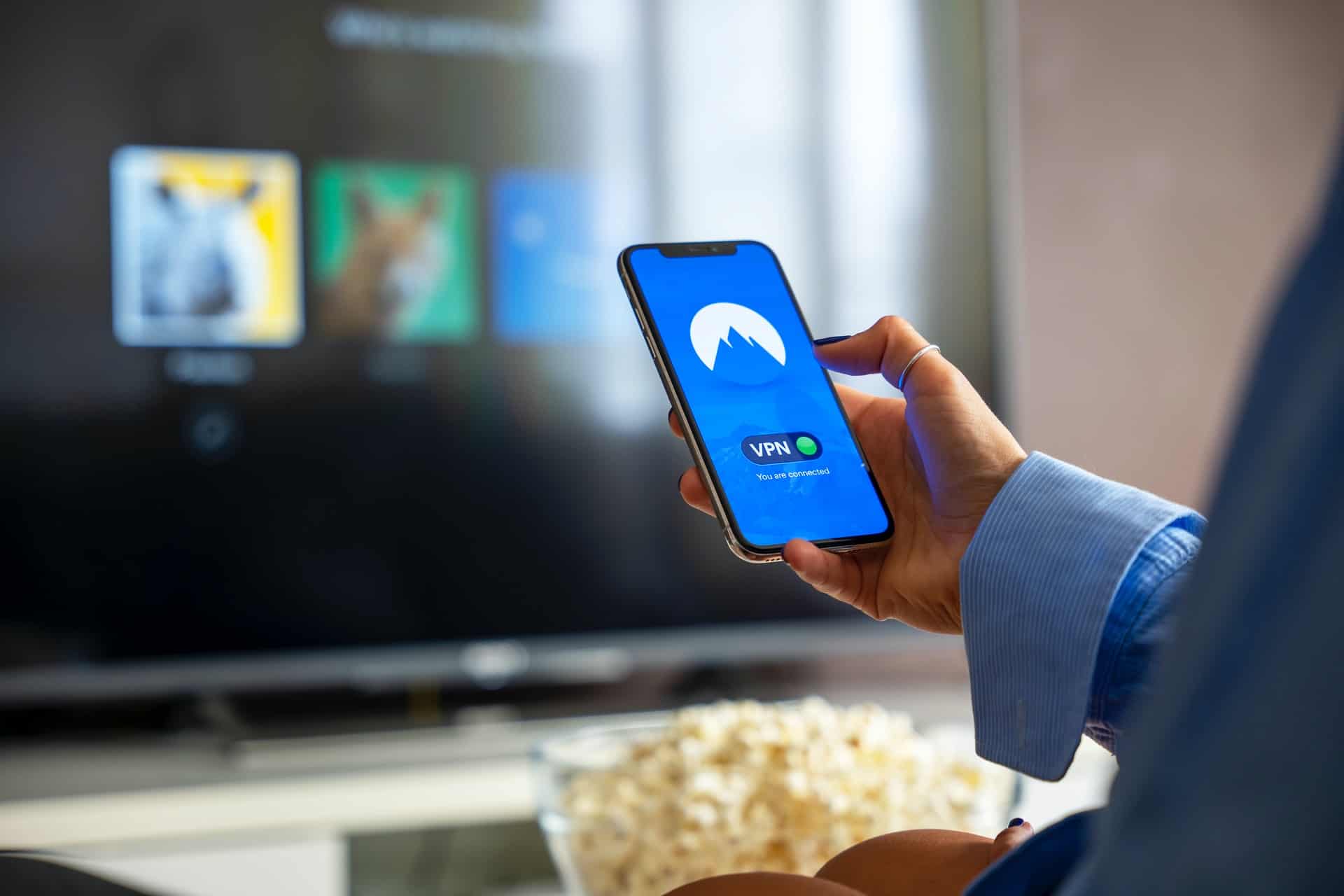 Another great advantage of using a VPN is that you can change your IP address and access parts of the Internet that would be otherwise hidden. I am talking about, for example, Netflix content specific to different parts of the world or other websites that are local. Similarly, you can access websites that are blocked in your country. Also, thanks to VPN encryption of web traffic, your identity and location will be protected.
The way this happens is simple, a VPN connects you to a server in a different country and hides your actual location. If you want, you can also use a VPN at home. Your home network is obviously not dangerous because you know who operates it, but a VPN can still be helpful.
A VPN can stop your Internet provider from getting insight into your online activity and making money from your data.
A VPN is not only used by individuals but by businesses as well. Unfortunately, the harsh truth is that a lot of data breaches are happening, and the number of cybercrimes is increasing. So, businesses must be prepared for the possibility of something like that happening.
Naturally, one of the security measures that any business should look into implementing is using a VPN. Businesses have even more to lose if their data and confidential information get stolen.
When a company hires remote employees, it can be challenging to know who is actually looking at data and accessing the company network. That's why it is great to supply employees with a VPN network; the network is secure and can be accessed from anywhere in the world.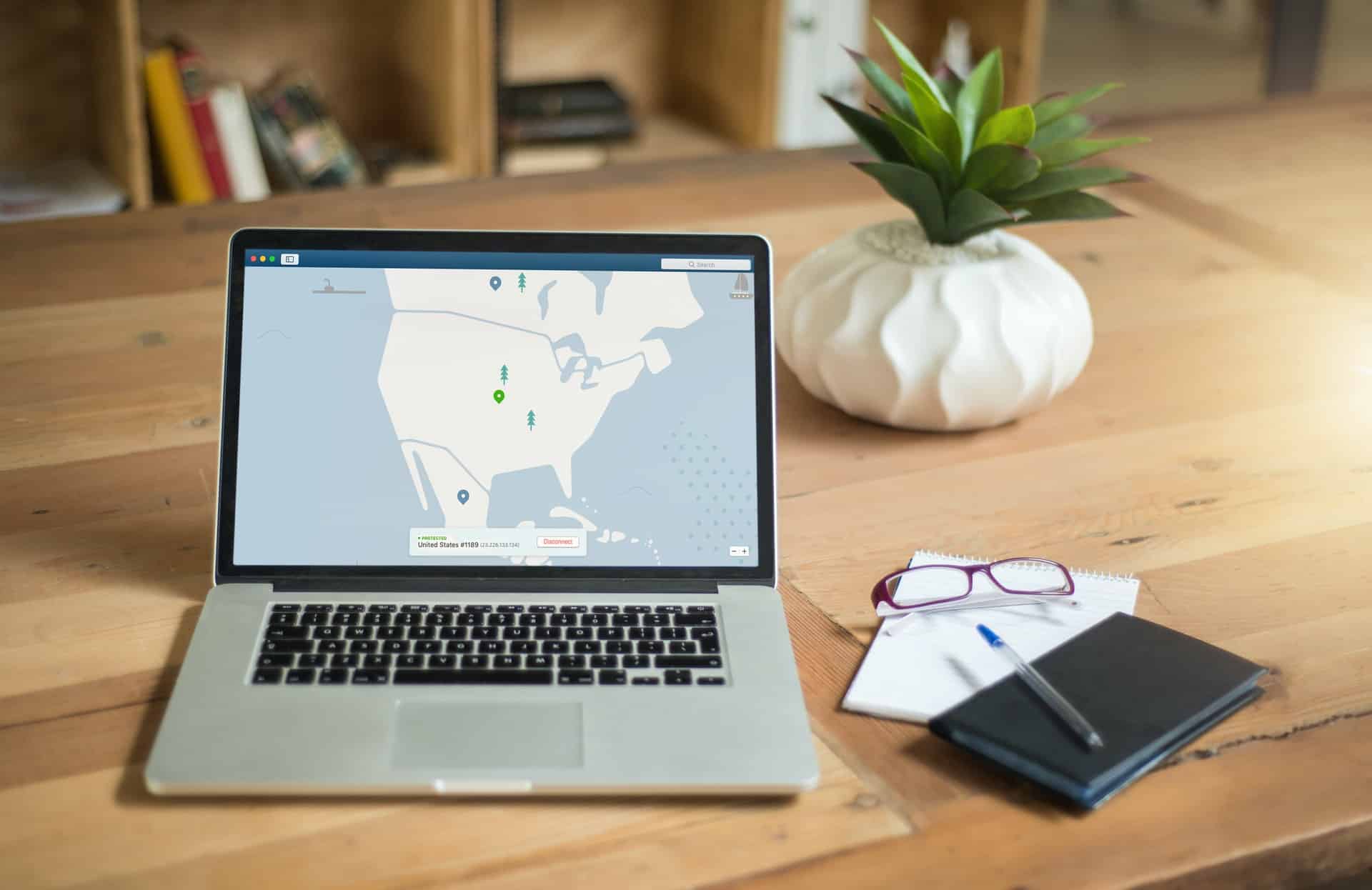 Moreover, a VPN gives you total control over who can access what. With it, you can be sure only the right people can access certain parts of your business. It helps both to keep someone out and to let someone in. While on the topic of access control, we should say that a VPN authenticates and authorizes employees by verifying their credentials. That way, you always know which user is working with which data.
Authentication is the process of verifying if someone is who they claim to be. However, it's not enough when it comes to sensitive data. Authorization is also needed for further determining if a specific user can access specific data or make a transaction. Access control doesn't only allow for better security, but it also improves the workflow and makes projects more manageable. When each employee has access to only the necessary aspects, there will be no mistakes and misunderstandings.
Finally, a VPN protects your company and its network from cybercriminals. If you have some confidential data you don't want to risk putting in danger; you will want to create a private network with a VPN.
How to Find a Great VPN Provider?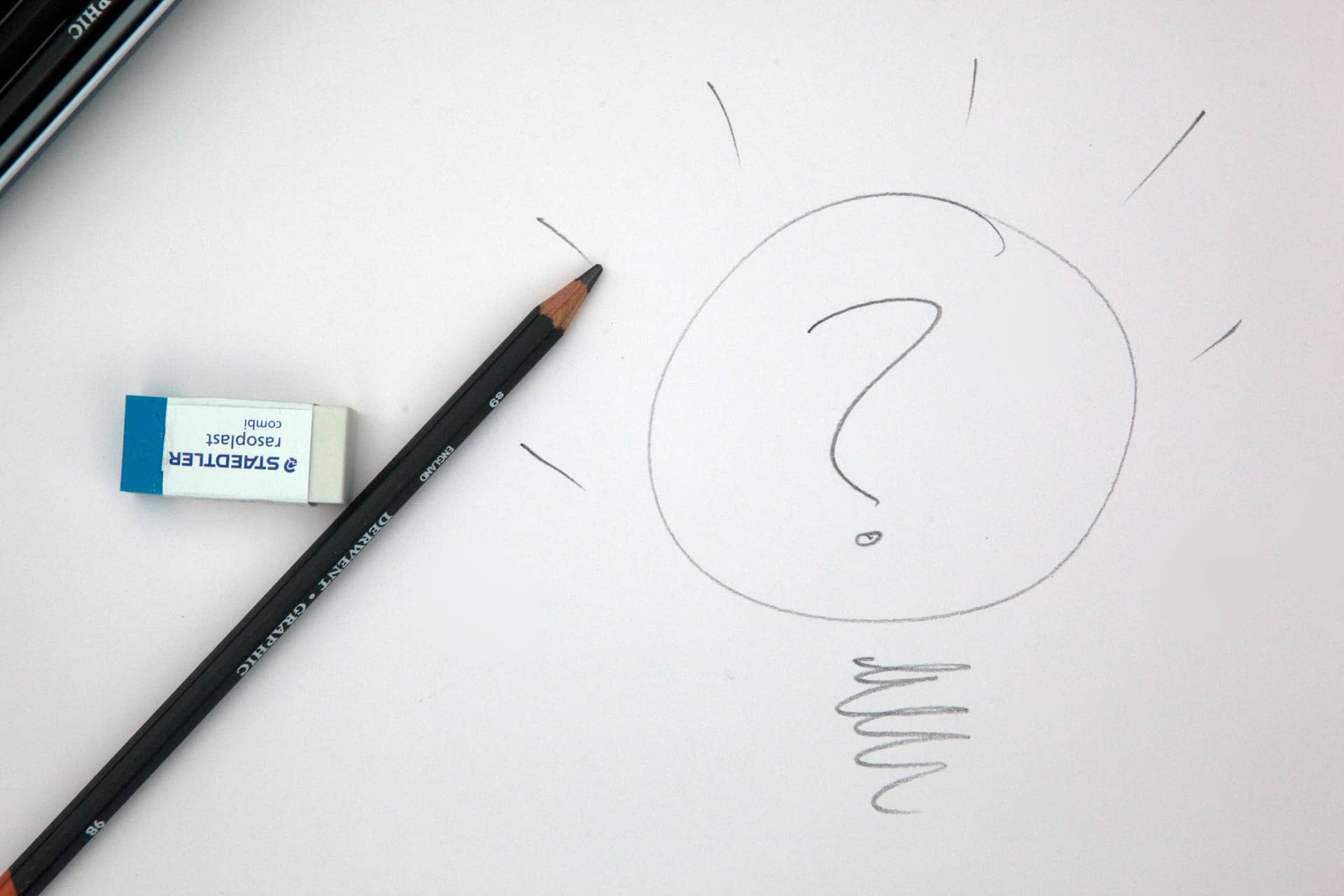 Now, there is a great number of different VPN providers out there. Each provider offers features that are tailored to specific needs. Choosing the one that will be the best for you can be an overwhelming and complex process. You can pick one out depending on what you need to use the VPN for. In case you need a VPN only for frequently accessing a sketchy public network, you can go with a modest one. Even one that can be installed for free and used at home can work in this case as well.
The second case is if you want to "change your location" to access websites that you otherwise can't. For that, you will have to look for a VPN service that has servers located in the geographical regions that you want to access. But what if you need a VPN for something more serious? If you want to be provided with more anonymity and security, you should look for a provider that doesn't keep an activity log and has a large user base.
The more users they have, the smaller the possibility of someone tracking you specifically.
Aside from that, you should have other things in mind when choosing a VPN service.
Get one that fits your budget, don't go overboard, and do your research to find the one that will be acceptable to you.
Take a look at the protocols a provider follows to ensure you will achieve a high level of security with low processing. Then check out how many servers they have and where they are located. It's a good idea to also check how many connections they allow, do they keep logs, and do they limit bandwidth.
As you can see, there are a lot of things you should keep an eye out for. So, to make the process easier for you, we are bringing you a service that will make choosing a VPN a walk in the park.
PrivacySharks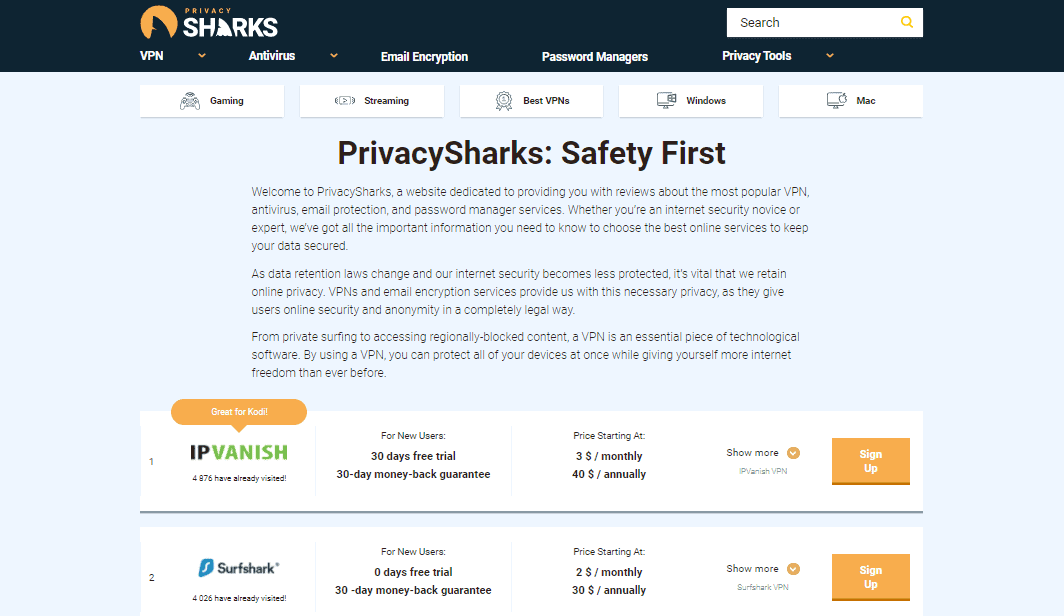 PrivacySharks is a website that brings you reviews of VPNs, antiviruses, email protection services, and password manager services. With PrivacySharks, you will never be confused again regarding which provider or tool is perfect for you or your business. When you visit the website, you can see different tabs and categories that provide you with additional information and easy navigation.
There are reviews of different VPNs for gaming, among other things. PrivacySharks states that it is known that the wrong VPNs can make a game lag, cause low latency, and slow down in-game responses. However, the right VPNs can actually enhance your gaming experience. They can also provide access to blocked games and those that are not released yet in your country. There is also the security risk when you are playing online, and a VPN minimizes it.
With the rise of streaming platforms such as Netflix and Popcorn Time, it's no surprise that people want to be protected while watching. That is why PrivacySharks has compiled a list of the best VPNs for streaming you can choose from depending on the streaming service or website you want to visit (Netflix, Kodi, Disney Plus, or Popcorn Time).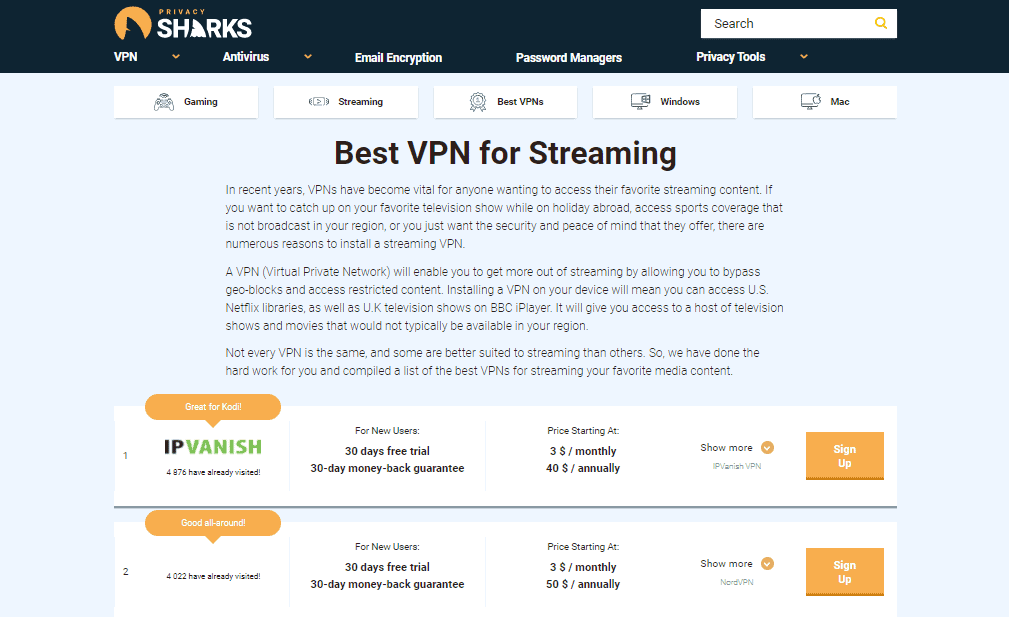 Whether you are on a Windows device or a Mac, PrivacySharks has you covered.
Choosing a Windows-specific VPN can be tough since there are a lot of VPNs made for that OS. But you can head over to PrivacySharks and take a look at the ten best ones!
Mac devices provide a little more security, but that doesn't make them impenetrable. Since all Apple products require more sophisticated tools, you need to choose a VPN service designed for them, which you can find a list of on PrivacySharks.
But PrivacySharks doesn't stop there! You can view more tabs that have more lists and reviews made to help you find that perfect VPN service.
PrivacySharks provides you with lists of the best VPNs for Android, Chromebook, PS4, PS5, iPhone, laptops, and so much more. There are lists of the best VPNs for countries such as Australia, Italy, France, Hong Kong, Taiwan, and many others. There are also lists of VPNs for categories such as business, corporate, and enterprise. And, of course, if your concern is viruses, the PrivacySharks team provides you with a list of the best antivirus with VPN options.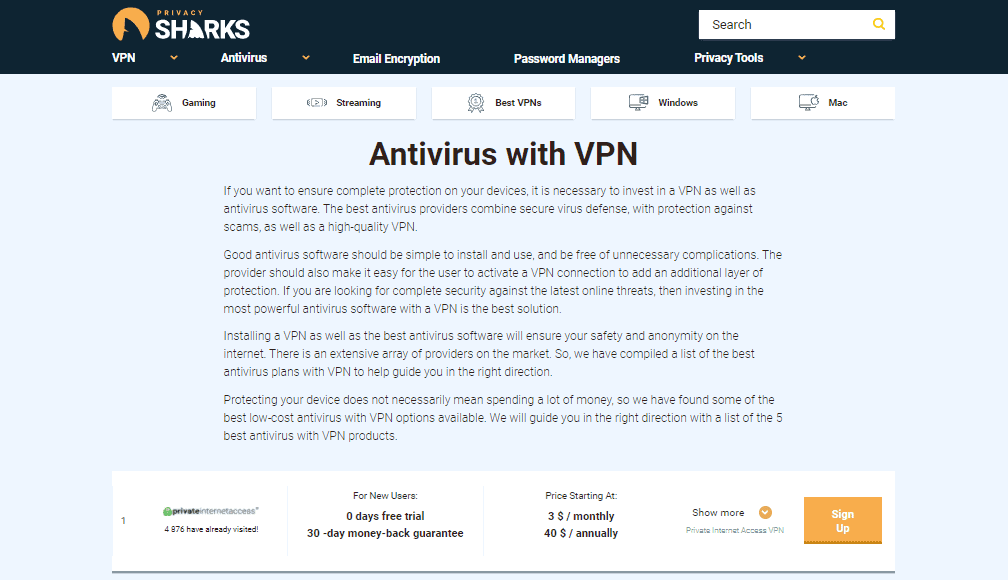 As I mentioned, PrivacySharks provides you with reviews of many different VPNs. Some of the VPN reviews featured on the website include NordVPN, Hola VPN, StrongVPN, GOOSE VPN, and more.
Also, a really great part of PrivacySharks is the comparisons. When you have two VPNs side by side, you can decide which one you want much easier. Everything is in the right place; you can clearly see what both of them provide, what they lack, and how each VPN can help you.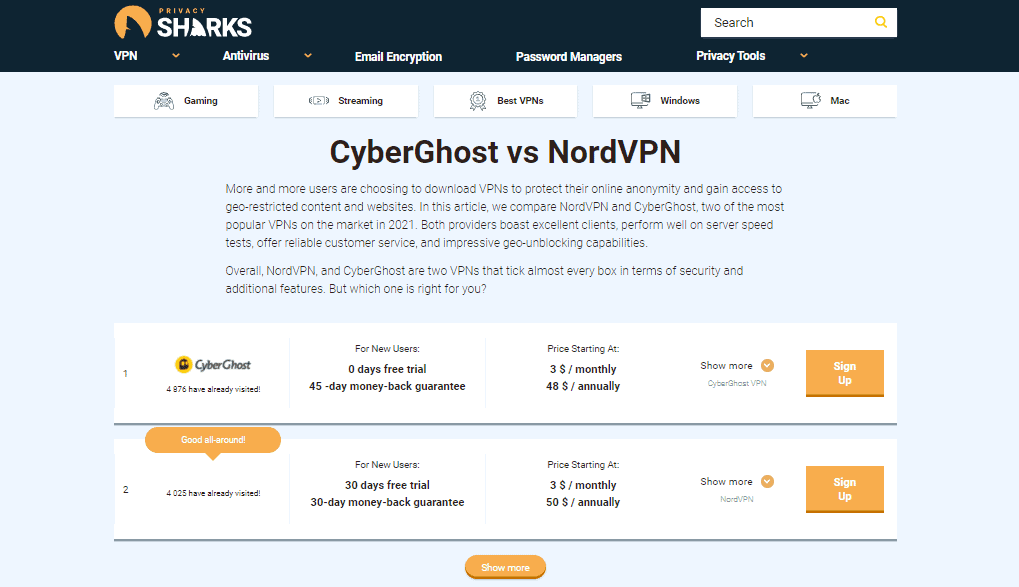 The PrivacySharks team works hard to introduce you to different VPNs, emphasize their importance, and give you multiple options. Each review, comparison, and list is written clearly and is based on information gained through research.
I am sure you can find what you are looking for on their website. If you are unsure which service to pick, you can look for its review, and if you can't choose between two services, you can head over to their comparison.
Final Thoughts
There you have it, all you need to know about VPNs in one place. A VPN is a private network that creates a barrier between your data/activity and the prying eyes of cybercriminals. Both a business and an individual user can benefit from having a VPN.
PrivacySharks is a fantastic website for when you don't know which VPN service to choose. It provides you with reviews, lists, and comparisons to help you in that decision-making process. Be sure to check it out!