Having your own website is like owning a powerful tool that can open the floodgates to myriad opportunities. Why do people choose to have their own website?
To some, the website is a great way to connect with the world and share common passions like music, knowledge, art, literature, etc. It is also a great way for business enterprises to connect with the world into a free domain to connect with the users in the network.
There are several companies that can help you set up a jazzy site. But it's going to cost you.
If you are looking around to make a #website for free and have your own creative space, try any of the following online tools to create your own website free of cost.

1. Beatrix24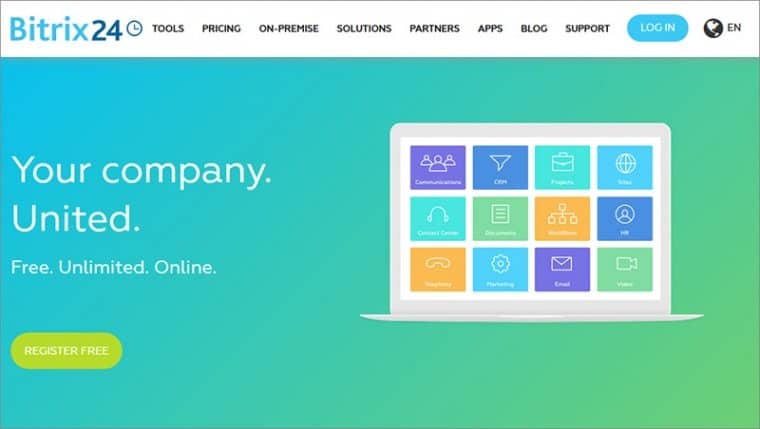 The Beatrix 24 free website tool builder is a simple tool that can help any novice build a beautiful website and landing space for free. It does not demand any prior coding or designing experience. It is equipped with inbuilt live chat, web forms, marketing, and sales automation tools. The tool is integrated with CRM. This feature makes it easy to capture traffic and web hit information.
Its outstanding customer support makes it easy to harness multichannel contacts and stay in touch with customers via live chat, call back requests, email, instant messages and other forms of social media networks. It is easy to set up and go. The Beatrix24 is compatible with all OS and device types.
The Smart Engine Optimization functionality of this website builder helps in traffic analytics. You will be able to read your visitor's online behavior and gain valuable insight into their interests. The tool also provides the capability to buy ads on Facebook, Instagram and other advertising networks from the Beatrix24 account and take a close look at similar audiences.
2. WIX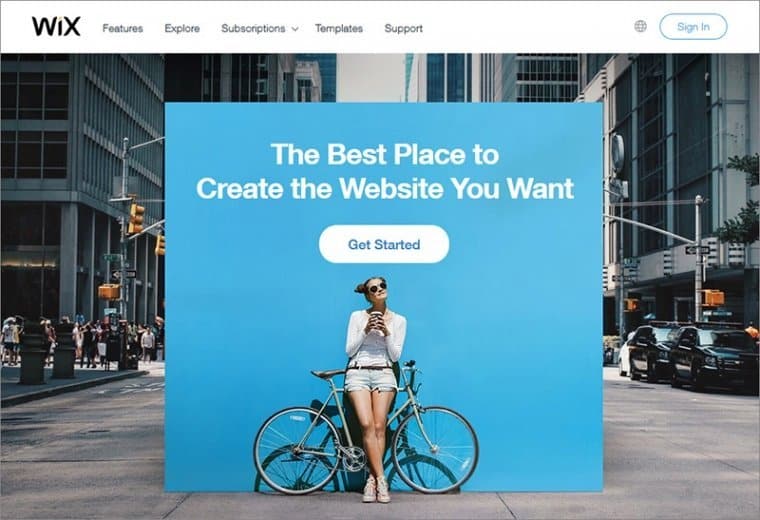 Built by the leading cloud-based development platform, WIX is one of the most preferred free website building tools to create attractive websites and establish a credible web presence. You can promote your business or showcase your talents and hobbies gallantly free of cost. The web development tool in WIX can help you get set up with a quality website that encourages personalization that can help you get an edge over competitor websites.
Comparing Wix to GoDaddy, the opportunity for creativity on this platform is endless. Alternatively, with WIX ADI, you can also choose from a range of ready-made web templates that have been designed keeping the necessary paraphernalia into consideration for building a robust website. Not only does WIX assist you with website building but, it also helps with free web hosting, high security and optimal SEO for your website. A dedicated team is available on the back end to support you 24X7.
3. SITE123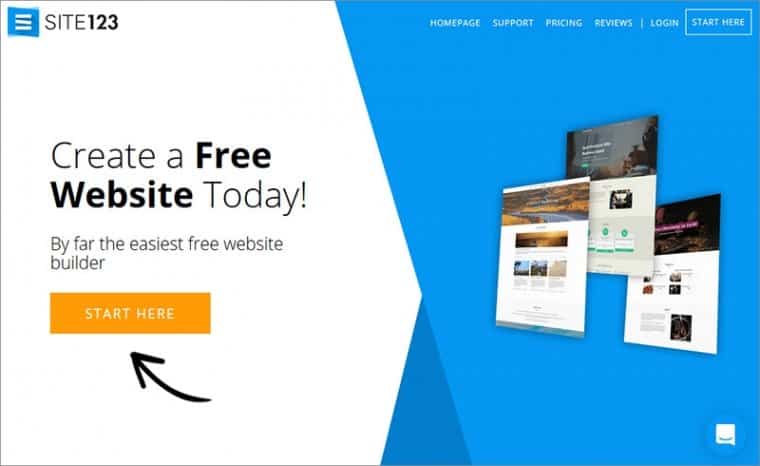 SITE123 is one of the easiest tools you can depend on to make a free website. It does not require any prior coding or designing experience. SITE123 comes with attractive predesigned high-security code embedded templates to choose from, keeping in mind security, safety, and intuitiveness. It can be set up on any device, including mobile phones. SITE123's inbuilt SEO tools are optimized to study visitor behavior to help drive traffic efficiently to your business.  It also offers the option of choosing a custom domain for best brand visibility. SITE123 serves as a great tool for marketing and online sales. Selling is the art of persuasion. This tool builder ensures the best design, giving special emphasis to content display which makes is a great choice for cogent marketing.
Just set up in 3 steps, upload your products, configure your settings and you are ready to sell. SITE123 also comes with excellent 24X7 customer support for all your queries to help you build a successful business website.
4. Webnode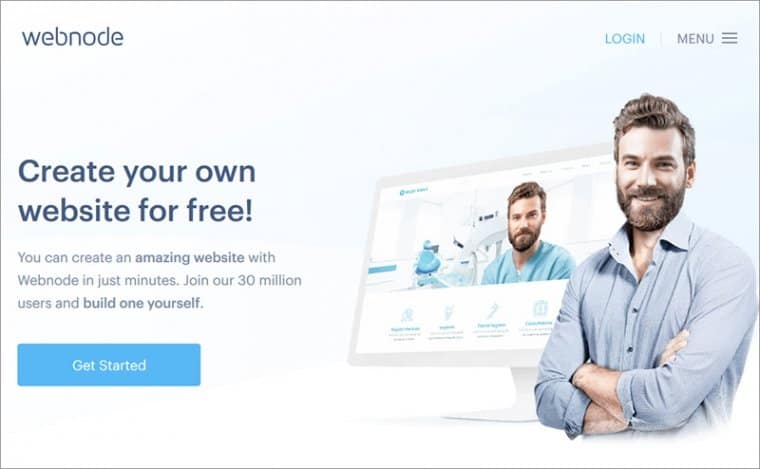 With over 30 million users using Webnode, you can be the best judge to ascertain its credibility. You can create an amazing website within 5 minutes and be on your way to a great start. It offers user-friendly convenient features, that allow users to simply drag and drop elements like photo galleries, blogs and much more. You can customize your content in no time and change as frequently as you want. The sky is the limit for your creativity using this smart tool.
The best part of Webnode is that it is both a business and personal site friendly. For bloggers and people with a penchant for creative writing, it's a blessing in disguise. The simple content editing feature makes it possible to add or change as frequently as you please. It also makes a great portal for home sales and online stores.
5.  IM Creator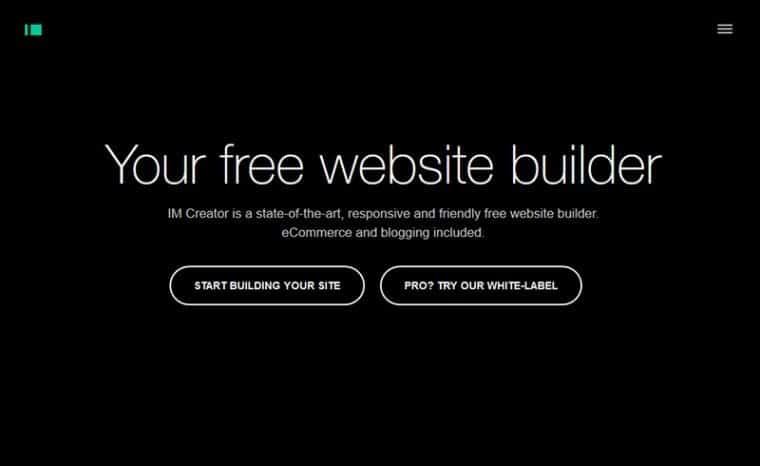 This super-simple tool and a free website builder software is fully responsive and Google-friendly. The free website builder comes with eCommerce and a blogging feature. Build your website free, online and start showcasing your products or services. IM Creator offers all the features to be able to market and grow online. The content is responsive to all media devices like laptops, tablets, mobile-phones, google-glass, and smart-watches.

The best feature is it provides unlimited hosting, unlimited bandwidth all free of cost. IM Creator offers powerful SEO and security tools complying with the latest web standards. The easy to use tool with XPRS allows the creator to build gorgeous sites, by choosing handy tools with designer templates.

The most interesting feature is its scalability irrespective of one or a thousand-pager portfolio. The scope for growth is unlimited. Just add a price to your product and sell away.

It features a superior secure transaction system with a credit-card checkout facility, analytics, and management console powered by ShopRocket. The XRPS feature allows you to upload pictures or add blog posts on the fly from your mobile device.
Parting Thoughts
The digital age does not spare the ignorant. Whether you are looking for the right domain or looking to capture an audience for your domain, a website where you will go. Choose one of these tools to start your free website, today.