Good quality photos are a necessity nowadays. Having them on your pages makes the whole website look a lot more interesting and attention-grabbing, which is what you want, especially since there are so many competitors out there and you need something that will appear more reliable and interesting to your customers. If you want your photos perfect, photo studio riyadh list of great photographers is waiting for you!
In need of a good online #PhotoEditor? You can find a list of the best ones in this article!

However, you want to ensure these photos look amazing and are of high quality. This means you have to get rid of any blemishes or blurry focus, as well as use advanced features to create complex compositions and make everything seem natural.
There are numerous online photo editors, such as Illustrator, out there that can help you with this and we will list the top 5 ones in the rest of this article!
1. Pixlr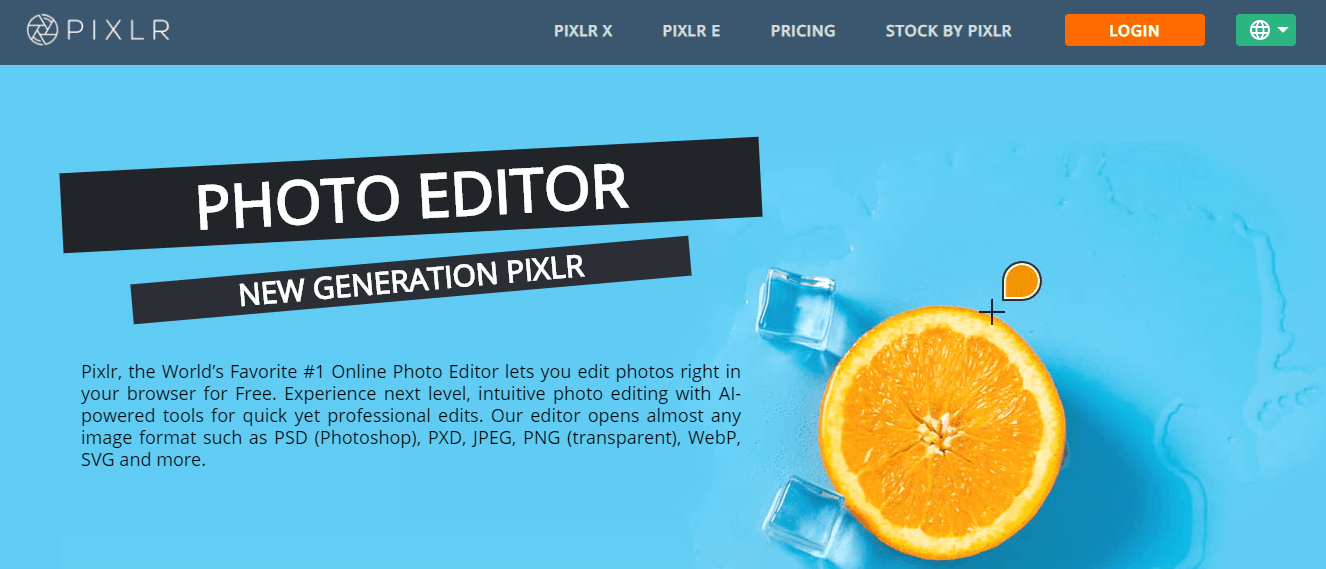 Pixlr is an online tool that is really simple to use if you want to create good looking and professional designs but haven't really worked with any other photo editors before. To use this tool, you don't need to be a graphic designer. And essentially, it is a simpler alternative to Photoshop and Lightroom.
This tool lets you remove all background images in one click using the AI Cutout tool or using the Shape mask, Draw mask, Lasso mask, and Gradient mask options, as well as enhance photos with filters, icons, overlays, complex designs, and more.
Moreover, you can edit your photos directly in the browser, no need to install anything. And no, there will be no ads to annoy you.
You can add overlays, just choose one from the large selection, and customize them by adding icons, accents, textures (light streaks, dust flecks, glitter), and using layers.
You can also choose from a large selection of decorative text when designing your image. And lastly, you can make use of the gradients tool to add depth and color to your designs, logos, and photos, change the hues, saturation, and brightness.
It costs $49 (one-time payment) to get this tool with full access to Pixlr X and E. Plus, there are tutorials that will show you how to use it.
2. Crello
Crello is another great online photo editing tool, something of an alternative to Canva. With this tool, you can edit your text, resize images, add different photo effects, crop images, add contrast, or fading. You also get access to more than 30,000 pre-made design templates in different formats, as well as access to millions of premium photos and eye-catching animations.
The tool has been designed for marketers and content teams who need to design images quickly and make them look professional.
With Crello, you don't need to start from a blank page, instead you can choose a template and create your own content, whether for your website, social media, or some other brand products.
You will get one-click tools for editing text, fonts, the color of the text, and the appearance of the text box and its borders.
To add visuals and more animation to your images, there are dynamic tools with which you can make multi-page animations, add animated text and graphics to your ads, social media posts, and other images. And there is also a simple video editing tool included so you can edit your videos, as well.
To purchase Crello with all features included, it will cost you $67 annually.
3. Photopea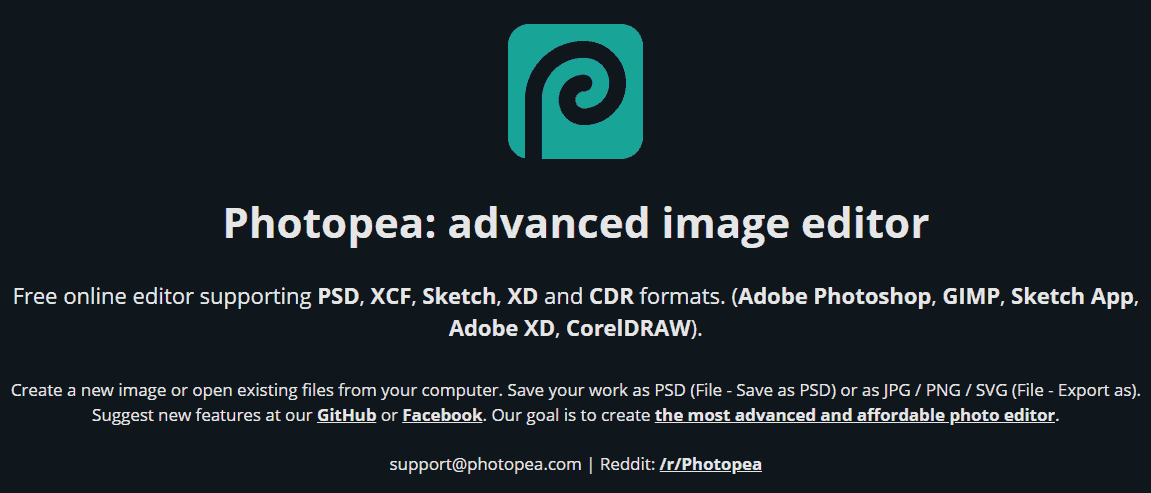 Photopea is an online photo editor that is closest to Photoshop. You can use layers, use a healing brush, and export your images in different formats (JPG, PNG, GIF, and more).
You can edit images directly in the browser and the interface will be very similar to that of Photoshop. There are a lot of features available, such as the liquify tool, lens correction, lots of brushes, adjustment layers, etc.,  so it might be a bit overwhelming for first-time users.
This tool is free and is supported mostly by donations to keep it online, but a pro account will let you undo up to 60 steps and there will be no ads. If you go pro, you can choose to buy the tool for 30, 90, or 365 days. For a single user, it costs $9, $10, and $40 respectively, but you can also buy the tool for teams of 5 or 20.
4. Fotor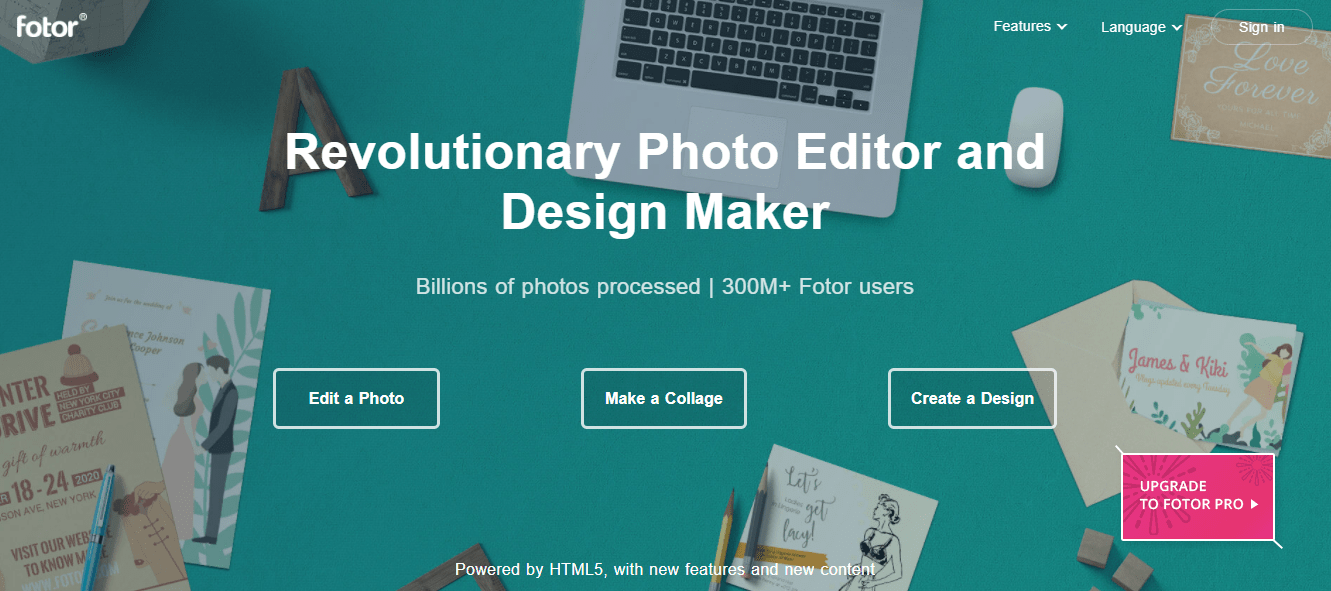 Fotor is another online photo editing tool that is great for beginners. However, it doesn't have the ability to add or use layers, but you can use a healing brush and export documents in JPG and PNG format.
It also comes with video tutorials to help you learn what features there are and what to use them for.
You can edit photos, create a collage, or create a design. There are plenty of filters, color adjustment options, brushes, makeup effects, frames, stickers, and text. The pro version has even more features and with it, you can upload your files and share them on social media when you are finished with editing them.
5. PicsArt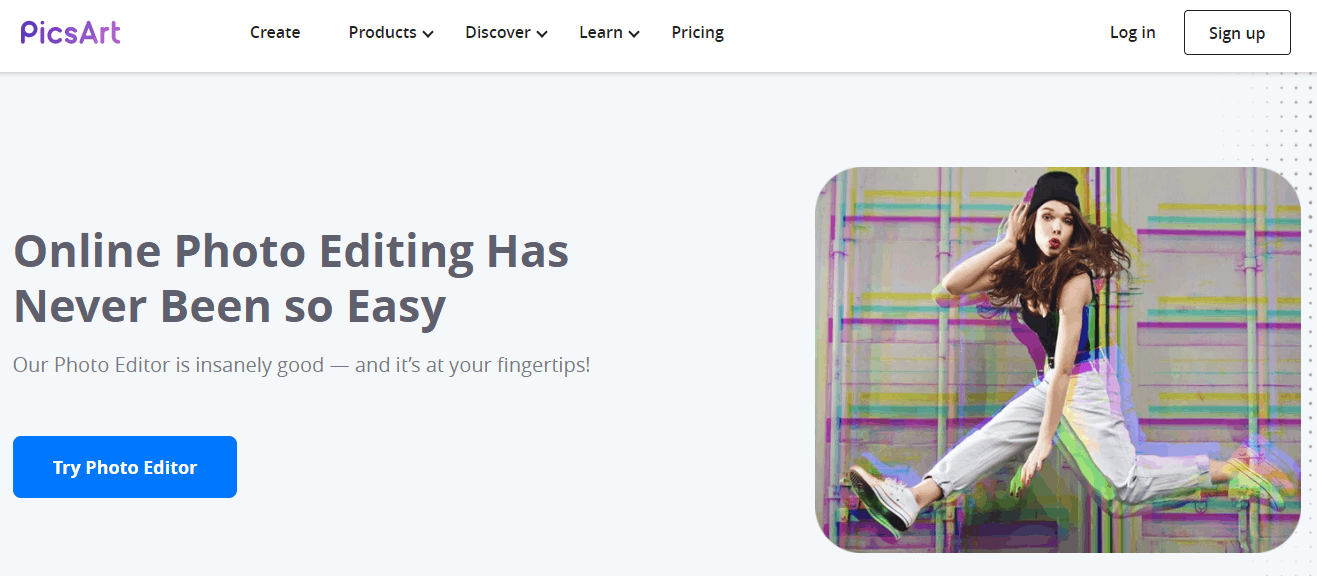 PicsArt is the last online photo editor tool we will review today. It doesn't have the option to add layers and it doesn't have a healing brush option, but you can still export documents in JPG and PNG format.
This tool is specifically created so you can have fun with your images, so there might be no features to add color grading or complex layers, but it has lots of fun effects.
The background cut-out and replacement tools are great so if your image has a plain backdrop you can cut it out and replace it with a solid color, gradient, or texture. Then, there are the eraser tool and different sketch effects that let you create double exposure by using two pictures and making them look natural.
You also get access to a lot of images, stickers, and templates which you can then use to edit your photos. Oh, and by the way, the tool is free to use.
6. Adobe Express
Adobe Express is a free tool available online to edit images and videos, design logos, infographics, flyers, banners, charts and advertisement ads designs. The perfect background remover and images editing software, very helpful to manage your editing needs easily. An excellent way to give your thoughts a beautiful shape and design eye-catching logos and design for your business platform. Use grid features to design multiple images in one frame. Remove background from an image to give it a clear view. Design your three dimensional work free of cost and rotate the images to adjust the perfect photo angel. Draw custom designs on your images and save them for later use.
Design your business logos with thousands of available templates. Choose among a number of font designs and font strokes to give your work a perfect design. Use multiple illustration options to give a different look to the same element in the image. Edit and resize the already existing images and logo. A very helpful AI content aware layout tool to remember the footprints of editing and resize and redesign your images easily. Make use of photoshop and import your creative thoughts, illustrator graphics and edit your pictures comfortably. Draw more effective designs by working in a team through co-editing features. Store your creative designs in Adobe online library.
Make your editing easy by controlling your work through the keypad. Edit your videos with multiple online features and create animations with eye-catching moving effects. Edit your images, logos, ads banners, pdf and animations by Adobe Express outstanding features. Adobe Express is a perfect software to fulfill all your image and logo editing needs.
Conclusion
In this article, we reviewed the top 5 photo editing tools we think are great. However, among them all, we would recommend using either Pixlr or Crello.
They are simple to use and also offer a lot of great features using which you can create the best-looking designs and images. But regardless of which tool you choose to use, we think you will be satisfied.