MilesWeb is a trusted and reliable web hosting service provider known for providing in-budget web hosting plans.
If you are already searching for hosting plans to fit your budget, MilesWeb can certainly be on your priority list.
Budget is one of the vital things while choosing a web host and #hosting plan, and #MilesWeb provides the best possible discounts on all the web hosting plans.

Speaking about MilesWeb, the company has firmly established itself in the hosting industry. The company's entire approach is centered around offering its clients a practical and cheap hosting opportunity. They provide a wide range of hosting plans, services, and hosting options. Most hosting plans by them are superior to others.
MilesWeb is one of the most successful hosting companies in the world. They began in 2012 and have overcome difficult times to become one of the most reputable hosting companies in the market. They presently provide hosting facilities in India, the USA, UK, Singapore, Australia, and Canada. They have over 30 thousand clients and are adding new sign-ups on a daily basis.
Alright, so this was just the precap about MilesWeb. Further, I am going to make you believe why you should go with MilesWeb's plans.
Let us begin!
Discussing the best web host, writing about web hosting has to be a mandated task.
Web hosting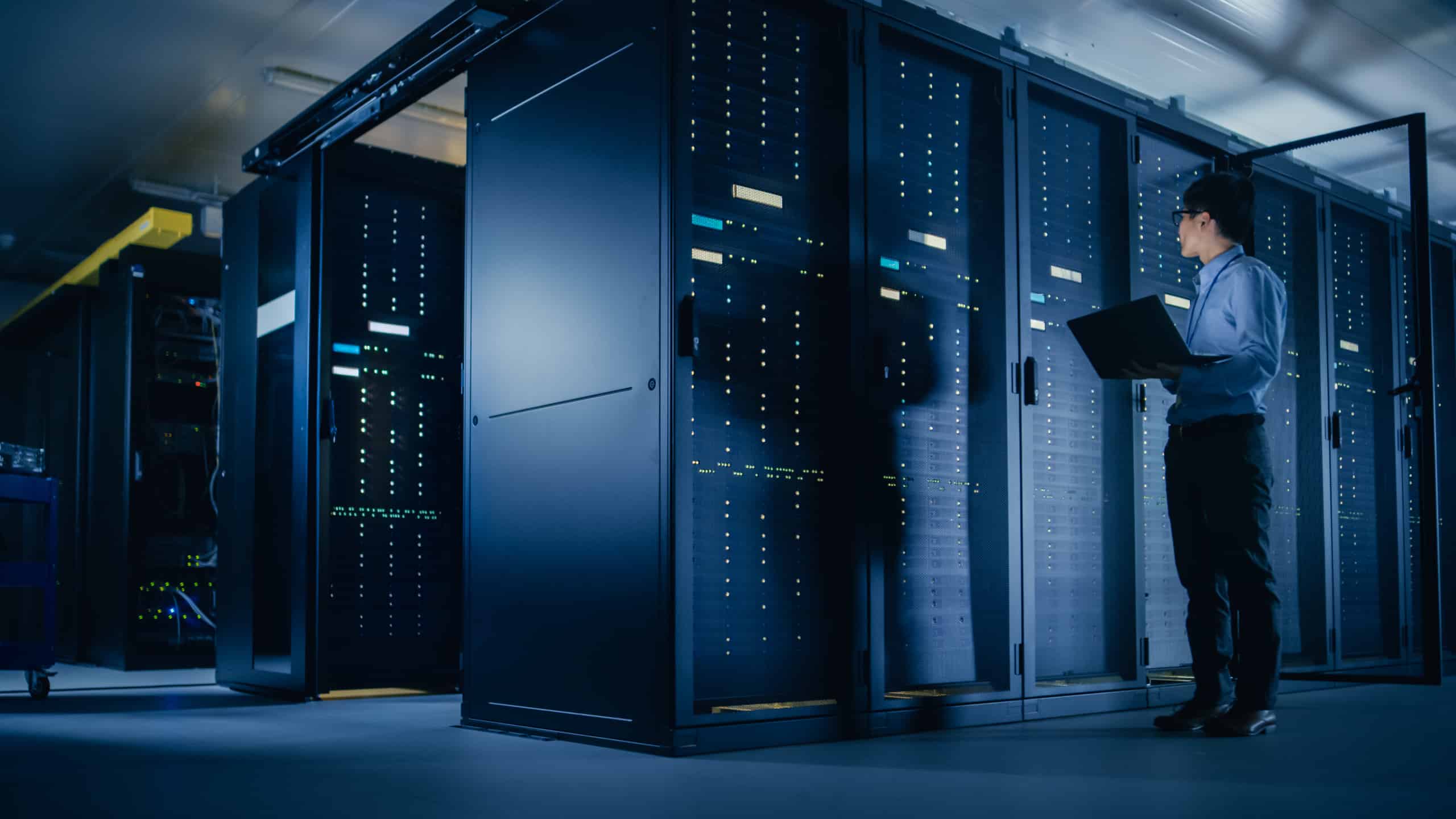 MilesWeb provides a wide range of web hosting plans that include shared hosting, VPS, dedicated, cloud, reseller, and WordPress hosting. All the web hosting types come with dynamic and feature-rich plans.
Web hosting is the process of making space for your website on the server. The server can either be a standalone physical server or a cloud-based server. And, MilesWeb facilitates both according to website requirements.
MilesWeb is one of the few web hosts providing Linux and Windows hosting plans.
The shared hosting plans offered by them are the best sellers as the plans include varied features at the most affordable cost. The shared hosting plans, also called web hosting plans, are the most purchased.
MilesWeb's Linux shared hosting comes with three plans Tyro, Swift, and Turbo. Each hosting plan has the best features and functionalities, and every successor plan has added features and offers.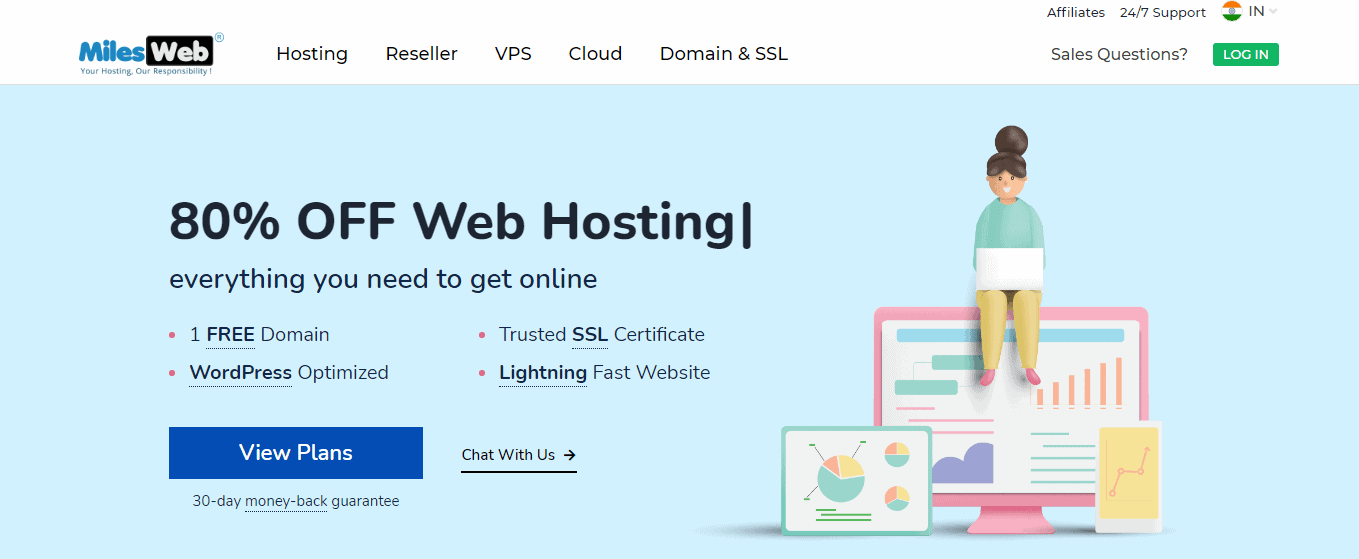 Let us take a closer look at the Linux shared hosting plans.
The base plan – Tyro
Tyro is the basic plan that comes with multiple resources at the cheapest cost. The Tyro plan costs just Rs. 40/mo for long-term hosting. Comparing the price and the features to other hosts in the market, MilesWeb provides the best hosting features at the cheapest cost.
Discussing the resources of the base plan, the Tyro plan allows you to host one website while providing you with a free domain for a year. With the basic plan, you can create ten email accounts and get to use the Webmail interface with Horde and Roundcube options.
You can avail the benefit of using unlimited bandwidth even with the basic plan.
The other resources offered in the Tyro plan are the free SSL certificate, website builder, control panel + 1-click installer, WordPress-optimized servers, and 3 MySQL DBs.
You are ultimately getting sufficient resources for hosting one website in the Tyro plan at an affordable cost.
Comparing this plan with the other providers' base plans, MilesWeb is certainly providing you with add-on resources like creating ten email accounts, unlimited bandwidth, a free SSL certificate, and many more.
A word about the plan: This is the best-suited plan according to my survey and reviews. The Tyro plan is the best for beginners and provides value for your money.

The Swift plan
Swift is another shared hosting plan with added resources and features to the Tyro plan. The Swift plan can be called an Unlimited Plan as it provides unlimited email accounts, SSD disk space, bandwidth, and MySQL DBs. The Swift plan costs just Rs. 130/mo for a long-term purchase, which is a very basic amount for the resources provided.
The Swift plan allows you to host one website and provides you with a free SSL certificate, website builder, control panel + 1-click installer, and WordPress-optimized servers.
MilesWeb has customized its shared hosting plans with WordPress in mind, as it is the most popular CMS running in the market. They've customized its architecture and settings to ensure that clients on their shared hosting plan enjoy the blazing-fast and 20X faster speed on their basic plan when using WordPress.
Your monetized WordPress site gets the best performance boost with the optimized WordPress servers. Even a one-second delay in loading time is enough to cause a large portion of your traffic to click the back button. It's better to opt for WordPress-optimized servers in that case.
You can choose from a variety of popular TLDs. There is a free domain name (for a year) offer available with the Swift plan as well as the Tyro plan. You only pay the renewal charges after a year.
A word about the Swift plan: It is the best-suited plan for WordPress sites and sites with moderate traffic. You are getting unlimited resources for your website at an inexpensive cost.

The Turbo plan
Turbo plan is the best seller plan of MilesWeb. The major difference between the previous two plans and the Turbo plan is that it provides a hosting facility for unlimited sites. The Turbo plan comes with unlimited resources and supports WordPress hosting with ease.
Clients chose MilesWeb's Turbo plan since it is the most extensive of all the shared hosting plans. It's quite costly compared to the Tyro and Swift plan. It, however, costs about Rs. 170/mo and includes numerous great features that will be well worth the money for numerous websites.
As discussed above, the best-selling Turbo plan allows you to host an unlimited number of websites at a very basic cost. MilesWeb provides the best server architecture and resources for your website to experience 20X faster speed. 
Most MilesWeb's clients wanting to host one website opt for the Swift plan, and the clients having multiple websites hosted go with the Turbo plan.
The Tyro plan is usually purchased by newbies, bloggers, and clients with smaller businesses or portfolio sites.
The Turbo plan provides a higher speed boost than the Swift plan. Unless you have a lot of traffic, your site will load very quickly with the Tyro and Swift plan.

Automated backup with the plans
All the shared hosting plans provide an automated backup functionality, which is a major plus. Manually backing up consumes time and is a monotonous and exhausting job. The backup functionalities incur a minimal monthly cost. Backup is vital because the worst may come at any point, and you'll need to restore a backup to save your valuable data.
What is on MilesWeb's priority list?
MilesWeb certainly believes in the quote "Ease your customers' pain." -Hazel Edwards.

By providing the best resources and hosting features, the company also provides the most reliable customer service.
24/7/365 customer support:
MilesWeb is best known for its excellent customer service and 24/7/365 support. The expert team is available round the clock to fix clients' issues.
The uptime guarantee:
The most crucial parameter to examine when deciding whether or not a host is worth your time is uptime.
With the Tire-3 and Tire-4 data centers, the company provides a 99.95% uptime guarantee making your website run 24/7 without hassle.
30-day money-back guarantee:
The best thing you can get from your provider is the money-back guarantee. MilesWeb provides you with a 30-day money-back guarantee in case of any difficulty.
Free site migration:
If you are facing problems with your current web host, MilesWeb is there to help you. The company provides free website migration with no data loss. The technical support team migrates your site with ease at zero cost.

Powerful features by MilesWeb
1. Free site builder
The site builder tool enables you to create your own free website. Simply pick a template from the thousands of free themes available and get your site up and running in no time. It's an easy process; all you need to do is drag and drop your information and images, and you're done.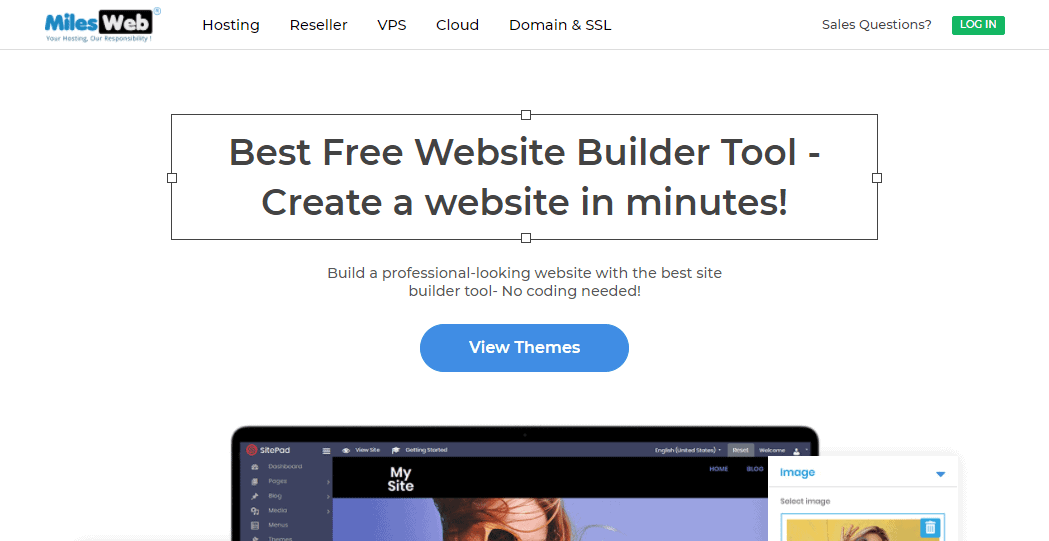 2. Control panel
MilesWeb provides a cPanel control panel with Linux hosting and a Plesk control panel with Windows hosting plans. Using a web-based graphical control panel, you may easily manage your website. You can use a control panel to create FTP accounts, databases, and email accounts, among other things.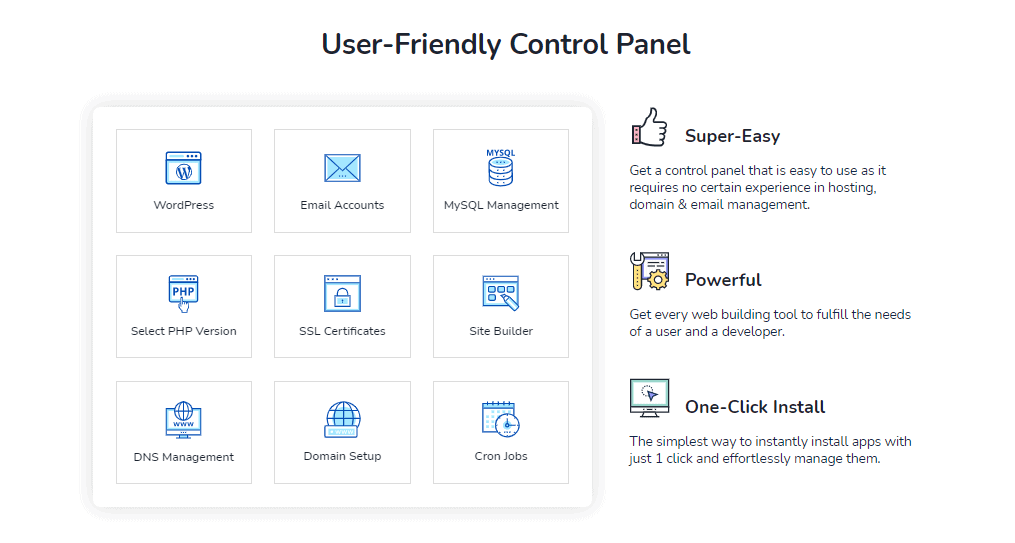 3. Malware scan and removal
It is certainly frustrating to be the victim of a hacked website. MilesWeb takes care that you do not get yourself into such a mess. The company provides a malware removal solution to guard your website against attacks and malware.
The pros of having MilesWeb's hosting plan:
They offer a 99.95% uptime guarantee.
Their support team is excellent and available 24/7.
They offer a 30-day money-back guarantee.
Also, MilesWeb provides a free SSL certificate that encourages webmasters to build more secure sites.
They have servers with robust SDD storage.
Con of MilesWeb hosting:
The only thing that MilesWeb sometimes fails to provide is the said uptime.
Also, they do not give support via call.
Conclusion
Choosing MilesWeb for hosting your website is always going to put you in a win-win situation. MilesWeb is an excellent choice for both new and experienced site owners. They provide quick speeds as well as skilled customer service. However, while its general performance is excellent, you may occasionally notice performance fall on high-traffic sites, as mentioned.
They're a low-cost host that provides good service at a low cost. MilesWeb is a brand worth considering if you don't want to pay more than Rs. 200/mo on hosting.
I personally believe they provide good value for money and are confident that you will not be disappointed with their services. You can surely have them at the top of your shortlist.