Google has a supreme reputation when it comes to website analytics. It provides traffic reporting alongside other features for creating effective marketing campaigns.
Google Analytics is quite a popular and resourceful tool for general business growth expedition on the web. But some people struggle to cope with some of the cons and would rather prefer using Google Analytics alternatives.
You don't like what #GoogleAnalytics has to offer? Then check out these great alternatives you can use instead!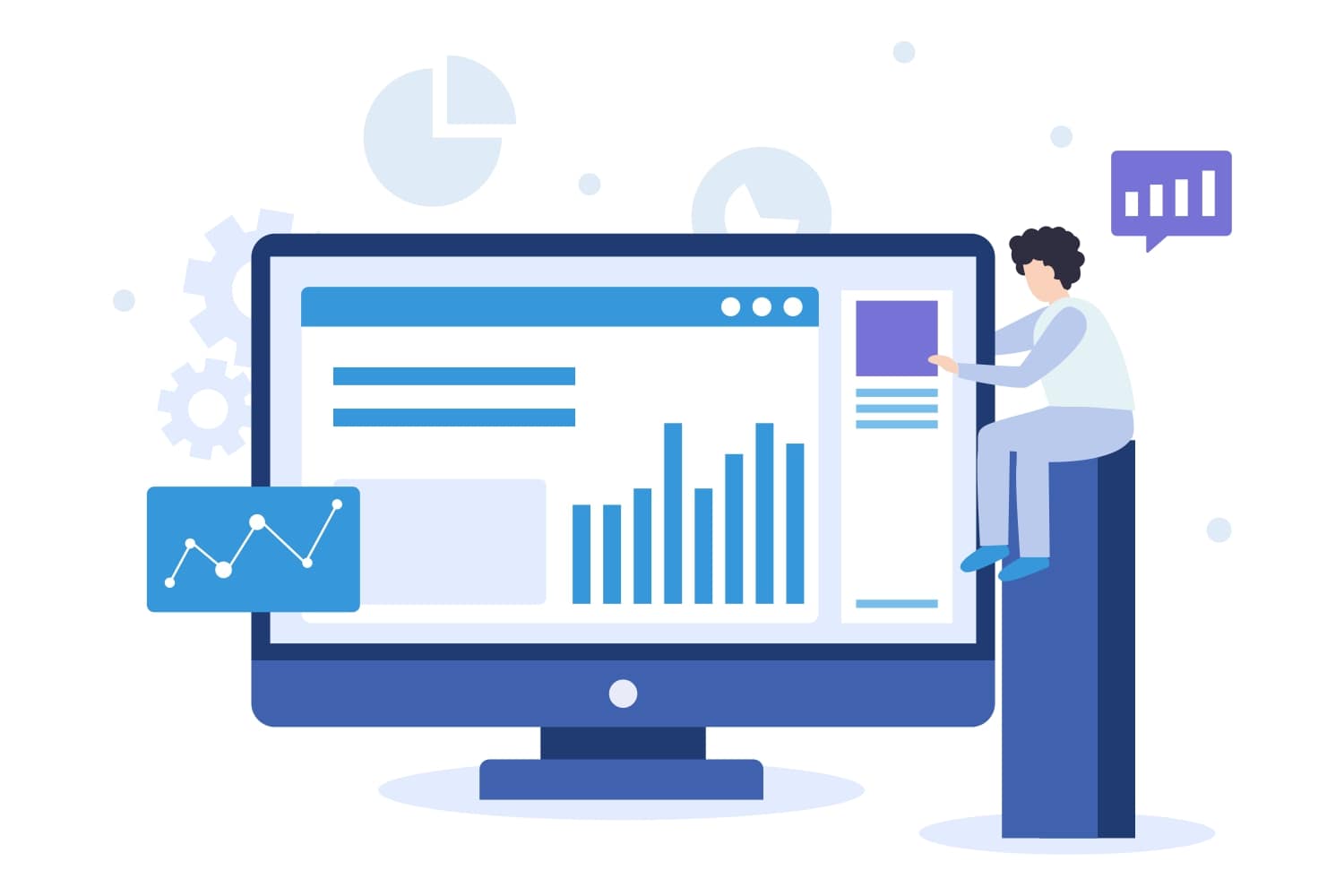 Image by Creazilla
Some of the highlighted drawbacks include how invasive the tool can be, alongside a poor rating in the user-friendliness. Others are the limited customization, restrictions on the hits, poor customer support, high cost of the premium version, and so on.
If you are looking forward to breaking away from some of the GA restrictions and cons, here is a list of some tools to consider.
4 best Google analytics alternatives
Aside from accessing features like basic traffic reporting, conversion tracking, and keywords referrals, there could be more to do with web analytics tools. And every single tool on this list has been tested performance-wise by hundreds and thousands of users.
Without being put in any particular order, here is a list of the best Google Analytics alternatives out there.
Kissmetrics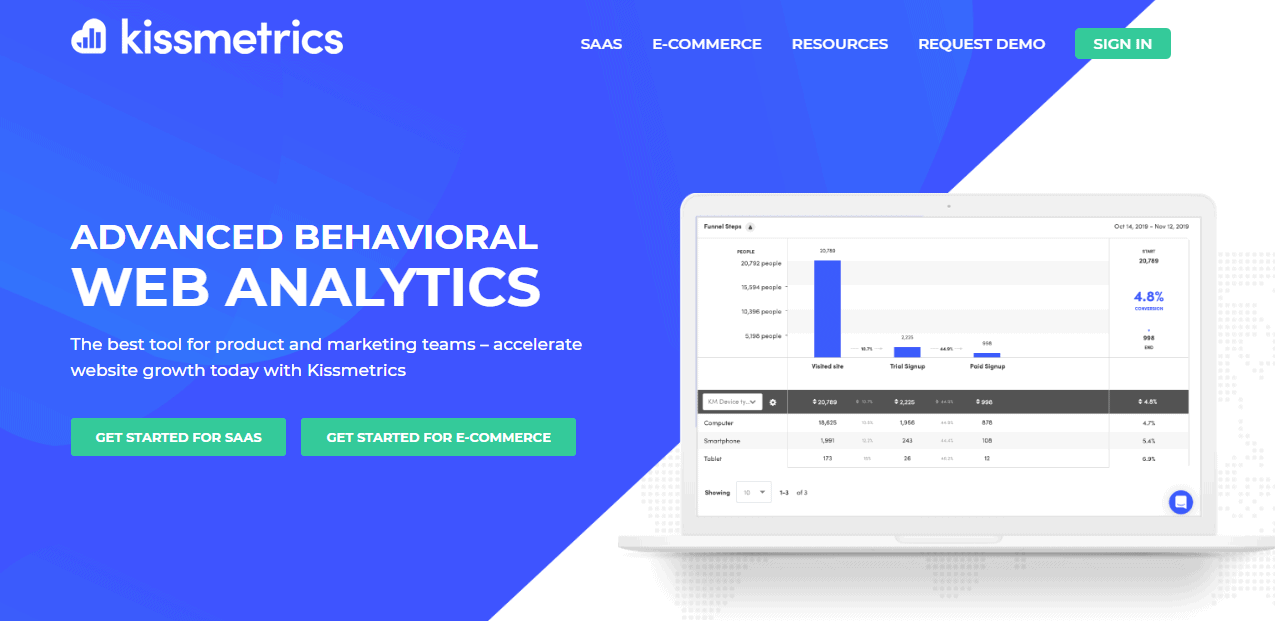 Kissmetrics is an advanced web analytics tool that helps you pay more attention to the behavior of your visitors, not just sessions. Kissmetrics is also a suitable tool for both product and marketing teams.
This Google Analytics alternative helps marketers optimize website conversion rates by providing detailed reports on the actions of every visitor, A/B split tests, data segmentation, unlimited funnel reports, and much more.
With Kissmetrics, you can view a visitor's full journey on your site across multiple devices, tie data directly to individuals, and receive direct support not just from support docs but a real person. You can also track a visitor's time-on-site, page views, and bounce rate.
When using the Kissmetrics analytics tool, you won't probably need behavioral analytics. And as a strong GA competitor, this tool will help you track the defining characteristics of each visitor on your site, thus helping you discover what are your most valuable products or services.
Unlike other Google Analytics alternatives mentioned in this article, the setup process for Kissmetrics is a little complicated. However, the tool provides users with plugins for most systems, and it offers analytic solutions for users on different types of websites.
Lastly, it's important to note that you can install Kissmetrics for a SaaS or an e-commerce platform.
SE Ranking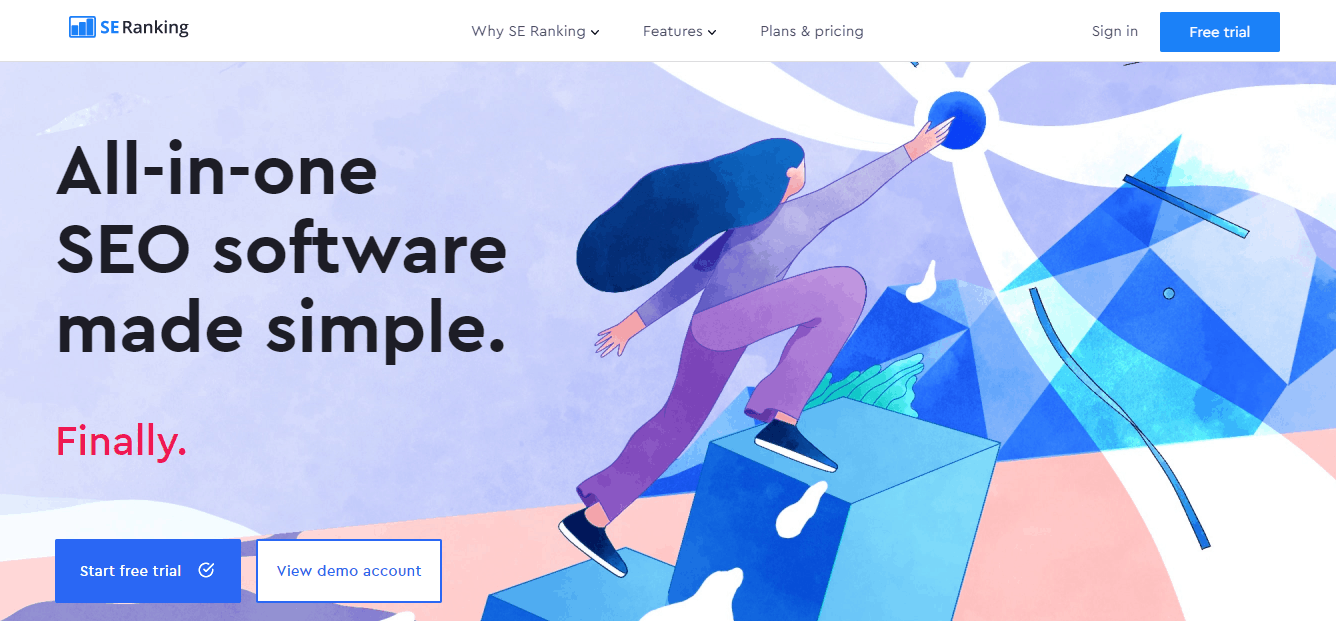 SE Ranking is an all-in-one SEO and web analytics tool that gives you a comprehensive analysis of your website. The software provides an in-depth website audit, helping you to discover who is visiting your site, and where the major traffic influx is coming from.
This powerful Google Analytics alternative offers a variety of useful features such as custom reports, traffic tracking, backlinks monitoring, competitor monitoring, social media activity monitoring, paid web analytics solutions, and Google Analytics integration. And it currently has over 300,000 active users who rely on the tool for site analytics.
One major standout feature of SE Ranking is the module feature that can send website ranking into the top 10 search results. The tool does this by highlighting the website issues both on and off-page, and by suggesting effective ways to fix them.
SE Ranking has a friendly and streamlined interface that provides an easier understanding of the data. It includes graphs and diagrams for various types of information.
By web developers, SE Ranking can be used in building more powerful websites, and also in providing reliable data points. This GA alternative also includes a marketing plan which offers users very valuable tips and tricks generated from your website's data.
Clicky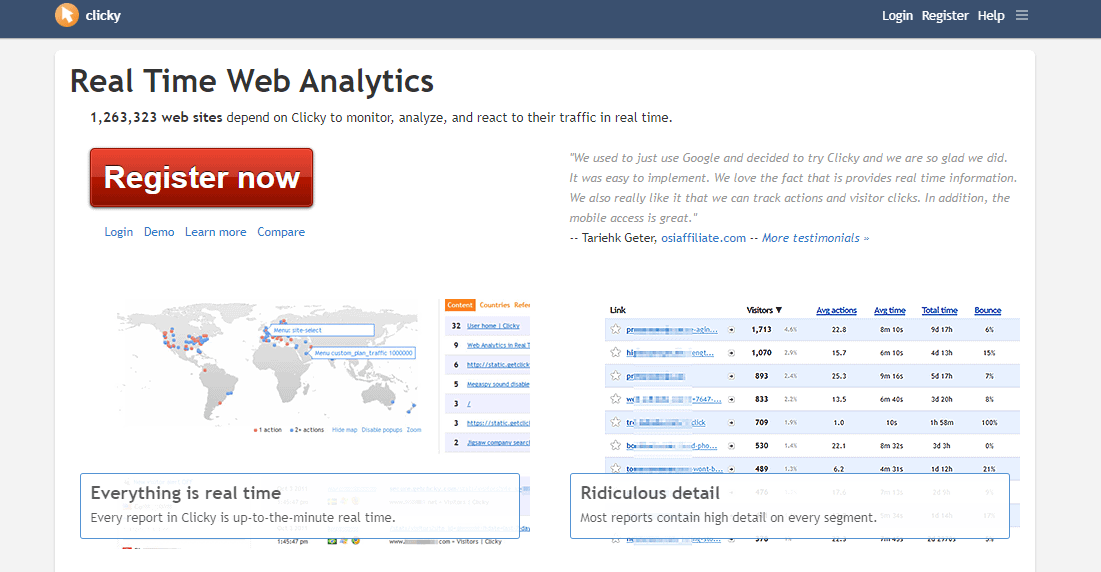 Clicky is a real-time web analytics tool that allows you to monitor and analyze your traffic in real-time. It ranks quite high among the most popular and widely used Google analytics alternatives.
The tool provides you with a detailed view of your site traffic through a clean and user-friendly interface. As a confirmation of its high performance, Clicky currently has over 1.2 million users.
One outstanding feature is its real-time traffic tool. That makes it possible for you to view real-time engagement on your site. With this feature, you can decide whether to isolate a particular visitor and monitor in detail all actions of that visitor on your site. In doing that, Clicky provides you with heatmaps containing the visitor's activities per page or by segment.
Beyond just a general view of your traffic, Clicky helps you in better understanding your visitors, as well as in responding to their behavior. You can go through any column of the analytic reports to study your visitors' behaviors in detail. Through this detailed report, you can determine which parameters work well for you, and which you need to improve.
Clicky also provides you with an uptime monitoring feature which will send an immediate alert to you as soon as your website goes offline, allowing you to provide a quick response.
Woopra
Woopra is simply described as an end-to-end customer journey analytics tool. It is a Google Analytics alternative that provides you with detailed analytics on the activities on your site.
Woopra comes with an attractive web dashboard with lots of analytics features, aimed at helping you increase the revenue from your website. Interestingly, you don't need complex SQL queries to use Woopra. Also, the tool will save you hours you may have previously lost through data aggregating and cleaning.
Woopra creates a behavioral profile for every user on your site. This information allows you to know the number of visitors on your site at a particular time, and exactly what they are reading. The focus of this system is on the instant activities on your site.
According to the developers, the reason why Woopra isn't built to focus on several page views is that the number of page views alone doesn't provide enough data to make decisions on revenue generation.
Also, Woopra works perfectly with other useful tools focused on increasing the revenue of your site. This includes Google and Facebook Ads, Salesforce, ActiveCampaign, Freshdesk, WooCommerce, etc.
Other interesting features also include blog tracked categories, custom tagging, advanced reporting, advanced segmentation, real-time stats, and live chat.
All in all, you can count on Woopra for real-time data-driven analytics.
Which of the above is the best GA alternative?
Your choice of a Google Analytics alternative should depend on your website's products and services.
Kissmetrics and Woopra should make the top of your list if you are running an eCommerce website. The former and SE Ranking are also ideal if you plan to include a marketing plan. And for gaining distinctive details and real-time traffic tracking, Clicky could be a great choice.
Please let us know about your best Google Analytics alternatives and why you prefer to use them in the comment section below!