With so many providers claiming excellent services, choosing the best value hosting can be confusing at times. Here, we take a closer look at one of the most prominent players in the domain & hosting sphere to help you determine whether it's the right product for you.
GoDaddy is one of the most popular web service providers, and it specializes in web hosting as well as domain registration.
GoDaddy offers four web hosting options; shared, dedicated, VPS, and WordPress.

Being all-round, it does come with tons of useful features and other extras. However, its pricey subscription fee begs the question, 'Is GoDaddy hosting worth it?'
GoDaddy Hosting Pricing and Plans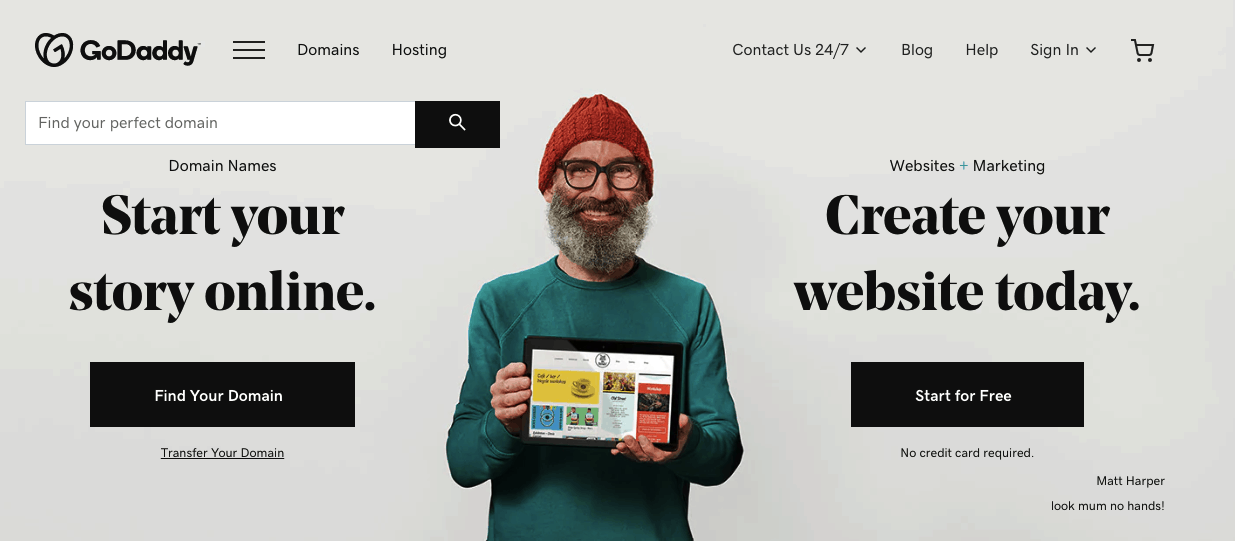 Web Hosting Options
Below is a comprehensive breakdown of each option and pricing per plan. Each of these plans come with different features that may be absent in others. The web hosting options offered are:
1. Shared hosting
Shared hosting starts at $5.99, then costs $8.99 a month upon renewal for the Economy plan. The Deluxe plan costs $7.99/month and renews at $11.99 a month, while the Ultimate plan goes for $12.99 and renews at $16.99 each month. The most expensive plan, Maximum, costs $19.99 for the first month, and $24.99 after renewal.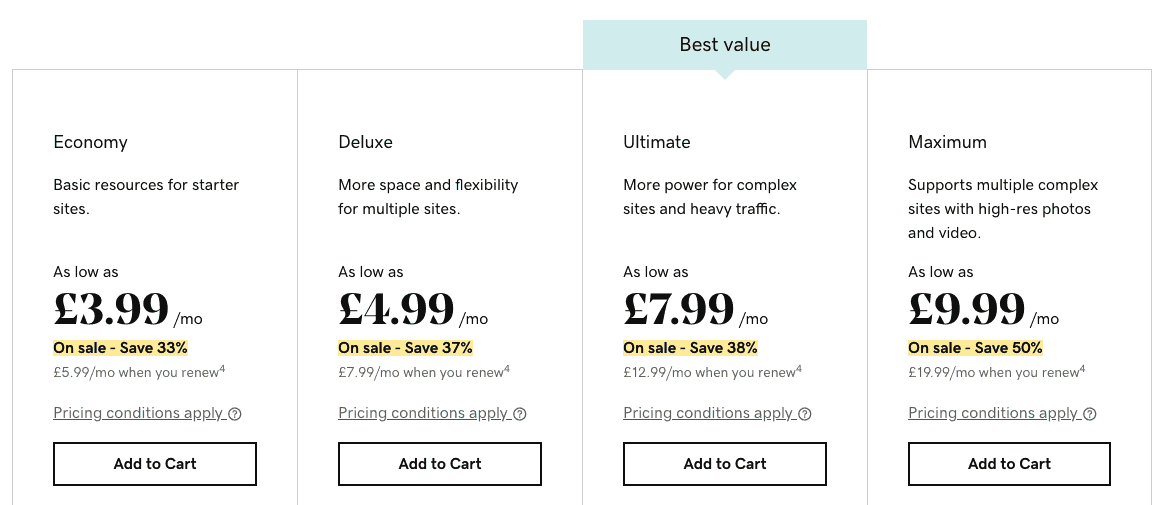 2. WordPress hosting
Starting at $4.99 and renewing at $9.99 (Basic plan), pricing stretches to $15.99 and $24.99/month for the E-commerce plan. In between, you can subscribe to Deluxe at $7.99 ($11.99)/month or Ultimate at $12.99($16.99)/month.
3. Business hosting
For business hosting, the lowest plan, Launch, costs $19.99 and $24.99 monthly. You can alternatively go for the Enhanced plan at $34.99 and $39.99 per month.  Second, to the most expensive plan is Grow, which costs $44.99 and $69.99 monthly. The most advanced plan, Expand, will set you back $59.99 and $99.99 a month.
4. VPS hosting
The cheapest plan here, which provides 1 vCPU, costs $4.99/month. 2 vCPU costs $19.99, 4 vCPU costs $39.99, and 8 vCPU costs $69.99/month. This price continues after renewal, but users can also opt for higher RAM at an additional price.
5. Dedicated hosting
The base Economy plan will cost you $94.99 a month, a price that jumps to $174.99/month when you renew. It is followed by the Value plan, which costs a subscription fee of $104.99 monthly, then $204.99 upon renewal. For the two high tier plans, you will need $134.99 to $354.99 monthly.
However, outside the US, prices for all the listed plans are much lower.
GoDaddy Strengths
Here are some of the benefits you get when using GoDaddy.
High uptime score (99.97%)
GoDaddy might be primarily known for domain name registration, but the web service provider has also made rock-solid uptime possible even in the basic shared hosting plan.
Fast Page Loading Speed
A few years back, the name GoDaddy wouldn't cross our minds when talking about performance. Today that has changed. GoDaddy now has a fast response time and great loading speeds.
Several One-Click Install Apps
GoDaddy comes with a website builder as well as over 120 one-click install apps. This is a handy feature, especially when you need to customize and expand your site. It doesn't matter whether you are a savvy webmaster or a beginner, GoDaddy has something for you.
Good low-end plans
The cheapest Economy plan available for just $2.99 monthly (outside the US) is a good deal. With this plan, your single site storage needs are sorted with 100GB of storage.
You also get unmetered bandwidth, and during the first year, you also get a free business email and domain name.
Reliable customer support
Customer support is available 24/7 at GoDaddy. The customer support team is responsive and knowledgeable. You can either call or choose the live chat option to get in touch with them.
GoDaddy Shortcomings
Each website host provider has its fair share of limitations, and GoDaddy is no exception. Below we highlight are some:
Lots of Upsells
GoDaddy has been previously censured due to its annoying upsells. You will notice various upsells for Office 365 access, enhanced website security, and even SSL certificates.
Lack of essential features
Another letdown is in the number of features offered in the base plans.
The lack of critical functionalities, such as automatic backups and free migration, puts off many potential users.
High renewal rates
Even with promotions, GoDaddy charges high renewal rates for its plans. For the majority, these renewal prices are total overkill. Of course, there are more expensive providers, but the value of GoDaddy plans hardly matches the attached price tag.
Verdict
Time and again, GoDaddy has proved to be one of the top web hosting, domain registration, and online marketing service provider. On account of being multi-functional, GoDaddy is a go-to choice for most beginners. However, if the pricing for the advanced plans is a turnoff, you can explore other alternatives.