As you may already know, WordPress is an open source content management system which is powered by the community. WordPress itself, its extensions and themes that you can find in the repository are completely free. But someone has had to do some work in order to wrap up a huge project like WordPress is.
Help us translate this #WordPress plugin into your language and get UnderConstructionPage PRO plugin for free!

Just like hundreds and hundreds of people have helped in the development of the platform, there are maybe even more folks who worked on its translation. That's why WordPress is available in practically every language imaginable (and some you couldn't even think of).
As it evolves, there is a constant need for translators who will bring up the CMS and its extensions to a broader audience.
Translate UnderConstructionPage and get a free copy of the PRO version
The free version of UnderConstructionPage is available for everyone. There are currently more than 200,000 active users, and the plugin has surpassed the milestone of one million downloads! We are happy to see those numbers, and even happier when users leave positive comments and review the plugin.
But we would like to make the plugin even better; that's why we're constantly working on new updates. And now you have a chance of helping us out.
At the moment, the plugin is available in eleven languages: English (Canada), English (UK), English (New Zealand), Indonesian, Croatian, Italian, Spanish (Spain), French (Canada), English, (Australia), Russian, German
Please note that although some languages might seem complete, that might not be the case (for example, some languages have both formal & informal versions, and we are looking for both). If you're not sure if you can contribute, please don't hesitate to contact us for more information. We also have several other plugins that need other languages in the repository, so you can still help out & get your free copy of UCP PRO.
Because of that, there are still millions of other users who are not able to use UnderConstructionPage just because they can't understand it. And we would like to bring the plugin to non-English speakers as well.
This is where we ask you for help – translate the Stable and Stable Readme parts of the plugin to your language and let users get a hand on it more easily. In return, we will give you a free copy of UnderConstructionPage PRO!
How to translate UnderConstructionPage?
If you are interested in the idea of translating the plugin but don't have a clue how to start, don't worry. Recently, WordPress official pages have been updated with an amazing translation system that allows everyone to suggest new translations. We have made sure that all strings are available for translating, so your job is quite simple:
Log in to your WordPress account (it's free and you can register for new one at any time)
Go to the UnderConstructionPage translation page
Find your language on the list
Select which part to translate: Stable and Stable readme
Click on the percentage in the column you want to translate
Select a string and enter your translation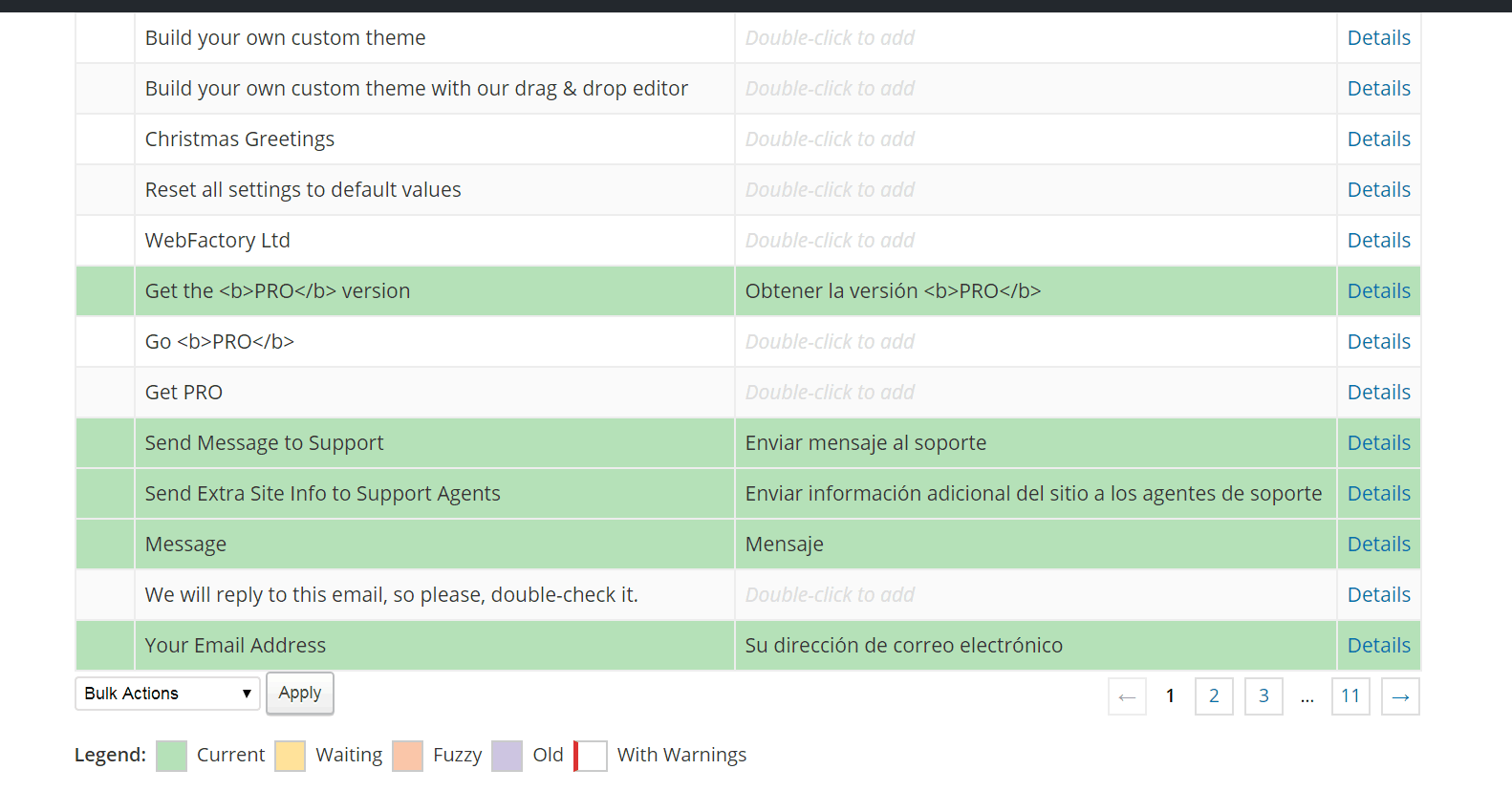 We want you to translate Stable and Stable readme strings.
As soon as you suggest a new translation for a string, it will be marked yellow. That means that the string is waiting for a translation editor to check it and approve if it's good. Translate one string at a time, and as soon as you have suggested all of the strings, your job is done!
What to look out for
When translating strings, you should take care of language dictionaries. Every language has its own dictionary, and a set of words you should take care of.
So, when you edit a string, some words will be underlined. You should put your mouse cursor over the word to see how it should be translated. If you ignore this suggestion, the translation will be declined by the editor, so you should be careful about the rules.
If you are interested in more details about translating WordPress plugins, please see the official Translator's Handbook.
How to get the free copy of UnderConstructionPage PRO?
Once you are done translating Stable and Stable readme parts of UnderConstructionPage to your language, please contact us via email. After we check your translation suggestions, we will send you a free copy of UnderConstructionPage PRO. Easy as that!
If you have any questions about translating the plugin, please feel free to leave a comment or contact us via email. We'd be happy to help you work with the translation system and bring up the plugin to more people for free!