Thanksgiving Day is a big thing in the USA. Even if you are not a resident, you probably know this from many movies and TV shows. But we are not here to talk about Thanksgiving, but what comes right after it. It's the Black Friday which has become even more popular worldwide.
We probably don't have to explain much here. As you hear the words black & Friday put together, you're seeing percentages and discounts all over. This is true for retail shops as well as their online versions that usually do discounts on the Cyber Monday (just three days after the notorious Black Friday). Shop owners probably hate this time of the year because people aren't afraid to fight for getting first in the line.
The interest in Black Friday & Cyber Monday deals was huge last year, so we have decided to put a list of some amazing WordPress discounts this year as well. If you wanted to show your strength by pushing through lines, we have to disappoint you since we only offer online coupons and shopping from your favorite chair.
Grab the discounts and improve your WordPress sites!
You are not here to learn history about Thanksgiving and Black Friday or read about us talking about Black Friday, so let's cut to the chase and start listing the best deals we found for you.
Let us show you our discounts as well
Not only that we will list deals from other WordPress companies, but we have decided to offer discounts on our WP products as well. Let us show you what we have to offer.
Whether it's a simple maintenance or under construction page, a coming soon page for your new site or a complex landing page, UnderConstructionPage PRO is the plugin you will want. With more than 130 templates, you will be able to generate a page in less than 5 minutes by using its powerful drag & drop editor. Add, remove, and modify the elements, control all the options & even decide which user can get access to the site. The UnderConstructionPage plugin can help you with all that, and you can get it with 30% off during this Black Friday & Cyber Monday!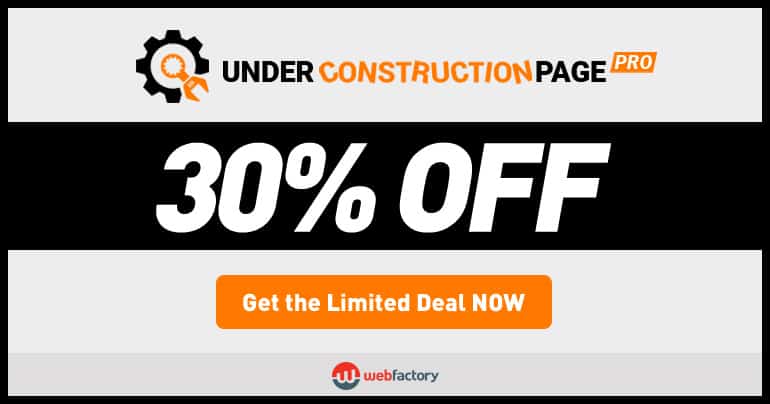 If you have a business that you want to put on the map, show your travels or simply let people know about different places, you will need a Google Map. Although embedding a map is easy, it doesn't leave you much options. With Google Maps Widget PRO, you can use more than 50 features that will make your maps unique & beautiful. And maybe the most important part – Google Maps Widget PRO will speed up your site simply by not including everything that other map plugins do. Follow the link to get 30% off any GMW PRO plan and see why it's the best plugin for the job.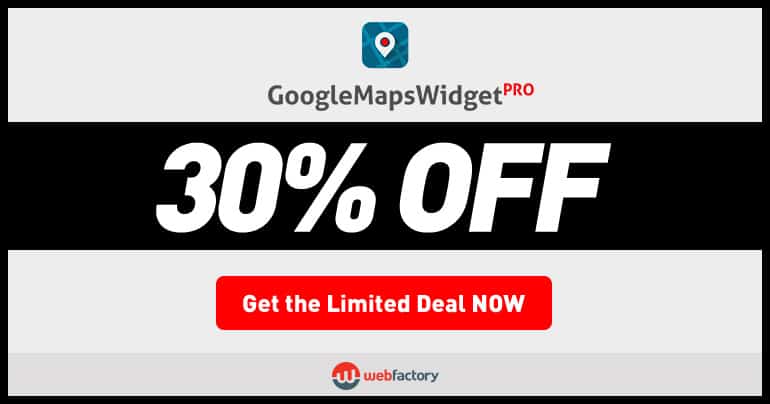 It doesn't matter how beautiful your website is or how much effort you put in the content if you leave it open for attacks. Hackers are waiting on every corner to take over your sites or place malicious code without your knowledge. That's why we created Security Ninja which can help you to protect any WordPress site. Run detailed scans regularly, add a firewall, log everything people do and have your site protected. Simply follow the link the get 30% off any of the Security Ninja PRO plans.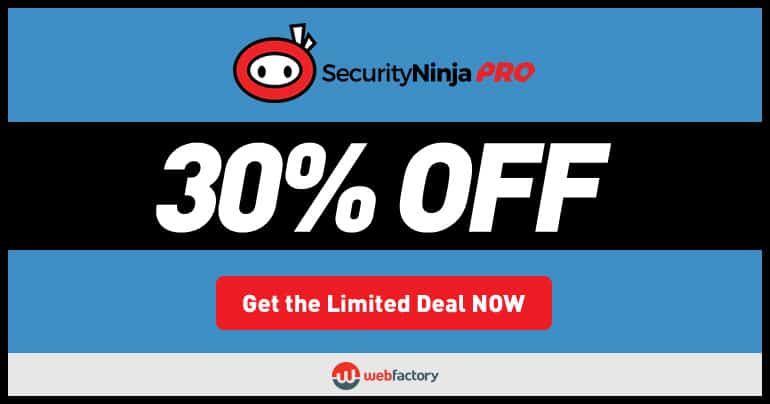 Building a custom coming soon page takes time & knowledge. Instead of spending days on designing and programming features that you need, you can have everything ready in less than 5 minutes. Coming Soon & Maintenance Mode PRO allows you to choose from one of more than 70 professionally designed templates which you can modify to your needs. Add Google Maps, newsletter forms, show progress bars and choose from 650,000+ images for your background. Include videos, control access, and do so much more with Coming Soon & Maintenance Mode PRO which you can now get for 30% off.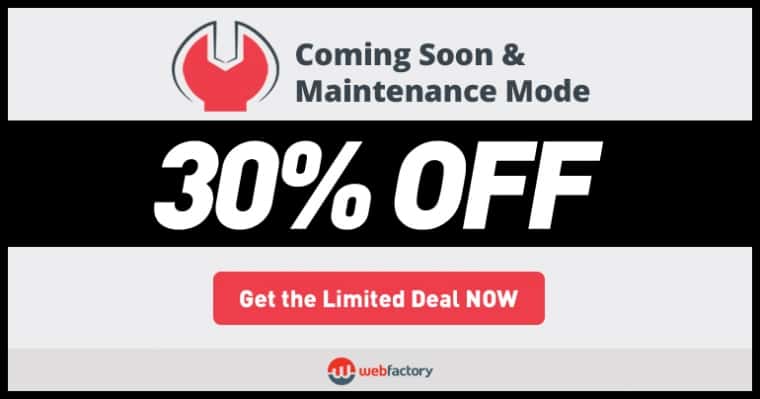 Other interesting discounts
If you still haven't spent all your allowance on other Black Friday deals, let us show you a few more interesting offers that will improve your WordPress websites.
Name
Discount
Description
Valid Through
DesignModo
35%
Check out the Designmodo's drag and drop websites and email builders. Also, you can buy discounted digital product on Designmodo Market: icons, UI kits, mockups, fonts and more. It's a fantastic place to go when you need some sweet design resources. Follow the link to get 35% off.
11/27/2018
Barn2 Media
50%
Barn2 Media is the UK WordPress company behind the bestselling WooCommerce Private Store, WooCommerce Product Table plugin, Posts Table Pro and popular WooCommerce Protected Categories plugin. Get 50% off any of Barn2 Media's plugins by entering coupon code BARN2CYBER2018 at the checkout.
11/26/2018
WowThemes
50%
Follow the link to get 50% off all WowThemes.
11/27/2018
Anariel Design
20%
20% discount on premium WordPress themes for charities, restaurants, and bloggers by Anariel Design. This discount can be applied to any of three packages that include access to our whole theme portfolio, updates, and support. Coupon: ANARIELBLACK2018
11/27/2018
Acme Themes
40%
Acme Themes offer fast Loading, quality coding, beautiful design, SEO friendly and easy to use WordPress Themes with incredible support. If you're looking the best themes to build a professional website, they are giving 40% discount on all WordPress themes. Hurry up and grab the deal! Use BLACKFRIDAY2018 code at checkout.
12/3/2018
20%
Follow the link, and get 20% all themes. Use blackfriday18 coupon at the checkout.
12/1/2018
20%
Follow the link, and get 20% all themes. Use blackfriday coupon at the checkout.
12/1/2018
CSSIgniter
40%
40% off of any purchase (Single theme, Standard club, Developer club or Lifetime club). Use BF2018 code at checkout.
11/25/2018
TemplateMonster
50%
TemplateMonster is the huge Marketplace with the variety of templates and assets for your Website. Get the templates with 50% off
11/25/2018
CyberChimp
75%
Follow the link to get more details about each product, and to find the code that will get you discount even up to 87%
11/30/2018
Beaver Builder
25%
Get 25% off the entire store starting Black Friday through Cyber Monday. Build beautiful pages, save and reuse layouts, and take control of your WordPress website. Just follow the link; no discount code is necessary.
11/26/2018
WP Casa
40%
The whole time from Friday to Monday you can get up to 40% off every purchase on WP Casa. Use discount code "blackcyber2018" at checkout.
11/30/2018
MotoPress
50%
Top selling MotoPress products – WordPress Hotel Booking plugin and Vacation Rental WordPress themes with the built-in reservation system. 50% discount is also valid for all other MotoPress plugins and themes. Use BLACKFRIDAY18 code at the checkout.
11/30/2018
WP Stagecoach
50%
The holiday season is the perfect time to start using staging sites to test Gutenberg, test theme and plugin updates, beef up security on your website, and maybe even refresh how your site looks. Get 30% off any of our yearly plans with this discount code: BLACKFRI2018
11/26/2018
Visual Composer
50%
The Visual Composer editor plugin is a standby in the website design world. Black Friday gives you an opportunity to step up to the next level with the purchase of Visual Composer's Website Builder at a 50% discount on all licenses. Use 50%-BLACK-FRIDAY coupon during the checkout
11/26/2018
Aelia Currency Switcher for WooCommerce
20%
Get 20% off the regular price of the Aelia Currency Switcher and the other great plugins for WooCommerce and Easy Digital Downloads. Simply use coupon code BLACKFRIDAY18 at checkout to get your discount!
11/30/2018
Envira Gallery
30%
Use the BFSS30 code on checkout
11/30/2018
Soliloquy
30%
Use the BFSS30 code on checkout
11/30/2018
Services WCAG and ADA WordPress theme
40%
Multipurpose WordPress theme for creating WCAG compliant website. Use code BFCM18 at checkout.
11/26/2018
School WordPress theme
40%
WordPress theme for school websites with WCAG and ADA support. Use code BFCM18 at checkout.
11/26/2018
Company WordPress theme
40%
Perfect WordPress theme for a small business website with WCAG and ADA support. Use code BFCM18 at checkout.
11/26/2018
Public Institutions WordPress theme
40%
Excellent choice for city websites. The WordPress theme includes WCAG and ADA adjustments. Use code BFCM18 at checkout.
11/26/2018
GeoDirectory
40%
40% OFF all products and Membership. GeoDirectory V2 included! Use code BF2018 at checkout.
11/30/2018
LifterLMS
20%
LifterLMS is a WordPress Learning Management System plugin with many add-ons available for purchase individually or as part of a bundle. People use LifterLMS to build websites for online courses, training based membership sites, online coaching programs, private "social learning" community websites, and even multi instructor online schools. Use coupon Code: BLACKFRIDAY18 at checkout
11/26/2018
Gravity PDF
30%
Gravity PDF will be running a 30% off sale from midnight November 23 to midnight November 28 Australian Eastern Standard Time (in US time that's a little before Black Friday begins and a little after Cyber Monday ends) using coupon code BF30.
11/28/2018
Winwar Media
25%
Get 25% off eBay Feeds for WordPress Premium, Inline Tweet Sharer Premium, and WP Taxi Me. Use discount code BF2018 at checkout.
11/30/2018
WP Email Capture Premium
25%
Get 25% off WP Email Capture Premium or any extension. Use discount code BF2018 at checkout.
11/30/2018
Elegant Themes
25%
This Black Friday Sale will begin on November 22nd at 10pm San Francisco time and will conclude on Sunday November 25th at 10pm San Francisco time which is when their Cyber Monday Sale immediately begins.
11/26/2018
GetSiteControl
42%
Get 42% off GetSiteControl. Save big by subscribing for a year and adding it to the usual 20% annual subscription savings.Use coupon code: BLACKFRIDAY42 from 11/19 to 11/24
and CYBERMONDAY42 from 11/25 to 11/26.
11/26/2018
Themeum
50%
Get 50% off on ALL amazing plugins and themes offered by Themeum. Create stunning websites with their WP Page Builder, WP Crowdfunding and WP Mega Menu.
11/26/2018
ThirstyAffiliates
30%
30% off for all ThirstyAffiliates Pro Licenses and 5 Free Single Site Licenses. Use coupon Code: Holiday30.
11/27/2018
Advanced Coupons
30%
30% off for all Advanced Coupons Licenses. Coupon Code: Holiday30
11/27/2018
Wholesale Suite
10%
10% off for all Wholesale Suite Licenses. Coupon Code: Holiday10
11/27/2018
Page Builder Framework
30%
Page Builder Framework is a WordPress theme, specifically designed to work with Page Builders like Elementor, Beaver Builder, Brizy & more. Save 30% on the Premium Add-On for Page Builder Framework and take your WordPress website to the next level.
11/26/2018
Ultimate Dashboard PRO
30%
Create Icon, Text & Video Widgets and give the WordPress Dashboard a more meaningful use for your customers & clients.
11/26/2018
Themify
40%
Themify Black Friday is the biggest sale of the year. You can get a 40% off all regular purchases or $75 off Lifetime Club. On top of the promotion, there are some giveaways. Three lucky winners will get a free $150 Amazon Gift Card and Master Club membership.
11/26/2018
Smart Slider 3
40%
Smart Slider 3 is the perfect responsive slider for WordPress. Make beautiful and powerful sliders, carousels and blocks with the next generation visual editor. Smart Slider 3 pushes the boundaries of what sliders should be. Just follow the link, and enter code BLACKFRIDAY18 at checkout!
11/26/2018
Advanced Ads
30%
Advanced Ads is the most powerful plugin to manage and optimize ads on your WordPress site. Use coupon code BFCM2018 at checkout.
11/26/2018
MalCare
40%
MalCare is a first fully automatic WordPress malware scanning and cleaning plugin developed from grounds up, after analysing more than 240,000 websites over the course of 2.5 years.
11/26/2018
BlogVault
40%
BlogVault is the most reliable WordPress backup, staging, migration & security solution trusted by over 300,000+ websites.
11/26/2018
BracketSpace Plugins
50%
BracketSpace is a young brand behind the Advanced Cron Manager and Notification plugins.Get a lifetime 50% off of every product in the store except the Support. Use coupun code THISISTHEFIRSTTIMEWEAREDOINGTHIS at checkout.
11/28/2018
Popup Maker
40%
40% off any purchase using code BFCM2018. Discount applies to all new purchases, early renewals & upgrades.
11/28/2018
Woo Discount Rules & WooCommerce Prepaid
30%
Just follow the link to get 30% of Woo Discount Rules & WooCommerce Prepaid.
11/26/2018
Solwin Infotech
50%
Solwin Infotech, a widely innovated and creative heads' team, developing, designing and managing astoundingly beautiful WordPress themes and plugins. The discount will apply automatically on the cart.
11/30/2018
Greedeals
25%
A popular deals website for web design, graphic design, web development, business, and marketing related products is offering 25% on all deals. Use Coupon Code: BF2018.
11/26/2018
Extended Widget Options
30%
Modal and Sliding Widget Options Add-on. Use coupon code: BFCM2018
11/26/2018
Easy Login Styler Pro
50%
Use coupon code: BFCMEASY at checkout.
11/26/2018
BAVOKO SEO Tools
40%
Get 40% Off on all PRO plans with the coupon code "BLACKFRIDAYDEAL"
11/26/2018
Total WordPress theme
50%
Follow the link to get 50% off the Total WordPress theme (discount is already applied)
11/26/2018
ThemeMantis
50%
ThemeMantis aims to provide ready to publish WordPress themes and Divi templates to all bloggers, entrepreneurs, advanced organizations, women's activist bloggers. PlayLet – a one-page multipurpose business theme is their first creation having multiple customizations. A complete theme to make any kind of business go live in no time! Use TMS50 code at checkout.
11/30/2018
HostCron
50%
HostCron web hosting service offers high website speeds to security solutions, around the clock customer support, 1-click WordPress installer along with 400+ other business apps integration. HostCron hosting plan starts from $1.25/month. You get a Free Domain on any HostCron pricing plan. You can book the Domain otherwise for $9.23 only. Use TMS50 code at checkout.
11/30/2018
Wbcom Designs
30%
Use coupon code BFACM30 at checkout to get 30% off Wbcom Designs themes and plugins.
11/26/2018
Bridge theme
50%
Qode Themes are premium developers of professional WordPress themes with over 100 000 customers to boot. Beautiful contemporary design and easy open-end customization of our themes are some of the main reasons why our customer base keeps growing each day. Don't miss the amazing opportunity to get a true WordPress bestseller, Bridge theme, with a staggering 50% off!
11/27/2018
Matthew Woodward's Premium SEO Certification
40%
Take control of your search rankings and learn how to rank any site in any niche with Matthew Woodward's premium SEO certification which includes a physical certificate. This is the first and last time it has been discounted so don't miss out
11/27/2018
WP Zoom
60%
All Themes Package, which includes all 42 WordPress themes, for just $79.
11/27/2018
AffiliateWP
25%
25% off AffiliateWP! Get 25% discount on all AffiliateWP license purchases and upgrades. Use code BFCM2018 at checkout.
11/27/2018
Easy Digital Downloads
25%
25% off Easy Digital Downloads! Get 25% discount on all Easy Digital Downloads passes, extensions, and upgrades. Use code BFCM2018 at checkout.
11/27/2018
Restrict Content Pro
25%
25% off Restrict Content Pro! Get 25% discount on all Restrict Content Pro license purchases and upgrades. Use code BFCM2018 at checkout.
11/27/2018
Sugar Calendar
25%
25% off Sugar Calendar! Get 25% discount on all Sugar Calendar license purchases and upgrades. Use code BFCM2018 at checkout.
11/27/2018
WP Simple Pay
25%
25% off WP Simple Pay! Get 25% discount on all WP Simple Pay license purchases and upgrades. Use code BFCM2018 at checkout.
11/27/2018
Caldera Forms
50%
The Caldera Forms Unlimited License is coming back this Black Friday 2018, but only for 100 lucky Caldera Formers.
11/23/2018
SEMScoop
50%
Get SEMScoop Keyword Tool Monthly Or Annual Recurring Subscription With 50% Off Lifetime. Use Code: SAVE50LT
11/23/2018
Want even more deals?
If all the deals that we have managed to list in this article haven't been enough to complete your shopping spree, here are a few more websites that might be of your interest: